CANADIAN EVEREST and HIMALAYAN MOUNTAINEERING HISTORY
Daily blogs from the Mountainside ongoing now
1947: FIRST CANADIAN TO ATTEMPT THE SUMMIT OF MT. EVEREST- Earl Denman
Canadian-born Earl Denman tries to climb Everest from the north route along with several Sherpas (including Tenzing Norgay). The climb is not sanctioned and the group narrowly escapes arrest by Tibetan patrols. But the climb does not succeed. One source describes Denman's climbing gear as "woefully inadequate." Denman apparently walks part of the way back to Darjeeling (500 kilometres away) in bare feet when his boots wear out.

1982: CANADA'S FIRST SUCCESSFUL ASCENT OF MOUNT EVEREST- Laurie Skreslet
At midday on October 5th 1982, Calgary's Laurie Skreslet and two Nepalese Sherpas arrived exhausted on the summit of Mt. Everest. In doing so, he became the first Canadian to complete the challenge. Two days later, team photographer, Pat Morrow and his two sherpa companions embraced on Skreslet's still fresh summit footprints. Pat returned to Everest in 1991 with Tim and the Canadian Everest team to film the "Climb for Hope" that has been aired on the Discovery Channel for several years.
1986: FIRST NORTH AMERICAN WOMEN ON EVEREST-Sharon Wood
Sharon Wood holds the distinction of being the first North American woman to conquer Mount Everest, the highest mountain in the world.
Born in Halifax, Sharon grew up in Vancouver, British Columbia and moved to the Canadian Rockies at seventeen. She soon signed up for a rock climbing course, and at the age of eighteen began her career as a climbing instructor. Sharon Wood earned her Climbing Guide status, then began working six months of each year as a helicopter ski guide. For the remaining six months the mountaineer engaged in her passion - climbing the highest mountains she could find.
In 1977 Sharon Wood climbed Canada's highest mountain, Mt. Logan in the Yukon. She climbed in Alaska, Argentina, Peru, and then Nepal. On May 20, 1986 the elite mountaineer reached the summit of Mount Everest. Sharon Wood is the recipient of the Tenzing Norgay Award as "Professional Mountaineer of the Year". Recognition of her achievements also includes an honorary doctorate of laws from the University of Calgary and a Meritorious Service Medal from the Governor General of Canada. Now settled in the Canadian Rockies at Canmore, Alberta, Sharon Wood continues climbing as well as raising her children and speaking about her adventures at presentations across North America.
1982: FIRST CANADIAN 7 SUMMITS AWARD- PAT MORROW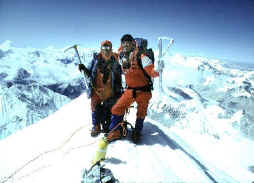 In 1987 Pat received the Order of Canada in recognition of his achievement of climbing the highest mountain on all seven continents. This project began with Mt Everest when he reached the summit during the first Canadian expedition in Oct. 1982, which he recorded on stills and video. Along with several friends, in 1985, Pat and Baiba founded Adventure Network, the first and still the only logistics/travel company to offer air access to the interior of Antarctica. At the Banff Festival of Mountain Films in 1990, Pat was honored with the Summit of Excellence award for his multimedia work in chronicling the mountain experience
Lhakpa Tsering and Pat Morrow on the summit of Mt. Everest.
FIRST CANADIAN MT. EVEREST COMMERCIAL EXPEDITION OPERATOR- Tim Rippel
TIM RIPPEL- Owner and Operator of Peak Freak Expeditions has been successfully operating mountaineering and trekking expeditions in the Himalayas for the past 18 years. He has been on 40 Himalayan expeditions, eight on Mt. Everest in Nepal and Tibet and the neighboring peaks of Mt. Ama Dablam, Mt. Pumori and Island Peak. Tim's Himalayan guiding career started when hired by New Zealand born Everest Guide Outfitter Russell Brice after Tim met him in 1994 on Everest in Tibet. Russell hired Tim to guide clients on Everest with him in 1995 and 1996 prior to Tim forming his own company.
Tim is a seasoned High Altitude Mountain Guide, International Expedition Operator, and Extreme Skier . During the winter months Tim stays in tune with the mountains working as Heli-Ski Guide and is certified by the Association of Canadian Mountain Guides. He is a Professional Member of the Canadian Avalanche Association, Mountain Safety and Risk Management Professional and a certified Outdoor Leadership Instructor.
He instructs Mountain Rescue, Mountain Skill programs and Avalanche Courses in Canada when he is not working in the Himalayas. He spends 11 months a year living and working in a mountain environment. The other month you will find him sailing with his wife Becky.
He trained for his first Everest Expedition from his post, at a ski area in Northern British Columbia where he worked as the pro-patrol leader. He trained for cold and skied the extreme faces of the Murray Range (Rocky Mountains) daily, as part of his training regime. His extreme skiing has taken him to Mt. Robson (highest mountain in the B.C. Rockies) for an icy North Face winter ski accent and the FIRST ski ascent on Mt. Everest's North side in 1991 from the top of the North Col. Tim was given the name "Peak Freak" and later adopted the name as his company.
Tim's Everest climbing career has brought him the opportunity to work with legendary climbers like Allison Hargreaves, Eric Jones, Greg Child and American one leg amputee Tom Whitaker, Anatoli Boukerev and Rob Hall to name a few.
CLIMB FOR HOPE: 1991: FIRST EVEREST EXPEDITION FOR CHARITY- MT. EVEREST NORTH RIDGE EXPEDITION
Mount Everest's rarely attempted North Col in 1991 by the Canadian climbing team that was formed by Ernie Sniedzins to bring attention to his daughter's debilitating struggle with the mysterious medical condition known as Rett Syndrome. A video was produced offering vivid footage of the team's journey through Nepal, from Kathmandu to Kodari, and then through Chinese customs in Zhangmu on to Shegar, Rongbuk Monestary, and Everest Base Camp in Tibet. The expeditions efforts to get to Everest base camp in the earlier years were exposed to high water, mud, landslides, moraine, and up into Mount Everest's heights. Works such as Everest: Mountain Without Mercy and Jon Krakauer's Into Thin Air: A Personal Account of the Mt. Everest Disaster have increased awareness of the physical and psychological challenges that Everest presents to those who would reach the summit and trace the journeys of climbs that resulted in numerous casualties. Everest: Climb for Hope is the documentary of a Canadian team's ascent of the same merciless Everest, but without a single death" Production was by Yaletown's Michael Collier in Vancouver, Narration by Leslie Nielsen and Camera work by Pat Morrow and Bill Noble and lead climber Tim Rippel.
1991: CANADA'S FIRST LIVE BROADCAST FROM EVEREST BASE CAMP
Thanks to the amazing efforts of Alan Hobson and Jamie Clarke from Calgary, we were the first expedition to broadcast live dispatches from Mt. Everest Base Camp on the North Side. Photos and details to be released soon.
1994: FIRST CANADIAN EVEREST WITHOUT OXYGEN- NORTH SIDE -Tibet
Team photo taken February 1994 Team photo taken May 1994 - 4 months later
Top Row- Left to Right: Lhakpa Sherpa, Kami Sherpa, Mario Biladeau, Tim Rippel, John McIsaac, Denis Brown
Bottom Row- Left to Right: Jamie Clarke, Susan Foster, Paulde Tamang, Pasang Sherpa, Danaru Sherpa, Alan Hobson.
In February of 1994 a team of 6 Canadians all original members of the 1991 Canadian Everest Expedition along with 5 Sherpas headed out to be the first Canadians to climb Mt. Everest without the use of oxygen. Members included Canadian 8000m Mountain Guide Tim Rippel, now owner operator of Peak Freak Expeditions along with John McIsaac from Canmore Alberta, Dr. Denis Brown from Vanderhoof B.C., Alan Hobson from Calgary Alberta, Jamie Clarke from Calgary Alberta and Mario Biladeau from Quebec.
T
The team made a courageous effort to reach the summit, only to have to turn back less than 500 feet from the top. In a true demonstration of teamwork, they performed a high-altitude rescue to save the life of John McIsaac who led the route along side Tim Rippel. John's body had succumbed to intense fatigue and the effects of extreme altitude sickness. Torn between survival and desire to become the first Canadians to reach the top of the world without the sue of bottled oxygen the team watched their dreams disappear when John was forced to turn around and start his decent.
Photo: Left top- Ang Pasang Sherpa, Kami Sherpa, John McIsaac, Jamie Clarke, Mario Biladeau, Tim Rippel, Denis Brown. Left bottom- Dawa Sherpa, Lhakpa Sherpa, Paulde Tamang, Alan Hobson.
Recordings of the rescue effort organized by Tim Rippel can be heard on the "Summit of Dreams" educational CD Rom produced by Peak Productions.
1996: FIRST CANADIAN AMA DABLAM EXPEDITION Team members included Tim Rippel, John McIsaac, Tim Thurston, Eric Troulillot, and Robin Sandau...
1998: THREE FIRSTS FOR CANADIANS ON AMA DABLAM - Youngest, oldest and 3rd Canadian female summit success.
October 22, 1998- 8 out of 8 members from the Peak Freak Expeditions expedition stood on top of Mt. Ama Dablam. Three firsts for Canadian Himalayan History were made this day. Dan Rollert 19 year old Forester from Quesnel from British Columbia was the youngest Canadian to ever stand on top joined by Bonnie Hooge also a Forester from Prince George, British Columbia the 3rd Canadian female and Frank Lutick a nurse orginally from Smithers, British Columbia now living in Norway was the oldest Canadian to stand on top at the age of 53.
Today you will still the "CLIMBERS WANTED" poster of the entire team in Tom and Gerry's Pub Kathmandu that we placed there in fun in 1998.
| | | |
| --- | --- | --- |
| | | |
| Dan Rollert | Frank Lutick | Bonnie Hooge |
TEST
2000: CANADA'S FIRST LIVE VIDEO FOOTAGE BROADCAST FROM MT. EVEREST SOUTH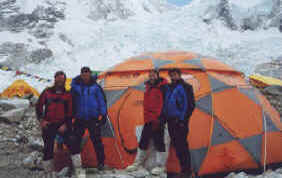 Expedition organized to the top and back by Tim and Becky Rippel, owner operators of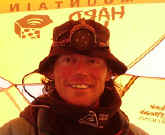 Peak Freak Expeditions. Tim filmed and dispatched live footage daily from the mountainside for 2.5 months to CBC Newsworld enabling the nation to watch a step by step climb on Everest from the south side in 2000. Other firsts on this expedition included the introduction of the LED head lamp provided by Dr. Dave Irvine-Halliday and his Light-Up-Nepal project. Photo Left: Tim Rippel, John and Ann Armstrong and Brad Wrobleski.
Tim sporting the world's very first LED headlamp in 2000.
2001: YOUNGEST CANADIAN TO SUMMIT MT. EVEREST- Deryl Kelly
On May 24, Deryl Kelly from Calgary Alberta reached the top of Mount Everest, at the age of 25 Kelly makes the youngest Canadian to reach the top. Photo: Deryl and father Leo Kelly. Together at Everest BC 2001.
CANADIAN FIRSTS and SECONDS!
2001: FIRST CANADIAN TO SUMMIT EVEREST TWICE- Dave Rodney. Both from the south side.
Same expedition Dave Rodney also joins Deryl on the summit making Rodney the only Canadian to climb Everest twice. Canadian Francois Langlois also reaches the summit.
Dave Rodney is the only person in the history of this country to summit Mt. Everest twice, and his accomplishments are inspiring to many (especially since he was born on the flatlands of North America, has survived four knee surgeries, and has broken his back in four places!).
2004: FIRST CANADIAN TRANS-HIMALAYAN MOUNTAIN BIKE EXPEDITION
A team of seven Canadians and one Norwegian were successful in completing the 1300km ride from Lhasa Tibet to Kathmandu Nepal on the rooftop of the world. They crossed over six major passes at 16,000 and 18,000 feet, visited Everest base camp by bike and rode the world's longest downhill, an amazing 15,000 foot drop in two two days to the valley floor of Kathmandu, Nepal. The team was led by Tim Rippel. Other members were: Frank Lutick a nurse formally from Smithers British Columbia now living in Norway, his partner Kari Kulberg and EET surgeon from Norway, Dr. Claire Forestell an Internal Medicine specialists from Lethbridge Alberta, Doris Gorell, extreme adventure enthusiasts at the age of 67 from 150 Mile House B.C. , Bert Port- 73 years old, retired from Selkirk College living in Castlegar B.C., Con Diamond 56 from Restauranter from Nelson, B.C., Sandy Mitchell, 48 year old Forester from Nelson, B.C.
---
2005: FIRST CANADIAN WOMAN TO COMPLETE THE SEVEN SUMMITS- Urszula Tokarska
At 5:00 am on June 2, 2005 Urszula Tokarska from Toronto, Ontario became the first Canadian woman to complete the Seven Summits.

Climbing along with Nima Tashi and Pema Temba, the group made an excellent time: They departed South Col at 8:30 and made it to the South Summit at 3:00 am.

The weather was reported near perfect, but the jet lingered nearby and the climbers ran to sneak up before the return of winds. Urszula reached the main Summit at 5:00 am, and spent more than two hours on top in beautiful weather.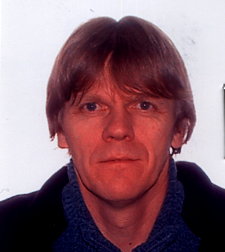 May 23, 2007- FIRST CANADIAN TO SUMMIT EVEREST FROM BOTH SIDES: Canadian climber Ron Hoglin from Hope, B.C. made his second summit on Everest. The first from the south and second from the north in 2004.
May 20, 2007: Youngest Canadian to complete the seven summits: A 29-year old Sudbury native and mountain climber has achieved her dream of becoming the first Canadian Forces member and the youngest Canadian female to summit Mount Everest and achieve the Seven Summits. Meagan McGrath made it to the "top of the world" at 7:15 p.m. Sudbury time on Sunday May 20 (5 a.m. Monday, May 21 Nepal time).
Mt. Everest - Nepal (tallest in world) – May, 2007 – 8848 metres (29,028 feet)
Mt. Kosciuszko - Australia - April 2006 – 2228 metres (7,310 feet)
Mt. Vinson Massif - Antarctica - December 2004 – 4892 metres (16,066 feet)
Mt. Elbrus - Europe - August 2003 – 5642 metres (18,510 feet)
Mt. McKinley - North America - June 2003 – 6194 metres (20,320 feet)
Mt. Aconcagua - South America - December 2002 – 6962 metres (22,841 feet)
Mt. Kilimanjaro - Africa - April 2002 – 5895 metres (19,563 feet)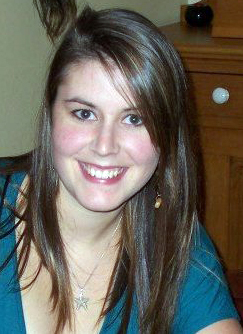 2008: YOUNGEST CANADIAN FEMALE TO SUMMIT EVEREST. Laura born: July 30, 1987. Spring of 2008 Laura Mallory summited Everest at the age of 20. Previous record was held by Deryl Kelly from Alberta in 2001 at the age of 25. However, Laura does not hold the youngest record. Same year Eric Otto from Kingston, Ontario beat her by months in age and now he hold the record for the youngest Canadian to stand on top of Everest. See below: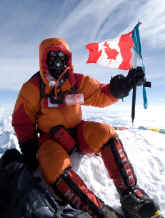 2008: YOUNGEST CANADIAN
TO SUMMIT MOUNT EVEREST: Eric Otto, from Kingston, Ontario born April 8, 1988- headed out for the summit of Everest at the age of 19, he celebrated his 20th birthday on the hike in to base camp on April 8th 2008. On May 23, 2008 he summited Everest and became the youngest Canadian to do so. What's next? Eric is a certified diver, and has several skydiving jumps under his belt so anything is possible.
Eric holds the record of of May 23, 2008 as the Youngest Canadian to Summit Mount Everest.
Canada- Firsts in helping the Sherpa people at the Kunde Hospital in the Everest region.
Sir Edmund Hillary built the Kunde Hospital in 1965-66 with the assistance of the Lion's Club of Auckland, New Zealand, and Sir Edmund's friends who were working in Nepal as part of the Himalayan Trust. The New Zealand Government contributed financially to this project.
The Himalayan Trust funded, operated and administered the Hospital from 1966 (usually husband and wife doctor teams). The late Dr. Max Pearl was the Medical Officer of the Himalayan Trust, and he coordinated all aspects of the working Hospital with Sir Edmund playing a major part in the administration and funding.
In 1975 the late Dr. Pearl and Sir Edmund discussed the funding element of the Kunde Hospital with The Sir Edmund Hillary Foundation of Canada (SEHF). It was unanimously agreed that the SEHF would fully fund the Kunde Hospital, and on Dr. Pearl's suggestion, it was agreed that the SEHF would also supply volunteer doctors on an alternating basis for a two-year period. New Zealand appointed doctors had run the Hospital from 1966 to 1976. It took four years to implement the doctor exchange program but the Canadian funding started in 1976.
OTHER AMAZING STATS COMING SOON....
PEAK FREAK'S HIMALAYAN EXPEDITION ARCHIVES