High Altitude Mountain Guide - Tim Rippel Tim
Owner-Operator of Peak Freak Expeditions. Guiding and Instructing since 1983.
Tim Rippel - Owner/ Operator of Peak Freak Expeditions based in Western Canada. Tim grew up in the Okanagan, British Columbia. Immediately upon graduation he began a career in guiding and instructing . Now 28 years later he has not looked back, only up. Tim has been successfully operating mountaineering and trekking expeditions in the Himalayas for the past 25 years. Veteran of 50+ Himalayan expeditions including "12- times" on Mt. Everest from Nepal and Tibet as well as neighboring peaks of Mt. Ama Dablam, Mt. Pumori and Island Peak. Other climbs include the Coastal Mountains of British Columbia, the Canadian Rockies, Denali numerous times the Pamirs in Russia, Africa and South America. Whether it is heli-skiing, extreme mountain biking or climbing the world's tallest peaks, Tim holds a flawless safety record and your safety is his priority.

He instructs and examines Canadian Search and Rescue professionals in Mountain Rescue for the Canadian government, runs a ski guide training program and teaches Avalanche Courses when he is not in the Himalayas.. Tim spends 12 months a year living and working in a mountain environment.

As a seasoned High Altitude Mountain Guide, High Altitude Cameraman and Extreme Skier, Tim spends the winter months working as a lead heli-ski guide in the Bonnington Mountain range and instructs mountain safety courses from the Rippel's lodge outside their front door in his hometown in Nelson B.C. Canada. He is certified by the Association of Canadian Mountain Guides (ski guide) and is also a professional member of the Canadian Avalanche Association, Mountain Safety and Risk Management Professional and examiner as well as a certified Outdoor Leadership Instructor and certified in Mountain Medicine. His professional guiding career began when he led the C.O.L.T. (Canadian Outdoor Leadership Training) program at Strathcona Park Lodge on Vancouver Island. During this time, Tim took the opportunity to explore the remote West Coast Mountains on his time off from guiding he explored many routes solo.

Stories from this time in his life provide for some good tent time entertainment in the Himalayas.

He trained for his first Everest Expedition from his post at a ski area in Northern British Columbia where he was in charge of

"I am proud to be a friend of you both. Your involvement in Nepal and its people is one of the things that Tim really impressed upon me, he is a different kind of climber, and I aspire to that. I would trust my children to climb Everest with Tim. He is one of the most well rounded climbers I know."

Todd Sampson-

Canadian/Australian -Peak Freak- Mt. Everest summit- May 21, 2001

mountain safety and outdoor operations. He trained for the cold and skied the extreme faces of the Murray Range (foothills of the Rocky Mountains) daily as part of his training regime. His extreme skiing has taken him to Mt. Robson (highest mountain in the B.C. Rockies) for an icy North Face winter ski accent as well as the first ski ascent on Mt. Everest's North side in 1991 from the top of the North Col. At this time Tim was given the name "Peak Freak" from fellow skiers and later adopted the name for his company.

Tim's Everest climbing career has brought him the opportunity to work with many legendary climbers like Allison Hargreaves, Eric Jones, Greg Child, Anatoli Boukerev, Rob Hall and American one leg amputee, Tom Whitaker to name a few.

Some of Tim's Everest experiences have been aired on networks across the nation. He provided footage to National Geographic, the Discovery Channel "Climb for Hope" in 1991, and again currently for " Storm Warning".

To learn more about what people say about Peak Freak Expeditions, ask for a list of testimonials and contact numbers. The most important question to ask yourself when taking on such an endeavor as high altitude climbing is; who is doing the guiding? Ask around, if you are not completely satisfied, keep asking.

TESTIMONIALS- click here to see what people have to say.

AKA- Tim Ripple for the benefit of finding a common spelling mistake used when searching Everest on search engines.
BECKY RIPPEL- A travel professional of over 30 years takes her skills to the mountains following husband Tim Rippel and his expeditions to the world's highest mountains, Mt. Everest and beyond.. Becky runs the administration end of Peak Freaks and is a Group International Travel specialists who takes great pride in detailed expedition logistics lists and client communications. Becky owned and operated an International Ski Tour business prior to meeting and joining forces in marriage, adventure and business with Tim. She is a Level II CSIA Ski Instructor and Certified International Travel Agent specializing in group travel. In 1983 she was a key player in the start-up office of the "first" Uniglobe Travel Agency in Canada at which there are now over 1000 offices in five countries. Becky leads treks to base camp where trekkers are invited to join in and be part of life on our mountaineering expedition and without climbing skills. She has spent the past 18 years working and learning with sherpa families and friends while following Tim's climbs. Because of this Peak Freak participants are offered a unique and privileged look inside the homes and lives of the sherpa people of the Everest region.
Tim and Becky you guys did an outstanding job of organizing, hosting and guiding. You have surpassed my expectations. Your attention to detail and effort to provide service was dedicated and thorough. Many companies could learn from you."
Ralph Rhey- Japan/Canada
VERY IMPORTANT READ: As it is in all other countries in the world, using Certified Mountain Guides is essential and most of the time mandatory not only for the country you are climbing in but more importantly the well being of members of the team and especially on Everest. Stats are being calculated on the number of incidents that have occurred with climbers being led by "trip leaders" compared to operators who use " certified mountain guides" and you would find the differences to be astounding. Just because someone has been lucky enough to successfully climb Everest before does not mean they meet all the criteria and have learned and practiced skills that save lives and offer client care in extreme circumstance and most important- prevention.
Peak Freaks uses only Certified Mountain Guides for our Everest Expeditions. IFMGA, NSMGA and NMA (Nepal Mountaineering Association) and aspiring ones with apprenticing certifications and certified Sherpa climbing guides. All our guides are paid the highest in professional fees, maintain their professional standards with the association, are required to have their skills reviewed on a regular basis making them insurable by standards that are recognized worldwide. This is who we put our climbers on a rope with. If you are paying close to the same in fees and your guides are not certified, I'd be seriously be looking elsewhere. This is a serious climb with serious consequences should things go wrong. Rule number one of surviving Everest: prevention.
One of the most important things you can do when shopping around for a commercial Everest outfitter is to find out who is doing the guiding? are they certified? if you are not completely satisfied, keep looking!
SOUTH AMERICA GUIDES
Gaspar Navarrete Gangotena (ASEGUIM) Mountain Guide- Gaspar is one of the most technically skilled guides of Ecuador. He has climbed and guided in the Alps, Argentina, Venezeula, Columbia, Ecuador, Boliva, Nepal and Chamonix- France and holds ASEGUIM certification. He is the director of the Mountain Guides School from Ecuador. He's climbed the Matterhorn and the Eiger North Wall. He has attended several training courses with the French School of guides ENSA. His enthusiasm for new routes in the mountains is contagious and he enjoys sharing it with others who have similar love of the wild, remote places. Gaspar holds a WFR wilderness medicine certificate. During off-season he works as a horse back riding guide an instructor.
Javier Carvallo Contreras - (IFMGA) Mountain Guide- Bolivian peaks and many more-
From Bolivia: Javier Contreras comes with an extensive mountain guiding background and is certified by the International Federation of Mountain Guides since 2005. He guides in Austria, Italy, Chile, Peru and his homeland Bolivia. 2011 was Javier's first expedition to Everest and he summited. As for many guides from South America they bring with them exceptional client safety and care skills.
CLIMBING SARDAR- Tashi Sherpa -(NMA)
Tashi Sherpa from Pangboche, home of Lama Geshe now lives in Gokyo running the prominent family guest lodge there with his parents. Tashi has six Everest summits to his credit and has demonstrated excellent inter-personal skills working with our climbers and Sherpa guides.
Tashi is a well spoken and respected mountain guide of the Himalayas. He works with us on both our Everest Training climbs on Pumori and on Everest each season.
CLIMBING GUIDE and TREKKING SARDAR- Ang Nima Sherpa - (NMA)
Age 49: Sardar or Sirdar is a Sherpa mountain guide. Ang Nima lives in the sherpa village of Kunde, Nepal where he and his wife Kamirita own the Kunde the Lodge. Ang Nima manages all other sherpas and porters on our climbing and trekking expeditions. He is the most experienced of all our sherpas having worked with us since our beginning of our time in the Himalayas on the Tibetan side of Everest in 1991. He has been to our home in Canada and is our family. His survival stories of avalanches on Kanchenjunga, not once but twice, are sure to keep you on track while walking the trails of the Himalayas with him.
Peak Freaks happy and hard working team!
| | | | | |
| --- | --- | --- | --- | --- |
| | | | | |
| Ang Dawa Sherpa | Ang Namgay Sherpa | Ang Nima Sherpa | Chhong Karma Sherpa | Chuldim Dorjee Sheroa |
| | | | | |
| Dami Sherpa | Dawa Tshering Sherpa | Dawa Tshering Sherpa | Jangbu Sherpa | Karsung Sherpa |
| | | | | |
| Lhakpa Geljan Sherpa | Lhakpa Sherpa | Lhakpa Tenzing | Lakpa Geljan Sherpa | Mingmar Sherpa |
| | | | | |
| Ngwang Nuri Sherpa | Ngwang Sherpa | Palden Sherpa | Pem Nuri | Phu Tashi Sherpa |
| | | | | |
| Ridar Lhome Bhote Sherpa | Sange Phuru Sherpa | Sere Sherpa | Sonam Finjo Sherpa | Sonam Sherpa |
| | | | | |
| Tashi Thundu Sherpa | Thilen Bhote Sherpa | Tshering Lopsang Sherpa | Urken Lendu Sherpa | |
| | | | | |
Our highly regarded High Altitude Sherpa guides after a hard days work.
CLIMBING GUIDE- Ngima Sherpa - (NMA) Specialized Island Peak Guide.

Ngima is Ang Nima's son. Nima works on our expeditions in Nepal during the Dashian Festival which takes place during oceur autumn climbs on Ama Dablam and Pumori. The schools in Nepal are closed during this month so it works well for Ngima to take a break from his schooling in Kathmandu and work on his real passion "guiding and climbing". Ngmia is a member of the NMA- Nepal Mountaineering Association and attended the Manang Mountain School in Thame. We first met Ngima helping his mother and sister working in the family teahouse in Khunde. He was just a young boy then and has chosen to follow in his father's footsteps working in the mountains that they know so well.
Ngima now specializes in leading our Island Peak groups.
AFRICA SPECIALIST AND GUIDES
KILIMANJARO LEAD GUIDE- Reginal Stevens- Certified Park Mountain Guide
Regi is one of the most senior guides working on Kilimanjaro. We were honored to learn of his continued interest in working with Peak Freaks as lead mountain guide for our Kilimanjaro Expeditions. Regi has had over 100 ascent on Kilimanjaro, he could do it with his eyes closed yet each trip his enthusiasm and love for what he does never faulters.
PEAK FREAK TANZANIA OPERATIONS MANAGER- Edita Mboya
This is our lovely Edita who will meet you at the hotel upon your arrival. She is behind all our Tanzanian logistics, organzing guides, group lists, transportation and making sure everyone is accounted for. We could not manage our expeditions worlds apart without her many years of experience working with groups.
PEAK FREAK ESSENTIALS
Michael Scott Mortensen - Adventure Filmmaker/Writer and Multi Media support
Scott summited Mt. Everest via the south ridge May 21, 2008 with Peak Freaks. A former firefighter and real estate project manager, Scott's deepest passion is for Philanthropy. To raise funds for an orphanage in Thailand called the House of Miracles, he rode a bicycle across the entire United States with his best friend, Matt Elam. To help rebuild the Bay Islands after Hurricane Mitch, he shot a documentary film and contributed financially to the Pandytown Youth Center on Roatan, Honduras. While studying Cultural Anthropology in New Zealand he met the Dalai Lama and while in Rome he listened to Pope John Paul II at the Vatican. Scott has done motivational speaking here in the States, shot photography in Russia, built a community center in Fiji, and published articles worldwide from Hawaii to Saudi Arabia.
Currently, Scott is writing a book about his experiences called, The TarZen Diet. Part memoir, part motivational literature, the book promotes his concept of "total life nourishment." There is even an indpendent film of the same name to accompany the novel- which Scott wrote, produced and directed.
Scott will leading and filming our Kilimanjaro New years expedition commencing Dec. 28, 2009. He will film the climb and produce a DVD that will be available to participants, or anyone interested for that matter. I can assure you it will be good, both the flim and the climb. If you have seen the Peak Freak Everest 2008 preview YouTube flick on this site you will get a good idea of what I mean. Scott was also the master blogger throughout the Everest 2008 climb. When the expedition was over, our readers were begging for more. An extremely gifted and entertaining personality to climb Kili with this New Years. The "ONCE IN A BLUE MOON" expedition.
TREKKING GUIDE / CLI MBING COACH June Ray
Mother, adventurer, business owner, June Ray has been climbing passionately for the past 22 years. Originally from Australia, Ray now lives in the eclectic, mountain-blessed city of Nelson, British Columbia, and part owner/operator of a successful guiding and climbing wall business, Gravity Unlimited Adventures.
Throughout her climbing career, Ray has made numerous winter and summer ascents of 15,000 to 20,000 foot high mountain peaks, including Mt. Rainier, Mt Kilimanjaro, Mt. Logan, Mt. Cayambe, Mt. Chimborazo and Island Peak. She has also climbed technical, multi-pitch rock routes in places like Red Rocks, NV, El Potrero Chico, Mexico and BC's much-coveted Bugaboo Range. Ray is also an avid ice climber, having ascended numerous routes in the Canadian Rockies: Pilsner Pillar, Carlsberg, and Weeping Wall to name a few.
Ray has been an ACMG certified hiking guide and climbing instructor for the past seven years. She is a certified coach with the Coaching Association of Canada, and is one of the first people in the country to complete the National Coaching Certification Program as a climbing coach. Today, Ray teaches women's climbing programs and clinics, while coaching a women's competitive climbing team in her hometown of Nelson, BC.
Her travels around the world in search of adventure and climbing is a direct reflection of her love of people, culture, nature, and photography coupled with her caring touch and great sense of humour is what makes trekking with June such a joy.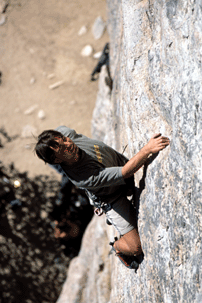 ROCK & ICE GUIDE - Mirek Hladik
ACMG Rock Guide and Gravity Adventure Ltd. owner/operator. Mirek is our rock and ice specialist working on our Everest Training Camps. Originally from a mountain town in the Czech Republic and family guiding background makes Mirek a great asset to the Peak Freak team. Mirek is multi-talented. Harmonica player, band member, founder of Gravity Adventures climbing gym, First Chair shuttle service, Unimog Mountain Bike shuttle, Amphibean shuttle service for access to terrain via Kootenay Lake and Bio Diesel distributor. When it comes to making life about having fun and being environmentally responsible, Mirek has it dialled.
TREKKING GUIDE- Vanessa Higgott - HOPEFUL HOME SCHOLARSHIP PROJECT MANAGER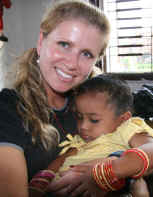 A part-time fitness instructor near Barrie, Ontario, Vanessa enjoys anything that keeps her outside and enjoying life. Her passions include rock and ice climbing, white-water canoeing, mountain biking and travel. Her love of adventure, nature, people, exciting cultures and photography have taken her to places like East Africa, Thailand, Nepal, and all over the United Kingdom, and North, Central and South America. Some of Vanessa's prior trekking peaks include Mount Kilimanjaro, Mount Cotapaxi and Gokyo Ri.
No matter where she is however, a part of her heart remains in Kathmandu, Nepal, at Hopeful Home Orphanage, where she spent some time volunteering in 2006. Her continued work with the children of Hopeful home is her greatest passion. She is currently in development of a post-secondary scholarship fund, with the hopes of breaking the cycle of poverty for these great children whose potential will otherwise never be realized.
MOUNTAIN BIKE GUIDE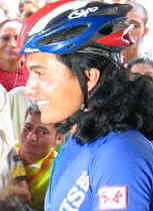 Suresh began mountain bike riding in 1999. As this time he moved to Kathmandu from his village in the country, he worked at a variety of jobs to pay for his upkeep and learn the English language.
Suresh is currently the number one mountain bike rider in Nepal. He has participated in races not only in Nepal, but also Japan, Germany and the UK. He has been entered into the Asian games and the European Trans Alps in 2003 and his main aim is to enter into the Olympics in Beijing in 2008.
He has supported his mountain bike career by working as a Himalayan Guide, traveling to Tibet, China, India, Butan, Mongolia and many areas of Nepal. He has determination, dedication and commitment to his sport- with the correct training, sponsorship, he should achieve his dream of entry into the 2008 Olympics.
Photo: Suresh arriving 'FIRST 'at the finish line- Nepal
TRAVEL DESK SPECIALISTS- Maryann Juozaitis
Maryann specializes in adventure travel and has traveled all over the world. She has experience escorting small trekking and cultural groups in Nepal and Tibet and understands your travel needs well. Her passion is hiking whether it be here, or in the Rockies or in the Himalayas. She has trekked the Inca Trail in Peru and Nepal she has trekked to Everest Base Camp, Kala Pattar, the Jomsom Trek and Annapurna base camp. She has also been to Everest Base Camp on the north side in Tibet.
Need the best deals on flights from your home town to Kathmandu and return. Perhaps a stopover vacation on the return in Thailand, Hong Kong or Japan. Ask Peak Freaks travel specialist Maryann, who is well traveled in the Himalayas and has now turned her focus to mountain travel full time. Email: trek@peakfreaks.com
ACCOUNTANT - Karen Hirschmiller,
Karen an avid outdoor enthusiast has been with Peak Freaks since the beginning of its time. As our Chartered Accountant with over 25 years experience she has helped us and other companies in setting up and maintaining their accounting records and she provides valuable advice to the entrepreneur.
An extensive world traveler Karen not only keeps the back end of the company in order but she also understands the front end with her extraordinary adventure resume. Karen has been to Everest Base Camp and Ama Dablam Base Camp ( Nepal), the Dolomites (Italian Alps), Pyrenees (Spain), Jebel Sharo (Morocco), Sierra Madres (Mexico), GR20 (Corsica), Machu Picchu (Peru) and has traveled throughout Europe and Ireland, England, Ecuador, Bolivia, Galapagos, Belize, Vietnam, Thailand, Botswana, Zimbabwe and South Africa. Karen is still on the move exploring new destinations while balancing the books here at Peak Freaks.
DIETITIAN- Helen Lutz, MPH, RD
Helen is a Registered Dietitian living in Nelson, BC. Over the past 15 years Helen has developed expertise in nutrition education, chronic disease prevention, media and public speaking, and involvement in health promotion and wellness initiatives. Helen is highly regarded for her ease of communication and practical approach to translating the science of nutrition into everyday language and practice. Helen enjoys telemark skiing, cycling, baking, gardening, and being a mom to her boys. Helen, her husband and two young sons enjoy adventuring together in the great outdoors.
Helen's contribution to the Peak Freak team is extremely valuable. Helen offers climbers and other athletes expert guidance in nutrition and meal planning to help attain conditioning prior to their adventures.
Helen will be leading our EVEREST BASE CAMP trek this spring- May 1, 2009.
A few of our Sherpa family of friends you will meet in the Khumbu.
| | | | | | | | | | | |
| --- | --- | --- | --- | --- | --- | --- | --- | --- | --- | --- |
| | | | | | | | | | | |
| | | | | | | | | | | |
| | | | | | | | | | | |