CLIMBING GEAR DISCUSSION
[Surviving Everest] [Photo gallery] [Everest Training] [Suggested Brand List]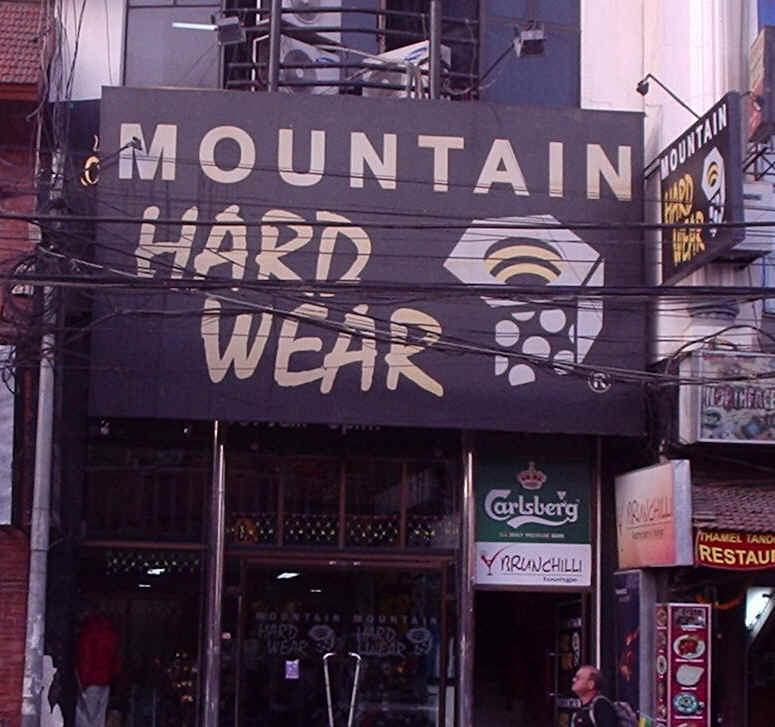 On this page you will find recommendations for all of your equipment needs for
climbing Mount Everest and other mountains worldwide. The items I have selected are based on light weight and warmth, essential for climbing at altitude. This is a guideline only, please study carefully to assess your personal needs.
Be very careful not to over pack. Below is a photo of all your needs to climb mountains such as Ama Dablam and Mount Pumori. For Everest add some altitude boots, electric foot warmers, a down suit and some oxygen and you are set.
Kathmandu is fast becoming a hub for high altitude clothing manufactures and equipment distributors in Thamel, the tourist district.. Here are a couple of friends we work with. Their equipment has been used on dozens of successful Everest summits.
EVEREST HARDWEAR- Custom Down Suit and Jackets: . Manufactures of down clothing, jackets, pants, suits and sleeping bags good for Everest and other high altitude peaks. Contact:
Ang Sonam Sherpa at: angsonam25@yahoo.com Phone: Tel: +977 1 4230399, Cell: +977 98510-45706- Custom made suits available to Peak Freak participants. Be sure to mention you are with Peak Freaks for our special offer.
The suit has been tried tested and true on many occasions by our expeditions members, including the Lions Club Sherpa team in 2007 and the Women's Nepalese National Team. Our best survival suit story was in 2008 on Everest when our client Sultan Al Ismaili, the first climber from Oman to attempt Everest spent the night high on Everest with added ventilation that was created in the butt area. This was caused by Tim dragging him down the mountain by his boots when Sultan gave up and wanted to die. A little leakage was created sending feathers over the Kangshung face, luckily both Sultan and the suit survived that epic night in the death zone.
Our promotion of these suits "which are not knock off's" but rather originals, is part of our "green theme" policies in buying local. The suit was designed from a template of of one of Tim's down suits a few years ago and improved from there.
Photo: Ang Sonam Sherpa- shop owner and Lions Club Everest Summiteer May 21, 2007. Sherpa Photos above: On Everest in the Everest Hardwear Suits- Da Jemba Sherpa, Lhakpa Gelgan Sherpa, Kami Sherpa, Ang Sonam Sherpa (Owner)
EVEREST BOOTS: Distributor of the Everest Boot now in Kathmandu with a large inventory and is the NEW Kathmandu Mountain Hard Wear store.: Contact: Tendi
Sherpa mtnoutdoors@wlink.com.np Phone: Tel: 977 1 441 800 Fax: 977 1 443 7679 Tell Tendi you are climbing with Peak Freaks. Sizes 8 to 13.
You can also buy Kathmandu all original Mountain Hardwear as you would see in the catalogue or online. Prices are much the same as at home because this is the official Kathmandu dealer. No knock offs here! Large selection up-to-date stock.
KATHMANDU HAS IT ALL !!! There are just a couple of exceptions.
Photos of our gear outlet in Kathmandu. New and used and rentals too!
BOOTS
MILLET EVEREST BOOT ORDER
Millet's formerly One Sport Everest Boots, are now available in Kathmandu for a good price. A couple years ago the Kathmandu assortment was not so good due to limited sizes available. Today they are well stocked. Many climbers will go first on our Everest Training Climb on Mt. Pumori not only to gain altitude and technical experience but it also serves well as a shopping trip for the big E.
For Everest you will need combinations of 3 boots. A trekking boot for the walk to base camp. A double plastic boot for the lower part of the mountain, Camp 1, 2, and 3. It will be your work boot used for multiple trips up and own the mountain pre- summit bid. The Scarpa Inferno or the Koflach Degre are good choices and their is also a La Sportiva on the market that fits the bill. The Everest boot will be for your summit push. Warm feet is essential. Do not scrimp or assume when it comes to keeping your feet warm. We highly recommend the Everest Boot. It is still the warmest boot available on the market today.
Description
Semi-rigid / shell boot with built-in Gore-Tex gaiter and removable inner slipper in insulating alveolite. Automatic crampon attachment. Non-compressive fastening with wide Velcro straps. Closes with a double zip, making it easier to put on. Protective rubber coating on heels and toes. Microcellular midsole to increase insulation. Isothermal to - 50 C°. Removable and interchangeable inner slipper in aluminized alveolite. Fiberglass and Carbon Midsole
Cordura + evazote upper. Alveolite insole. GORE-TEX® 3 layer gaiter. Elasticized collar.

SIZES 5 to 13+
AVERAGE WEIGHT 3000 grms
BOOTS & GAITERS FOR AMA DABLAM , PUMORI or other peaks.
SCARPA INFERNO Double Boot

Weight: 2.46kg (8M)

Two stiffnesses of plastic are used to provide rigidity and flexibility where you need it. The soft Pebax shell will not stiffen up in cold weather, and the inner liner features closed-cell foam for added warmth.
CLOTHING, TENTS, BAGS AND PACKS

Mountain Hardwear offers tried tested and true mountaineering apparel and gear. Please visit their site to view these items. http://www.mountainhardwear.com
BODY
You will need a good pair of pants, the bib style is preferred over the pant. I find that with the pant style, they tend to push down when wearing a pack. The bib style with suspenders helps prevent this. The MEC Synergy pant is a good option as well as the Arcteryx Stinger Big pant. You will also need a good waterproof shell jacket and a down jacket.
For more information on a good selection of clothing, sleeping bags and tents, please browse the Mountain Hardwear website: For Mountain Hardwear click here: Mountain Hardwear
ALTITUDE SLEEPING BAG- There is an assortment of bags that I recommend depending on the climbers individual

needs ranging from a rating system of -40 to -20c for on mountain bags. Have a look at the Mountain Hardwear website and go over the specs to determine your specific needs. For a good warmth and weight and balance for all high altitude mountains I recommend the following:
The WRAITH SL from Mountain Hardwear. Temperature rating -20F/-29C, sizes REG/LONG, weight 4lbs 4oz/1.9kg. This bag is built for high altitude, cold weather mountaineering, where temperatures rarely rise above 0F.
The WRAITH SI Mountain Hardwear sleeping bag is loaded with features designed specifically to keep you toasty in the coldest conditions. 800-fill down keeps you cozy while the Conduit SI laminate keeps you dry and protected.
Wraith SL- ORDER
CLIMBING ACCESSORIES
Carefully check the expedition gear list you have been provided. Here are a few recommendations and places to look for options.
CRAMPONS- You will need a 12 point crampon. The Petzle Charlet M10 crampon is a great all round crampon.

These must be sharp and must fit your boot perfectly. You can also consider the Grivel G-14 or Black Diamond Sabertooth as good choices.

ICE AXE- The Petzle Charlet Snowwalker axe. A short axe with a pick and light weight is what is needed for high altitude climbing. Summit day is a consistent 40 degrees so a short axe of 60cm with a leash is ideal.
CLIMBING HARNESS- Make sure the buckle is easy for you to thread in cold condition! Gear loops will be useful for this trip as well as adjustable leg loops. The Petzle Adjama is nice since it doesn't require rethreading the buckle.
HELMET- Also many to choose from The High Star Camp is an example of one I would recommend.
GLOVES- Men: Mountain Hardwear's Annapurna Glove is a premier technical mountaineering 3-in-1 glove: Gore-Tex® XCR® outer glove with abrasion resistant palm and Kevlar reinforced sidewalls can be worn with or without liner. Women: Headwall XCR Glove is a good choice.
MITTS- The Absolute Zero mitt is our choice in the Mountain Hardwear line..

Extreme expeditions require extreme 3-in-1 gloves: Conduit ™ for waterproof protection, removable PrimaLoft® inner mitt for warmth, abrasion resistant palm and sidewalls.

BASE CAMP TENT- We recommend either the Mountain Hardwear Trango 2 or the Hammerhead 2 tents for your personal base camp tent if you are looking to buy a new one, otherwise bring what you have.
CLIMBING BACK PACK-

Medium size internal frame pack. An example is the Lowe Alpine Attack 60 (60 liter capacity). Look for a pack which is comfortable to carry, very durable, as light as is reasonable and one which has a minimum number of extras and attachments.
CLIMBING EQUIPMENT AVAILABLE IN KATHMANDU
Word is out that there is an abundance of equipment, clothing and footwear available in Nepal. This is true! An amazing selection of some old some new and plenty of knock offs. If you know your stuff go for it. You can find plenty of beat up and semi new and brand new down jackets. New is very reasonable today in Kathmandu. Lots of smelly good quality sleeping bags and plenty knock offs which are good for base camp bags but not for on the mountain. They tend to be too heavy.
Technical climbing gear available in Kathmandu. Yes this is true! Again know your stuff. There is a large assortment of everything you will need. You will need to be well informed on spotting cracked and damaged protection devices if you buy used. Renting from our gear outlet will be a good idea. On our expeditions we include all good quality team hardwear.
Trekking equipment: Everything you will need and then some is available in one of the many shops in Kathmandu.. Most of the clothing is knock offs but it works. Be prepared to discard it after the trip because the sewing and fabric doesn't hold up that well. But hey- if you don't plan on doing this again, go for it! You can rent down jackets if you don't have use for one ever again and sleeping bags good for trekking or base camp. You can even buy duffel bags to put all your gear in, water bottles, knives, hiking boots and more, its all there.
If you are joining an organized trek we "do not" recommend leaving your shopping till Kathmandu due to time restraints. This is your time to holiday and shopping for some can be a real chore. It's a good idea to squeeze this effort in at home before you go. There are no real savings on quality original gear other than the knock off jackets.
Happy shopping- please don't hesitate to contact me for more assistance if needed.
Tim Rippel - Peak Freak Expeditions Inc.