FOR SALE- Our piece of paradise in the Kootenays, Canada.
Named in Canadian Business Magazine as one of the " TOP 10 places in the World to Retire"
Pay yourself to ski.
NEPAL INFORMATION
Weather - Best Time To Go - Places to See and more
please see important "CAUTION" mentions at the bottom of this page.
[ SHERPA HOMES] [ SHERPA CULTURE] [ KHUMBU VALLEY TRAIL and VILLAGES]
[CLIMBING EXPEDITIONS] [TREKKING EXPEDITIONS] [PHOTO GALLERY]
WHEN IS THE BEST TIME TO GO TO NEPAL?
Climate factors are very important in deciding on a visit to Nepal. October-November, the start of the dry season, is in many ways the best time of the year in Nepal. With the monsoon only recently finished the country-side is green and lush and Nepal is at its most beautiful. Rice is harvested and there are some more important and colorful festivals to enjoy. At this time of the year the air is sparkling clean, visibility is unexcelled and the Himalayan views are as near perfect as you can ask. Further more the weather is still balmy, neither too hot nor too cold. For obvious reasons, this is also the peak tourist season.
In December-January the temperatures and visibility are still good, though it can get very cold. Trekkers need to be well prepared, as snow can be encountered on high-altitude treks. Heading for the Everest Base Camp at this time of the year can be a real feat of endurance and the Annapurna Circuit trek is often closed by snow on the Thorang La pass. Down in Kathmandu the cheaper hotels, where heating is non-existent, are often chilly and gloomy in the evenings. There's sometimes a brief winter monsoon, lasting just a day or two in January.
February-March-April, the tail end of the dry season, is good second-best time. The weather gets warmer so high-altitude treks are no longer as arduous, although by the end of the dry season, before the monsoon breaks, it starts to get too hot for comfort. Visibility is not good as earlier in the dry season since the country is now very dry, and dust in the air reduces that crystal Himalayan clarity. In compensation, Nepal's wonderful rhododendrons and many other flowers are in bloom so there's plenty of color to be seen along the trekking trails.
May and the early part of June are not the best months as it is extremely hot and dusty and the coming monsoon hangs over you like a threat. Mid-June to September, when the monsoon finally arrives, is the least popular time to visit Nepal. The rains wash the dust out the air, but the clouds obscure the mountains so you're unlikely to enjoy more than a rare glimpse of Himalaya. Although it doesn't rain all day it usually does rain everyday and the trails will be muddy and plagued by leeches. Despite this, it is possible to trek during the monsoon, although high rivers may further complicate matters and it's certainly not as pleasant as other times of the year. Landslides sometimes block roads during the monsoon but many visitors still come to Nepal form India as the weather is even less pleasant down on the plains. The latter part of the monsoon, the months of August-September, are a time of festivals which will certainly enliven a visit to Kathmandu.
Location: Nepal borders with the Tibet Autonomous Region of the People's of China in the North and India in the East, South and West respectively.
Area: 147,181 sq. Kilometers
Altitude: Varies from 70 meters to 8848 meters
Capital: Kathmandu
Population: approx. 22 million
Language: Nepali is the national language of Nepal. Educated people understand and speak English as well.
Time: Nepali is the national language of Nepal. Educated people understand and speak English as well.
Climate: Nepal has four major seasons.
(1) Winter: December-February,
(2) Spring: March-May,
(3) Summer: June-August,
(4) Autumn: September-November.
Nepal can be visited all year round
People and Religion: Nepalese people are mainly divided into two distinct groups, the Indo-Aryans and the Mongolians. Kathmandu Valley is the spiritual and cultural meeting point of all these groups. Nepal is the only Hindu Kingdom in the World. Hindu Temples and Buddhist shrines are scattered all over the kingdom. Nepal is the birthplace of Lord Buddha, the Light of Asia. Hindus and Buddhists live together harmoniously in Nepal.
Currency and Foreign Exchange: Nepali Rupee notes come in Rs. 1, 2, 5, 10, 20, 25, 50, 100, 500, 1000 denominations. Coins come 5p, 10p, 25p, Rs. 1, 2, 5 denominations. Foreign currencies must be exchanged only through the banks or authorized foreign exchange dealers. The receipts from such transaction are to be obtained and retained. Visitors can exchange foreign currency at the foreign exchange counter at the airport upon arrival. Visitors other than the Indian national have to make the payment in foreign currency in hotel, travel agencies or trekking agencies and air tickets. Non-Indian visitors are not allowed to import or export Indian currency. The approximate value of one USA dollar is equivalent to Rs. 73.65 as of January 30, 2001.
Entry Procedure: All visitors except the Indian nationals must hold a passport and a valid visa. The visas can be obtained at the Nepalese Diplomatic Missions and Consulates abroad and entry points issue visa for visitors. The visa will be extended at the Department of Immigration.

Entry: A visa is necessary to enter Nepal and can be obtained for the following duration from any Royal Nepalese Embassy or Consulate or at the entry points in Nepal.

1. The single entry tourist visa can be obtained from the entry points of Nepal or from the Royal Nepalese diplomatic missions abroad by paying US$30 for 60 days.

2. If the visitors, who has already visited Nepal under tourist visa, intends to come again within 15 days of the same visa year he/she can obtain entry visa by paying US$50 for 30 days at the entry points or at the Royal Nepalese diplomatic missions abroad.
3. The visitors who wish to stay for more that 60 days in Nepal can extend their tourist visa by paying the equivalent of US$50 in the Nepalese currency for 30 days from the Department of Immigration.

4. Business visa with multiple entry facility for the period of one year and five years can be obtained from the Department of Immigration on the recommendation of Ministry of Industry by paying the equivalent of US$250 and US$100 respectively in the Nepalese currency for the foreign investors.
ENTRY POINTS: By Air: Tribhuvan International Airport, Kathmandu
By Land: (1) Kakarbhitta (2) Birgung (3) Belhiya (Bhairahawa) (4) Nepalgung (5) Dhangadi (6) Jogbani (Biratnagar) and (7) Mahendra Nagar in Nepal-India border and (8) Kodari in Nepal-China border.
The overland tourists entering the kingdom with their vehicles must possess an international carnet.
Customs formalities: All baggage must be declared and cleared through the customs on the part of entry. Personal effects are permitted free entry. The duty on articles brought by the visitor varies according to the volume and value of the goods. A tourist may bring in dutiable goods, such as tobacco and liquors, within the prescribed quantity free of duty. Carrying narcotics, arms and ammunition are strictly prohibited. Visitors can export souvenirs to their respective countries. The export of antiques requires special certificate from the Department of Archaeology, National Archive Building, Ram Shah path, Kathmandu (Tel: 215358). Gold, silver, precious stones, wild animals and their skins, horns, wild flora and fauna etc. and all drugs whether processed or in their natural state are prohibited to export.
Travel route: Royal Nepal Airlines the national flag carrier of Nepal and other International airlines operate scheduled flights to Kathmandu from Abu Dhabi, Bangkok, Bombay, Calcutta, Doha, Delhi, Dubai, Dhaka, Paro (Bhutan),
Varanasi, Frankfurt, Paris, Hong Kong, Karachi, London, Moscow, Singapore, Osaka, Lhasa and Vienna. The International Airlines operating their flights to Kathmandu include Aeroflot, Biman Bangladesh Airlines, China South West Airlines, Druk Air, Gulf Air, Indian Airlines, Lufthansa, Pakistan International Airlines, Qatar Airways, Singapore Airlines and Thai International.
Airport tax: Rs. 1100 for departure to other international destinations.
Airport transportation: In addition to metered taxis, limousine service is also available at the airport for transport to major hotels in the city. Cost to Kathmandu is approximately Rs. 200.
Other transport services: Metered taxis having black plates with white figures are available in Kathmandu. Metered tempo (three wheeler scooters) is also available and is slightly cheaper than taxis. Bicycle, motorcycles and rickshaws are also available on hire. The fare for the bicycles or motorcycles is fixed where as the fare of rickshaws is to be negotiated. There are regular bus services between the main town and interiors of the Kathmandu valley. The Bus Terminal is located at Gongabu (new bus terminal) and Bagbazar (old but terminal). Similarly, scheduled bus services for outside the valley operate from the Gongabu Bus Terminal which is located near Balaju, Kathmandu
Facilities:
Nepal has every type of accommodation facilities that a tourist might ask for. This ranges from the international standard star hotels to budget hotels and lodges. Similarly one can also have a choice of sightseeing from a range of different tour packages. In order to have an assured quality service it is advisable to use the facilities and services of government-registered hotels, lodges, travel agencies the licensed tour guides only and engage an authorized travel/trekking agency.
Major tourist attractions:
Very few countries in the World can offer as many varieties of adventure tourism packages as Nepal. Of the 14 peaks above 8000 meters in the World, eight are located in Nepal. It is the land of Sagarmatha (Mount. Everest 8848 meters), the highest peak in the World and other 1310 mountain peaks which are opened for expeditions. Nepal has thousands of such peaks, which are yet to be conquered by the expeditions. For those who cannot withstand the rigorousness mountain climbing there are mountain flights, which fly around the Mt. Everest and provide a close look of the top of the World. From Nagarkot (32 kilometers East of Kathmandu) and Daman (80 Kilometer southwest of Kathmandu) one can have a distant view of Mt. Everest and beautiful Himalayan range. Trekking is the best way to get to interesting and remote mountain villages of Nepal and to enjoy views of the focused peaks together with their lifestyle untouched by modern civilization.
The river rafting which is known as White Water Adventure represents another major attractions. With distance of 100 miles, one can see the topographical variations with the river rising from the higher points near Nepal - Tibetan border and then dropping dramatically to lower levels the plains bordering India. For those who wish to view wildlife, Nepal offers plenty of scope. There are eight National Parks and four Wildlife Reserves and two Conservation Area in Nepal.
For the less adventure, Pokhara the lake-city of Nepal has no equal as it provides ample opportunities for fishing, swimming, canoeing and boating along with the sightseeing of majestic panoramic views in its background. It is only Pokhara, a tropical spotty with an altitude of about 900 meter from where one can see the mountain crossing over 8000 meters from such a short distance of about 40 kilometers. For the nature lovers Nepal is such a land of natural beauty that metaphors cannot delineate its real picture.

At the same time, Nepal proffers an incomparable scope to the scholars and connoisseurs of art and culture to see and study the different aspects of fine arts be it painting, sculpture, woodcarving or architecture .Kathmandu valley possesses several historical monuments, old place and palace squares, shrines and temples. Ageless tradition and legends all make it a living museum that any visitor would cherish its vivid memory in his/her heart forever.

Nepal is the land of Lord Pashupatinath, which is the holiest Hindu temple in the World. Besides, two out of the four main holy places (Chhetras) of Hindu pilgrimages namely Muktichhetra and Varahachhetra, are located in Nepal. Not only for the Hindus but also for the Buddhists, Nepal offers a unique place of pilgrimage as it happens to be the birthplace of Lord Buddha, the apostle of peace and compassion. Nepal is the Land of festivals with some part of the Kingdom or the other celebrating festival everyday of the year. Festivals may be linked with the remembrance of the departed soul, to herald the different seasons, to mark the beginning or end of the agricultural cycle, to mark the national events, or just family celebrations. On a festive day the Nepalese take their ritual bath, worship different gods and goddesses, visit temple, observe fasting and undertake feasting. The most important aspect of Nepalese culture is the religious harmony and understanding prevailing among the Hindus and Buddhist. Some of the major festivals of Nepal are:
Places to Visit
KATHMANDU CITY

Kathmandu is known as Kantipur, the kingdom of Nepal. Here you will visit the temple of the living Goddess, who acknowledges the greetings of her devotees from balcony of her temple residence, Kathmandap-the source of the name Kathmandu. It was allegedly made from the timber of a single tree. Next, on to the Durbar Square area with its array of temples overlooked by the Hanuman Dhoka Palace, the ancient palace of the Nepalese Royalty.
Pashupatinath
Lying 6 Km from central Kathmandu, Pashupatinath temple is one of the holiest Hindu temples dedicated to Lord Shiva. Situated amidst a lush green natural setting on the bank of the sacred Bagmati river, the temple, which was built in pagoda style, has a gilded roof and beautifully carved silver doors. Visitors will be permitted to view the temple from the east bank of the Bagmati river, as entrance into the temple is strictly forbidden to all non-Hindus. Pashupatinath is the centre of an annual pilgrimage on the day Shivaratri, which falls in February or March. Behind the temples are the cremation grounds.
Dakshinkali
Literally meaning the Kali of the south, this temple is dedicated to the Goddess Kali, the Hindu goddess of power. Goats, chickens, ducks etc. are sacrificed on Tuesdays and Saturdays. The temple itself is located in a forested canyon and lies 19 Km. from Kathmandu.
Boudanath
This stupa, situated 11 Km. from the center of Kathmandu, is one of the biggest in the world of its kind. It stands with four pairs of eyes in the four cardinal directions, keeping a lookout for righteous behavior and human prosperity. This Buddhist stupa was built by King Man Deva at the advice of the Goddess Mani Jogini. It is built on an octagonal base and is contains inset prayer wheels. The shrine is surrounded by the homes of Lamas, or Buddhist priests.
Swayambhunath

Located approximately 3km from the center of Kathmandu, this Buddist stupa is said to be 2000 years old. The stupa which forms the main structure is composed of a solid hemisphere of brick and earth which supports a lofty conical spire capped by a pinnacle of gilt copper.
Painted on the four sided base below the spire are the all seeing eyes of lord Buddha. The whole area around the Stupa contains an array of small stupas and temples. This is one of the best places from which to view the Kathmandu valley, as it is situated an a small hillock.
BHAKTAPUR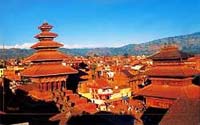 Also known as BHADGAON meaning the city of devotes, this place is the home of medieval art and architecture. Lying 14Km east of kathmandu city. This place was founded in the 9th century and is shaped like a conch shell. The city is at the height of 4600 ft. Above sea level. In Bhaktapur you will visit the Durbar Square with its array of temples overlooked by the palace of 55 Windows built by King Bupatindra Malla, the Nytapola Teple. This temple, which was also built by king Bhupatindra Malla, is the best example of the Pagoda style and stands on five terraces, on each of which stands a pair of figures, famous strong men, elephants, lions, griffins and goddesses. Time permitting, a visit to the museum of Thanka painting can also be considered. A 30 minute walk brings you to the Dattatraya temple and Pujari Math which can also be done provided there is plenty of time at the clients' disposal.
Nagarkot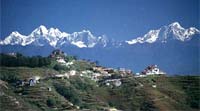 It is situated about 35Km. east of Kathmandu city and from here one can see Mt. Everet and other peaks of the Himalayas. Nagarkot is located between Kathmandu valley in the west and Indravati in the east.
The top of Nagarkot commands accelerating views in all direction. The altitude of Nagarkot is 2229Mt. Above from sea level. It is also very popular for the viewing sunrise and sunset.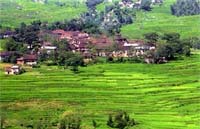 Dhulikhel
It is situated at an altitude of 1600 m. above from sea level and 32 Km. From Kathmandu City. Dhulikhel is famous for its vantage location in viewing the Himalayan ranges, from Cho Oyu in the east to Himalchuli in the west. It is popular for viewing the sunrise and sunset.
Patan
5 Km. away from Kathmandu city. Patan, also known as Lalitpur, is a city of fine arts, enclosed within 4 stupas, which are said to have been built in the 3rd century A.D. by Emperor Ashoka.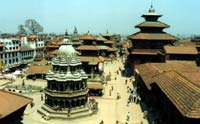 You will see Durbar square, the Patan durbar (palace), which houses a bronze collection, the Krishna temple built by King Siddi Narsinh Malla, Hiranya Varna Mahavihar, and Mahaboudha Temple.
A trip to the Tibetan Refugee Centre and the Handicraft Centre will be included during your visit to Patan, where you will witness the hand weaving of Tibetan carpets and molding of metal statues.
Pokhara Valley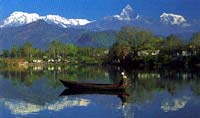 Pokhara is Nepal's second most popular tourist destination and its adventure capital. It is overshadowed by a massive wall of the Himalayas, and dominated by the towering peak of the Annapurna range. Even more impressive is the fishtailed pinnacle of Mt. Machhapuchhare (6977 mt.) For the adventurous, the massif of Mt. Dhaulagiri (8167m) waits to be explored. Pokhara is the starting point for the most famous treks in Nepal, in the Annapurna area. Pokara is situated 200 K.M. west of Kathmandu.
What to See

Phewa Lake: The second largest lake in the kingdom, this is the center of attraction in Pokhara. The eastern shore, popularly known as lake side, or Baidam, is the favorite hang out for travelers, and is where most of the hotels, restaurants, and handicraft shops are located.
Begnas & Rupa Lake - The lakes offer the perfect natural retreat because of their relative seclusion. Splendid boating and fishing opportunities can be had here.

Barahi Temple: The most important religious monument in Pokhara, built almost in the middle of Phewa Lake, this two storied pagoda is dedicated to the manifestation of Ajima, the protectress deity who represents the female force.

Seti Gandaki: Flowing right through the city, this turbulent river runs completely underground in places. Amazingly, at certain points, the river hardly appears to be two meters wide, but it is quite deep, up to over 45 meters.

Devi's Fall: Locally known as "Pataley Chhango", this is an awesome waterfall lying about two km. southwest of Pokhara airport. Legend has it that a trekker (Devin David….) was washed away by the Pardi Khola (river) and mysteriously disappeared down into an underground passage beneath the fall.

Mahendra Gupha (cave): Another of nature's wonders in Pokhara is the Mahendra Gupha. This large limestone cave is locally known as the house of bats, which is an apt name for it. A two hour walk to the north of Pokhara, it is best to bring your own torch in order to see the stalactites and stalagmites, as well as the local winged residents.
Lumbini
The birth place of Lord Buddha
Nepal is as well known to the world as the sacred birth place of Lord Buddha as it is famous for its mountains and monuments. It attained a high level of civilization and prosperity, and its acclaim is well deserved. Buddha was born into a royal family. Immediately after his
birth, he took seven steps in the four cardinal directions, and wherever he set foot, a divine lotus flower bloomed.
The main attraction at Lumbini is the Secred Garden, which is spread out over 8 sq km and contains all of the treasures of this historical area. The Mayadevi temple is the main attraction for pilgrims and archaeologists alike. Here we find a bas relief that shows Mayadevi, the Buddha's mother, giving birth to him. Standing west of the Mayadevi shirine is the oldest monument in Nepal, the Ashoka Pillar. The pillar was erected by Emperor Ashoka in order to commemorate his pilgrimage to the sacred site.
HOLIDAYS
| | | |
| --- | --- | --- |
| New year's Day | April ( First day of Baisakh) | |
| Matatirtha Aaunsi ( Mother's Day ) | April | |
| Buddha Jayanti | April | |
| Machhendtanath Rath Jatra | May-June | |
| Guru Poornima | August | |
| Gaijatra | August-September | |
| Krishnashtami | August-September | |
| Gokarna Aunsi or Father's Day | August-September | |
| Indra Jatra | September | |
| Bada Dashain | September -October | |
| Tihar | October-November | |
| Bala Chaturdashi | November-December | |
| Bansanta Panchami | January-February | |
| Maha Shivaratri | March-April | |
| Ghode Jatra | March-April | |
Govt. Office-Hour:
| | | | |
| --- | --- | --- | --- |
| From | To | Day | Month |
| 9 AM | 5 PM | Mon-Fri | February to mid to November mid |
| 9 PM | 4 PM | Mon-Fri | November mid to February mid |
| | | | |
| --- | --- | --- | --- |
| Banks: | | | |
| 9 AM | 3:30 PM | Mon-Fri | Round the year |
Note: Government offices and banks are closed on Saturdays, Sundays and other
official Holidays.
Nepal Embassies

Country

Address

Telephone

Australia

Bansbari, Kathmandu

4371678, 4371279

Bangladesh

Naxal, Kathmandu

4414943

British

Lainchaur, Kathmandu

4411590, 4414588

China

Balawater, Kathmandu

4411740, 4411958

Denmark

Balawater, Kathmandu

4413010, 4413020

Egypt

Pulchowk, Lalitpur

5524812, 5524844

Finland

Lazimpat, Kathmandu

4416636, 4417221

France

Lazimpat, Kathmandu

4412332, 4414734

Germany

Gyaneshwar, Kathmandu

4412786, 4416527

India

Lainchaur, Kathmandu

410900, 411699

Israel

Lazimpat, Kathmandu

411811, 413419

Japan

Panipokhari, Kathmandu

410397, 414083

Korea, North

Jhamsikhel, Lalitpur

535871, 521084

Korea, South

Tahachal, Kathmandu

270172, 270417

Myanmar

Chakupat, Lalitpur

521788, 521634

Pakistan

Panipokhari, Kathmandu

4410565, 4411421

Russia

Baluwater, Kathmandu

4411063, 4412155

Sri Lanka

Baluwater, Kathmandu

4417406, 4413623

Thailand

Bansbari, Kathmandu

4371410, 4371411

USA

Panipokhari, Kathmandu

4412718
Electricity:
220 Voltages

Communication:
Communication facility available in the popular trekking route:
Everest Region:

Namche

Telephone

Khunde

Telephone

Lukla

Telephone

Tyangboche

Telephone

Pheriche

HF Radio, HRA, Satellite Phone

Lobuche

Satellite Phone

Gokyo

Satellite Phone
Medical facility:
Medical facility available in the popular Trekking route:
Everest Region:

Lukla

Govt. Hospital-Doctor

Khunde

Hillary Hospital-Doctor

Pheriche

HRA Aid-post-Doctor
The Garbage:
THE GARBAGE'S ARE DIVIDED INTO THREE CATEGORIES:
1. Disposable in the Khumbu Region which are incinerable and biodegradable:

a. Toilet paper
b. Cardboard boxes and paper waste
c. Bamboo baskets and mats
d. Cotton and jute bags
e. Spoiled food



2. Recycling materials:



a. Tins, bottles jars and plastic containers
b. Plastic and foil bags and sheeting's.
c. Reusable cooking gas cylinders
d. Gas Canisters



3. Re-exportable goods;



a. Used oxygen bottles
b. Used batteries
c. Climbing equipment's such as tents, personal gear etc.
Economy Overview
Nepal is among the poorest and least developed countries in the world with almost one-third of its population living below the poverty line. Agriculture is the mainstay of the economy, providing a livelihood for three-fourths of the population and accounting for 38% of GDP. Industrial activity mainly involves the processing of agricultural produce including jute, sugarcane, tobacco, and grain. Security concerns relating to the Maoist conflict have led to a decrease in tourism, a key source of foreign exchange. Nepal has considerable scope for exploiting its potential in hydropower and tourism, areas of recent foreign investment interest. Prospects for foreign trade or investment in other sectors will remain poor, however, because of the small size of the economy, its technological backwardness, its remoteness, its landlocked geographic location, its civil strife, and its susceptibility to natural disaster.
Labour Force
Number in labour force: 10.4 million note: severe lack of skilled labor (2004 est.)
Sectors: agriculture: 76% industry: 6% services: 18%
Unemployment: 42% (2004 est.)
GDP Facts and Figures
Currency: Rupee (NRp)
GDP: $39.14 billion (2005 est.)
GDP Per Capita: $1,400 (2005 est.)
GDP Real Growth: 2.7% (2005 est.)
GDP Composition: agriculture: 38% industry: 21% services: 41% (2005 est.)
Industries and Land Use
Industries: tourism, carpet, textile; small rice, jute, sugar, and oilseed mills; cigarettes, cement and brick production
Land use: arable land: 16.07% permanent crops: 0.85% other: 83.08% (2005)
Exports: carpets, clothing, leather goods, jute goods, grain
CAUTION: When searching the Internet for a trekking outfitter be sure to get some testimonies from past climbers. Not ones the operator publishes but direct contact. Anyone can make a website and call themselves an operator and this is very common in Nepal, everyone needs a job.
The troublesome part is that the Everest and Annapurna treks are extreme altitudes and AMS is a life threatening. Each years trekkers die on the trails of the Himalayas due to poor or inexperienced leadership not being able to recognize symptoms before its too late. Weather changes can and do often complicate rescue and the result is death.
PEAK FREAK TREKS + unique to Peak Freaks - a night or two at our base camp.