LOBUJE (LOBUCHE) EAST 6119/20,070ft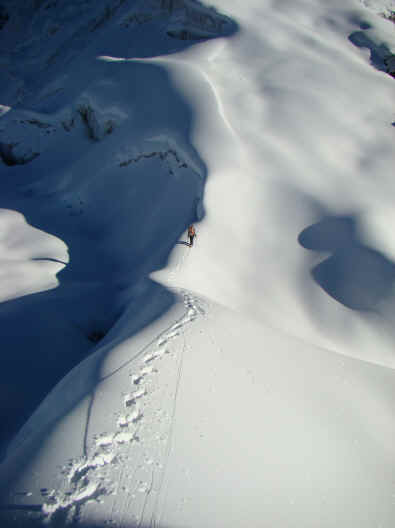 Looking for an adventure in the Everest region of Nepal that offers a bit more than a trek to base camp? Lobuche East is rated as one of the more technical trekking peaks in this region, only Kwangde and Kusum Kangru are more difficult.
ROUTE - Lobuche
There are two distinct summits to Lobuje Peak- Lobuje East (6119m/20,075m) and Lobuje West (6145m/20,016ft). Although a continuous ridge connects them there is a sharp gap and a considerable distance between them. Lobuje is an attractive summit, offering a variety of existing routes and a wide scope for new lines. Seen from Pheriche, the dark triangle of its rocky East Face rises above the moraines of the Khumbu Glacier to an icy skyline. This skyline forms the South Ridge, the junction of the East Face with the glaciated South-West Face and the line of the normal route of ascent. This in turn leads to the summit ridge running northwest from the top of the East Face through several small summits to the East Peak.
Participants will climb on snow and ice depending on conditions. The route will fixed by our Sherpa team and climbers will be required to tie in and climb with the use of the fixed lines.
Photo: Compliments of Philippe M. Herschke

DATES
COST: Lobuche $4400.00US
ITINERARIES - Three Spectacular Itineraries including Lobuche East
All three climbs together or individual
All inclusive from Kathmandu.
INCLUDES

For trekkers without ice axe, harness, helmet and crampons, please ask us and we will organize them for you. A gear list will be forwarded to members once their reservations has been secured and all other pertinent information.

DOES NOT INCLUDE

Bottled drinks including mineral water
Personal travel accident insurance-
Personal climbing gear and trekking equipment as per gear list..
All other items of personal nature/Phone calls, laundry and showers.
PHYSICAL CONDITIONING: In the best interest of personal safety, success and team compatibility, adequate training and physical conditioning is required. Prior climbing experience of carrying a heavy pack for multiple days serves as an excellent preparation for this expedition. Climbers must be able to carry an average of 15kg to 20kg. Good cardio will serve you well for attaining proper acclimatization in good time.
ASPIRING EVEREST CLIMBERS: An excellent expedition for testing yourself at altitude all while getting acquainted with the use of mountaineering equipment such as ice axe (self arrest and ice climbing), rock and rope, climbing on fixed lines, cramponing and more and important steps to getting familiar with our Sherpas families and their culture, weather patterns in this region and your tolerance to cold and the thin air. Meet Tim and learn about high altitude expedition life before making the big decision, financial investment and time.
IMPORTANT READ.....
Past Blogs- http://peakfreaks8000.blogspot.ca focus on staying safe in the Himalayas and participants responsibility.
Request logistics and booking: