Everest films, books, magazines, and news with Peak Freaks
MONEY SENSE MAGAZINE WRITES-
Because it's there
Why risk life and limb (or at least a few frostbitten fingers and toes) to climb Mount Everest? "It's a life-changing experience," says Tim Rippel, a veteran climber who leads individuals and groups up and down the world's tallest mountain for Peak Freak Expeditions, the Nelson, B.C.-based company he owns with his wife, Becky Rippel.
If you want to go, you've got to book well in advance, as there are only two windows a year in which it's possible to complete the 60-day trip to the summit and back. Your survival depends on finding a reputable guide company. The good ones require that you have previous climbing experience, and no, the rock wall at your local amusement park doesn't count.
You should also be in above-average physical condition. Expect to pay at least $42,000 for the climb, plus the cost of travel to and from Nepal and accommodation off the mountain. There's no guarantee you'll reach the summit, largely because the weather on Everest can be tempestuous. But Rippel says the attempt alone is enough to inspire an epiphany.
"I've seen people sell their homes and begin traveling a lot more [after their climb]. They realize life is short and one should re-think working all the time."
MOST RECENT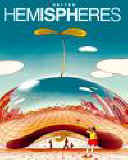 HEMISPHERE- UNITED AIRLINES IN-FLIGHT MAGAZINE- FEATURING PEAK FREAKS EXPERIENCES WITH GLOBAL WARMING IN THE MOUNTAINS AND HOW OUR CLIMBING PRACTICES ADJUST AND INITIATE CHANGE.
"SLIPPERY SLOPES"- CLIMBING EVEREST IS GETTING EVEN HARDER!
KOOTENAY CULTURE MAGAZINE- TIM RIPPEL'S AMAZING RESCUE EFFORTS ON EVEREST IN 2008'. ALL WHILE IN THE DEATH ZONE FOR OVER 36-HOURS AND WITHOUT OXYGEN. Results in bringing him client home alive.

IMJA TSE - ISLAND PEAK
BLUE MAGAZINE TRAVEL PICK - Peak Freak Expeditions Island Peak Expeditions
Combine the hospitable culture of mountain people and the ravishing beauty of the Himalayas and Nepal tops the list of the world's mountaineering destinations. Mt Everest, the highest mountain on Earth, may be the big attraction in Nepal, but it is by no means the only exciting mountain climb in the area writes Canadian Photo Journalist Brad Wrobleski..... more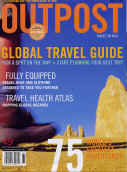 OUTPOST Magazine - Global Travel Guide- Best Trips of 2006- Features: Peak Freaks Tibet Mountain Bike Expeditions.
Along with siz major passes to overcome on the ride from Lhasa to Kathmandu, there are mastery towns, nomadic yak herders and hairpin bends as you ride into the Rongbuk Valley in full view of the north face of Everest. One the way back from the Everest base camp, you skirt the Tibetan Plateau at a killer altitude of 5200 metres and descend what some claim the longest downhill in the world: a 4600m ride to the valley floor. A Peak Freak Expedition - 23 days, May, priced at $3895US. Difficulty: challenging/strenuous.
BOOKS
Everest Canada- "Climb for Hope" written by Everest team member Peter Austen. Power of Passion written by Everest team member Alan Hobson.
OTHER MAGAZINES
FILMS
---
NETWORKS - as seen on...
WEB NEWS
ARTICLES
Island Peak trekker Dave Sec: Rochester Democrat & Chronicle.com