THINGS TO KNOW BEFORE YOU GO!

The Kootenays! B.C. Rockies, well known for some of the most variable avalanche terrain in the world. The best place to learn, apply and evaluate risks and skills needed to survive exploration in the backcountry. Join Tim Rippel, playing in his back yard professionally guiding and teaching in the West Kootenays for the past 19 years. Familiar with secret stashes, great lines and extreme conditions.
AST1 and AST2 - Avalanche Skills Training - 2011/2012'
"THE RIPPEL EFFECT"- what to expect!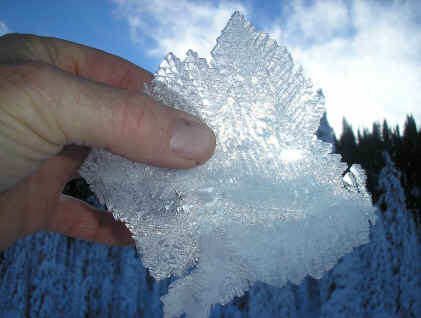 Surface hoar January 2009 in the Kootenays! Photos: Tim Rippel
Offering 1, 2 and 4 day Avalanche Safety Programs geared to backcountry skiers, snowboarders, mountaineering, snow shoeing, snow machine operators, foresters, miners, highway workers and anyone working or playing outside a controlled snow pack environment.
Each course consists videos, slides, lectures and interactive discussion and full days of hands-on field training with state-of-the-art avalanche rescue equipment. Participants will learn to read the clues of snow pack, weather and terrain. You will learn to evaluate hazard and assess risk. You will actively participate in transceivers searches, snow stability testing, snow pack analysis and avalanche search & rescue scenarios. Each course is a balance of classroom training and field practice. Expect an intense experience with a full schedule. The maximum participant ratio is 1 to 8. To avoid disappointment please book early.
Courses are instructed by Tim Rippel.-BIO A professional member of the Canadian Avalanche Association, Mountain Rescue Professional and Mt. Everest and International guide outfitter, pro-patrol leader, Outside Operations Ski Area manager and has been certified by the ACMG working as a heli and backcountry ski guide for 20 years.
Providing Canadian Avalanche experience and knowledge for two decades.
Prediction, Prevention and the Language of Risk will be the focus in these courses. Explaining the fine points of the Avaluator. A new user friendly system for understanding and evaluating potential hazards and risk.
Thanks Becky
You and Tim put together a fantastic course. I had a great time and feel like I learned a lot. I feel much more confident in evaluating what is going on out there now. I will recommend Peak Freaks to everyone I know.
Thanks again, and good luck in the Himalayas!
DESCRIPTION

DATE

AVAILABILITY

COST

General Avalanche Awareness

1- day introduction or awareness refresher course.

Dec. to March

Limited

$75.00 per person

Snowmobilers -Avalanche Skills Training.

20- hour Avalanche Skills Training-, 2 full days designed for snowmobilers.

Upon completion participants will receive the AST 1 certification.

Group request option for 8 participants.

$198.00 per person

AST- Level 1

20- hour+ Avalanche Skills Training, 2 full days plus evening lecture night before course start.

***Evening lecture start 6:00pm the night before the course start at Peak Freaks base camp lodge on Whitewater Road.

At the lectures you will sign waivers, view a pre-course video and review classroom material , gear discussion and get acquainted

Sold out!

2013'

$185.00 per person

Includes lecture and necessary paperwork evening before.

AST- Level 2

40- hour+ Advanced Avalanche Skills Training

1-full day classroom lecture, 3 days in the field. Each field day is followed up with classroom debriefing at our lodge. 4 days total.

***Morning start at Peak Freaks base camp lodge, Whitewater Road start 8:00am.

In addition, the course will:

Provide the prerequisite knowledge required for further avalanche training.
Introduce and promote the Canadian Avalanche Association Industry Training Program as the accepted standard for advanced avalanche training.

Sold out!

2013'

$398.00 per person
Payment Options:
Credit Card and other forms of payment- through ROAM Shop in Nelson- 1-866-900-ROAM 250 354 2056 sales@roamshop.com

Email Transfer, Cheque, Cash or Money Order acceptable directly to Peak Freaks. trek@peakfreaks.com
** 10% discount on purchases provided to all course participants at the ROAM Shop.
Courses are limited to 8: Book early to avoid disappointment
Travel Accident Insurance for visitors to Canada. Due to our flawless safety record we have negotiated excellent coverage for our participants from around the world. Visit our Insurance Portal for a quote and to purchase.
MESSAGE FROM THE CAC
AVALUATOR- TRIP PLANNER
Each year in Canada, an average of 12 people are killed and many more are injured by avalanches. Many of the victims knew how to recognize dangerous conditions. Some even had formal avalanche training. So why did they get caught?
Growing evidence suggests that many avalanche victims died because they lacked a simple, systematic way of making decisions in avalanche terrain. In developing the Avaluator, we studied more than 1400 North American avalanche accidents and interviewed dozens of avalanche experts. We wanted to learn as much as possible from past mistakes and pass this knowledge on to you.
The Avaluator™ is designed to help you make some of your most critical decisions before and during your backcountry trips. The card and its accompanying booklet focused on four key decision and travel skills: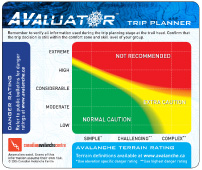 Are you curious to learn more about decision-making in Avalanche terrain?
Peak Freak AST1 course participants will receive an Avaluator card and 2 full days instruction on how to use it.
OPTIONAL COURSE CHALET ACCOMMODATION for AST 2 programs. AST 1 accommodation available in Nelson.
Whitewater Chalet + $50CA per night, per person, minimum 3 nights on the 4 day AST2 program. Whitewater Chalet information. Our luxurious hand built by Tim typically rents for $375.00 a night so it's a pretty sweet deal and experience for those interested.
All prices are in Canadian dollars, plus 12% HST and are based on a minimum of 4 participants.

Maximum group size on all courses is 8.

Custom and private courses are available and are subject to availability of instructor.

AST Level 1-

Course includes: Curriculum, Instructional materials, Avalanche Awareness booklet, Completion Certificate, Avaulator Card

AST Level 2-

Course include: Curriculum, instructional materianls, Competition Certificate and Course Manual provided by the CAC.

All courses start-end at Peak Freak Expeditions base camp situated in the heart of the Kootenay's on Whitewater Ski Area Road. We have several ideal terrain locations within a close proximity to our base camp. Terrain selection

adjust to conditions offering a variety of learning scenarios.
Tim and Becky,
I just had to let you know how much I enjoyed the Advanced Recreational Avalanche Course. The course was extremely well organized. The instruction was motivational and insightful. I gained a great deal of confidence over the four days, as well as a lot of knowledge and skill. Tim, I'm sure you've heard this before, but I'd like you to hear it again... Your leadership is inspirational and I hope our paths cross again someday. Perhaps I will enroll in another course at some point. Thank you both! I'm also keeping in touch with several people from the course. Happy Customer! Tobi Ridge- Nelson, B.C.
Tim Ripple for the benefit of finding a common spelling mistake used when searching Everest on search engines.