Where in the world is Marty?
Report from Chris Warner...
Below you'll find a detailed report written by Chris Warner about the recent events on K2. I know many of you have wondered how this could happen, especially to such an experienced and strong team as Marty and Denali. Chris' words provides first hand information and I hope you'll find them as valuable as I did.
I also would like to remind everybody that a memorial service celebrating the lives of Marty and Denali will be held at Bear Valley Lodge on
Sunday August 11th at 2 p.m.
Denali's family is asking for everyone who would like to, to contribute a story, memory, or thought about one or both of them. Photos, links, and videos are also welcome. What is contributed by
Friday, August 9th
will be on display at the service. Everything will be immortalized in a collection that will be made available to Denali and Marty's family, friends and anyone interested in celebrating and remembering their special lives. Please email all contributions to Larisa at:
denalimarty@gmail.com
. Larisa and friends will also be creating a slideshow for both Marty and Denali so please send any photos you would like to be included.
Take care,
Daan
Photo: Marty and Denali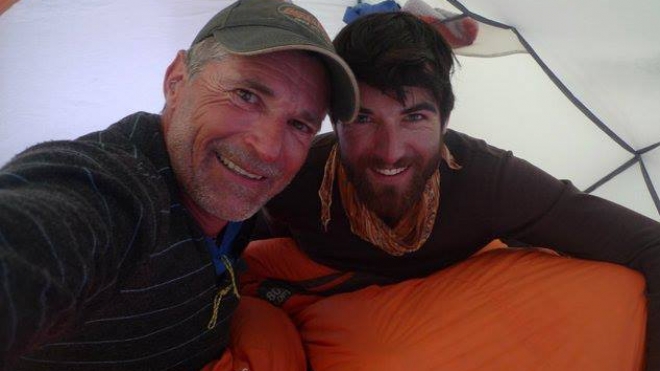 Dear family and friends,

I write to you so you may have a better understanding of what happened here in Pakistan with Marty and Denali rather than hearing stories through the media and the hearsay of others. Most of you would have known them better than I did. I first met Marty in 2004 on Cho Oyu and Denali I met on this trip. Expeditions are intense little periods of living together and we learn a lot about others as well as ourselves. In my 18 years of climbing this is the most tragic of accidents I have personally experienced.

We were a small team of 3 with the idea of climbing Broad Peak and then an alpine style ascent of K2, this was my second attempt on K2. Broad Peak was the mountain we would acclimatise on and get us prepared as a team for K2. We had a very comfortable and straight forward ascent of this mountain and summited it within 3 weeks of arriving. Both Marty and Denali were climbing strong on the mountain with Denali showing all the talent of his father, he had his fathers legs, lungs and heart. It was inspiring to watch a 8000m novice climb with such ease.

They were both very much liked in base camp and their characters both showed true with the two following incidences.

A few days before our summit bid on Broad Peak a German woman died on another team and both Marty and Denali volunteered to climb to camp 2 and retrieve equipment for the other members as they were now canceling their expedition. They both carried about 30kg down each of other people's gear. A massive effort for the the benefit of others just a few days before our summit bid.
Then later after our summit we moved up the glacier 1 hours walk to K2 base camp. Just on arriving there we heard that an Iranian expedition had 3 members missing near he summit, we had camped with them at camp 3 and watched them climb up their new route. So on the motivation of Marty we packed our rucksacks and headed back down to Broad Peak and started climbing up the mountain again to look for them at the col. The rescue attempt sadly was soon called off as we had misinformation about where the 3 were and the possibility of finding them now without danger to our lives was too great. They were somewhere around 7600m on a new route and had been lost for about 4 days already. So we descended the mountain once again and returned to K2 base camp.

Now we concentrated on our push for the summit of K2 and had a good weather window coming with an idea to summit on the 28 of July. Most all the other teams in base camp were also going for this summit window. We could then all share the work of getting to camp 4 and then again to the summit with carrying rope and breaking trail in the snow.

We left for camp 2 direct on the 25th July reaching there just after midday. We were carrying 260m of rope for fixing the bottle neck and were packed for a single push to the summit, just 4 days food and one tent that we would move up as we climbed. We all felt strong, healthy and acclimatised.

That evening as we sat cooking and resting in our tent we heard word that the Sherpa's from other teams had failed to make camp 3 by only a few 100 metres. This was due to the snow conditions and took a long 9 hour day from camp 2. They were carrying a deposit of equipment for their teams (mostly oxygen) and then returning to camp 2 that same day to then continue back up on our same schedule. It had been snowing lightly all afternoon and we got different reports of snow being 6ft deep, chest deep and waist deep. The Sherpa's had tried to push through the snow but after small sluffs coming down on them and one Sherpa sliding down 10m they decided that it was to dangerous. All this snow sitting on a 30 degree slope of curving blue ice.
Before we new it many teams started descending past our tent canceling their summit bid and expedition all together. We had only just got on the mountain and everyone was bailing with very little discussion. Our shared manpower and rope was quickly going down the mountain, all three of us surprised.

Marty was encouraging people to stay and wait at camp 2. To let the snow settle. Some agreed but they decended anyway. That night we decided that we all would go up and just see how conditions really were. It was good fitness and acclimatization and we can make a deposit and try again in a few weeks if need be.

By morning I had changed my mind. It had snowed lightly most of the night, and everyone else was descending so I didn't believe that the three of us could make trail to the summit in such snow. I felt it was better to simply descend and rest, then wait for the next weather window rather than push into new snow. Marty and Denali didn't flinch, they said ok to my decision and were adamant about continuing up. We sorted the gear again as they were going lighter in loads, reducing the food to two days but taking some extra screws, stakes and only 60m of 7mm rope. Both Marty and Denali were in the same frame of mind. One did not convince the other to go up, they were both motivated and prepared to assess the conditions and turn around if need be. So at around

9am

on the 26th I swallowed my ego and descended from camp 2 feeling that I had blown my summit chance as these two were heading to the top.

I arrived back at base camp that day and waited eagerly for their

6pm

radio call. By 6.45 they radioed in, they had taken 9 hours to reach camp 3. Marty was brief, he said it had been a hard day, that it was very windy with spindrift and that they were cold. He congratulated Denali as he had broken trail to camp 3 pushing through waist deep snow to 7200m. I asked what their plans were for the next day and he replied that he was unsure and that he would let me know in the morning with the

8am

radio call. From base camp we could see the wind blowing at camp 3 and the spindrift coming off the shoulder. My feeling was that they would descend the next day.

Base camp was now getting divided as they had made camp 3 and some climbers were trying to rally a group to head back up and summit on the 1 August but this met with mixed feelings.

In the morning of the 27th of July several climbers came into our camp to hear Marty's decision, but

8am

came and went with nothing. Why hadn't he called? Marty is very good with radio calls and rarely late (except for last night). So we waited, and before long in was

12 noon

the next radio call but still nothing. Had he run out of battery? Dropped the radio, his pack? We're they decending? Concern came over base camp but to early to think a problem....?

6pm

came and still nothing on the radio. We all new they were strong, capable and not the type to make bad decisions, they are going to walk into base camp any moment...we all went to bed worried and I slept with my radio on hoping.

The next day about 6 Sherpa's and some Pakistani high altitude porters were heading up to camp 1 and 2 to get equipment and bring it down. Getting to camp 2 was no worry in the current snow conditions and it had only been snowing higher up. Two Sherpa's Mingma and Norbu were heading up to a deposit halfway between camp 2 and 3 to retrieve an oxygen mask and a few other things. So I talked with their leader and convinced them to continue all the way to camp 3. They had been part of the group that had turned around several days before. There was now many climbers low on the mountain keeping a lookout for Marty and Denali. If they were moving they would be found.
The Sherpa's climbed very quickly and by about

6.30pm

Mingma had reached camp 3 that same day from base camp. He radioed into his leader Lakpa and said that there had been a very large avalanche with a scar about 400m wide. He found a BD axe and BD crampons that matched the type both Marty and Denali had been using. There was no sign of them or their tent. Mingma said he felt scared with the conditions and it was getting dark. He took a few pictures and started descending.

This confirmed our fears that there had been an avalanche at camp 3 a well known camp for avalanche. I believe that they would have been in their tent asleep when it happened. The fact that they did not have their crampons on suggests this and makes sense why they didn't make the

8am

radio call which I would have expected to be done from inside their tent.

When Mingma returned the next day I talked with him some more and saw the pictures confirming the axes and crampons as those of Marty and Denali. It looked more like they were buried in their tent than swept down the mountain. Their death was truly a shock to the camp. So liked and so well regarded.
A few days later I made a plaque and we had a gathering at the Gilky memorial just near K2 base camp. A touching afternoon as all the climbers came to pay respect.
For days I still felt that the two of them would walk into camp, it just seemed so unreal that they had gone. I packed their belongings and the next day I walked out with the Greek expedition who we all spent a lot of time with. It was only then that it really began to sink in that they had both gone. The emotions filling my body the reality taking hold, I stared a long time at that mountain. Marty and Denali resting high on the ridge.

It was wonderful to be able to share time with them both in the mountains. To experience and be part of such a beautiful relationship, father and son.

Sincerely,
Follow Peak Freaks guide Marty Schmidt on his adventures. After Everest in 2012' with Peak Freaks Marty boarded a plane straight to Africa where he led a group to the summit of Mount Kilimanjaro, from there he flew to Alaska and is now climbing with a team of climbers and his son Denali who was named after the mountain.
"DENALI" - Mount McKinley, Alaska - 20,320 feet
June 26, 2012'
"Hello everyone following our Denali West Rib climb, this is our first dispatch.

Parker, Gray, Kenny, TK, Denali and myself are high and happy in Talkeetna now enjoying our last dinner in a town of Sourdough Alaskans on one side of the street and Born Again Christians on the other side, before flying into the Southeast Fork of the Kahiltna Glacier for our expedition to start. We did our last minute chores yesterday in Anchorage, like gear sorting and food buying, as well as getting to know each other more. We all connected so well, Kenny being with me now on six of the seven highest summits of each continent, with me for over 12 years now, Parker being with me in New Zealand, Gray on Rainier and just meeting TK for the first time... and we connected instantly, great energy and so much clarity on this earth. Denali and I are so much enjoying being back in Alaska together again, for we were here last year climbing in the Alaskan range for over 40 days, climbing hard on the South summit, North summit, Mt Forakers summit and a new route on Denali... naming it "Dad and Son Route". Having a great season with my son.

So this is the first of our communications from Denali. We will be climbing a more technical route to the summit. I heard that there has been no one in the Northeast Fork for a long time, we will be on our own and we all are looking forward to this journey together... having a great team to climb with... this will be a great expedition and we all are looking forward to each day upon this magical mountain.

Thanks Daan at Macpac, Christchurch, New Zealand... the best mountain gear and clothes in the world... for helping with these dispatches getting out to everyone. I will try to get these dispatches out to you 2-3 days apart. Good thoughts to you all and hope your days are filled with happiness and contentment. All our best from this great land of Alaska.

Cheers, Marty and our Rib Team."