Welcome to our 2013' Everest Training Climb in Nepal
We've done it again! Meet Peak Freaks dynamic team of aspiring Everest climbers and others who want to learn the ropes of climbing big mountains, all while enjoying the magic of this beautiful country so rich in culture.
Joining us this autumn climbing season will be an Island Peak team from Canada and a team of Everest Base Camp trekkers. Our climbers come from around the world. This year we are joined with a team from Myanmar sponsored by "Htoo Groups of Company & Htoo Foundation", the team of five aspire to be the first team to climb Everest from their country slated for 2014'. The team just returned from a successful expedition on September 21st and are pumped and in great shape. They climbed Mount Gamlang Razi at 4876m, the second highest peak in Myanmar, it's considered a virgin peak as no human being has reached the summit till now.
Members from other parts of the world include participants from Australia, India, Canada, USA, UK, Norway, Pakistan and the United Arab Emirates.
This expedition starts in the capital city of Kathmandu on Oct. 11th. It's our intentions to keep intermittent blog posts of their progress throughout the climb until expedition end November 9th.
We will be following the team up Island Peak, Lobuche East and Pokalde by SPOT tracker. We invite you to log in and follow us.
To learn more about our popular annual training climb, refer to our page: "Triple Crown" Everest Training Climb
See you in Kathmandu! Tim
Latest update - Success all the way!
November 7, 2013: EPIC to the very end but we did it!
When I said good-bye to the remaining members I managed to put on a cargo plane in Lukla to take them to Kathmandu, I had no idea what the rest of us would do but it certainly wasn't going to be leaving people and bags in Lukla if I could do anything about it. All total - 21 hours Phablu to Kathmandu, it was grueling. Would I do it again? no!!!! It was painful.
We found a jeep in Phablu but it had a broken leaf spring that needed fixed so we didn't get away as early as we had planned. We helped out a couple of school girls that were stranded and needed to get to school in Kathmandu. We drove till 1:00am the first day. We had hoped to just keep going but the police pulled us over and made us stop for our own safety so the driver could catch some shut eye. As it was I couldn't sleep the entire way as my head was banging against the window which was good as I needed to stay awake to keep the driver awake. These terraces are very steep. We found a bench to rest on in a local home and headed out again at 4:00am.
The road was not a road as we know it, it was a trail that had been widened to squeeze a jeep through, it had been eroded beyond belief with the cyclone and normal erosion caused by the monsoons here in the Himalayas. I was a bit concerned about landslides, every corner we didn't know if this journey would come to an abrupt halt. The main and most important bridge approaching closer to Kathmandu had been washed away but we knew about this before hand and had a plan. There would be another jeep on the other side to fetch us. That left myself, Dev, Karsung, Mingmar to carry the 10 duffel bags across the river.
Everyone is home now and so am I. It was a blast negotiating life in the Himalayas as it always is. We succeeded on all fronts. We have come out with some outstanding climbers for Everest in the future and am looking very forward to getting back at it.
Over and out.... Tim
(There's a little video clip on Facebook)
November 5, 2013: Namaste from Phablu - Tim checks in
Lukla: Each year more often than not the airport here is becoming impossible to rely on, but at the same time it's good to see safety limits on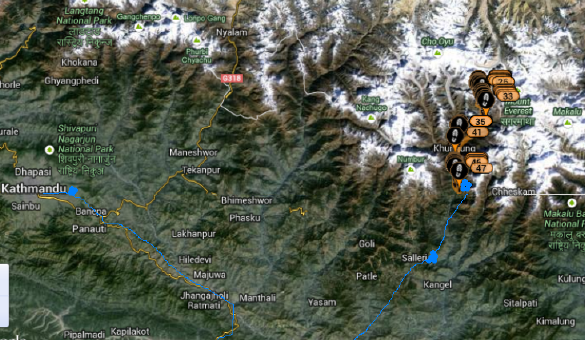 weather ceilings are being abided by.
Prior to the teams arrival in Lukla the airport had been fogged in for four consecutive days. It gets miserable for people that are affected by flight cancellations. It's not nice here and all they want to do at this stage of the trip is enjoy the ambience and celebrations in Kathmandu, have a hot shower and prepare to go home to their loved ones.
This is the part where an expedition operator has to work hard to pull tricks out of the bag to keep the team happy. They've all had a wonderful trip with all the summits, adventures, snowy peaks and trails, having met new life-time friends and so much more. They've been on a real high - then this. It can all go sour at the end very quickly when flights ground everyone.
Unfortunately how it works here is when your scheduled flight gets cancelled due weather, you get put at the bottom of the pile as more people start to come down the valley from up above to meet their flights, days go on and on, and you get moved deeper and deeper down the list. The bags have low to no priority till the weather improves and people get out. Things can quickly turn around when the weather cooperates, but until that time waiting with nothing to do in rainy or foggy Lukla - is "not" fun.
The good news was yesterday 32 flights made it in and out to catch everyone up and got them out to Kathmandu. We were not so hopeful as we saw weather issues for today in our reports. The wind came in and the pilots were not about to push limits flying through the notch, a passage- way through peaks to reach Lukla. Safety limits were observed and abided by, after only two flights the window was shut, all flights cancelled.
This is when Tim uses his experience to act and move on the situation and to never say never. There was a cargo plane on the ground that he managed to organize for any takers. Nine of the members jumped on while Tim and two other members joined with Mingmar and Karsung were left to find other ways out with all the bags. He made a call to friend of a friend as he heard there was a helicopter working in the area. He managed to wrangle a lift down to a place called Phablu where there is a road. Only problem is the main bridge from Phablu to Kathmandu is washed out and there is not traffic. However, a jeep could drive through the river at a point and get to them or at least they hope so.
Tomorrow morning the adventure will continue for these five as the attempt to make their way to Kathmandu. Tim says if it works out it will be about an 8 hour drive. I'm sure there will be some good adventure tales from what they'll experience tomorrow. Tim just laughs....
There were some new photos put up on Facebook yesterday including a little summit video. Hopefully there will be some more to come now that most the team is back in Kathmandu- hint- hint....
Becky
Photo: BLUE- Marking Lukla, Phablu and road to Kathmandu
November 3, 2013' Team is in Namche, Lukla tomorrow and weather permitting Kathmandu on the 5th.
Torkel and Dev did a marathon run up and over Cho La pass and met the team in Namche, Doug is in the Cho La spending some time up there. Grant is going to walk to Jiri for the fun of it, Tim wishes he could go to.
I was hoping for summit photos today but didn't get them. Bad Tim, bad!
Becky
November 1, 2013 (0:630NPT) Trick or Treat? No trick but big treat......Team summits once again!!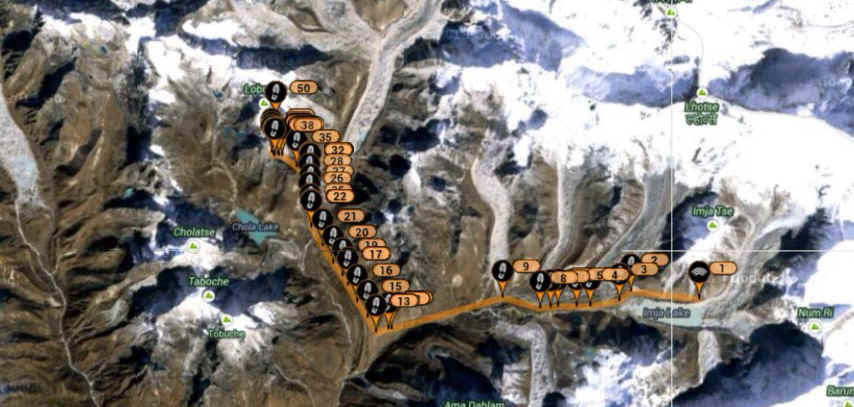 Entire team stands on top of Lobuche East 6119m at 06:30hrs on the true summit. They've now retreated to the second summit for lunch. The team is blown away with the morning sunrise. Tim says that in all the 23 years he's been climbing in the Himalayas, the sunrise this morning tops the charts.
The team will no doubt try to get some photos out just as soon as they can. They will head down to Lobuche base camp after lunch and celebrate.
Congratulations Boot Campers 2013'. Your performance throughout this years Boot Camp considering all the natural obstacles you've endeared has been outstanding!
Stay tuned for the fun part.... all the photos to come in the few days.
Happy Halloween!
Becky
October 29, 22:00hrs (NPT) Never a dull moment in the Khumbu
Imja Tse should NOT let go and deaths on Ama Dablam.
Met an elderly scientist man from Japan today studying melting glaciers. He is specializing in monitoring the glacier lakes in the Khumbu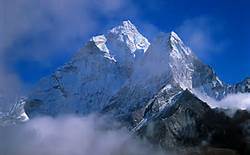 and a couple other regions. He comes once every three years to examine the glacier lakes that are considered threats to the villages below should their natural dams break.
There have already been a couple glacier lake that have broken. The one up here in the Khumbu is the Imja Tse, the base of Island Peak, it is being watched for sometime now with the thought that it was inevitable it would let go and threaten lives of the Sherpa people up here.
After his research this time, he tells us that this may not be the case at all. The ground samples are indicating that its a harder material than the others and it looks like this lake will be here forever, unless of course it dries up. This will be very good news to the locals when his report is published in full detail.
That's the good news, now the bad. There was a helicopter flying around Ama Dablam north side today, helicopters off the trekking routes always makes the hair rise on any climbers back. When we checked in with Tshering Lhakpa, owner of the lodge in Lobuche who is still wearing my old heli-ski suit I gave him 20 years ago, he told us that three Koreans had been climbing the North Ridge of Ama Dablam, they were roped together and aren't coming home now, sad and sobering news. Details of what happened will hopefully get published somewhere. It's always good to know what mistakes were made so others can learn from them.
What's next? We are spending the day learning more skills and testing them and then the next day up to high camp on Lobuche East and then the next we make our summit push.
It's already been determined that Pokalde is off for this year due to too much snow. There's just no way we can get in there without snow shoes or skis and skins.
Stay tuned.... over and out... Tim
Photo: North side of Ama Dablam
October 26, 22:00hrs (NPT) 100% summit success! Island Peak Summit list
Well that was fun! We are all now back at base camp, watered, fed and tomorrow we'll be laundered. We'll spend the day getting cleaned up then off to climb Lobuche East, onward and upward. Photos as soon as we can get them organized.
Tim Rippel - Canada

Tashi Sherpa -Nepal

Palden Sherpa -Nepal

Jangbu Sherpa - Nepal

Mingmar Sherpa - Nepal

Kami Sherpa - Nepal

San Win Kyaw - Myanmar

Ye Min Thu - Myanmar

Sai Kyaw Thu Htwe - Myanmar

Sai Kyaw Wunna Soe- Myanmar

Arki Twe- Myanmar

Doug Peers- Canada

Ellen Hawg- UK

Grant Denhay - Australia

Torkel Reistbraten- Norway

Devdhar Yadav- India

Kuntal Joisher- India

Wake Williams- Canada

Spencer Partker- UK

Stuart Foster- Canada
October 25, 2013: 09:00hrs (NPT) Both teams on the summit of Island Peak right now 6189M
Entire team of 20 Peak Freak'ers including staff on the summit of Island Peak, everyone made it and are fine form and very happy. We are snapping some photos then turning our crampons down to go grab some lunch. See you at the bottom!
Tim and team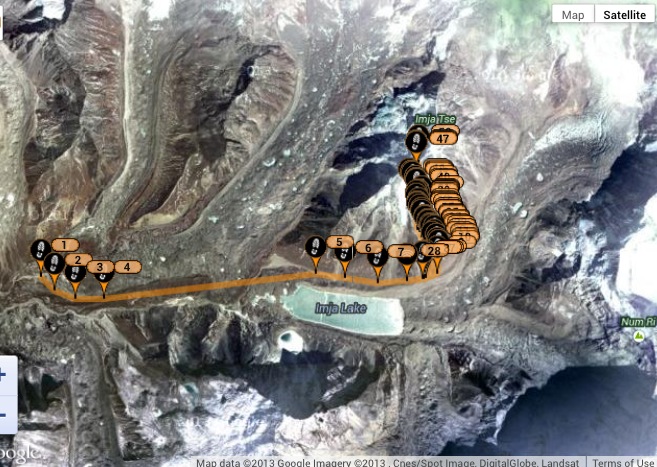 October 23, 2013: 22:00hrs (NPT) BOOT CAMP - ALL THE WAY!
Namaste out to everyone following, we are now at our Island Peak base camp. Epic to say the least! Our base dinning facilities and sleeping tents are erected and our Sherpa crew shoveled trails to all of our personal tents. Reminds me of building snow tunnels to igloos when I was a kid.
The trekkers left us day before yesterday at Dingboche's junction. Tonight they are enjoying the comforts of lower elevation life, richer air, cappuccino's and fresh baking from the Namche bakery. They opted to miss out on Island Peak base camp because of the snow and temperatures we are experiencing this autumn.
The Triple Crown team is doing awesome! We are eating well with roasted chicken, potatoes and vegetables and some vegan and vegetarian dishes too.
Today we reviewed soft skills training and rescue techniques. Tomorrow we are moving up to the Island Peak high camp to pull out the ropes and do some rope work.
If this blog become inactive at anytime you can catch up with what's happening on Facebook, click icon at the top of this page, or LinkedIn and Twitter in the name of Tim Rippel.
Our next Everest Base Camp trek is going to be to Everest in the spring. We run two trips, April 1 and May 1, they are both starting to book up so if you were thinking of joining us you might want to get on the roster sooner than later. Here's the link: http://peakfreaks.com/ebc_trek.htm give Becky a shout. You'll be allowed to stay at our Everest Base Camp for a couple nights on both departures. One you hike in with us the other you come in with Ang Nima and arrive as we are preparing for our summit push.
We are putting our boots to good work this year. Up and onward we will go.
Over and out.... Tim
October 21, 2013: 22:00hrs (NPT) CYCLONE IMPACTS EVEREST REGION TOURISM
Communications via 3G, Satellite and Internet are spotty this season as they were this same time last year. Tim has been trying both his cell
phone and satellite phone the past two days but all we got was hit and miss words out and a lot of squelching before the signals would be lost, frustrating but that's life up here. In the spring season for some reason Ncell (local cell company) and Thuraya (satellite commonly used here) seem to work fine, they must do something to pump it up then, not sure what the issues are.
SUMMITS: Our teams had a successful trip up to Everest Base Camp the day before yesterday and today they stood on top of Kala Pattar (5545m). Big congratulations out to everyone! No doubt they have some stunning photos with the contrast of all the snow and blue skies they've enjoyed the past few days.
WEATHER: It's been cold. So cold that the EBC trekkers are going to opt out of going to our Island Peak base camp. Too bad as a stay expedition style at our camp is often a highlight for participants but they did reach their goals of Kala Pattar and Everest Base Camp so they are all happy with those accomplishments to-date and just want to get warm now. They'll be making their way down the valley with Ang Nima starting tomorrow, and look forward to warmer elevations- warm lodges and no snow. They did fantastic by the sounds of it and are all in good spirits.
GOOD EVEREST SEASON ON THE HORIZON: It's only going to get colder as autumn pushes into winter. Our Triple Crown members
will endure and get on with the climbing program. The good news is that all the snow the cyclone brought has laid a nice blanket on Everest, this should freeze and stay on the mountain "hopefully" till after the Everest season is over. This should help mend the Lhotse face that we've been having trouble with the past two seasons and glue the ice-fall together nicely. However it is weather and it can change at anytime. So far this looks promising.
LODGE OWNERS ACTS OF DESPERATION- Tim reports that Gorak Shep was extremely over-crowded with trekkers who were hoping to hike over the Cho La Pass/Gokyo region as a circle trek.
The pass is plugged closed with snow and the lodge owners up there are desperate to get people to their lodges for their twice annual income from trekking tourism. If they lose this years business they've lost a lot, not only their income but also losses in food provisions they brought in for the season will spoil.
Tim reports that porters have been hired to try and shovel a path in, as a result here's been several helicopter rescues of these porters suffering from AMS, likely due to dehydration. It's a desperate situation for some people of the Khumbu. We sure hope things work out for them and they get their business.
What's next: Triple Crown moving up to Island Peak base camp tomorrow. Tim says Pokalde is probably a no-go this year because of too much snow closing off access there. Unless of course we get a major melt in the next couple of days but that isn't likely this time of year.
Stay tuned! Becky
October 18, 2013: 22:00 (NPT) Lobuje or Lobuche (4139m)
SHERPA TEAM BUSTED THROUGH TO ISLAND PEAK BASE CAMP
More kudos go out today to our Sherpa crew who managed to break trail through to our Island Peak base camp. To give them more time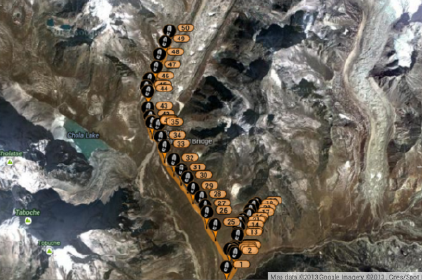 to do the much needed shoveling to construct camp, we are going to go to Everest Base Camp tomorrow and play around there. We'll come back down to Gorak Shep, the nearest village to Everest Base Camp and spend the night there. Next morning climb to the top of Kala Pattar. By then base camp should be built and we can get on with the technical part of this expedition.
We've heard that there may be a team up at IP camp during the storm and that they may top out on the summit of Island Peak tomorrow. If so, that would mean the trail will broken in up there which is very good news. We'll have to wait and see and listen to reports to see if this is true or not. If not, we've got some more work to do if the sun doesn't help us out.
It was very hot today. Risk of snow-blindness is a real concern with all the snow around. Not everyone travels with glacier style glasses today as we've not had these kind of conditions for quite a few years, 98' to be precise. To avoid blindness we've made some duck tape modifications that are looking pretty funky.
I explained to the group today that this is exactly what it feels like from Camp 1 to Camp 2 on Everest. So hot that you want to sit down but you don't dare. We are making sure everyone is keeping all their skin covered and plastering themselves with sun-block.
Photos tomorrow!!! The Internet should hopefully be working better there. That's where the 3G tower is.
October 18, 2013: 22:00hrs (NPT) Dingboche (4412m)
WORK'IN IT
Kudos to team members Torkel Reistbraten from Norway and Grant Denhay from Australia for breaking trail to the top of
Nangkarsrtshang Peak 5083m through 60cms of snow today. We use this peak for acclimatization to prepare for higher elevations that will be reached tomorrow. The rest of the team followed in their steps and are all now back at the lodge in Dingboche. Good day had by all.
We've managed to get a couple shots out on the quirky Internet connection before it crashed here at the lodge. None from today's ascent. The one adjacent is the Triple Crown training team with Lama Geshi in Pangboche. The trekkers were on the other side of the broken bridge in Debouche. They stayed there to meet up with the monks for a chant at the Tengboche monastery. We all rejoined here in Dingboche yesterday allowing the trekkers to also participate in the climb up Nangkartshang.
Our Sherpas have almost complete the trail breaking to our base camp in Chukung. They will likely be finished tomorrow and then they'll need a little more time to set base camp up. We'll all still go up to Lobuche and climb Kala Pattar giving Ang Karsung and our Sherpa team time to organize things at camp for everyone.
The snow level is rising, there's actually no snow at Dingboche now so we are getting back to what appears to be a normal autumn season here in the Himalayas, but with a bit more precipitation than usual.
More news on the deaths that were reported on Everest. Turns out the Chinese new agency had it wrong. They weren't actually climbing, they were trekking or driving in an exposed area when an avalanche came down.
Over and out.. Tim
October 17, 2013: 22:00hrs (NPT) Dingboche (4412m)
Trail breaking underway
This morning we were amp'ed with Lama Geshi's blessing in his home in Pangboche and tonight we are all together at the lodge in Dingboche 3734m. We enjoyed a great meal and are putting together a plan for the days to come. Many groups are leaving the valley because of the weather but we will continue to give it our best shot.
Dingboche is the place where our three/four teams were scheduled to split and go about their different itineraries. However the route toward Island Peak where our base camp is to be established is plugged with snow.
In hope there won't be another storm like the one that just past, we will forge ahead and do what we can to get established up here. We definitely need some time/days to not only let things settle out but to also break trail. Tomorrow our Sherpas and porters will start the arduous task of busting through approximately 2 feet + of snow up the Chukung valley (Island Peak- Imja Tse) area. It could be grueling but we're going to give it a go.
We've blocked off the lodge at Lobuche for our entire group day after tomorrow. We'll take up our kitchen with our cooks and equipment in an attempt to maintain good health among the group for a day or two while the trail is being punched in to camp.
While at Lobuche we'll take in a summit of Kala Pattar at 5545m and have a really good look at the snow and likely watch numerous avalanches as they start to let go. Kala Pattar is safe from avalanches so need for anyone back home to be concerned.
Forecast are predicting high winds in the next few day which is exactly what you don't want if your on a fresh snow pack on a climbing route. This is all good stuff from my perspective teaching Avalanche Awareness Skills as part of this training. The team will be getting a dose of lectures and practicing with excellent models to learn from.
Sorry, Internet is messed up too with the weather issues. No photos today.
Over and out... Tim
October 16, 2013: 22:00hrs NPT -Pangboche (3950m)
Cyclone reeks havoc in the HIMALAYAS
Major bridge out on the Khumbu'S Everest trail: The newer beefy aluminum bridge between Tengboche and Pangboche seen in this photo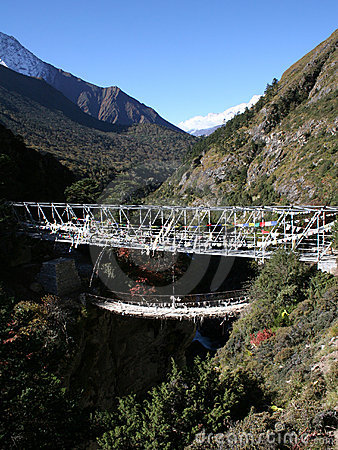 is now resting on the side of the canyon of the Dudh Kosi river. This bridge was constructed by foreign aid in the early 2000's. It was built to replace the wooden one seen in this old stock photo.
Yangi Sherpa, Ang Temba's wife says, "thankfully it happened in the night and no one was on it".
It was attached by cement anchors implanted in the rocks on the side of canyon. It is thought to have given way due to natural movement/erosion or, I'm thinking it might be just too much foot traffic the past few years causing the bank to deteriorate. We are now using a temporary fixed up wooden one.
Snow loads Causing catastrophes: Snow loads Causing catastrophes: Yangi also tells us that a family in the Manaslu area were crushed in their home when the roof caved in from too much snow from this storm. Apparently the Manaslu region has been hit very hard with snow loads, more than here. Thankfully the majority of the climbing season is over there.
Everest avalanche on the north side in Tibet has killed three people. Did they not know there was a cyclone coming? Weather reports? http://tinurl.com/n7sw7pa
ISLAND PEAK TEAM HUNKERED DOWN IN PANGBOCHE: We've met an Island Peak team from another group that have had to retreat for shelter in a lodge here in Pangboche, their base camp collapsed from too much snow.
What's next for Peak Freaks? We are trekking to Dingboche tomorrow and have two days there for our acclimatization layover. This will allow us time for snow loads to settle out and get a feel for what our next move will be. There aren't that many people up here this trekking season. It's actually pretty quiet which is a very good thing considering the recent cyclone. Our last experience with this type of thing put a major stress on the accommodation up here when people had to retreat.
We had beautiful blue skies today till about 4:00pm. I'm so happy to see the transition in the mood of the group, from head down, one foot in the front of the other in the rain to big smiles, more laughs and great photos. It's very pretty. The Internet tonight in Pangboche is not working so well so we'll have to share those photos later on of a very white lady - Ama Dablam tomorrow. Everyone is doing really well, healthy and in high spirits.
Over and out....Tim
October 15, 2013: 22:00hrs NPT -
October 15, 2013: 22:00hrs NPT -
WAIST DEEP and MORE TO COME
Memories of 1998 on Mount Pumori, the entire Khumbu was shut down due to too much snow. We just saw some photos from up at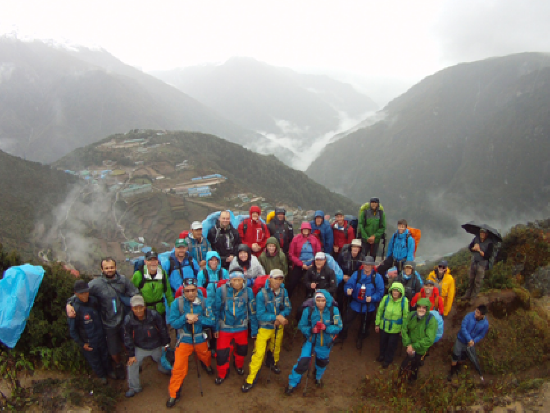 Lobuche of trekkers coming down in waist deep snow. Last time this happened was autumn 1998 while we were on Pumori. We had to abort the climb and leave our gear behind, back then the temperatures were much cooler than today. Chances of the snow melting to retrieve our gear would have been months away. We hired an team of Sherpas to go and retrieve our gear after it was safe to do so in the winter months that followed.
It's our hopes that this snow will melt by the time we get up to higher elevations, but as all in mountaineering we have to be flexible and work with what we are given. It would be perfect if the sun came out nice and hot and melted it all and we get blessed with beautiful blue skies and stellar views. The weather reports show more snow to come, likely nowhere near what we've been getting the past couple of days, but still cold enough to bring snow.
Peak Freaks to the rescue again!
A trekker from Czechoslovakia found himself in a bit of situation today. He came up from Monjo quite fast and drank less than 1/2 a liter of water. Consequences for him is the onset of HAPE- High Altitude Pulmonary Edema. O-sats were dire, heavy chest, coughing up junk with blood in it. Our team doctor Grant Jasiunas from Australia gave him a shot of dexamethasone and sent him down the trail to lower elevation. Dex is a steroid drug commonly used up here for HAPE, it prevents the release of substances in the body that cause inflammation, good for breathing disorders. It was a now or never situation for this man. With this foul weather chances of helicopter rescue right now are zero- his vacation is likely now over.
There's some new photos up on Facebook of our drenched team while completing their acclimatizing rotation up to the twin Sherpa villages of Khunde and Khumjung. They visited the monastery with Tashi Tunde Sherpa, our Everest sirdar (Sherpa guide leader). He translated all things Buddhist and unveiled the yeti scull stowed there for photo ops. Then everyone headed off to Ang Nima's house for lunch and a break from the rain.
Later in the day we started to see a bit of blue sky peak out down towards Lukla. Forecast show more snow, rain and peeps of sun here in there in the days to come. Everyone on our team is doing ok so far. Trekking in this region we have to do all possible to ward off intestinal and respiratory illness. We block the houses for our team exclusively to help, but during the day others come through and often have colds. We always have to be on our guard against bacteria.
What's next? Off to Pangboche for the climbers, and trekkers will stay at Deboche to visit the Tengboche monastery the next day.
SPOT - There seems to be a problem with the link for sharing the SPOT tracks. We'll try to get this resolved ASAP.
Over and out.... Tim & team
October 14, 2013: 22:00hrs NPT -
October 14, 2013: 22:00hrs NPT -
Sometimes plastic is a good thing
Umbrellas: fail

Gortex: fail

Garbage bags: pass
I've never seen rain like this. I've traveled through many a tropical storm in South East Asia but nothing like being brushed by an Indian ocean cyclone in the mountains. We expect one more day of this then the system will start backing off late tomorrow. The rivers are swollen, the water falls are raging funnels and we are very wet. Tsedam Sherpa's dryer is working overtime tonight at his lodge in Namche Bazaar.
Today was not a good photo day. No views and everyone was reluctant to pull out a camera for fear they would get steamed up and wet. The Myanmar team did managed to get some shots that we will share on Facebook along with some shots of other team members enduring the nasty weather. Keep in mind these photos only get taken when there's a break in the rain so they don't look as bad as it is.
We received word that there is over to 2 feet of snow at base camp already and more to come. Thankfully we've got several more days ahead of us on the trail before we actually start climbing, This will give the mountains and routes time to settle out and avoid avalanches.
The views are going to be spectacular and worth all the precipitation when the skies do open.
SPOT GPS TRACKER - is now live too.
Over and out.. back to the dryer. Tim and team
October 13, 2013: 22:00hrs NPT -
SOAKED!
As we predicted the cyclone is hammering the Himalayas, we are completely soaked. Thankfully we got out of Kathmandu just in time. The rain started to pelt down on us about halfway into our walk to Monjo today. We've got some drying to do tonight and tomorrow we'll be at Tsedam's house where it will be easier to get everyone dry. Tomorrow we expect to get soaked again and then the 16th the cyclone will have moved on. There will likely be no flights for the next few days out of Kathmandu to Lukla. Happy to be up here but not happy to miss turkey dinner back home.
Happy Thanksgiving to all the Canadians at home!
Over and out...Tim
October 13, 2013 - 10:00hrs NPT
TOUCH DOWN
This was a squeaker. Both our planes made it to Lukla. I can now see the clouds are starting to spin drift in from the cyclone. I fear that if we had not made it in just now we'd be stuck in Kathmandu for 3 to 5 days with the storm aftermath. We are free and clear now. Bags and people are up here. Wahoo!!!
Off to Monjo to today. Over Tim
October 12, 2013: NPT
Busy, busy day today. Everyone has arrived on schedule and organization of expedition logistics are now complete. It's a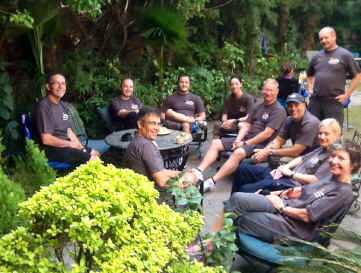 panic in the capital city as the Dashain festival is getting underway, this is the most important festival of the year, its celebrated for five consecutive days. The entire country is in enthusiastic holiday mood which makes it challenging to get work done here but we pulled it off.
Our climbers put a big dent in the gear shops inventory over the past couple of days. I organized all the gear bags to get out of Kathmandu as soon as possible and am happy to say they've all been sent cargo to Lukla now. It's here they will be loaded on animals and taken up the valley ahead of us. This will save the team inconveniences if weather starts to ground flights.
Speaking of weather we are watching the impact of Cyclone Phailin. Originally predicted to be the biggest cyclone ever recorded in this region. It's just hit land at the time of this post and it looks like it has dispersed over eastern India and not quite as big as first thought but it's still pretty fierce and will do damage. There's already been a few deaths reported as a result.
We are concerned with the wind that will hit the Himalayas in the next 12 hours or so, just about the time we are scheduled to fly to Lukla. If the winds are too high we will be grounded for a few days till everything settles out. We are right under the wire, our first plane is scheduled to depart at 06:15hrs and the second one at 09:15hrs and the winds are to hit around noon. After the wind will be heavy rain for a few days. Fingers are crossed all goes well in the morning and we get in to Lukla.
| | |
| --- | --- |
| Today's image | Tonight's image |
| | |
On another note I had the nicest morning with a very special friend today. Everest Archivist-Legend and long time friend- Elizabeth Hawley who has lived more than 50 years in Kathmandu. She summoned me to her home this morning for an unofficial visit. We've known Elizabeth since 1991, the beginning of our time here in the Himalayas. She turns 90 years old in November. She definitely holds a special spot in our hearts. We talked and laughed about all things old and new and shared stories that will never be written or told. Sure was nice to spend some quality time with her.
She lives in the same house she's been in since I've known her. Her bedroom is upstairs, I asked her how that works for her at this age, she said, "it's ok, it's just like jumaring up the mountain with the handrail".
That's all for now, we are up at 04:30 to get to the airport, wish us luck. We'll post here when we've all landed in Lukla.
Over and out.... Tim & team