Team 2010' Summit Photo
Feb. 16: – Scott phoned to let us know that after almost 20 miles of hiking they have hit their last camp. They are ready for dinner and sleep…. "it has been a long day." Tomorrow the pack animals will take their camp and personal gear and the guys will have about a 3 hour hike to the bottom of the mountain. Scott is most excited about a SHOWER! A bed would be nice too!
SUMMIT SUCCESS!!!.... Seven Peak Freak climbers topped out on Aconcagua's summit of 6962 meters today- Feburary 14, 2010 at 2:25pm.
Everyone is down resting at base camp now and will be heading down the valley tomorrow. Confirmation of summit names, stories and photos will follow once the team reaches Mendoza- Big congratulations go out to the team! Good work...
Feb. 14: What are you doing for Valentine's Day? We are tapping fingers waiting for news! You know they are working hard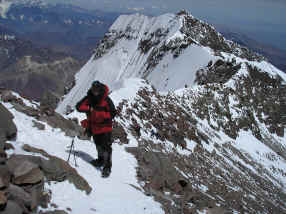 when there is silence. The team should currently be working their way down post summit push at this time 13:23PST. We haven't heard how the wind is doing so fingers are crossed they had a window of opportunity. Stay tuned!
Photo: Guy Leveille on the summit with Tim in 2008... A nice weather day!
Feb. 12: CAMP 2- Paul checks in this morning from Camp 2. They are currently resting and will move up to Camp 3 tomorrow. Still planning to summit on Sunday but the high winds are still kicking at them. Everyone is doing fine.
Feb. 10: BACK AT CAMP 1 AS PLANNED: Received a call from Paul this morning -they are back at camp one spending a day acclimating-some were having mild headaches so thought it best to go back down and then head back to camp 2 tomorrow. Everyone is fine-just taking it slow which is prudent.
The plan is still to summit on February 14th. Till the next update...Lisa Pargeter

I want to give a big shout out to the wives of climbers back home in the USA. They are the ones providing the updates this year to this site. Between them and their husbands they are certainly making it easier for followers to stay in tune with what's happening. Last year we were able to snoop in and watch them via SPOT, this year we are getting daily updates from the climbers themselves. Thank you ladies... you are doing an excellent job!

Feb. 8: EVENING UPDATE!- Camp 1:

Feb 8th, 2010 Greg called at 1:00 pm our time. Camp 1 16,280 feet

He said they all made it to camp 1 with the rest of their gear. The weather was much better today for their climb, he talked about the blue sky and less wind. Also said that all of climbers had to fix their own dinner tonight. If the weather is good tomorrow they will take part of the gear to camp 2 and come back to sleep at camp 1. Everyone is doing fine.

Dana Pickel

Feb 8th, 2010 - Just got off the phone with Scott. They are at Camp 1 today at 16,200 and will take some equipment to camp 2 at 18930 feet tomorrow. The weather is nice but the wind has created dust for our climbers that seem to be getting into everything. Energy is still good and they are eating and sleeping well. Sounds like they will stay one night at least at Camp 2 before moving up the mountain.

Cheers- Becky D.

Feb. 8: HIGH WINDS and BLOOD PRESSURE... Angel- who is forever checking everyone's vitals has stopped team members from eating Danish candy provided by our Danish team members. Too much salt!.. He has cut them off!...Too bad they can't do that with the wind. Wind this season has been
hammering the mountain and has set them back by one day. At 07:30hrs Angel reports they were pulling out of base camp headed to Camp 1, off schedule but still workable as we added weather days in the itinerary. Angel has updated the agenda to reflect the most likely approach to summit success.
Feb. 8: Camp 1

Feb. 9: Carry to Lama (Camp 3 on Guanacos Valley)

Feb.10: Rest at Camp 1

Feb.11: Move to Camp Lama

Feb.12: Rest at Camp Lama

Feb.13: Move to White Rocks

Feb.14: Summit bid

Feb.15: Return to BC

Feb.16: Pampa de Lenas (or Casa De Piedra)

Feb.17: Return to Mendoza
Becky Driscoll checks in: Scott phoned on Sunday the 7th to let us know they were still in base camp. They had weather delay of high winds and snow so they stayed down at base camp for another day. He did say the forecast is good for the next 7 days and they hope to be moving back up to Camp 1 soon. He also mentioned they might not phone until Tuesday. Same happy news that energy is good, people are happy and excited about the eventual summit.
Feb. 5:
Scott phoned Tori (our 7year old) this morning. She found out that they are taking the day off to rest since yesterday they took some of their gear to 16,200
feet to Camp 1. He told Tori that there was no snow where they are at. Not yet at least.

On another reassuring note - Scott, a man of not too many words and not easily impressed, also gave praise to the guides. He said that they were really good. That they "really knew what they were doing".

Scott also mentioned that the forecast looks good for climbing and they are checking conditions regularly. From here on out they will continue to push up to different camps with their gear, food and fuel. Looks like the 12th is still on for Summit day – weather permitting.

Everyone has good energy and everyone appears healthy.

Cheers - Becky Driscoll

Lisa Pargeter: Received message from Paul. Group took supplies up to camp one today and then went back down to base camp where they will spend the night. Everyone is healthy and they made great time!


PHOTO: Climbing up to Camp 1

Feb. 3: I just a got a call (Lisa Pargeter) from Paul on the satellite phone- they made it to base camp at 14,000 feet- 4200m. Acclimatizing tomorrow and then
moving on up- weather permitting. The mules have left their bags with them so now they get to carry the essential climbing items themselves. Weather is beautiful but still quite windy. Everyone is doing fine! Stay tuned!

Feb. 2: Climber Scott Driscoll's wife, another Becky, is keeping us updated as well a few others. Here is what Becky D. writes: "Just got an update that they guys are at Casa De San Piedras at 10400 feet. They will eat, go to sleep, and set out on a 5-6 hours trek to Base Camp 1 in the morning where they will spend a few days trekking up and down to acclimate. Funny to think the name of the current stop translates to the "Home of the Stones". Attached is a picture of the mountain sent from Aconcagua summiteer, Dan Rothrock, last year. It looks like they will be trekking over stones until they hit snow. "

Tomorrow they climb to just over 14000 to the first base camp. Everyone is healthy and enjoying the sunshine although the wind is a little strong. It is summer down there but the elevation brings different kind of weather patterns. Sounds like they are having fun!

Jan. 31: Team departs to the expedition staging area of Penitentes, the staging area for all Aconcagua expeditions. Everyone except for Scott and Analia Lettos, Angel's Assistant Mountain guide. Scott's bag was miss placed but is now with him. He and Alnalia took at taxi to Penitentes tonight to catch up to the group. Whew... it was a squeaker but he made it.

PHOTO: (1) Last dinner before heading out to climb. (2) Load up! (3) Top right: Alnali Lettos (Assistant Mountain Guide), Angel Armesto (Full Mountain Guide).

Shortly after our first expedition (Jan. 30) was listed it sold out within a couple of days. As a result we put up another expedition for Jan. 3, 2010 which was successful in reaching the top on Jan. 15. The climb was led by our exclusive Argentinean guide Angel Armesto from Mendoza.
Tim and Angel first met on Ama Dablam several years back where they both were guiding at that time. They stayed in touch and became good friends. After a few trial runs they quickly learned that their expertise and style of guiding moulded well together. They thrive on being with people and playing in the mountains. They both built their own homes and Juliana his partner, like Becky holds the ship together so these boys can do what they do best. We are honoured to have one of Argentina's number one guides on our Peak Freak guide roster. Angel has led over 60 successful summit ascent on Aconcagua. Angel lives in Mendoza, the staging area for all Aconcagua expeditions. Argentina breeds some hard working and passionate mountain guides with climbing ethics that merge well with our Peak Freak philosophies.
With Angel on our team we rest assured that all Peak Freak participants will be fed well, kept safe and have the time of their lives. Angel has a special interest in Mountain Medicine and is gifted in the cook tent with all the fresh ingredients available to him in the vibrant wine capital of Argentina.
Angel will be joining us guiding on our Everest 2010 expedition this spring. The fun has just begun!