MT. EVEREST 2008 BASE CAMP SUPPORT TREK BLOG
OVERVIEW: Each year we offer in conjunction with our climbing expeditions an opportunity for adventure seekers to participate in a little more than just hiking up the Khumbu Valley, capturing all the favorite photos. Our trek members instead are offered the best of both world's. The comforts of teahouse/lodge stays with a couple of nights at base camp expedition style in tents. An opportunity to experience all the action around a major mountaineering expedition. An opportunity to meet and bond with the infamous sherpas of the region while staying in their homes and then having them as your host at the base of the mountain.
Our journey follows the original Hillary expedition route. It is a leisurely walking holiday allowing plenty of time to get acquainted with the traditional sherpa villages, Sherpa people and their customs. Absorb the beauty of the surrounding countryside and the magnificent mountain backdrop.
NEXT TRIP: Mt. Pumori Base Camp trek. Situated next to Mt. Everest. The best views of Everest are from here. Date: October 2, 2008: Cost: $2460US (all inclusive).
MEET THE TEAM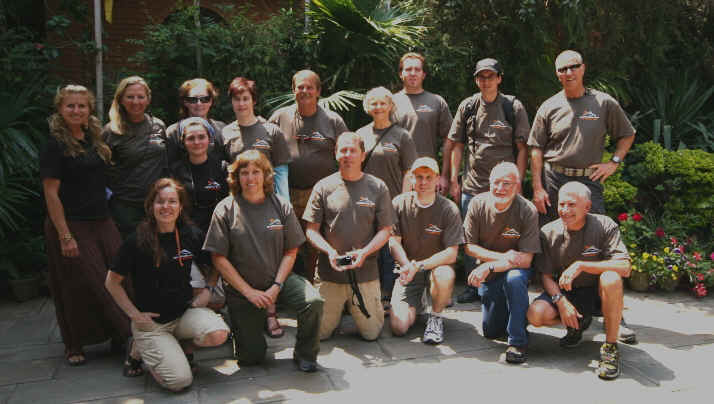 .Members from our Everest 2008 Base Camp support team have now gathered in Nepal.
TREK LEADER VANESSA HIGGOTT and Santi from the HOPEFUL HOME.
They will start out May 3 to being the trek up the Khumbu Valley to help boost the expedition up to the summit. They are scheduled to arrive at base camp May 10. This is the same day the team will be allowed to start climbing again beyond Camp 2 to the summit. This season we have a group of 16 trekkers combined with our18 sherpa staff members and our 9 climbers who will be taking up a very large spot at base camp when all 43 of them gather together to celebrate the onset of the summit bid.
Our support treks are not only meant to help give our climbers a moral boost. The word "support" has another meaning. This years trek will be lead by Vanessa Higgott from Ontario who is organizing a scholarship fund for the HOPEFUL HOME. She will be taking our trekkers who have been busy gathering clothing and other items much needed by the home. They will have the opportunity to meet the children and drop the goods off to them. The fun kind of giving!
We will be covering the trek in to base camp (thanks to their contributions coming soon to this page) and maybe even hear some base camp tales that may filter down through the Khumbu Chronicles gossip column since we won't have our communication reinstated till May 10.
MT. EVEREST 2008 EXPEDITION SUPPORT TEAM ROSTER
Vanessa Higgott- trek leader from Ontario - Vanessa's bio

Lisa Wood- Utah

Valerie Littleton- Utah

Sherell Price- Nevada

Sabrina Lemire Rodger- Ontario

Paul Krsek- California

Ginette Rodger- Ontario

Scott Webber- Manitoba

Hugo Fortin- Ontario

Kim McCloy- British Columbia

Tim McCloy- British Columiba

Roger Trinchero- California

Mario Trinchero- California

Annie Garneau- Ontario

Naomi Garneau- Ontario

Bill Winters- Florida
Good luck to all of you!
May 19, 2008- Everyone has gone home as of today except for Vanessa. She is staying on for a few more days teaching Science to the Hopeful Home children and working on the Scholarship fund she organizing. Here are more photos she forwarded for everyone.
| | | | |
| --- | --- | --- | --- |
| | | | |
| | | | |
| Vanessa and Bud | Ang Nima's grand daughter | | |
May 23, 2008- From team member Annie:
I can't say that going on a trek to Everest base camp was something I had dreamed of or always wanted to do. This wasn't my dream, but Ginette's. She had mentioned base camp while hiking the Chilkoot trail last year and again last fall when she dropped by the house and sold me this fabulous trip... As the time neared I remember being envious but didn't think I had the means for both myself and my daughter Naomi (who would had never forgiven me had I went alone) to embark on the EBC trek. Anyhow, a miracle happened, and I believe a cancellation as well, and before I could realized what had happened both Naomi and I were planning a trip to Nepal.

Ever since I was a teenager, Nepal had always been the first place I would mentioned when asked what country I would like to travel to. Why? I'm not sure, but even though the sixties were long gone when I was a teen, the hippy movement has always remained strong within the walls of old Quebec city where I was fortunate to grow up. So, this was a dream come true.

When most people take months or years to plan this kind of trek, we had just about a month to acquaint ourselves with the political, cultural and technical nature of this trip. Although I knew I would I would make long lasting friendships, nothing had prepared me for the emotional impact it would have on me. I'm usually a very talkative and outgoing person but on this trip I found myself quieter than usual as I preferred to remain an observer and a listener and let the events slowly unveil themselves, savoring every moments.

I will keep very found memories of my fellow EBC trekkers, but mostly Ginette, Sabrina, Naomi, Hugo, Val, Lisa, Budd, Tim, Kim, Scott and Vanessa. You all have remained positive, good natured and inspirational throughout the whole trip even when you were fighting illnesses, fatigue or altitude. Together we experienced more emotions than I could ever imagine, especially each time we encountered Lhakpa and his family. He never failed to touch us, to touch me. The truest high for me was in Khundi at Lhakpa's house as he so proudly received us and made us feel very "wel come" in his humble home. The love and friendship felt, so remotely, was so palpable for me that it made me break down and cry. (I will not apologize for being the cataclysm)

Nothing can prepare you for these moments or the joy you feel when surrounded by 30 kids full of hopes who sit and wait for a group of travelers bringing in clothing and much needed basic daily necessities. I remember being impressed by Val, Lisa and Paul's donation. How I wish I had done more. Drinking tea and chatting with the kids was really heartwarming.

The trek was to be full of brief but rich memories where people whose wealth amounts to the just about the clothes on their back would reach out and give you a hand EVERY single time one of us needed it. I had never seen so much unselfishness and hard work, this really went beyond dedication. I'm humbled by the extreme good nature of the Sherpa people, their lovely disposition and most importantly their goodness and their authenticity. I can only hope that I have the honor to walk along them again.

Just when I thought that saying goodbye to Nabil in Bahrain marked the end of the last tangible tread of this incredible experience, while duty free shopping at Heathrow's airport, I hear: "What are you guys doing here?". Looking up I see Lisa starring at me and Naomi in disbelief. In disbelief ourselves, we hugged and screamed of happiness as everyone at the airport watches with raised eyebrows. Even though we had left much later than Lisa, Val and Budd, they had had a second strain of bad luck with Gulf Air and had spent a couple more nights in hotels. We redid our goodbyes and made promises to visit and keep in touch. Just too funny how our path crossed again.

I look forward to sit through the hours of video I filmed and relive these majestic moments shared with fantastic people as I edit the footage into something meaningful that I can share with you all soon. For now, here's a picture of Ang Nima's grand-daughter.
Namaste, Annie

May 17, 2008- Team is back in Kathmandu- Today we spent the day visiting Pashpatinath temple this morning and were privy to many cremations, which was pretty interesting for everyone. Then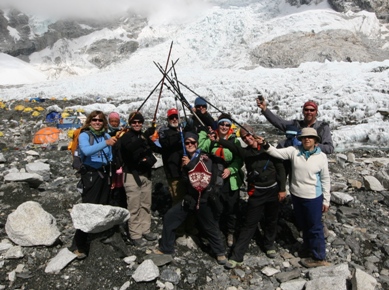 Team cheer staggering into BC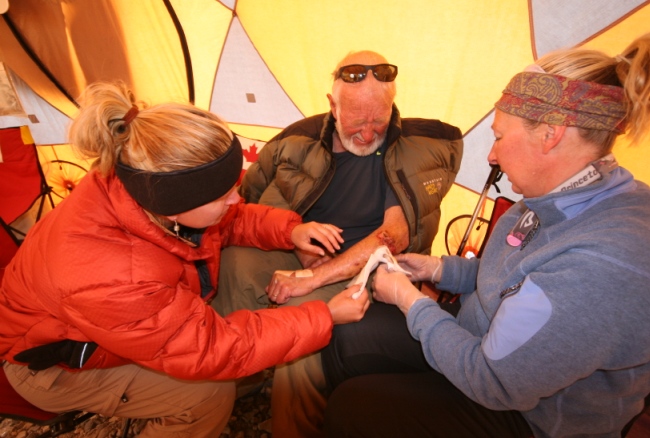 Budd getting fixed up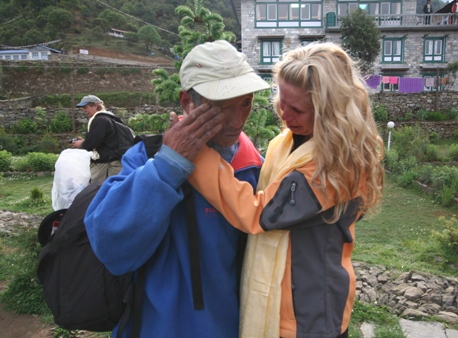 Lhakpa and Vanessa saying a tearful goodbye.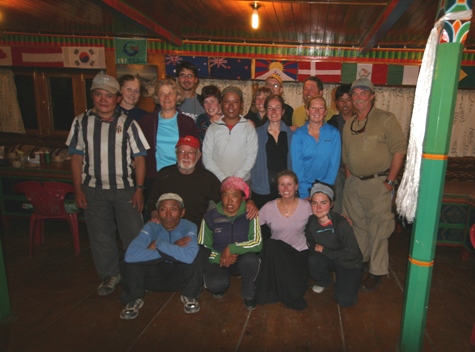 Reunited
on to Bodnath , to visit the Stupa, then Patan in the afternoon. It is the Machendra festival, so I don't think I've ever seen THAT many people all crammed into the streets anywhere. It gave Carnival in Brazil a run for its money, only no one was trying to lick my face (thankfully).

We had a great dinner last night with the group, and many of us ladies had bought Kurtas or Sarees so we spiffed up for the occasion. I even got to dance at the dinner....dancing is my favorite. I read everyone the poem that I had written for them and they enjoyed it. I handed out the personalized 'badges of honor' that I had made for each person.

Today, Scott and Bill left so we are slowly dwindling. Tomorrow, I have a 'garden party' planned for Budd, who turns 71, hot on the heels of such a grand achievement. He would like it if some of the team can summit for his birthday, so Becky, can you please have a word with Tim and see what he can do? I've got a chocolate cake ordered, Budd's favorite.

Vanessa writes a poem to the group she presented at the the dinner party last night.
ODE TO AN ADVENTURE
Now here's to my friends, as we salute our great journey
With fondness I hope you will reminisce
Humour me now as I do a little recap,
just in case there were parts that you missed.
Kim and Tim were such troopers, so sick early on, but they never took their eye off the prize,
What an honour it was, to walk into Base Camp, with Kim as tears welled in her eyes.
And to my "Sweet Fruits", now what can I say? Naomi, you had the best hair
And to Sabrina, you worlds' coolest high altitude birthday, was one we were honored to share.
Ginette and Annie, the world's coolest moms, what an epoch adventure with your girls.
Perhaps this time, the slideshow will exclude, half-naked pictures of Ginette with her pearls.
Then there's Ironman Scott, whose strength was not real. Had this been Survivor Nepal, we have voted him off, way early in the game, as he was the perfect threat to us all.
Hugo Fortin, so quiet and sweet, many didn't get to know how charming you are. But I can tell you, all us ladies are jealous that you had THREE days to shop in Namche Bazaar.
And Bill, oh Bill, you made your own adventure, as you fought off some mystery disease. I hope you've enjoyed this magical place, BUT no more watermelon from the street vendors....please.
Then Mingma the monk's enthusiastic hand, slipped subtly onto Val's surprised ass. The hands of Buddha work in mysterious ways, perhaps you'll have a new move for your class.
And Lisa's great laugh was hard to resist, infectious even at 5 in the morning. But lookout on the trail, as we'd stop for a snack, she'd whip out pepper beef jerky without warning.
Budd just amazed us, his sweetness and strength, nay a moment he wasn't leading our pack. "I feel good" Budd would say, as we all ate his dust, and never saw more than his back.
As we leave here different people, forever changed by our adventure, in our hearts we take with us Nepal.
As special 'thank you' however, to the worlds' greatest man, Budd, you remain an inspiration to us all.
When we started this journey, 16 people strong, who'd have known who would go all the way?
It's been such an honour to share this dream with you all, but remember....
WHAT HAPPENS IN TENGBOCHE, STAYS IN TENGBOCHE!
May 13, 2008 - Trek team in Namche- Vanessa writes:
Hi all,
Budd (70 year old recent chemo patient) is an absolute hero to all of us...he has lead the way every step, incredible.
I forgot to mention in my previous email that Lhakpa had invited us to his home to meet his family. Noticing that his wife wasn't home to make tea for all of us, he rushed down to Ang Nima's house to buy bottles of Coke to serve his guests. Everyone was touched...but stay tuned. He served us his Coke and his son then pulled out Khatas for everyone. For those that don't know, they are a simple silken scarf, given as a blessing or farewell. It was a beautiful gesture. All the women started crying, and all the men put on their sunglasses (wink wink). What a lovely time we had.
On the 9th, Ginette and Hugo stayed in Dingboche and made their way down, having celebrated Sabrina's birthday with style on the 8th. She got her picture of her with a Yak wearing a birthday hat (she brought her own), clearly more of a goal that Everest BC itself. Ang Nima, really made it special by finding a cake and giving her a mini yak, which I fashioned a wee birthday hat for, out of a post it note that I had in my book. She was thrilled.
On the morning of the 10th, Scott came to me to tell me he "was down", having been sick all night. It wasn't altitude however, so he decided to stay behind and maybe catch up with us, after a day of rest. We were glad to see him roll into camp on the 11th! He's a strong guy, an Ironman in fact.
We arrived at BC on the 10th, happy to see Tim and crew. As we entered BC, we were greeted by calls from the Italian camp, "Girls, your friends are over here... come here". Thanks Fabio, but clearly you've been here a while. I hear that they do that when they see 'fresh meat', it was worse than a construction sight in Woodbridge.
No sign of Farouq til late that night. We were treated to popcorn and junk food...mmmm. It just tastes better when you're that exhausted and cant breathe apparently. We had a great night hanging with the residents. They are a fun group of guys. They were all pretty honored to meet and be able to chat with Budd. He is something else.
The next day, rather than climb up to Kala Pattar, everyone was pretty happy to have showers...yes showers at Base Camp and hang out. I guess I didn't know what to expect, but I hadn't realized that BC was on a giant undulating glacier, covered in rocks. Silly me. So our tents were perched upon said rocks, many of which were fairly pointy. I shared a tent with Sabrina and I couldn't help but notice that it was on a piece of ice that formed one side of a crevasse. No big deal, except in the middle of the night, we could hear the glacier "talking to us". That's climber talk, just so you know. We also heard the mountain 'talking to us' with repeated avalanches that didn't seem to alarm anyone but us new people.
That second day was well spent, watching The Bucket List, on DVD in the comfort of the cozy dining tent. As the snow fell outside, we gathered round the 10" screen...Around 10am that morning, Tim and group radioed from the top of the Khumbu Glacier to tell us all to come outside and look with our binos. They were waving to us! How cool was that???? They were 4 wee peeps standing at the top of the last ladder.
With the air being so thin, many of us had a hard time sleeping, waking up trying to catch our breath. You needed at least TWO reasons to walk all the way to your tent.
On the 12th, we got up early to start the long journey down to Pheriche. There had been a lot of snowfall, which made the walking on rocks and scree so much more challenging. It was a very long day and Pheriche is a chilly place. Budd had a bit of trouble at the end of the day, so Lhakpa actually 'piggy-backed' him at one point.
Tim suggested we get a horse for Budd to take him from Pheriche to Namche and we did. A good idea it was, because it was an 8-9 hour day for most of us. We arrived back here in Namche, with just enough time and energy to shop. Woo hoo.
I hear from the lodge owner that Ginette, Hugo and Bill headed down today. Mario and Roger got choppered out finally on the 9th.
I will be able to write again once I am back in KTM.
I hope everyone is enjoying spring, - Vanessa
GOOD WORK TEAM!- Becky
May 11, 2008- Blog from Ginette Rodger in Namche
Happy mothers day everyone. I am now in Namche with Hugo. We were not able to go all the way. The altitude got us! but the good news is that the trekking group is now on its second day in Base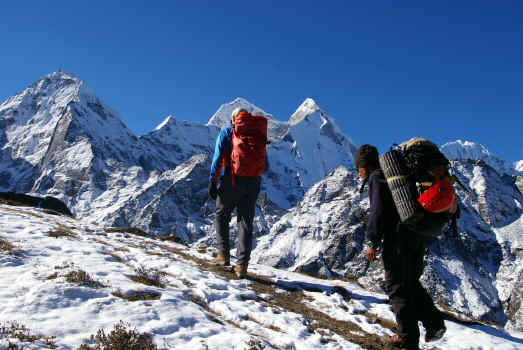 Camp and yes the 100th anniversary flag for the Canadian Nurses Association and the TOH Nursing week flag are up there for posterity. Proof in photo to come. Sabrina my daughter had done the deed in my behalf.
On May 8th was also Sabrina's 22 birthday. She had brought a party hat for everyone. We were in Dinboche. the day started with a picture of a yak and Sabrina both wearing a party hat. The evening after the acclimatization trek was supper followed by a birthday cake, a miniature yak with a party hat, a kata, Sirda Sherpa Ang nima family ring, gift from the groups and cards including her dad's card. It was a great success. A birthday to remember. I met four of our climbers in Namche they make all of us proud. What a group of strong young individuals with positive attitudes, joie de vivre, individuality and kindness. I met them again on the trail two days ago. They were making there way back to base camp to prepare for the summit... we wish them well. Bye for now- Ginette
May 8, 2008- Yes, the Chinese did summit and now everyone can reclaim the mountain and get on with a summit climb of their own. If you read our climber news page you will see where I posted an email from our office in Kathmandu who were attempting to get Mario and Roger out by helicopter evacuation but the torch relay interrupted this. Mario is now stranded for one more night in Namche.
The rest of the team is now resting in Dingboche. They did a high altitude hike today for acclimatization and are all very tired. Ginette developed a cold that is not getting better and Hugo is having a bit of trouble with the altitude. They are going to descend to heal. Your body can't mend at altitude and for Hugo it will benefit him if he is having trouble acclimatizing to go lower and try and come back up again the next day.
We always stress to our climbers and trekkers that the crux of a Himalayan high altitude journey is going to be staying healthy on the airplane on your way over. Your body will naturally get ran down from the recycled air, no sleep and airborne germs everyone is in contact with while flying for so long. You are tired when you arrive and susceptible to viruses. So, being warned you do the best you can and take good care but there is another problem. There are other people on these flights that don't take care, they arrive in Nepal and start spreading it up the valley to the sherpa homes where they are not used to these bugs nor do they have access to the medications to help make them better. So rule of thumb when trekking is: bring antibiotics! you will probably need them.
Vanessa writes that climber Larry passed them full bent for base camp. He spent the night with the trekkers at Dingboche and left early the next morning to base camp.
Budd is an absolute ROCK STAR! He is setting the pace half the time, none would know that he is between chemo's and 70. He went over to Pheriche today to have his arm re-dressed by the clinic there, as I am out of non-stick gauze to put on his open sores on his arm. He will be fine I'm sure, just being careful now that we see how quickly things can become infected up here.
Next report will probably be either Gorak Shep or base camp. Or as Scott referred to it - Sherpa wireless. Stay tuned! Becky
May 7, 2008- Helicopter Evacuation of Mario Trinchero
Our support base camp trek team who the climbers enjoyed an evening with in Namche should now be sleeping in Pangboche. Home of Lama Geshi, the Yeti Skull, Nima Dorjee and his wife Lhakpani. Tomorrow they will be moving up to Dingboche for two nights. We should be getting word from them by that point.
A party of three on the trek team had a helicopter evacuation this morning out of Namche Bazaar. Mario Trinchero from the USA had been bitten by an insect in Kathmandu that turned into a staff infection. He has been on antibiotics and bed rest but it is not healing. He needs hospital care. His father Roger returned with him and friend Paul Krsek who has been doing a dynamite job taking care of the them with the help of Lhakpa Sherpa and coordinating logistics. All three are returning to Kathmandu. Roger and Mario went by helicopter and Paul will walk out to Lukla and fly by fixed wing from there to meet up with them in Kathmandu. Mario will likely go on intravenous to combat the infection.
Wishing them all safe travels and Mario a speedy recovery! They are missed very much by the rest of the team. - Becky
May 6, 2008- From NAMCHE BAZAAR- Paul Krsek check in Paul checks in today to say that Mario's foot is still swollen. Thankfully there was a British doctor staying at Tsedam Sherpa's Lodge who gave Mario advice to stay put. He is on antibiotics, it is a staff infection. They are going to hang out and enjoy life in the area and wait for the rest of the team to there.
I haven't heard from Vanessa yet and probably won't for a couple of days. Communications are going to be hit and miss because of the communications ban. Right now they should sleeping at Tengboche and tomorrow morning they will join in with a chant in the monastery with the monks. After breakfast they will make their way up to a high point hike to the base camp area of Mt. Kantega before dropping down to spend the night at Pangboche. Pangboche is home of Lama Geshi. Lama Geshi blesses all the climbing expeditions performing Puja ceremonies in his home monastery. Pangboche is the closest village to Mt. Ama Dablam. MAP Day after that Dingboche and here they will spend two night for acclimatization before moving up. We will likely get a message from Dingboche.
May 5, 2008- From NAMCHE BAZAAR- Vanessa checks in
Hello all
We have been in Namche for a day now, having arrived in the pouring rain yesterday. Today we did a training hike up to the villages of Khunde and Khumjung, where we visited my Sherpa, Lhakpa's house. Everyone got pretty emotional when he brought out Khatas for everyone and his 14 year old boy placed them around our necks. THey are a scarf, given to someone as a blessing for safe passage. It was such a lovely gesture. His wife wasn't home to make us tea, as I'm sure he had hoped, so he ran to Ang Nima's house (his cousin and our head Sherpa) to buy bottles of coke to serve to his guests. It was too adorable.
So far we have faced a few 'casualties'. Bill, the doctor from Florida became very ill during our first night on the trail, in Phakding. He was vomiting all night and felt horrible of course. He was a trooper and trekked along with us to Monjo, where we stopped for lunch. Here, he deteriorated and I thought he should stay behind. Lhakpa stayed with him. He could catch up to us in Namche as we are there 2 nights. He rested for a bit, then hiked to the next town before starting the grueling slug up to Namche.
Since the Chinese have disrupted all communications here, many of the phone land lines don't even work right now. So we had no way of knowing today, where Bill actually stayed or if he was coming up. The message came to us by human relay, as a sherpa tapped Ang Nima on the shoulder while we were hiking through Khumjung. Quite a system really. We were told that Bill was on his way....
Mario, who is traveling with his father, has suffered a bizarre non-trekking related bit of bad luck...it appears that he acquired an insect bite, perhaps back in KTM, but it has become terribly infected. His foot is extremely swollen, he is running a fever and is laid up in bed. I checked the internet last night to see if the antibiotics that his dad had were suitable and they luckily were. We have kept his foot elevated and with ice on it, and soaked it in hot water intermittently.
He was not well enough to accompany us to Khunde today to the hospital up there, so we took pictures of his foot to show the doc. Doc says it's cellulitis caused by Staph bacteria and he's on the right meds so that's a relief. We have been doing the right thing apparently, also a relief.
Tonight he joined us for dinner but we are wondering if he will be well enough to start hiking up to Tengboche tomorrow. I've given him and his dad their options from here so they may have some tough decisions to make.
We've got a wonderful man on our trek that goes by "Budd" and he is 70 years old and between chemo treatments. He is everyone's hero. The sweetest man I'll ever meet, and just thrilled to be here for so many reasons. He's doing so well, but sometimes gets tippy (don't we all). Today, he had a bit of a fall on some steep terrain coming back down to Namche. He cut up his hand and we did some quick first aid on the trail. Back at the lodge, with a bowl of boiled water and all our pooled first aid supplies, we removed his shirt to find his whole forearm was torn up. Perhaps from all his treatments, his skin is so thin and just tears so easily. As people came around to check it out, I told them that Budd had fought off a snow leopard and saved all of us women that he was trekking with. He enjoyed that story. You think he looks bad, you should see the snow leopard! I got him all cleaned and bandaged up (thanks Maris for those supplies) so it's going to take a lot more than that to stop Budd. He is a rockstar!
We've met up with most of the climbers from the Peak Freaks Everest team here in Namche. They are waiting out the Chinese SHUT DOWN of the mountain. I just heard today also, that the Chinese have closed Lhotse, Shishipangma, Cho Oyu and any other mountain that they feel someone might say something bad about them on. Un-freakin-believable. They have snipers at Camp 2, to keep the climbers from advancing.
The climbers are in good spirits and a fun group of guys to hang out with. I wish we had more time here with them to chat, but we should be seeing them again at Base camp later anyway. Scott made sure to videotape the minor surgery that I performed on Budd earlier, the filmmaker that he is.
So the enthusiasm of the group is high, everyone is falling in love with my Sherpa Lhakpa as I did when I was here. Not hard to believe.
Tomorrow we head to Tengboche, then Dingboche for 2 nights. We hope that Mario will be with us but his foot will decide that one.
MIss you all,
Vanessa
May 1, 2008 - Everyone in Kathmandu!
Between power outages due conservation practices and natural ones caused by recent thunderstorms they have managed to get a team photo dispatched from our Kathmandu base camp hotel. Right now they are all sleeping peacefully after a long day of touring the city and visiting the Hopeful Home orphanage children and delivering clothing and educational supplies. Good job on Vanessa's part getting everyone organized in their team shirts for the photo op! Not an easy task when everyone is tired from their long flights. They look pretty darn good. What a team!