MOUNT PUMORI EXPEDITION 2011' BLOG - 7145m
Oct. 4 to November 5, 2011 - ROUTE: South Ridge
Follow the Everest Training Team on Mount Pumori this autumn. Led by Tim Rippel and his Sherpa team. We have formed an outstanding team consisting of 3 or 4 base camp trekkers, 8 Island Peak climbers and 15 Pumori/Everest Training climbers. We have also taken out a permit for Lobuche East should the summit ridge of Pumori prove to be unsafe once they break through to the ridge during the training climb.
The expedition will begin in the capital city of Kathmandu on October 4, 2011 and will be back in Kathmandu on November 6, 2011. We invite you to join us in this journey by following our daily blog and Tim Rippel's Facebook for comments and photo uploads- enjoy!
| | | | |
| --- | --- | --- | --- |
| | | | |
| Ang Nima Sherpa | Mingmar Sherpa | Tashi Sherpa | Joshua Jarrin |
This video would represent a typical morning rush hour at Lukla airport during the trek season. Another good reason we pulled the pin on waiting.
November 7, 2011.... All our eggs are in the basket and this expedition is officially over.... Next one...Kilimanjaro, Aconcagua and then Everest 2012..
November 6, 21:00hrs Nepal Time: Two more to come...
Stephen Neil and son James from Australia are the last two still making their way to Kathmandu over the four high passes from Lukla. They have a 1:00pm flight to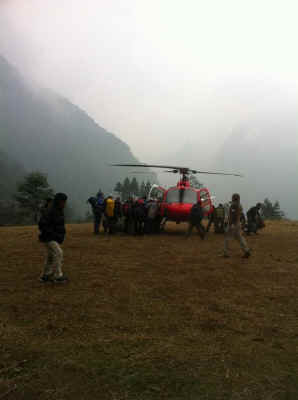 catch tomorrow and will likely make it happen. I just got off the phone from Tim and had the opportunity to listen in on a conversation he was having with Stephen and James who are still out there on the trail tonight. Tim has been tracking them for the last 24 hours. He kept getting phone calls but dead air at the other end. Later in the afternoon Tim was meeting with Sonam and they decided to phone these numbers. Each house that had a phone Stephen and James would call in so Tim was able to track them by talking to each lodge owner and find out the time they passed through the village and left again. So now they have an estimated time they will be in Jiri. Tim sent Ang Karsung out tonight to Jiri in a private car to grab the two of them and if all goes to plan they should be in Kathmandu around 02:00hrs.
Tim says they're book'in it. He's impressed with the speed at which they've been traveling. Stephen said at one point they had come across two Nepalese men where the road starts on motorcycles who offered them a ride to Jiri but it quickly came to a halt when the road disappeared, possibly a landslide from all the rain. So now they're back on foot, it's dark, wet and slippery. The rest of the team can't wait to hear their stories when they see them in the morning. Tim says he's kind of regretful he isn't with them to experience their adventures and hopes to do it one day Nepal style taking just a toothbrush and go. He's heard so many good stories come out of this adventure he feels he's missing something.
There are still 2500+ people in Lukla stranded. The foods running out and the lodges are full to capacity. People on tables and floors everywhere. Tents are being set up for extra accommodation and quite a few are now deciding to pack up and head down the four day grueling hike to Jiri. Today was suppose to be a day that they thought the fog would lift a little but only one 5 seater helicopter got in and that was it, all flight attempts were ordered to be grounded. They've got the military on standby with the 40 passenger helicopter to start doing rescue's of the stranded climbers and trekkers when the weather finally shifts. Tomorrow's weather is suppose to be a major improvement with the rain backing off and the sun will be back but this is also the combination that produces fog so who knows how many more days this could go on during the end of the peak trekking season.
I feel for the people stranded, it's happened to me before and it's ok if you can just enjoy the overall experience, but for some when the trek is over and you're starting to miss home and the comforts of your own bed and family, it can get difficult. There's nothing to do really at this point of the trail, you can only eat so many cans of Pringles when the real food runs out. Porters are hard to find right now too because they are busy bringing food up from the valley's below and carrying bags for the 400 or more that have now decided to head out to Jiri.
Good luck everyone in Lukla, hope you can make the best of the situation, stay healthy and happy..... Becky
Photo: "five seats, how do you decide who goes when there are 2500 people waiting?"
November 5, 21:00hrs Nepal Time: We did it!... in Kathmandu!
Connections come in handy... many thanks to Sonam and friends of. One of the best investments one can make is good friends. We are grateful to all those who rose to the occasion to help us out as they always do here in Nepal. It's now estimated to be over 2500 people waiting out the extended bad weather in Lukla, we're happy to say we're back from the mountains in time to make our international flights. Thanks to my good friends here in the Nepal I can't say I've ever missed one though I've dealt with this weather situation at Lukla on many occasions, it's often epic. Like we say " it's part of the adventure, good or bad it's part of it". This is expedition life and not a tour program and anyone coming here should never forget the difference. All good fun..
So, here's what went down. We have the helicopter, in fact we have two lined up to pluck us out. We have a pilot, good friend our our Nepal partner Sonam waiting at a location below in hope the fog breaks at this elevation. They wait - we wait for a hopeful disbursement of fog. It's 07:30hrs and we have to make a decision. Are we going to go and not lose a day if it can't make it in or do we wait. All of us except for Stephen and James decide to wait, they opted to hoof it so they're still out there. We wait, it's now noon- it's 2pm- it's 3pm and then the magic happens, it's 4pm a very little parting of fog. I get the pilot on the radio and describe the area at which he can land, best approach, watch out for the trees to the right etc. We had two choppers on standby but thought we would only get one in so we decided who would go and who wouldn't. Surprise to us the other one decided to piggy back in as well and scooped all of us out in one very quick go, squeaker!!! So here we are... actually one day ahead of schedule as our original itinerary wasn't organized to have us fly from Lukla to Kathmandu till the 6th that we would have definitely missed out on if we stayed up there..... Mission accomplished!.. lots of beer and food here, bags are still walking out with porters......... over and out.. Timalaya
November 4, 21:00hrs Nepal Time: Moving swift, pass the Ibuprofen please! The Amazing race in progress!
I understand the situation in Lukla is starting to make the press around the globe. It's nothing new in Lukla, this is all part of the adventure in the Himalayas. You can always get out of the city to the mountains but getting back can sometimes be the real adventure. Most will look back on this afterwards and recall the infamous "escape from the Himalayas" being the highlight of their adventure- a real expedition where you rely on available resources, figuring them out being part of the game, so much like the TV reality series Amazing Race. People have international flights to meet, promises of helicopter seats being bought under the table to the highest bidder, everyone is in on it and the locals making some good coin at this time. It's quite the business opportunity and fun to watch if you have the ability to chill-ax and enjoy the mahem. Most climbers are better at it than trekkers, they've typically had their fair share of waiting out storms confined in a small tent with nothing but a few snack bars, howling winds and frigid temperatures for days on end. Our team is happy to have their legs moving. Over the course of 21 years here we have had some excellent escapes...stories reserved for the book :) Good on you boys!!!... we'll be watch'in.... Becky ....
Oh ya.. I was reminded there are some pretty good high passes to cross and at the end of that a 12 hour winding bus ride to Kathmandu after reaching the village of Jiri where the road starts. Hmmm... it will be interesting to see what that will cost and availability.
November 3, 21:00hrs Nepal Time: Still in Lukla - New road to help service the Khumbu.
Still in Lukla. People are out of control. About 1500 people now in the village trying to get Helicopter lifts (which haven't happened), started at $200.00 p/p, quickly
jumped to $1500.00 p/p and could go higher. 100 people or so fled down the valley thinking they could show up and get on the one helicopter that squeezed in there today. There's no police down there and stories are coming back up that fist fights broke out. We're staying tight in Lukla for the next few days in the comforts of our home and where there's police and military. Crazy people! People who are used to paying for whatever they want dealing with cash having no value, good lesson for some. In the years we've been coming here it's quite interesting to watch these behaviors. I just laugh.
Some interesting news was shared with me today. Ang Karsun had pointed out a new trail that was being cut out on the other side of the Dudh Kosi river near Pangboche. Apparently a new road is being pushed up past Pablo the alternate landing strip south of Lukla. It will get to within a one hour walk from Lukla offering an alternate access route to the Khumbu (or in this case) an escape route. Construction has come to a halt though, the villagers along side the river can't agree on what side of the river the trail should be on. No doubt this will great fortune to the families that win the trail rights.
The weather looks pretty grim till Monday, it looks like we're spending the weekend here. We'll make the best of it.... air drops of beer isn't even possible, pass the chang please :) Tim
November 2, 21:00hrs Nepal Time: Still in Lukla
Facebook photos uploaded just now!
November 1, 21:00hrs Nepal Time: Raining in Lukla...
No flights today due to the rain and fog. Tomorrow doesn't look good but what can you do? We'll see what we get tomorrow. We were lucky to enjoy such good weather this season and now we must pay back I guess. The good news is that we headed out of Pumori camp and made the call to cancel a summit push as we would be stuck at camp and wouldn't have got anywhere. By making this call we got a summit in on a beautiful day and are now sitting out the bad weather in the comforts of a lodge and in a much warmer environment. It all works...
I've included a photo of our staff this year that worked with us on Pumori, Island Peak and Lobuche. Left to right top: Lhakpa Gelgan Sherpa, Paulden Sherpa, Ang Karsung Sherpa and his son Sonam Sherpa now working on our expeditions, Nuru Sherpa, Jangbu Sherpa and bottom left to right, Shri Sherpa and Desh Kumar Sherpa. Included separately is Mingmar Sherpa, Tashi Sherpa, Joshua Jarrin as they were not available at the party tonight, they've finished up earlier in the expedition and had family obligations. Very professional crew who have been with us forever except for the new addition of Joshua who will be guiding on Everest with us this spring.
October 31, 21:00hrs Nepal Time: Team back in Namche Bazaar...weather as predicted is starting to look not-so-good, happy we went for the better than perfect window- the calm before the storm. Now we may get held up a day or two (or not) in Lukla with fog from the rain. A couple of will be carefully watching the situation with the floods in Bangkok in that hope things improve there. One airport has already been closed but the newer one seems to be still operational. Back to the pool table... over and out .... Timalaya!
Photo: Everest Boot Camp 2011 members on top of Lobuche East 6119m and a couple of the Island Peak summiteers. Others wee Joshua and Tony Lombardo in the photo below.
October 29, 21:00hrs Nepal Time: Team back at BC..
Everyone is super tired, they have all been sleeping now for about an hour or more. We had an awesome celebration at camp, we polished off all the wine
and had an order of extra beer sent up from Lobuche village. Early dinner and early to bed. Everyone was hilarious on top. We managed to all summit and celebrate together which is always the best if it works out that way. Fantastic morning, the photos are going to be outstanding of what we saw from there. Perfect weather, not a huff of wind and all the big ones were if perfect view. Great way to end an expedition. Over and out... Tim and team!
Can't wait to see the photos and we will be posting them as soon as possible. The team will be back in Kathmandu on November 2nd if the weather holds down in Lukla. We will continue to update this blog till the team reaches Kathmandu.
October 28, 08:00hrs Nepal Time: Peak Freaks Summits Lobuche East 6119m in absolutely beautiful conditions. Everyone is doing terrific. We'll be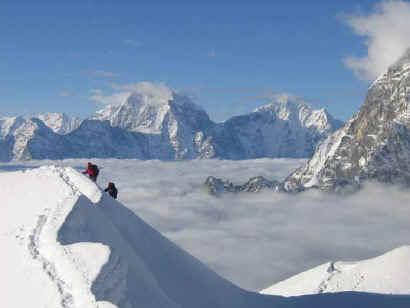 back down at camp in about 3 hours. Everyone that attempted the climb summited in great style- good work team!!! Mark says " we need more beer" !!!!
Tim Rippel

Jangbu Sherpa

Tashi Sherpa

Paulden Sherpa

John Stephen

Fraser McKenzie

Andreas Breitfuss

Chris Cameron

Mark Sugden

Stephen Neil

James Neil

Eddy Szczerbinski

Jeroen Roodenburg
Photos to follow when we are down. Over and out...... Tim
October 28, 01:30hrs Nepal Time: Really climbing!.... Tim just called and they are all brewing up and ready to climb. My estimate of about 6 hours to the summit is correct. Tim says there's no wind and it's so warm he was calling me with bare hands, no gloves on. There are two summits on Lobuche East, one is referred to as the false summit, they are planning the true summit. Over and out.. check back soon this evening for more. Becky
October 28, 21:00hrs Nepal Time: Climbing!
I missed Tim's call but he left he a message saying they were all at high camp resting for about four hours and then they will head up to the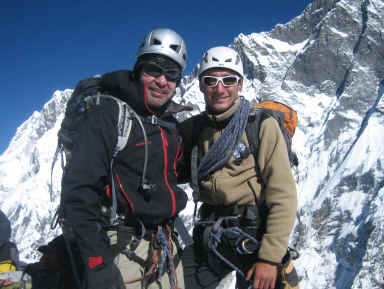 summit. He said it was an absolutely beautiful night, stars, no sign of snow so it should be a beautiful summit morning. From my weather reports they called it right as there is a lot of precipitation coming in the next few days and hanging around for a while. He said he would call when they all reach the summit and I will post here. They bumped into Barry Blanchard and friends on their way down from the summit. They hung out at high camp and enjoyed some catching up and good laughs.
Now is probably a good time to introduce one of our new guides for Everest this spring. Joshua Jarrin a UIAGM/IFMGA certified mountain guide from Ecuador came over to help lead the Island Peak team and do a briefing with Tim for Everest. Tim met Joshua first on Pumori last year, he was a member of the strong and skilled Ecuadorian team. During this expedition both Tim and Joshua enjoyed the opportunity to get to know a group of the members that will be heading to Everest this spring with us which will be nice for everyone. This will be Joshua's first Everest working with our large team of Sherpa mountain guides, Tim and the famed Marty Schmidt- mountain guide from New Zealand. We are looking forward to a dynamic season on Everest this year with a fantastic group of climbers and guides.
Stay tuned for the summit call in real time here, when? I forgot to ask but guessing 7:30pm PST or sooner. Over and out and don't forget to SPOT them. This is an excellent way to end a training climb. Happy for the team.
Photo: Tony Lombardo (left), Joshua Jarrin (right)... Summit Island Peak
October 27: 21:00hrs Nepal Time: Lobuche base camp- warm and ready to climb!... Happy to be out of the ice box. We are 200m
lower PBC which was 5200m and our bones are loving it. Our camp is all set-up and looking really good on the grass surrounded by boulders, very pretty. It's amazing what a difference it makes in temperatures not being at the back end of the air flow off the glaciers.
So here's the plan: We are enjoying the land where there is life, including some Canadian friends of mine who are here as well. I can see tents on the mountain so that may be them. We're not in the typical camp location that most use so we don't really know who is up there but Ang Karsung identified the group as being Canadian through Sherpa radios so it must be them. Our plan will likely have us bumping into each other on the route at some point which will be cool.
So the climb is going to be a clean sweep. The team is strong and now have skills to pull this off in style so that's what we'll do. The weather looks like it will hold to plan giving us this window. Tomorrow at 02:00hrs Nepal Time around 14:00hrs PST on October 27 we'll be climbing to the summit and I'll make a call to bring all of you watching up to date on our movement.
No water bottle needed tonight, over and out from Lobuche base camp- 5000m. Tim
Photos: Pumori photos loaded up on Facebook, Lobuche photos to follow and be sure to SPOT us....
Ranjit checks in:
Dearest Becky,
Happy Diwali to all the team in the Himalayas and to you in Canada. Greetings from Chandigarh, India. I'm am really enjoying the holiday season and appreciating this time with my family like never before. First of all I want to thank Peak Freaks, Tim and you for a wonderful experience, one of the best experiences of my life.. I have learnt so much from you guys and I now know more than ever why you guys have been such a strong presence in the mountains for over 25 years... All the advice, training and time spent with Tim will stay with me forever... Having learnt the basic climbing skills, handling and testing my gear and my share of snow storms.
I would like to wish the team and Tim best of luck on the mountain and i hope they will get to make the most of the remaining expedition days. I hope the weather cooperates and the team are able to do Lobuche East.. I will be following the blog eagerly.. Thanks once again, I will be contacting you for Everest.
Cheers,
Ranjit Bajaj
October 26: 22:00hrs Nepal Time: "bony looking base camp".. "We are all off the mountain and packing up. Our dining tent left to Lobuche
today and we have a make shift dining tent remaining to accommodate tonight's meal and social and breakfast tomorrow. Our new camp is waiting for us!.. The wind is howling pretty good tonight and with it brings extreme cold. We are at the end of a valley up here where it captures frigid temperatures from the glaciers, not the warmest place to climb but it's a good test pre-Everest. Everest by far is warmer being spring and where the sun shines. We are moving quickly to try and get a jump on Lobuche East before the forecasted precip moves in. We had a good expedition round up tonight assessing how everyone felt about the climb and what they learned and we are all happy to be moving out of the freezer to a warmer valley- so onward and upward tomorrow." A photo collection to follow when we pass through Gorak Shep. Over and out ... Tim
What's next? Pumori is over in more ways than one! Tim and I have been having a cyber meeting the past two nights and have chosen to follow a new path. We are growing out of our boots and are listening to our climbers. In the day Pumori worked for us as a training ground being able to work with the advanced, intermediate and beginner climber all in one expedition but as the planet shifts and like all things in mountaineering.. nothing is absolute! The past three seasons we can't accommodate the advanced climber here anymore as a commercial operator. Quite simply it's no longer advanced, it's become extreme. All teams who came here this season with advanced climbers have now left unsuccessful except for the Czech team who have indicated they are packing up as well. The Russian's arrived with a team of nine and only managed to put three on the summit, the route was so gnarly that they had to down climb on the avalanche prone standard route and got themselves into a situation with parks.
Time for change: Tim and I have always said that if we ever lost a Sherpa friend or client in the mountains, we would quit. Well, we don't want to quit!!! We
love what we do and the people we meet and our Sherpa families, so it's time to mix it up and do something different. Today's climbers are different and as commercial operators we want to adapt to their needs. Advanced to extreme climbers will typically have or find climbers they can hitch up with and approach a mountain that meets their ambitions and take those risks themselves and not on the shoulders of a commercial operator. What we have come up with will put more of a gap between advanced and intermediate climbers and still meet the needs to prepare for Everest.
8000'er: By popular request we are going to start offering an 8000m peak for those who want to do the big slog to the top of something and gain specifically high altitude experience. We will also be offering a new program in the Khumbu that we feel will work well for the beginner to intermediate and to test drive Peak Freaks operation and to bond with our Sherpa friends before Everest. We are working out a new 3 PEAKS itinerary. Tim is stoked and thinks it will be great fun. He likes the idea that the team will be on the move experiencing new terrain and seeing much more of the Himalayas instead of being in one spot pushing up and down on the same route. It will be a good place for beginners to start and offer a variety of skill sets in one expedition. It will be a warmer location to climb during the post-monsoon/pre-winter season.
Our training climb itinerary in the Khumbu will be a circle climb in the Chukung valley and incorporating our Everest Base Camp and Kala Pattar trekkers still. The 3 PEAKS climb will include Island Peak 6145m, Pokalde 5806m and Lobuche East 6119m. Island Peak will offer snow and some ice training, Pokalde offers more in rock and Lobuche East we can work everything into it, rock, ice and snow. This should cure the itchy climber who doesn't like idle time required when climbing at altitude. Not that we've had a problem with anyone except for (ants in his pants) Tim :)
I've been talking to a couple of well-known and respected mountain guides the past month discussing our 8000m proposals and we will be releasing the details in the new year.
So that's the scoop. Stay tuned for photo uploads tomorrow of this continuing adventure and of the news of their experience on Lobuche.
I now have a lot of work to do, good- bye Pumori- daughter of Everest- you are such a sexy mountain and deserve only the utmost in respect. You're not as easy as you look! .. Becky
Photo: Kuntal's shot of the great food at Peak Freaks base camp. He's a fantastic photographer and is uploading a bunch of photos right now to FACEBOOK, enjoy! "dang"... Ang Karsung (master chef) is getting good at what he does.
October 25: 18:00hrs PST Time Canada: All is good..
Sorry folks, just wanted to let everyone know all is good with the expedition so you can get a good nights sleep :) Full report tomorrow.
Becky
October 24, 21:00hrs Nepal Time: Weather clock is ticking...time to turn focus.
So the team is sleeping at ABC after a trip to Camp 1 today. The team is looking forward to reaching new heights and getting those great photos from higher
up of Everest and more. Tomorrow they will move up Camp 1 to sleep. The situation they have is a weather forecast bringing snow, it's moving towards them which will likely chase them off again right around the time they would be in position for a summit bid. After discussing options they all agreed to get out of there in a couple days of working their new skills up as high as they can get. Then they will retreat and tackle Lobuche East which is safe enough to negotiate in a whiteout if need be and like Tim says, "it's all part of the learning". This offers them a chance at a summit and with any luck maybe the skies will open up and they'll get some great views.
It's also a chance to test drive our new offering for next year. Our autumn offerings right now include Island Peak and Pumori (Everest Training) and next year we will be offering Lobuche East 6119m / 20,070ft either on it's own or an Island Peak combination. It's a fantastic objective and the past couple of years it is being used as an alternative for acclimatization when climbing Everest instead of going up and down the Khumbu ice fall.
Have a look at the agenda... http://peakfreaks.com/lobuche.htm the team is stoked!!!
Photo: Compliments of Philippe M. Herschke
Everest 2012:: I can now officially announce that a spot has opened up for Everest 2012. If you are interested I would act right away.
October 23, 21:00hrs Nepal Time: Pumori "South Ridge" ABC- 5700m
We are all in our tents after a full day of snow studies, ice climbing, camp building and several other aspects of becoming a self-reliant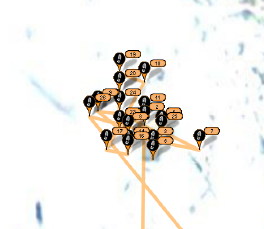 climber in preparation for climbing mountains like Everest and beyond.
The weather was good today and everyone is in good shape, including Peter Balmer who took some get well time out in Pheriche. He arrived back in base camp today and will join us up here tomorrow. This is good news. Let's just hope the weather cooperates so we can get the most out of this expedition and a well deserved and hopeful summit bid.
PHOTO: Team climbing around ABC today. Take a moment and click adjacent photo, it will take you to the SPOT page, from there click on the Google icon in the bottom left corner. You will be taken to a Google Map. Up in the right corner run your cursor just left of the Satellite box and there will be a Google Earth icon. Click on that: You can navigate from there all over the area. Very cool.... enjoy!
October 22, 21:00hrs Nepal Time: Climb on!
The snow has cleaned off the rocks enough for everyone to make a move up to ABC tomorrow. We have some work to do there and work on
mountain skills then we will move up in two waves to Camp 1, rotating our positions. Tashi, Paulden and Jangbu will be pushing tents higher to Camp 2 then we will be in position to assess the summit ridge from there and how much time we have left and looming weather reports and make a decision to move up and make a push or back off and go for a Lobuche summit instead. It's about safety first and good decision making, so stay tuned on what we feel is best for everyone as a team.

There's a lot of precipitation floating around out there on the satellite imagery and our detailed reports are showing mixed snow showers over the next 5 days, then another significant storm on or around the 28th which might be right in line with our summit bid date and this is not a good thing.
The Island Peak climbers are nestled in their lodge in Lukla tonight waiting for their flight out to Kathmandu tomorrow. Be sure to check out the link to Child Haven and consider a donation to the organization in the name of Kathy Coffey's success on Island Peak, or if not for that, do it just because you have a big heart with lots room.
" If you want others to be happy, practice compassion. If you want to be happy, practice compassion". ~Dalai Lama

New photos on Facebook, enjoy!
Continuing adventures of Joshua and Tony: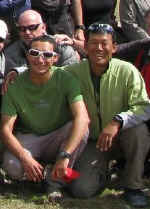 "Hi from Tony and Joshua
After the storm comes the calm!!! however I consdier Cho La pass was not in safe conditions to be attempted. Dzonghla we got 20 cm of snow and therefore slippery path. We wait two nights in the tea house hoping better conditions but finally we head down. Btw.. Tony made the time run with Texas hold'em gambling... we were coming down in these completely alpine scenario and couldn't hold the willing to achieve something...I sent Pasang Sherpa to Pheriche to look some lodge for us and taking advantage of the sunny morning, Tony and myself, head to modest summit in the range but ood enough to get our motivation back after we gave up on Cho La Pass.
Now we are in Pheriche and hope to get Namche tomorrow.
Good luck on Pumori to the rest of the team".
October 21, 21:00hrs Nepal Time: High winds and gaiters..
All is good for Lobuche East if need be, the Ministry of Tourism has taken care of us :) Tim called me last night ( their morning) from inside the shower tent with the news. The wind was fierce and it was snowing heavily at base camp, so this was his choice location where he could get into a close range for antenna because of the storm. Good to know, a much better choice than the toilet tent. The phone booth :)
15cm of snow dumped at camp throughout the day and when he called in the skies were clear, the wind was howling and he says it was bitter cold all day. The team took turns huddling around the heater in rotation to stay warm and had intense conversations sparked by the news of Gadhafi.
They are in holding pattern now waiting for the snow to settle out up on the mountain. He expects there will be a few avalanches that will need to shed before they move up and snow to melt off the rock, if it gets warm enough to do so. With the wind hammering the mountain today slope loading is likely and combined with the drop in temperatures it has potential to form slabs that they will want to carefully work around. Looks like winter is on it's way and offering a good training model for them.
The base temperature with wind chill has dropped down to about -45c tonight, that's pretty cold! The forecast I'm seeing is variable with a mix of cold, snow, wind for the next 5 days. In other words- ugly! The team has also been handed a gear test to see how well their down clothing and sleeping bags will work come Everest time. You can be sure the hot water bottles are all topped up tonight...
Kate Coffey from the Island Peak team checks in from Namche Bazaar to say they have all arrived and a big thanks out to Tony Lombardo for the bottle of wine he left for them. Tim says they were going to trek to Monjo today but it was raining heavily so they decided to hunker down and do the long walk all the way to Lukla tomorrow instead.
October 20, 21:00hrs Nepal Time: Snow and a Storm of another kind
So I nailed it once again with the weather report. The team has been chased off the mountain. Tim had concerns on how slippery the rocks get up there when climbing around so they have returned to BC to wait this cell out.
In the meantime we received some very disturbing news. Because the Russian team was negligent in organizing themselves according to the rules for climbing in the park, the Ministry of Tourism Nepal made a decision to disallow teams to apply for permits once inside the park. They now want a 15 day prior application which doesn't work if you're changing routes for safety reasons. We left all our documents, applications, photos and individual passport copies in the hands of our agent in Kathmandu to process a permit for Lobuche East when and if they receive notification to proceed from Tim while on Pumori. We offered this to our clients as a bonus climb if things changed on Pumori. Unfortunately this team was led by a commercial operator which has now put everyone else climbing in Nepal in a difficult position.
Tim has asked me to get on his Facebook where many of the Ministry officials have joined as his friends and ask that they give consideration to the teams who can show proof they were prepared and had good intentions to follow the rules to be exempt from their new ruling for the remainder of this season, and hopefully this will be a loud and clear message to operators "especially" or individuals to pay up their fair share and do it right in the future and not have others punished for their actions.
Peter Balmer is down in Pheriche, he's not doing well with a chest cough. Tim suggested he stay there and try to get well instead of at camp where it's near impossible to get rid of those kinds of things there.
That's it for today... I passed on the news of Gaddafi to the team. Now we'll have to wait and see what comes of this mess the Russian team has created.
Over and out! Becky
October 19, 21:00hrs Nepal Time: Island Peak summit news! Joshua checks in: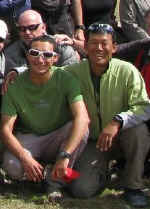 Hi there!
I am glad to inform you that the entire Peak Freaks team summit Island Peak. We had a great day, completely clear and almost no wind all the way up. The last one to arrive back at BC was at 4pm and now everyone is safe and sound Dingboche.
For me as an International Mountain Guide it has been an honor to work with the Peak Freaks crew here in Nepal, they are best in this range. Special thanks go out to Mingmar and Jangbu Sherpa for their hard work and friendship.
Hope to send pictures soon. Cheers, Joshua
Island Peak Summit List:
Kate Coffey

Peter Noble

Connery Noble

Tony Lombardo

Martin Gracia

Mingmar Sherpa

Jangbu Sherpa

Joshua Jarrin
Congratulations out to the Island Peak team! Sounds like they had an excellent day, everyone here is very happy for them. A few of us went to Gorak Shep today while Mark, Andreas, James, Stephen and Chris (Crunchy) climbed up to ABC and are still up there. Tomorrow the rest of us will join them there. We will spend two nights and three days working up there on the route and exercising snow and glacier skills and more.
Our weather forecast is currently predicting precipitation moving in tomorrow afternoon with light snow showers over the next three days. We'll work with what we get. After all this is boot camp and to have nothing but blue skies the entire time wouldn't offer much to learn with.
Ranjit did it!... The "Pumori Plunge Challenge" he was in for about 10 seconds which is probably the record so far. Maybe there will be more enthusiasts when we return to camp in a couple days. Good laugh... The other photo is the team getting the feel for climbing using ladders which is what they will need to get comfortable with come Everest when there's a bone-chilling crevasse below.
New photos on Facebook today, enjoy!
Over and out... Tim
October 18, 21:00hrs Nepal Time: Ready to climb!
Back at er'....feeling much better today. We all got out on the rock today once again reviewing skills, practicing leading, ladder crossings, ice skills and more. I can say we are now ready to climb.
Tomorrow we will shower up and take a trip to civilization. We are heading to the small village the last village before Everest Base Camp named Gorak Shep, a 45 minute walk from here, maybe have some steak for lunch and a chance for everyone to get online to report home and send photos. Also a chance for me to see what's up with the 3G thing- annoying glitch. After this little time out refreshing ourselves we will begin the climb. We will move to ABC with a load of ropes and gear and spend the night at a new altitude.
Ranjit has decided to not take a shower and instead he is going to take the " Pumori Plunge" a cleanse that started on last years expedition by jumping into the frigid glacial lake at the base of the mountain, just a few seconds spent submerged here is enough to solidify ones blood stream. The temperature is hovering at freezing right now. Speaking of freezing.... the Spanish team has left due to the cold. We are alone here now with a Croation team, they are attempting the standard route so they are at the far end of the lake off in the distance so we don't see much of them and they are right now up on the route.
It's confirmed Stephan Friedli had Pulmonary Edema and is now at the Nirvana. He is obtaining his "permission to fly" document and will be making his way home in the next day or two.
Tandi and Matt are both in Namche Bazaar in the care of the Tsedam and family enjoying the comforts of their lovely lodge. The Island Peak team have beautiful weather so if health and stamina is maintained we will likely get some summit news by tomorrow.
I have a lot of photos I will send from Gorak Shep tomorrow. Over and out.... Tim
October 17, 21:00hrs Nepal Time: Oh blurg.....
Sorry for the black out... I escaped for some time away in a remote location with my girlfriends. I checked in to learn that Tim spent the day in his tent with the dreaded Khumbu intestinal bug, so team member Peter Balmer, mountain guide from Switzerland along with staff members Jangbu, Tashi and Paulden Sherpa took the team out for some rock skills training. When I checked in I received a series of messages that Kuntal and Ranjit tried to escape for the day but got busted when they couldn't find their way back to camp and ended up spending the night in Gorak Shep, at least that's their story and their sticking to it. They're now back at camp and locked in their tents (just kidding).
We did have a bit of an emergency at camp. Stephan Friedli, Peter's climbing partner and good friend (also from Switerland) is one of our most skilled climbers with a very impressive climbing bio, came down with what sounds to be a case of pulmonary edema. Peter took him out to Pheriche and he was evacuated immediately by helicopter and is now in Kathmandu. Who would have thought? Anyway, just shows you that even though you have acclimatized before without a hitch it can come around and knock you out unexpectedly. He's in good hands now after being assessed by the medical professionals in Pheriche and Kathmandu. Good work team for the quick actions to get him out, he will be missed.
Route: We have learned that there were actually 9 members on the Russian team and only 3 of them summited. There is a small Spanish team there as well but they haven't gotten very far due to the cold temperatures. There is another team who has just arrived from another country, I haven't confirmed their country yet but Tim tells me that they have arrived empty handed- as in no rope... oops!
I spent the morning preparing this little flick of last years team to give you a feel on what it's like there for everyone, I hope you enjoy it.
What's next? Tomorrow (hopefully) Tim will be back on his feet and everyone will be back in the rocks work'in it. Over and out.... Becky
October 15, 21:00hrs Nepal Time: ABC, no 3G and good-byes....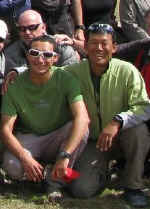 Actually I had it backwards on yesterday's blog. Today the team went to ABC to acclimatize and tomorrow they work on
the rock. As mentioned earlier UIAGM Mountain Guide Joshua Jarrin (left) from Ecuador is working with lead guide Mingmar Sherpa (right) and assistant guide Jangbu Sherpa all with the Island Peak team.
The teams have now all split up and said their good-byes today. They've all become very good friends by now so it's an interesting time. Everyone exchanging contacts and making plans to meet up again. Tim says he will miss them all and wished them all success on their journey's.
3G- not an option this year!. It's been a pain. Even the Sherpas in the valley are getting frustrated. The reception of a signal is extremely poor and when they do get the odd signal it won't connect. Tim even walked quite a ways out of camp to where he could get a clear full bar signal and tried to log on for what seemed like forever with no luck. So we are back to sat phone. He's going to go hike to Gorak Shep when there's time and see what's up with the tower. Mango, where are you?
The trekkers decided to take the helicopter out of Pheriche to Kathmandu and I think they are scheduled out for tomorrow if the weather holds. Currently the weather is really good up high with some cloud starting to move in at lower elevations.
Josh checks in:

"Hi, This is Joshua reporting in from Dingboche, everybody arrived ok after 8 hours journey. It's getting cloudy down here,
hope we don't get any showers tomorrow on our way to Island Peak Base Camp. Matt is fully recovered but anyway he will have to stay here.

Cheers and good luck to people in Pumori, we'll try our best in Island Peak"
Joshua

Photo: Last photo of the troops before they spit up:
October 14, 21:00hrs Nepal Time: Pillow time...
Tim was pretty tired tonight. It was a full day starting off with their Puja ceremony then he had to take Island Peak climber Matthew Clark
partway out to Lobuje and Ang Nima took him the rest of the way.. Ang Nima will stay with him in Dingboche while his teammates ascend Island Peak then all join together again for the hike out. Matt's body just doesn't want to acclimatize that well. One moment he appears to be doing okay- the next not- so his intentions to climb Island Peak have unfortunately come to an end as it's taking it's toll on him.
The Russians summited- congratulations out to them!... Tim was hoping to work a deal on buying their rope hoping they had fixed the route but they didn't. Apparently they ascended the south ridge and descended via the standard route, an approach that the SPCC (Park officials) got wind of and came asking around for them.
Tomorrow Tashi and Jangbu Sherpa will start moving rope up to ABC while all Pumori members will start our training sessions, get out on the rock. Island Peak climbers will head out for their base camp and the trekkers will also leave camp so it will start to be a more relaxed pace at camp.
Be sure to check back on the news of the Island Peak team in three days time. That is when they should be finished and reunited with Matt.
Over and out- Becky -
Photo: Home for the next couple weeks.
October 13, 21:00hrs Nepal Time: 100% success...
Everyone on all our teams have arrived at base camp. There were a few headaches and stomach issues along the way the last couple of days which is all part of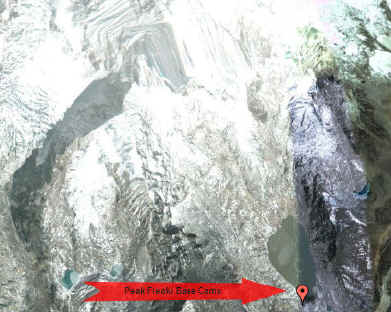 the program when going to altitude but everyone checks out and are doing good. It only gets better from here on out. Their bodies will have time to adjust now that we are in the comforts of camp, checked into our tents and enjoying life in the heated dining tent. Everyone is pretty happy to be here.

Tomorrow morning is our Puja with Lama Mingma starting at 07:30 with everyone, this will take a couple of hours. After that we will begin a training session for the Island Peak team and then they will head out to ascend Kala Pattar (5645m). With this weather we are having they are in for something spectacular.

ROUTE: So the Russian's are climbing two routes, the standard and the south ridge that we will be on. I spoke with one of their members at camp today who said they were going to make a summit push early in the morning. This evening I watched as they were moving upwards towards the summit. They climbed into a crevasse section on the route and it was quiet for awhile, then I could see lights that looked like they were coming back down.

The mountain looks to be in good shape as it's nicely covered in snow holding things together up there, or at least we hope so. We'll get a good idea after talking to the Russian team when they return to camp.

Over and out.. Tim

10 new photos uploaded onto Facebook.. Enjoy!

October 12, 21:00hrs Nepal Time: It's a beauty!

Fantastic full moon in Lobuje tonight. I wish Becky and all of you at home were here tonight to share this with. The team has been outside the past couple of nights taking it all in. The mountains are covered in snow reflecting the light, it's probably the best I've seen. I can't believe the good weather we are having.

A couple of members are not doing so well. John Stephen is taking an extra night at Dingboche to allow time for his body to catch up a bit more and Tandi though she is with us here tonight is not feeling so well. Martin her husband had a bit a stomach issue and now it appears it's passed on to her and as well her oxygen saturation level could be a bit better. Tomorrow will be the deciding factor for her to see if her status changes to good or not. If not, the only thing to do is to retreat to a lower altitude. We'll keep you posted.

ROUTE: Well we had a couple of rumors that we took with a grain of salt. In Kathmandu we heard the Russians we already at Camp 2 and ready to summit. When we arrived at Dingboche we were told they were really only at Camp 1, now yesterday Ang Karsung comes down from Camp to join us here at Lobuje and tells us that they are Camp 2 and ready for a summit tomorrow. We'll keep you posted on the facts on this as well when we reach camp tomorrow.

Photos of the full moon and more to follow tomorrow.

Over and out.. Timalaya

October 11, 21:00hrs Nepal Time: Getting high and full moon
Missed posting yesterday, please forgive us. Becky was cooking up at home for our grandkids "Canadian
Thanksgiving" and I was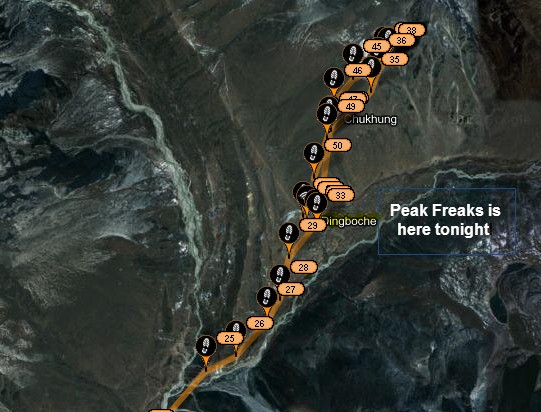 enjoying a magnificent day ascending with the group up above Dingboche to 5100m to acclimatize for tomorrows elevation gain. Everyone did fantastic and is feeling terrific. Just one headache we will be monitoring tonight, otherwise everything and the weather is better than normal. Absolutely gorgeous days that you can see in the photos, including the full moon we are blessed with this evening. The true full moon is tomorrow night but this is good enough for me.
I was looking back in my guide journal from last year. At this point we had one rescue underway for a young climber who hit the wall unable to acclimatize and things got complicated with bad weather. It was so bad this time last year flights were backed up for five days in and out of Lukla. We were experiencing snow and thunderstorms. The fog was so heavy at time we couldn't appreciate the beautiful views of the Himalayas like we are this time, our spirits are high.
Tomorrow is Lobuje, our last lodge stay before reaching base camp. Everyone is getting pretty excited at this point and proud of their accomplishments. As this is the critical stage for staying healthy to climb, we won't take chances. Ang Karsung will be bringing down our kitchen kit and food, and take over the lodge in Lobuje to ensure maximum hygiene.
We are stoked and moving up! Over and out, Timalaya. Photo: Team with Ama Dablam in the background
Remember FACEBOOK for photos and SPOT for our tracks...
October 9: 21:00hrs Nepal Time: Powerless in Pangboche - (3860m)
Home of Lama Geshe, we have arrived!!.. Well the Pumori team anyway. The rest are sleeping tonight below the Tengboche monastery in the village of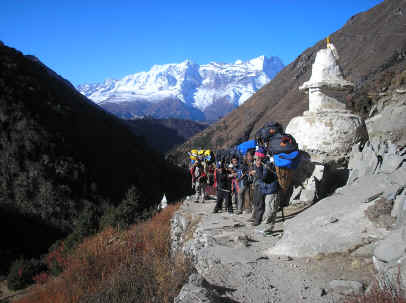 Deboche, nice quiet restful location. We will be reunited with them in Dingboche after our blessing from Lama Geshe. I'm really looking forward to seeing him as I always do.
Tonight there is a power shortage. A power plant was built up at Kantega base camp but it only has one turbine, not near enough to facilitate the number of new lodges that are being constructed in Pangboche. They are looking at adding another turbine but this will take a couple of years to implement. At dinner time when it starts to get dark, all the power goes on in the new lodges and drains everything leaving little or nothing to run computers which is fine by me, gives us more time to work on important stuff like practicing tying knots.
Today was Crunchie's (Chris Cameron's) birthday and he's pretty ecstatic to celebrating here at the home of Lama Geshe. Crunchie studies Buddhism so this is a pretty special spot on the planet to be celebrating birth.
The weather has been better than normal this season. Blue blue skies, not too hot or cold, flights and bags getting in and out on time, everyone feeling good with the altitude gains, no illness to speak of, very enjoyable for all. Tomorrow will be the day that the affects of altitude will start to kick in. It's a critical gain being over the golden rule of rising more than 300m in one day so we will have to sleep two nights at Dingboche (4720m). Most who have never been to altitude before may have a headache which is normal. We will hike above Dingboche tomorrow getting quite a bit higher and then retreat to sleep back in Dingboche allowing our bodies time to adjust before Loboche (4930m) the day after.
The two Indians on the team have been providing non-stop comic relief to the team. Kuntal and Ranjit are hilarious. The two of them always arrive late because they are chattering and laughing so much they lose track of time. At night I have to go bang on their door to get them to shut up and get some sleep. They're a riot and the team loves the two of them. Kuntal has been up here before with us but it's the first time for Ranjit so Kuntal has taken him under wing.
Over and out till tomorrow, Timalaya
Photo: Porters carrying loads between Tengboche and Pangboche. Tengboche is off in the distance on the hill below snow covered Kwangde. Larger version on Facebook.
October 8: 21:00hrs Nepal Time: Acclimatization day...a visit to the twin Sherpa villages
Great day visiting in Khunde and Khumjung, hospital and more. Photos tell a thousand words and are posted on Facebook. The one featured here is of Ang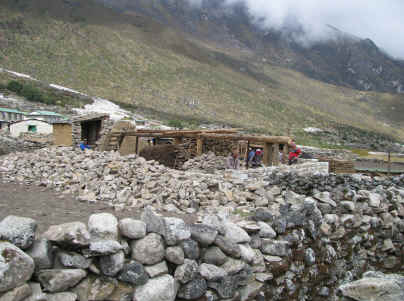 Nima's neighbors house in Khunde that was toppled by the shaking of the earth quake. They are rebuilding it now. Tsedam told me that when the earth quake hit everyone gathered up their families and went down to the market area in the bowl below the village and spent the entire night there as they were afraid of after shocks and the damage that could follow. I have concerns how safe that location would have been considering the bowl shape of the village? Other photos include a visit the Khunde Hospital where the doctors on the team Tandi and Ed asked questions educating all of us with some very interesting answers.
Tomorrow we push higher to Tengboche to visit the monastery. The Pumori climbers will push a bit higher to Pangboche for the night so they are ready for a morning blessing from our good friend Lama Geshe. Beautiful weather, everyone is doing really really well. I will now turn the page over to Kate Coffey. I'd like to give a shout out for the fund raising project that Kate is working on. It's a very worthwhile and well managed project that needs financial aid. If you are able, please take a moment to visit the websites she has quoted in her dispatch below. Child Haven was established in 1992 and are caring for 285 children and 22 women in Nepal. It doesn't take much to make a huge difference.
Greetings from Namche! I had a busy few days in Kathmandu what with gear shopping and with Katherine Doyle's guidance, I picked up a ton of silent auction items at the Womens Foundation for the Child Haven fundraiser for the Kathmandu children's home on Nov 12 on Bowen Island when I get back. I will visit the children's home in Kathmandu on Oct 24 to deliver the book donations and handmade bookmarks from the Bowen Island Girl Guides - thanks to Bonnie, Bowen & Casey for arranging that! To date I have raised over $4000 and hope to raise another $1000 by the end of November. Everyone has been so generous, I am very grateful.

It's wonderful being back in the valley! The Namche Hill was not too bad today at all, perhaps I am fitter or just wiser and heeding Tim's advice of taking it slow! I had a nice relaxing afternoon down in the village with Tandi and Martin from Nelson, Tim & Becky's hometown. I am sharing with Gracie which is brilliant - only sweet smells from our room for sure! The team is an interesting bunch and a lot of fun. Fellow Irishman Ronnie is doing really well on the trek and keeping me on my toes with his Irish wit. The sherpa team have been fantastic and are looking after us very well. We are in the luxury of Zamling Teahouse tonight and just had a yummy dinner .... as always. We will be off to Ang Nima's home in Kunde for lunch at his home .... yes it is all about the food!! - Kate
Photo: Sherpa home crumbled by the earth quake. Many more photos uploaded to Facebook shorthly.
October 7: 21:00hrs Nepal Time: Everyone in Namche Bazaar in good time!
The weather today was terrific and not as hot as it would normally be making hiking up from the river to Namche Bazaar quite pleasant. We were all here by 11:30 feeling great.
Tonight we are play Texas Hold'em. It's getting to be the rage in the valley, it started at our Everest camp last year and has taken off. Good fun!
Tomorrow we go to Ang Nima's home in Khunde for lunch and tour around the Khunde hospital and the school in Khumjung, eat some cake at the Everest bakery, hang out, let our bodies adjust to the new altitudes we will reach tomorrow. Life is good, happy bunch.
Technology- .... darn cell phone keeps jumping off the 3G service to roaming. When I do get it right the rates are only 2 rupees per minute internationally. A Nepalese rupee is currently trading at 79 rupees to a US dollar, darn cheap.
There doesn't seem to be any damage from the earth quake in Namche Bazaar which is good. When looking at the photo of the expansion of the village compared to days gone by, a little more shaking on the house size boulders looming overhead it could be devastating. Namche Bazaar has certainly grown over the years. There used to be just a couple lodges, the terraces were mainly potato and yak grazing areas. Not much left for development. I wonder who their Geo Tech is?
Back to my seat at the card table, over and out! Tim
Photo: Team members entering Namche Bazaar. Loading more photos on FACEBOOK - Spot GPS tracking is now online too to track us.
October 6: 21:00hrs Nepal Time: Speaking of plane crash!
The team is all doing well and are tucked in their beds in Monjo enjoying the sound of the river instead of barking dogs and on-going cat fights and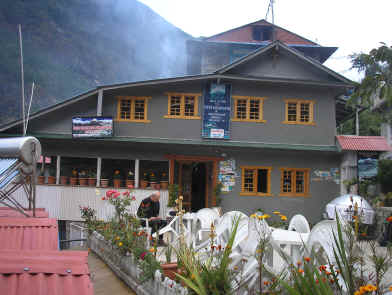 screeching crows, the night sounds of Kathmandu.
Tim reports by satellite phone tonight because the new 3G service signal can't be reached where they are located tight in the valley. Tomorrow they will have a signal and should throughout the rest of the expedition.
A couple of people made the wrong turn today ending up at the lodge an hour behind Tim and team. He thinks the earthquake may have altered the trail a bit moving rocks around creating a trail to nowhere. The event of the day took place at Lukla airport, a plane had a bit of an incident just after our team hit the trail. Word got out quickly so team member Peter Balmer made a call to get the details. A Pilatus Porter, a small aircraft used here when the twin otters can't get in and or do a job, these little planes can. Peter has flown the Pilatus Porter here for a few years and knows the pilots that fly in Nepal, he knows this pilot. Apparently the plane filled with just cargo got a little sideways with it's load and careened into the bank. I don't have any details to share on the condition of the plane or the solo pilot but can assure everyone there were no passengers on board.
Tomorrow up the big Namche hill to check into the luxurious Zamling lodge and re-connect with Tsedam Sherpa, his family and the great little kids in his homeless children's home.
Tim also commented on what a great help Kate Coffey has been. Kate has been with us here before as a trekker, this year she has strapped crampons on and will be climbing Island Peak. She's already indicated she wants to do Pumori next year. She says she has been infected with the Peak Freak adventure disease and added "damn you Tim Rippel". She's been very helpful in pointing out points of interest to the team, helping with answers to questions and has naturally fallen into a leadership role. More later on Kate's charity she is hoping to raise funds for while on this journey. Over and out... Becky
Photo: Chombi's lodge in Monjo, where team is sleeping tonight.
October 5: 21:00hrs Nepal Time: Here we are!
Whoa.... Check these climbers out!... What a strong looking bunch and from what I've been told they come with a lot of energy. I can tell this is going to be a lot of fun. We've got two pilots, Mark Sugden with the Royal Air Force, Pete Balmer a commercial pilot and mountain guide. Tony Lombardo from the US is attempting Everest this spring at the age of 70. Some climbers come with stacked climbing bios and some are here to try it for the first time. This is a great way to approach a mountain and to learn. The "learn one do one" strategy at it's best with lots of mentoring. We've got two doctors, a banker an accountant, a fisherman, commercial diver, engineer, nutritionist, three mountain guides, the list goes on. Looks like they will be well covered in whatever is thrown their way.
THE ROUTE: We got word that the Russian team is on our South Ridge route and are now at Camp 2 and the Czechoslovakian's are climbing on the Standard route. From this information Tim is thinking the snow conditions must be favorable. However we also know that all this information is to be taken with a grain of salt. It's interesting how the facts still today with cell phone coverage continue to get garbled and twisted. There are all kinds of studies being done in the Khumbu at the base of Everest for various reasons, one on communication might be a good one in the land of yak.
WHAT'S NEXT? Everyone to meet in the lobby at 05:00hrs tomorrow and head to the airport for flight to Lukla. The two pilots on the team may be comforting (or not) to help prepare everyone for this white knuckling part of the adventure. No matter how many times you do this flight it doesn't get easier. Check out the tour guides way of reassuring her clients in the video below: Over and out... Becky
.
October 4: 21:00hrs Nepal Time: Team is all in Kathmandu..
Pretty exciting day today meeting everyone for the first time. A great bunch of climbers. I can tell it's going to be another one of those famous Peak Freak trips with lots of laughs and bonding going on in the days to come.
The weather has been quite good and the flights have been getting both in and out of Lukla without a hitch. Everyone is geared up after a full day of shopping and duffel bags are topped up with gear ready for the launch to Lukla. The best part for me today was how quickly the ministry formalities were completed. What normally takes about two hours was all said and done in 40 minutes. It's because it's Deshian Festival time, the largest celebration in Nepal and everyone is anxious to get out of office and home to their families for the celebrations. A few kites are flying from the root-tops now but there will be many more as the festivities kick off.
I had a nice chat with team member Andreas Breitfuss from Pokolbin, Australia at dinner tonight at the Third Eye. He was on the Australian National Ski team, he skied with a few of our Canadians over the course of his career. He asked me what I was skiing on..?.... funny thing was I couldn't remember. I told him if he had asked what I skied on years ago I would never forget but for the life of me I can't remember what I'm on now. I said I could remember the color but not the name because they are always under the powder. I had to ask Becky to go look it was bugging me so much. We had a good laugh.
I just learned that our Pumori camp ground that we have sculpted over the years has been occupied by a Russian team. Guess we have some work ahead of us to make a new one in a backup location I have in mind. There's apparently a Russian team and two man Czechoslovakian team that have been up there for about a week or more. We look forward to meeting them and learn of their progress on the mountain.
Very cool this year that we have two father and son teams. Two for Pumori are Stephen and James Neil from Australia and two for Island Peak are Pete and Connery Noble from Canada.
Tomorrow the teams will split up, some doing last minute expeditions chores while the Island Peak team and the base camp trekkers will head out on a guided sightseeing tour of the city. Myself, I will be visiting Mingmar's home for lunch and start getting bags out on the flights and post some photos of the team.
Over and out! Timalaya in Kathmandu P.S. There has been an Angel sighting..... back from Cho Oyu.
October 3: 21:00hrs Nepal Time: Namaste from Kathmandu!
All is good in the city, not too busy, not bad weather and everything is working like clock work. Arrivals so far are Matthew, Kate and Ranjit. I just saw Fraser sticking his head in before I crawled off to bed. Tonight Tandi and Martin and a few others will be arriving late and then a big wave of arrivals scheduled for tomorrow.
In the morning after breakfast I've organized a big gear shopping tour. Some of the six Everest members on this team will be getting measured up by Ang Sonam and Norkey for their Everest down suits they will use this spring on Everest.
I don't think Elizabeth Hawley will be making a visit this time around, first in 20 years. She fractured her hip this summer and she's having difficulties with healing. It won't be the same not having our little chat catching up and throwing a few jabs at each other. I'll miss her, I must check in on her.
Time to hit the pillow, busy day tomorrow... Over and out .. Tim
Tim Rippel- Canada - Expedition leader
Joshua Jarrin- Ecuador- Mtn. Guide
John Stephan - Canada
Kuntal Joisher- India
Fraser McKenzie- Australia
Andreas Breitfuss- Australia
Chris Cameron- USA
Peter Balmer- Switzerland
Ranjit Bajaj - India
Mark Sugden - UK

Graceila Pfannenstill - Sweden
Stephen Neil - Australia
James Neil - Australia
Eddy Szczerbinski- Canada
Travis McPhee- Canada
Stephan Friedli - Switzerland
Jeroen Jr. Roodenburg - Netherlands
Ronnie McCracken - Ireland
Dr. Ed Cain- Canada

Marilyn Girourd- Canada
Martin Garcia- Canada
Dr. Tandi Wilkinson- Canada
Kate Coffey- Canada
Peter Noble- Canada
Connery Noble- Canada
Tony Lombardo- USA
Matthew Clark - Canada
September 15, 2011: Ready to climb!
It's a good day for us here at Peak Freak headquarters. The expedition logistics are officially complete for Pumori, Island Peak, Everest Base Camp and Lobuche East 2011' - We're ready to roll.
Ang Karsung our base camp manager has ticked everything off on his Kathmandu to do list. We try our best to eat fresh buying from the local farmers in the Khumbu, or from the market in Namche Bazaar where goods are brought up from lower down in the Solo Khumbu creating employment for this region. Karsung also keeps our solar panels tweaked and updated and maintains our kitchen equipment between expeditions.
Kiran, what we would do without Kiran? He's the face everyone will see first and see last. He's the glue of our expeditions keeping track of who is where and when in Kathmandu, getting you here and there and on time and sometimes on the back of his motorcycle. He drives as fast as he talks and never misses a beat. At times it seems like he is at two places at once. If that's not possible his side kick Roshan picks up the slack and is responsible for taking care of our ministry formalities.
On October 6th, the day the team will fly to Lukla, the staging point of expeditions in the Khumbu, they will be met at the landing strip by the warmth of the forever smiling Ang Nima Sherpa. Ang Nima is one of our close family friends of 21 years. We've packed up some pretty clothes for his grand daughter to dress up with this winter.
All the paper processing is underway at the Ministry of Tourism in Nepal issuing our required permits for the various adventures we have underway this autumn. Our Tibetan tours are approved, jeeps, guest houses and staff are anxiously awaiting everyone's arrival in Tibet, thanks to Sonam Lama's help who keeps every detail perfect and as a result makes us look really good at what we do. I can't thank him enough for the better than excellent professional working relationship we've had over the past 21 years.
Mingmar Sherpa will be leading Island Peak this year, assisting him will be Jangbu Sherpa, both have worked with us for many years. Accompanying the two guides on Island Peak will be Joshua Jarrin, a UIAGM/IFMGA Mountain Guide from Ecuador. Tim met Josh last year on Pumori. Some of our followers and past participants might remember him as one of the hard- core- skilled climbers last year on Pumori.
We're really looking forward to hearing all about Jangbu's first son and the celebrations that took place when he learned of the birth the end of Everest last this spring. But more than anything we're super excited to see Desh Kumar after his close call with death at Everest Base Camp due to organ failure thought to be a result of spending too much time sleeping on cold ground. If he's well enough to come back, we'll be sure to stack up those mattresses for him and make sure he's stocked with warm water bottles in his tent.
Finally, kudos to Tashi Sherpa and Paulden Sherpa. Tashi is our climbing Sardar on both Everest and Pumori. Six times Everest summits, young and made of titanium. He's a power house with excellent communication and climbing skills making him the best of the best. You will see him in action once again on Pumori with equally strong and skilled climbers, Paulden and Jangbu Sherpa.
Also don't forget to check out the rest of our gang on our guides page.
| | | | |
| --- | --- | --- | --- |
| | | | |
| Sonam Lama | Ang Karsung Sherpa | Ang Nima Sherpa | Mingmar Sherpa |
| | | | |
| Paulden Sherpa | Jangbu Sherpa | Tashi Sherpa | Joshua Jarrin |
Over and out till the expeditions begin!
Namaste and Tashi Delek - Timalaya and Becky