| | |
| --- | --- |
| | ROUTE: South Ridge to 7145m |
| | |
HELPFUL HINT- Be sure to refresh your browser if you visit this page frequently for the latest and greatest!
October 30: Some last minute photos from Lars Haugen.
October 28: 21:45 (Nepal Time)
Tim checks in: Everyone is now safe and sound back in base camp and currently tucked into their tents. Our super Sherpas have cleaned off the route of all the tents and the other team that was following our lead has also called it quits after assessing the conditions themselves, so they will be bringing down our rope.
We got word out for the yaks to come and get the team bags. Darren, Fergus, Khalid, Michael and Lars are going to make the trek out starting to tomorrow. We have booked flights out to Kathmandu for them on Nov. 2 and Tim, Cliff, Wake and Kajee Sherpa will all fly together on Nov. 3. Ang Karsung will follow the next day after visiting with his family in the Khumbu. Our other Sherpas all live in the Khumbu Valley so they will be home first.
Tim and Ang Karsung spent the day updating inventory lists, inspecting and organizing equipment for our Everest expedition this spring. Tim says his ribs are a bit sore and again assures me he is okay. I reminded him that when I once had broken ribs I was okay too- for the first couple of weeks. But then they started to heal and man did that hurt!
The trek out from this journey is when the climbers tend to get really silly. Their antics will likely not be suitable for repeating on this blog so I will leave those stories for them to tell. If there are any delays or other interesting tidbits or stories from the climbers I will post them here.
"One cannot climb at all unless he has sufficient urge to do so. Danger must be met (indeed it must be used) to an extent beyond that incurred to normal life. That is one reason men climb; for only in response to challenge does one man becomes his best." ó Ax Nelson.
I hope you have enjoyed following us throughout this expedition. Our next expedition is Kilimanjaro in Africa over New Years, followed by two Aconcagua expeditions in Argentina back to back and then back to Everest the spring of 2010' Tim will also be conducting AST (Avalanche Skills Training Courses) in our local mountains here in the Kootenays.
Now it's time for that glass of wine :) Becky
October 27: 21:57 (Nepal Time)
We're done! Lars, Darren and Khalid are now at base camp with Tim. Wake is sleeping at Camp 1 and Fergus and Michael are at ABC sleeping. Today the team broke out to the summit ridge and the Sherpas were not happy. The initial part looked to be okay, but as they started to analyze it further up it became apparent "as feared" that the extreme high winds that have been hitting the Himalayas hard this season has created a slab formation on the upper part of the mountain. Which might be okay to climb on or it might not? The "might not" part was the determining factor in the fate of the summit push being that; sound decision making is a very important part in this training climb program.
A sore Tim reports from base camp that the team is happy with their excursion in the Himalayas this season. They learned tons in mountain skills, tested them, made some fantastic friendships, played and worked hard, had head aches, followed by sore muscles and tired bones related to both climbing and laughing too much. They are (this far) safe, wiser and delirious about their next adventure.
All of the above spells a successful Boot Camp on Mount Pumori in 2009'
What about SPOT? Tim passed Spot off to Darren to take up with him. Not too long after that it fell off the outside of his pack and went "down there" somewhere. The Sherpas think they see where it is and are going to try and get it.
What's next? I don't have the agenda yet but will keep you posted when I do.
October 27: 08:50am (Nepal Time)
Tim checks in: But not in very good shape. He was hit by a chunk of ice while sleeping in his tent last night and has broken some ribs. Ngima is with him helping him down to BC. He assures me he is fine just not able to continue climbing in this condition. The team discussed the situation and without hesitation wanted to carry on. Norwegian climber Lars Haugen, a very strong and skilled climber has replaced Tim's lead along with our climbing Sherpas Jangbu, Tashi and Paulden.
Today the team will do some climbing in and around Camp 2 - string more rope above there and sleep again at Camp 2. The plan is still to go for a summit push on the 28th if their reconnaissance of the conditions on the summit ridge prove to be favourable. I will keep you posted as they progress.
Enjoy
October 26: 10:00hrs (PDT- Canada)
I see from SPOT that they are where they are suppose to be so all is good. I like this thing! They are at the base of the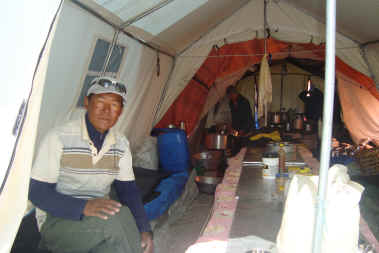 summit ridge- Camp 2- 6300m or something close to that. If you are looking at the route and photo of the mountain, you can't actually see Camp 2 because it is the section where it dips around onto the other side of the mountain from the base camp view.
Photo: Quiet in the kitchen. This is the time in an expedition that Ang Karsung will be busy prepping for hungry climbers for when they return. His immaculate and sanitary organic kitchen will be not be so quiet when they return. I wonder what's on the menu? Photo: (Mingmar Sherpa in the front Desh Kumar and Ang Karsung far back)
October 26: 08:45hrs (Nepal Time)
Tim checks in: Team is on the move to C1. Khalid left about an hour earlier towards C1 with Jangbu Sherpa as he wanted
to get a head start. The rest of the team is finishing up breakfast and taking their time as they don't want to get there too early. Everyone is doing good and Tim will report again soon.

Shows them at ABC 5700m
October 25: The timing of this blog is going to change a bit while they're making their summit push. I usually get the call and update at their night- 21:00hrs or so, and post our morning. Tim will probably now choose to call his day time- our evening and I will update as soon as I get a report. I am working on something right now to post later today but in the meantime I would like to take this opportunity while all eyes are watching to announce that we still have a couple of spots left our unique African Adventure- What are you doing this New Years Eve under the once in a life-time full moon?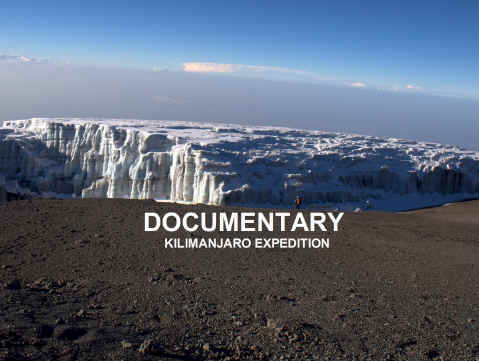 KILIMANJARO "Once in a Blue Moon" climb and African wildlife safari.
Only a few spots left on the trip of a lifetime. Join us as we welcome in the New Year with a breathtaking climb up one of the world's seven summits - the legendary Mount Kilimanjaro.
Timed to summit under the light of a full moon this non-technical climb will give you a chance to hike at altitude on the highest free-standing mountain in the world. Led by filmmaker, EMT, and philanthropist Scott Mortensen, the "Once in a Blue Moon" experience will include a documentary film at no extra charge. Don't miss this opportunity to climb to the roof of Africa with an exciting, professional team of adventurers in one of the most pristine places on Earth.
| | | | |
| --- | --- | --- | --- |
| | | | |
CHEERS FROM HOME!
Thought I would post a few of the zillion good wishes the team has been getting. Popular bunch!
"The higher you climb the higher you are ... Give'r", "be safe Tim & co.! big ups." "Good luck. Everyone stay strong.""Climb Safe Tim and team. Nice explanation of your thinking on this route.""good luck Tim, reach the summit and stay safe... Gbu& All ..... :)""All the best" "He is Norwegian right? :D" "you have posted some amazing pictures! Have fun and be safe!" "This is inspiring Tim! I wish I could be there!" "It must be real tough waking up to that view every morning knowing that you get to go play!!! Stay warm, stay safe and keep having fun!!!! Ya, I'm jealous" "best of luck, be safe" "man i wish i could be on that team, and think about a possible summit bid, man that would great" "WOW!!!!!!!!!!!!!!!! :)" "Good Luck!!! Wish I were there." "Best of Irish luck for 25th" "wish I was there" Kate Coffey here still hooked on following every Peak Freak blog following my trek to Pumori base camp last Fall. The very best of luck to all of ye on the 25th. The trip looks amazing. Love to be there."
Great to check their progress and to read everyone is doing so well. I so wanna be there! Tell Wake and Cliff I said hi. "I'll be back too one day. Looking forward to climbing with Angel on Aconcagua. Hope you are doing well:)" "makes me miss the ol girl. keep on keeping you guys...good luck" "Seems like a smart route -- lucky trails!" "I miss Pumori~!!!!! I`m thinking of you bro! Good luck on the climb!"

In other words....they go on and on and on...... way too many to post.

October 24, 2009: 21:45hrs (Nepal Time)
THIS IS IT!... The mountain is ready to go. Camp 2 (our last camp) is now secured. More Sherpa power help with trail breaking would be nice so Tim went to visit the neighbours to talk about some coordination with their team. It was a noisy day today at base camp with their helicopter flying overhead (a good portion of it) doing filming. I wonder if they got the part where Darren mooned them? All fun :) - Our guys seem to have trouble keeping their pants on this season. What's with that?
SUMMIT PUSH PLAN- Commencing tomorrow
Oct. 25: Team climbs up to ABC- Advanced Base Camp

Oct. 26: Climb to Camp 1

Oct. 27: Skill session and sleep at Camp 1

Oct. 28: Traverse from Camp 1 to Camp 2 -Only Tim and the Sherpas have been through this section so far this climb, so they are looking forward to sharing this section with the team. Exciting!

Oct. 29: Summit Push
Mount Pumori is a serious climb and known as our Everest Boot Camp. We like it here for this purpose for several reasons.
The big one being it is quiet and offers lots of space and time for learning without being pressured by streams of climbers on the route. The mountain and area offers many aspects for training in all types of terrain beyond what they would ever be faced with on Everest aside from the altitude, but we have oxygen supplements on Everest to deal with that.
The route we use is not the standard route that has frequent avalanches and has claimed lives. The Standard Route is on the right hand side of the mountain. We climb the South Ridge which is on the left side. It is steeper but safer in that snow doesn't build up on the route and there are no gapping crevasses to deal with like what's on the standard route.
The crux of this climb is definitely the summit ridge because of its exposure to the elements. They won't know what they will get till they get up there and see what effect the temperatures and wind have had on the stability of the route. Fingers are crossed for them that it is a go. If not, the goal of this expedition (Part 1) has already been met; To develop self-reliant climbers and have a lot of fun while doing it. Mandatory (Part 2) is to bring everyone home safely to their loved ones.
October 23, 2009: 21:00hrs (Nepal Time)
Tim checks in:" We had a nice today around camp practicing more skills and preparing a few of these climbers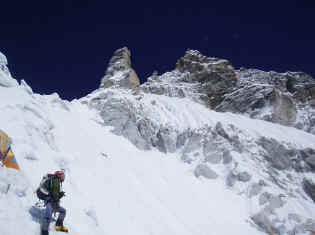 that have their sights on Everest in the near future. Fergus and Khalid are both on our Everest 2010 team and are doing their bit in preparing themselves for the big E. They are both doing it very well. The ones that didn't really have any aspirations to climb Everest previously - sure do now! Especially after our late afternoon hike up Kala Pattar. We decided to go up and shoot some video and stills at sunset of Everest. Ah struck!!!! - The lighting was incredible this evening. It is one of those magical places on this planet, a great place to hang out with the boys and talk of days gone by up there on the big E and the days that are coming. The visual training part of this program at its best! Today's mission served us well as we also got to practice rumbling down a slope in the dark with headlamps on. Hilarious antics tonight! We took SPOT up so you should be able to see where we were. Over and out" - Tim

Location #22- Kala Pattar Summit 5550m/18,200ft
Photo: Tim Camp 1- Lov'in life in the Himalayas
THE CLIMB: Our Sherpas Tashi, Jangbu, Kaji and Paulden are all up there sleeping after working extremely hard on the
route and fixing Camp 2. They have just a bit more work to do to secure the tent platforms and tweak the rope fixing that they have been putting in. They are the only Sherpas up there working the mountain again this year. Coco the Romanian climber pulled out of base camp today so it's just us and the Jamie Clarke/Wally Berg "Hanesbrand team" here now.
MOUNTAIN CONDITIONS/WEATHER: Weather wise we aren't concerned. Nothing but blue skies and the winds are not that bad and dying down everyday during the time we have left here. The only concern we have is the condition of the snow on the summit ridge. Last season we encountered unstable sugar snow due to the extremely cold season which didn't allow the snow to bond making it unsafe for passage. We won't know what we have up there till we get into it. It's all a guessing game from here on out.
SUMMIT PLAN: The Sherpas are coming down to base camp tomorrow. They will have a rest day and then we are ready to make our push for the summit on October 25.
Photo: View from Kala Pattar: Everest/Lhotse/Nuptse
October 22, 2009 21:00 hrs (Nepal Time)
Tim checks in: "Nice day at base camp with the team. A couple of the members took a walk to Gorak Shep
and back. They were feeling energized by the exhilarating climbing they did yesterday up to Camp 1, whoop'in and holler'in all day.The view of Everest, Nuptse, Lhotse, the Khumbu icefall - in their face while hanging on precarious slopes where our Camp 1 is situated. All fun, good laughs coming from the dinning tent tonight. Days like these are what keeps driving climbers back again and again. Too much fun!
Jangbu, Tashi and Paulden Sherpas are all up there sleeping at Camp 1 tonight. Today they fixed the rope up in between the 2nd and 3rd tower along the ridge. They will likely have it all in place tomorrow if all goes well and then we will take this climb from there.
Send HEAT! Tonight wind moved in bringing with it bitter cold. We are shivering it up good tonight. Hot water bottles are back on toes." Tim
Photo: Camp 1- Darren Bates (Kelowna, B.C.), Michael Noonan (Ireland), Fergus White (Ireland)
More photos will be going to Facebook first then will be posted in our Gallery.
MOUNTAIN WEATHER: I checked our weather reports for that region after talking to Tim and he reported there was a wind and it was cold. He said it wouldn't be normal to get anything significant moving in this time of year and he appears to be right. The winds at 8000m are averaging 115km to 127km right now up till the 25th of October then they drop off to 90km a hour and by the 28th of October down to 70km. This is all 7500m and above so at 7000m and it will much less. This looks good so far to coincide with our schedule.
October 22, 2009: 22:00hrs (Nepal Time)
Tim checks in: "Good trip up the mountain. The team did really well the last two days up on the mountain and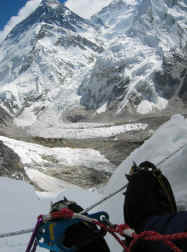 are strong. Some are more tired than others but that has everything to do with climbing at altitude for the first time. They all did well and we accomplished what we wanted to do up there. We are back at base camp now.
When we arrived at Camp 1 the Sherpas were busy digging out ledges for our tents so I took rope and started fixing the route up to Camp 2 while Lars belayed me. The now lone Romanian climber is up there right now but I don't know how far he will get. The route certainly won't be in the three days that he has left but he is determined to give it his all till then. May as well... after all he is here to climb and reaching the summit is just the bonus whereas the climbing is the true reward.
Pictures of our climb will be downloaded tomorrow and sent out for the blog. Tonight for dinner we had ground steak with mashed potatoes, gravy, vegetables, salad and finished the night off with fruit and a movie."
What's next: They will rest for two days and then go up to Camp 1, carry a load and spend the night. Then work there way to Camp 2 in the next progression. Then they will start to work out the plan for fixing the summit ridge. Everything so far is going to plan. Tim reports that the weather has been awesome! He also said the temperature is much milder than it was last autumn when he was there.
Photo: Checking out Everest from up on the route on Pumori.
October 21, 2009: 07:45hrs (Nepal Time)
Tim checks in: It appears I called it exactly right. Just how long have I been doing this? They were all cozy in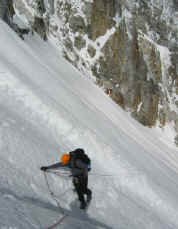 their tents at Tim's normal check-in time and he didn't want to go signal searching. He reports that everyone had a really good sleep which is not usually the case the first night up, but they did! So much so that they are moving up to Camp 1 for acclimatization today and then will be back at base camp by this evening Nepal time.
If you look at the route map on the top right of this page that Tim prepared, you will see where Camp 1 is and compare it with today's photo. This section with the vertical lines is what they refer to as fluted snow and it's pretty easy going traversing across it to Camp 2. If you are up late tonight and get this you can watch SPOT updating as they move. I feel like I am there and I hope everyone following is getting the same out of this blog. Today will be a mind blowing experience as the horizon opens up with a full panoramic view of Everest.
Photo: #1- Traversing from ABC to Camp 1 #2- ABC with Ama Dablam in the back ground.
October 20, 2009: Trekker David Cox checks in:
BASE CAMP TREK TEAM: David confirms that all trek members are now back in Kathmandu checked into our base hotel.
Tomorrow they will be picked up by Kiran and taken out for night of Nepalese dinner and dance show before preparing for their flight home.
ISLAND PEAK TEAM: I haven't heard officially but considering the ideal weather the Khumbu is experiencing right now I would say the Fabulous Four Island Peak Team probably summited today :) One of the Sherpas will check-in soon with the news. Stay tuned!
October 20, 2009: 10:30hrs (PDT-Canada)
No news is good news! My assumptions of why Tim didn't check in today is that they were busy when the sun started to go down boiling water, fixing a meal and insuring all their equipment was being stowed away carefully, drying socks and other clothing in their sleeping bags and chatting up a storm. This is the first time since the expedition started that they sleep as tent buddies. In other words Tim was probably too comfortable nestled in his sleeping bag sharing jokes from tent to tent and didn't want to dress up to go outside and find a satellite signal. ABC's location doesn't seem to capture the signal so well. So please rest assured everyone is fine and this is pretty normal at this stage of the climb. Quiet time- just the climbers and the mountain- a nice time for them :)
Sooo...... I will take this opportunity to use this quiet time to make some noise about this springs "Learn For Life" Everest
Base Camp Trek with Peak Freaks. The trek is already over half booked so if you were thinking about joining and were one of those people asking me when would you have to commit by? The answer is now! We only take 12 so it will close soon.
This is a 15-day base camp trek staying in lodges till you reach our Everest Base Camp at which you will be invited to spend the night expedition style in tents with the team. You will arrive the night before they usually head for their summit push. This is a real boost for the team having some new energy around camp at this time.
The best part!!!!... is that the trek is also a fund raiser for the "Learn For Life" Scholarship fund. Learn for Life is a scholarship program created by your trek leader Vanessa Higgott to break the cycle of poverty and to empower bright young Nepalese to carve out a better life for themselves
The trek costs: $2560US and is all inclusive from and including Kathmandu to base camp and return. You need to be in Kathmandu no later than May 1 and your departure shouldn't be prior to May 17.
To learn more about "Learn For Life" please have a look at the website: www.learnforlifenepal.com and for a detailed description of the trek program contact Becky- Becky@peakfreaks.com
LEARN FOR LIFE TREK

Cost: $2560US

Duration: 15- days

Accommodation: Hotel Kathmandu, Lodge on the trail, Tent in base camp.

Dates: May 1 to May 17, 2010

Fundraising: By pledges from your friends, family and followers who will help push you to your destination.

Airfare options: We can help

Insurance options: We can help

WEB PAGE: Click here
The fundraiser is optional but why not try? Trekking for a cause, meeting the children at the "Hopeful Home" with Vanessa and much, much more.
PHOTO: Vanessa and her girls
October 19, 2009: 21:00hrs (Nepal Time)
"Nice day around camp today for everyone. Sherpas Jangbu, Tashi, Paulden and Kaji did more carries up to Camp 1 today so it is just about complete. We worked on more rope and rescue skills and tomorrow we will climb up again to ABC but this time we will stay the night to allow
everyone to adjust to the new altitude, then retreat to BC the next day. We will leave BC just after lunch arriving early afternoon. I will be instructing Avalanche Skill Training the next morning while up there. When we return to base camp we will do the classroom work for this part of the program."
"Mt. Pumori is rarely climbed and in particular the route we have been pioneering since 1998, not the standard route but the South Ridge. We used to do training on Ama Dablam but it doesn't sit well with us anymore. We have moved but with a mission in our hands. To climb and really "Leave-No-Trace" and the only way to do this is to take human waste "completely" off the mountain. You can read about our situation and mission on our "Green Theme Page" and what we are doing here and why. All expeditions have toilets at base camp but no one except Peak Freaks has been taking human waste off the route through the use of Biodegradable bags and we are being loud about it."
"I visited with long time friend of the Hanesbrand team (our new neighbours) Jamie Clarke who I climbed on Everest with in 91' and 94' who is with Wally Berg and team today and told them what we have been doing to keep the mountain as clean as possible and to not let what has happened on Ama Dablam and other popular Himalayan peaks happen here. They received the idea well and accepted the supply of biodegradable bags and agreed to use them."
Happy :)
Photo: Spot GSP of our location training at ABC yesterday.
HELPING WHERE WE CAN!
This is "really" important to us. We have two groups that are doing "real" projects in Nepal. We have seen all kinds of people who try, but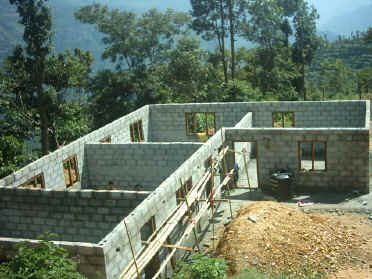 for some reason fail, while others do not. Key: They need help!
One just started and is taking her idea by storm. Peak Freak trekking guide Vanessa Higgott's Learn- 4- Life Scholarship program. The other is a couple that have worked for way too many years on their project. The difference is they tried to do it on their own for far too long. Thank-goodness we kept track of them and encouraged them where ever we could and now we are proud to say, they have broke ground!!! But not just did they break ground the walls are up and the roof is just about to be put on the First Steps Himalaya Childhood Development centre. You have to check these guys out. Long time friend Durga who we first met in 1991 working as a waiter at the Potala Guest House in Kathmandu, meets Fionna, they move away from Nepal allowing them the opportunity to do more for the country they love than they could from within the country.
Here is a little plea from Fiona for help if you can:
First Steps Himalaya is delighted to announce that the Sangachowk Early Childhood Development Project is well underway in Sindhupalchowk, Nepal. Pre-School & mother and baby classes began in July. The difference in the children is remarkable in just a short time. They have gone from being dull, unresponsive and dirty to very clean, happy sociable and active children. The parents are delighted and want more classes! The children are excited about moving into the purpose built centre which is almost complete and will be open late October.
To continue and expand our services to more children, we need ongoing support. Visit our website www.firststepshimimalaya.org for how you can make a difference with us through donations, child sponsorships and volunteering.
Fionna Heiton- First Steps Himalaya- Giving children childhood
Tomorrow we will featuring the "Learn-4-Life" Everest Base Camp trek with Vanessa Higgott -May 1, 2009 and how much fun it will be for you to help. Join us!
October 18, 2009: 21:00hrs (Nepal Time).
Tim checks in: "Our new neighbours finally pulled in today while we were up at ABC. The entire team made it up in fine form except for Jim Higgins. Jim is struggling somewhat so I have suggested he go up and do Kala Pattar tomorrow with Ngima Sherpa. At this point in the
game it is better he go and get high up on something that is not as technically demanding and deal with altitude adjustments there before trying to deal with it on technical ground. This is what I like about our training ground. We have so many options for us here to make it work for everyone. We are hoping the "go high- sleep low" will help jolt his acclimatization process into action.
Kami Sherpa who I climbed on Everest with in 94' pulled into camp yesterday. With him is Nymgal Sherpas who works with us on Everest. They are both very strong Sherpas working with the Hanesbrand team this year on Pumori, the new neighbours. Happy to see them and happy to have them help with the route.
The European mixed team which is now only two from Romania were going to start fixing the route to Camp 2 yesterday with the rope our Sherpas carried up to Camp 1. But only one of them went up and came down again so I don't what their situation is now. More discussions on this tomorrow to see how they are feeling. They don't have much time left here.
Our day was a good day and I know I said it before but I will have to say it again. We have a really solid team and I am pleased with everyone's performance. Health wise too! We are doing really good! Last season we were plagued by a virus that jumped from one person to another and for some it ended their climb. For the ones that managed to kick it, the mountain conditions ended up kicking us, but all in all it was a fantastic trip as they all are; each unique and each a very rewarding experience.
Our training up at ABC today included some snow-craft. Things like anchor building, cramponing, ice-axe self-arrest and we preformed a mock crevasse rescue. Everyone is feeling confident and looked good up there today. Happy-happy-happy!
MOUNTAIN CONDITIONS: From where we are it looks good. I don't think we will encounter the sugar conditions up high like we did last year because the weather seems quite a bit different but never say never. The wind is hammering pretty good up high on Everest. It sounds like a 747-flying from and around that direction but the sounds never leaves like a plane would. Pretty loud..
What's next? Our Sherpas have already put 2 tents in at Camp 1 and tomorrow they are going to take 2 more up to Camp 1 and then it is a rest day for them. We will make a move up to ABC day after tomorrow and stay the night to prepare our bodies for higher up. "
That's all for now. Lars has sent Becky some photos that she says she has already put up on Facebook
which probably gives a close up for those looking, check them out. They will go here soon in the Gallery too!
Photo: Team resting after a day of training.
October 16, 2009: 21:00hrs (Nepal Time)
Tim checks in: "Today was a busy day. It started with tea delivered to the tents, a Sherpa tradition to taking fine care of us. We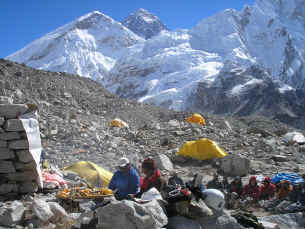 rousted ourselves for breakfast and not too long afterwards the fabulous four; Don Odegard, Bob Bowman, Mike Buttle and Barry Schmedding stuck their heads in the tent. Whoa!!!.. they made it in good time from Gorak Shep. They report having a fantastic trip and the lodges were relatively quiet but after getting settled into the comforts of our camp they are joking that maybe they will just spend the rest of their time here instead of Island Peak. At least I hope they were joking? hmmm. They took the Gokyo route to get here rather than the traditional trail which was brilliant because the milk run was very crowded this year. Example: Trekkers sleeping on tables in Lobuche. Actually this a good time to make note to independent trekkers. If you come in on your own and not part of an organized trek, be prepared to endure some not so pleasant nights when all the lodges are fully booked. There isn't a reservations system. However we at Peak Freaks do have a system to secure spots when booking through an independent trek program. We even offer Luxury treks for those who want linens, private bathrooms and steak dinners with wine. Check it out with Becky or look here: Luxury Treks ."
TREKKER NEWS! "When the Island Peak team was going in to Gorak Shep yesterday they bumped into our trekkers and pass on the good news that they all summit Kala Pattar. Congratulations to them! They would of had magnificent weather so the views and photos will be outstanding. They are going to send some photos out from Namche to Becky so watch for them on the blog real soon."
"After breakfast we all gathered our climbing equipment, boots, rope, hardware and some food that was all placed in a pile around the stupa.
We built a stupa at our favourite camp site a few years back. When we arrive the Sherpa's string the prayer flags from it wrap a Peak Freak banner around it and place juniper they bring up from the valley below for burning during Puja time. Rice! don't forget the rice! lots of rice for tossing. It was all good today, everyone behaved themselves."
CLIMBING: "Today I went up with the team up towards ABC to identify the trail with them in the event they are going up and down without me through this section and make the wrong turn somewhere when they are tired and just looking at their feet. The Sherpas took more tents up to ABC then carried rope up and started to fix to C1.
Becky always wants to know what we had to eat so please know we are being well fed up here. Yesterday we had fresh roasted chicken for dinner and tonight was fish cakes- "yum" with vegetable, rice, potatoes mashed and with gravy too! Breakfast is eggs, hash browns, toast, oatmeal and that kind of thing. And not to forget to mention a tradition at which we have started a wave of copy cat operators now in the Himalayas, our infamous sushi.
We dug out the Gammow bag today to do a demonstration today as part of our Everest training program.

WEATHER: We are enjoying beautiful weather. Warm during the day, mid +20c and by night it drops down to about -8c or -10c.
Time to turn in ..... over and out! Tim"
October 15, 2009: 21:00hrs (Nepal Time)
Tim checks in: "Everyone is doing awesome! Today we worked on knots making sure everyone is confident and is on the same
page. We usually practice on the way in to base camp and then apply them in the boulder fields to get everyone up to speed and to be assessed before moving up on the route.
I brought with me this year a hammer drill to bolt our training ground making it safer to instruct in the boulder fields. We do teach pro placement on the training climb but there is a situation here that is best dealt with this way when operating commercially in this area. The team preformed well today and I am impressed with their abilities. No one's abilities are ever taken for granted when on a Peak Freak expedition. We have a really solid team. Some "new to climbing" and a couple of "old hats" so it's a really nice mix. Mentoring at it's best in the mountains. "Learn-See-Do"
I got up at 06:00hrs to say good-bye to the trek team. They climbed Kala Pattar and instead of coming back to Pumori BC for the night it was decided last night that they would instead head down to Pheriche after their summit bid to stay the night giving them one extra day to split the section between Namche and Lukla. This section is a full 7-hour trek so it's nice to hang out, enjoy some Sherpa night life and sleep in at Namche on the way down and enjoy your last days in the Khumbu. So that's what they did and are currently enjoying the richer air bit by bit as they make their way out.
Tomorrow is Puja day and we are all looking forward to that. We didn't plan too much in the way of climbing or training because one never knows how good the chang will be. Or should I say how good the team will be :) Bob, Don, Mike and Barry the Island Peak team will be arriving tomorrow. Everyone is looking forward to catching up with them again. They will do a training session, Puja party and then will be off again to climb their mountain."
MOUNTAIN CONDITIONS: "Anyone following this blog that was on Pumori last year will be interested to learn that there is no snow up at ABC and the glacier has definitely receded. The winds have been kicking the climbers on the Tibetan side of the Himalayas this autumn. Becky tells me that many teams have called off their climbs in various regions in the Himalayas. We are holding pretty good from where we are. The post monsoon clouds are being held down by Namche by the higher winds coming off the Tibetan plateau. This leaves us with beautiful blue skies where we are and fortunately with not too much wind. Hopefully the winds will take a break the higher we go."
CLIMBING NEWS: The mixed European team that were here before us brought 400m of rope. We are going to share ropes by using ours to fix up to Camp 2 and beyond but they only have 10 days left before they have to leave which means we won't have it fixed to summit by that time. They are going to see how it goes and possibly for go for it alpine style pending conditions up high.
PHOTO: Our Pumori base camp- between the two lakes. Everest, Lhotse, Nuptse in the background.
October 14, 2009: 21:00hrs (Nepal Time)
Namaste from Pumori Base Camp... "Today was an enjoyable rest for the climbers and two of the trekkers who opted to lay low and enjoy
the comforts of base camp. The climbers organized their personal gear bags and tent space. The solar lights are placed around camp creating a nice ambience for everyone to enjoy and to help find their way back to their tents after dark. The tent is glowing, the tunes are playing, the heater is keeping our space nice and cozy and tea is always on.
David Cox, Dave Macedo, Bart Johnson and Dean Alonso trekked to Everest Base Camp today and tomorrow all of them and Tricia Kumro and Rob McMahon will climb to the summit of Kala Pattar.
The Sherpas preformed well moving the rope over to the snow ridge and hauled up more of our rope to work above towards Camp 1. More tomorrow it is time to turn in and put my toes on the hot water bottle. Over and out- Tim "
Photo: Pumori base camp with Everest in the "far" background.
The photo gallery page is now up for this expedition: Please refer to the Gallery link at the top of this page. Also take a moment to check out "Everest Underdogs Trailer" by Scott Mortensen of our Mt Everest 2008 Epic Expedition while on that page.
EXPEDITION SPECIAL FEATURE: Pumori 09' trek team member David Cox's mission to help the MS society.
Canada is a key leader in establishing world-class research projects. For example, a Canadian-led, $4.3 million groundbreaking study in children is continuing to shed new light on the key triggers that lead to the development of MS, and is made possible through fundraising activities like this.
Dear Fellow Cyclists, Golfers, Hikers, Friends, Neighbours, & Family
Blurry vision. Overwhelming fatigue. Cognitive issues. Paralysis. Muscle weakness. These are only a few of the possible symptoms of Multiple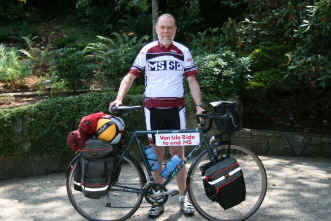 Sclerosis, the most common disease of the central nervous system. Multiple Sclerosis is an unpredictable, still incurable, often debilitating neurological disease with a disproportionate presence amongst Canadians, affecting, in particular, women and young people. It is usually diagnosed during our family and career building years, the years that feel the most promising and exciting.
The MS Society of Canada has been holding summer cycling fundraising rides for about 20 years. This is my 16th MS Bike Tour and my fourth Multiple Sclerosis fundraising tour in B.C. after 12 years of cycling in Ontario ís tour rides encompassing some 30 rides covering almost 3000 km. This year though I have taken on the volunteer role of Site Coordinator for the South Vancouver Island Chapterís annual two day Cowichan Valley Grape Escape tour. As a result, I will not be able to directly participate in the ride.
For more information on donating and helping support MS through David, please refer to our AMAZING PEOPLE PAGE
October 13, 2009: 21:45hrs (Nepal Time)
Namaste from 5209M our Mount Pumori Base Camp. I forgot to ask Tim what was for dinner but I am thinking some fresh roasted chicken to celebrate our Canadian Thanksgiving. Everyone arrived safe and sound. He said he sent me 10 photos from today but they are apparently still traveling around in cyber-space. As soon as they come up they will be posted to Facebook and then to follow here in the photo gallery.
Climbing News: Our Sherpas have already fixed our ABC- Advanced Base Camp and tomorrow they are going up to re-fix some rope
towards C1. We had heard from our Sherpas that there was another team up here. They are climbing the way we used to- NO SHERPA SUPPORT!!!... the way we pioneered this area. Hat's off to them! It's hard work that way. They started out with seven climbers and unfortunate due illness are reduced to only two. We were hoping for more. They brought 400m of rope which is good but they had fixed it a gully that Tim discussed moving with them. Tim usually fixes it up on the snow ridge which he feels is safer. So our Sherpas will head up tomorrow and flip it up and over on the ridge. We are aware of another team following in behind us by a few days with 3 Sherpas and just a couple climbers. We are 4 Sherpas and 9 climbers so we will likely be the power supply up there again this year.
What's next? Tomorrow is rest day, adjusting to the new altitude and organizing personal gear. The next day is a training session day and the day after that the Lama arrives and performs our Puja. A very spiritual event. The Western team members, the Sherpas and the climbing equipment is all blessed. This takes place around the base of the Stupa that the Sherpas have built prior to the teams arrival. Juniper is burned, boots and all are piled in a big heap, some food, all required to climb will receive the Lama's blessing.
The Puja is a very touching moment for most climbers. The Lama's chant, the ringing of the bell, tossing of rice, prayer flags in the wind and smoke swirling around them. A time where everyone will be facing themselves since they started to plan this mission. They will now realize what they are up against. Their thoughts will drift home to all the people they love and the people who have inspired them. If there was any fear- they will now face it head on having the massive mountain and the route towering above them. For some the party is over and it's time get serious while others might feel the party has just begun. Climbing Everest is a mental game and this the best place to deal that card and put fear behind you while learning some technical climbing skills and experiencing life on a Himalayan expedition. The best part? Everest is right there too! They will look over their shoulder on their way up to ABC and be able to look in the eye of Everest who will still be looking down on them.
The day of the Puja the Island Peak team will arrive just after the Everest Base Camp trekkers depart.The Island Peak climbers should arrive in time for a blessing. The team is looking forward to their arrival- they miss them. Puja party- just have to be a wee bit careful with the chang that is traditionally served during these ceremonies.
Photo: Puja with Pumori in the background.
October 13, 2009: 10:45hrs (Nepal Time)
Tim and team stopped in at Gorak Sherp (5170M) for tea and to make a quick update. They will be heading out after tea and some snacks. They will rise about 150m in 20-miutes and they will all have arrived successfully at Pumori Base Camp. They all sound very excited in the background. .GO TEAM 09'
Other exciting news is SPOT must have heard me complain about not being able to zoom in enough. Wow!! Check it out now.
Tim will be shooting some photos off to Facebook again shortly.. stay tuned!

October 12, 2009:
Lobuche: Elevation 5008M-16430FT- Happy Thanksgiving everyone! Tim has been checking in but family visiting took me away from the blog for a bit, sorry! Last I spoke to Tim they were on their way to Lobuche for their last night spent in a lodge before checking into our Chateau Dome at Pumori base camp at an elevation of 5309M.
They are starting to get up there now. Our base camp trekking group will start to do some adventures in the area using our base camp as their base over they next 3 days after they arrive. They will climb Kala Pattar at an elevation of 5545M or 18192FT for a sunrise shot of the Khumbu Glacier and the views of Everest and the route on the Tibetan side and Nepal side and summit of Everest all at the same time from this location and then return to the comforts of base camp. The next day they will actually go up the moraine leading to the Khumbu Ice-Fall and staging area- Everest base camp for all Everest expeditions climbing via the South Ridge. Then they have an extra day added in their itinerary to participate ( if they desire) in a mountain skills program with Tim Rippel before heading back down the valley.
Tim reports everyone is doing good. They all preformed well above Dingboche and are in fine shape.
I am currently working on a photo gallery page for this blog but in the meantime you may want to join Tim's Facebook as he has been uploading there. Cick on the "F" below to join. Also don't forget to check out SPOT.
October 10, 2009: 21:00hrs (Nepal Time)
Dingboche: Elevation 4360M- 14,250FT Magical moments with Lama Geshi as always and everyone is now blessed by him to climb Pumori. The Sherpas will not climb without his blessing. The next blessing will be at Pumori base camp where all our equipment will be blessed during our Puja ceremony and then we are set to go.
Tim checks in: " We are all here and doing good. up here. Just one trekker is starting to notice lack of appetite which is something I will keep an eye on. It's all normal though. The weather started out sunny and then a few clouds here and there. Everyone is now in their rooms and I will do the same shortly. It's a wee chilly, we all have our down-jackets on now in the evenings but by day we are back in just our shirts. Looking forward to getting to our home at base camp. Don't forget to SPOT us,...Over and out! - Tim "
A little wooziness begins here for some. This is the altitude where a lot of people start to feel the effects of the higher altitude. When a trekker starts to loose their appetite this is something we watch closely. A climber will have more time on their agenda so in time they will usually adjust. "Time" is key and this is why we have the acclimatization day built into our itinerary at this point. Tomorrow they will go even higher but return to this same elevation to sleep before going any higher to sleep. Very important! Tomorrow they will climb up a non-technical ridge above Dingboche or possibly a day hike up to Chukung Ri, close to our base area for our Island Peak treks. By days end they will be back in Dingboche for the night and then the next day it's Pumor base camp for those who are feeling up to it by that time. For those that aren't they can take their time, go part way or even take one more day in Dingboche if needed. There is no pressure put on anyone and we encourage always that everyone go their own speed and let their body do it's thing.
This page is starting to get a little photo heavy so I am creating a photo gallery page to link you to the latest shots.
| | |
| --- | --- |
| | |
| Ang Nima and Kami Rita in their kitchen in Kunde | Tengboche with Kwangde in the background |
| | |
| Yaks waiting for the loads | Lhakpa Dorjee and Tashi's house |
| | |
| Ang Nima and teams. Splitting in Tengboche into 3 teams all meeting up again with climbers at base camp. | On the trail. Mt. Ama Dablam view |
October 9, 2009 20:30hrs (Nepal Time)
Pangboche: Elevation 3840M-12,600FT Team checks in: "The weather was beautiful today and the views were up in the top 10 of what I've seen with the new snow on the mountain tops. We had lunch down at the river before climbing up the steep hill to Tengboche, home of the infamous monastery. The trekkers will sleep here tonight so they can take in an early morning chant with the monks. The four Island Peak climbers took off a different route from Tengboche to being their variation trek through Gokyo and will meet up again with us at Pumori Base Camp for a training session and sushi before they head off to climb Island Peak. We are here now at Ang Temba's house sharing the space with the group of doctors that are here for a Wilderness Medicine session. I pulled out some BC Wild smoked salmon as our snack for this afternoon which seem to be much appreciated by all.
Everyone is doing fantastic and looking forward to our blessing with my good friend for many years now, Lama Geshi. Over and out from Pangboche! " Tim
Becky here: I will posting some photos in the next couple of hours and introduce everyone to a new SPOT Adventure page. They were successfully tracking all day yesterday so check out our SPOT page.
October 8, 2009: 21:30hrs (Nepal Time)
Namche Bazaar: Elevation 3441M-11,220FT Tim reports a significant storm last night pounding down on the Himalayas and from what I hear it was all over the Himalayas creating havoc on mountaineering expeditions. However tonight the skies have opened and standing boldly in front of them is Kwangde Ri elevation (6011M) and Thamserku at an elevation of (6623M). Both beautiful mountains. Hopefully they are saying good-bye to post monsoon weather and entering into autumn which is traditionally dry and colder. Tomorrow they will be surprised with the view of Ama Dablam. About 20 minutes up the hill from Namche headed out towards Tengboche they will get their first view of Everest and other well-known peaks. They would have seen Everest as early as day 2 of this itinerary but the weather has been holding them in suspense. Cameras will be snapping out of control tomorrow during lunch at Lhakpa Dorjee and Tashi's "Ama Dablam View Guest House" perched in the best spot of all of the Himalayas. You just can't beat this view....and with fresh snow... !!!... I will try to find some shots to share with you later.
In the meantime here are some photos of the team Tim has forwarded. They celebrated Wake Williams 60th birthday tonight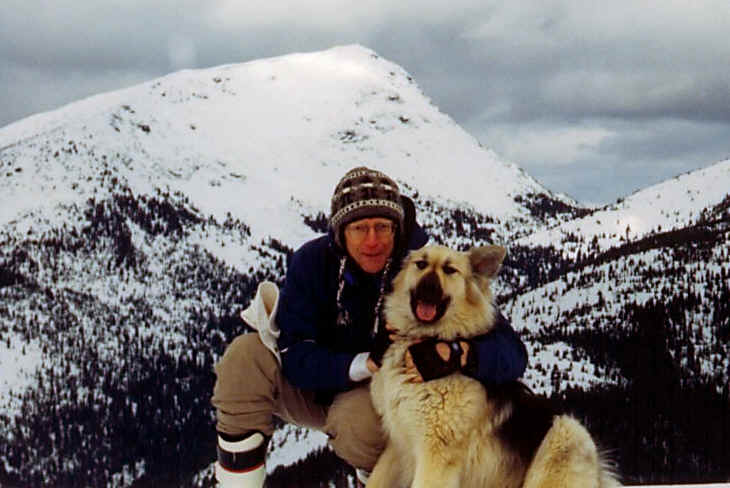 . Wake presented a speech tonight complimenting Peak Freaks. He has been on expedition with us before. In no time he had Tim all welled up and apparently it was infectious- ah you guys!...toughen up.!!... you have a mountain to climb. Tim used to say to me all the time "stop-it!!!.. you're getting the rope wet". I was always getting the rope wet. Either by crying because I was scared to death in certain situations or when he cinched me up on a bowline when we got married at the family ranch in Nasko, B.C. You know the part where the minister says "you can now place the ring on her finger"? not at our wedding. Instead Tim rides up on horseback with two others to where I was waiting by the river. Playing in the background was the sound track from Clint Eastwood's film "The Good, Bad and Ugly" He explained to me that being hitched together by rope would keep us tighter than a piece of jewellery ever would. Today I am very fond of rope. Lots of it!!!
Check the Gallery - Becky
October 7, 2009: 21:30hrs (Nepal Time)
Namaste from Namche! "We are all doing fantastic, no head aches and we all made it to Namche is good time. Right now there is a wicked storm encroaching upon us from India. It is brining a lot of sideways rain. Can't say I have seen a storm like this from here before. It is expected to pull out of here by tomorrow afternoon. Our trek thus far was pleasant as it was raining most of the day. Everyone was pleased as it can get stinking hot
Lhakpa Gelgan just came down from Pumori BC to greet us. He has our base camp all set-up for us and said there is about 6 inches of snow at camp. It melts and snows again. Usually Pumori BC is relatively dry but I am not surprised with this current precipitation that wouldn't be snow at BC. Time to nest in for the night. Over and out- Tim"
Tomorrow everyone will go up to Ang NIma's house for lunch and visit the Hillary School, Everest Bakery, Kunde Hosptial and then retreat to Namche Bazaar to sleep. This is our go high-sleep low routine for allow the body to adjust to the higher altitude before sleeping higher. More on AMS here. Check the Gallery for photos
October 6, 2009: 21:00hrs (Nepal Time)
Tim checks in: "When we arrived in Lukla Ang Nima and his big smile was there to meet us as always and his son Ngima who will also be working with the trekkers. We headed out for Monjo after lunch and it started to rain. Two pieces of our gear bags didn't make it in along with Kaji Sherpa who was staying with them. That plane was the last one that attempted today before the weather set in. The plane aborted a Lukla landing and set down in a small village below Lukla called Pablo and will overnight there and bring Kaji and the bags up to Lukla tomorrow. We stopped in and had a visit with Tshering, owner of the Namaste Lodge in Phakding. She plays a wicked harmonica and makes the best vegetable curry in the Khumbu. After introducing her to everyone we moved up Monjo (2800m) just across the suspension bridge and up about 200 metres. Everyone is now tucked into bed. Good to see Chombi again. Everyone loves his Mount Kailash Lodge."
Tonight is the first good sleep everyone will have since they arrived in Nepal. Sleeping by the Dudh Kosi the sounds and fresh air will send them all into dream land till the hills come to life again by the sounds of the yak bells passing by their windows gently waking them up.
SPOT is now tracking in the Khumbu. View it in Hybrid mode to best orientate yourself. The signal is from Lukla. We are still working out some technical tweaks and the mapping seems to be limited. I had hoped it would be like Argentina where you could actually zoom in enough to see the trail imprint on the mountainside.
Tomorrow- Namche Bazaar....stay tuned!
October 6, 2009: 10:30hrs (Nepal Time)
Tim checks in: "All our teams made it in. The weather is marginal, trekker bags are with them and climber bags are to follow tomorrow."
Tim was just preparing to order lunch then they will move up the trail to Monjo. They will be staying at Chombi's lodge. More news after they arrive in Monjo.
October 5, 2009: 22:16hrs (Nepal Time)
The good news is the weather is looking good for flights to Lukla tomorrow. They have been going out on schedule the past couple of days. Tim had been talking to other guides who just returned from working in Cho Oyu, Manaslu and area and they are reporting that the conditions of the Himalayas is pretty good. Traditionally post monsoon you can get hit with a lot of snow up high but it looks good so far. However we are aware this can change at anytime and differ from region to region. We will learn tomorrow what the Khumbu has to offer us so far.
Everyone except Tim was tucked away their beds at the time of his call. The power was out (as it usually is) and the "ugh" of generators were humming them to sleep. Tim and Darren managed to upload some photos on his laptop to share with you via wireless a` la generator. If you know Peak Freaks you know we are much apposed to the use of generators in the mountains but if they are spewing anyway in the city for other uses we may as well use them.
Tomorrow the team is up at 4:30am, jump into their trekking boots and head out the airport for the flight to Lukla. Tim said he will check in to let everyone know when they have arrived.
The kids always love it when uncle Tim comes to town and invites them out for dinner with their dads and team. They get to dress up and have an evening out in Thamel.
| | |
| --- | --- |
| | |
| | |
PHOTOS: (Dinner with team and kids)- (Tim with Ang Karsung's daughter and Mingmars daughter- Mingma and Mingma) (Breakfast time) - (Kiran loading everyone up for a city tour).
October 4, 2009: 21:30hrs (Nepal Time)
Everyone has now officially arrived in Kathmandu. Last straggler is Fergus White from Ireland. Tim was going to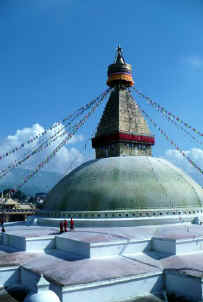 check in with him right after this call bringing him up to speed with tomorrows events. Speaking of which; we were surprised to learn that he and Michael Noonan (both from Ireland) had not known each other when they joined the team. Makes it a little more special for the two of them.
Many members spent the day looking around in the gear shops. Just another bonus of joining our Everest Training climb is that you get to do all your gear shopping from here. Everything from your socks to the hat on your head can be purchased here now as well as technical and camp equipment. We can set you up with Millet Everest Boots, get your down-suit custom made and stowed for you. By the time you finish your training climb- you are set to go in all aspects of preparedness for climbing the big E.
Tim was a bit grumpy when I talked to him. He was still in negotiations with the L.O. Anyone who has organized an expedition to Nepal before would understand this awkward task. You soon learn to accept that you will always loose.
Other than that some were out checking out the temples and sights and tomorrow we have organized a Kathmandu City Tour for everyone and dinner was at everyone's all time favourite place "The Third Eye"...yum!
October 2, 2009: 21:30hrs (Nepal Time)
"Namaste from the infamous Rum Doodles restaurant". "We just finished dinner and are starting to get used to the time-change. With me this evening is Wake, David, Darren, Cliff, Bob, Don, Barry and Mike. There was a lot of yawning going on tonight so I have taken a moment to update family, friends and followers around the world.
Khalid arrived while were out and is now resting in his room. There was a message at the hotel that Rob is arriving tomorrow and the rest of the team should all be here by Oct. 4.
Today I did the Ministry formalities and visited with many folks from around the world. Kathmandu is more my home today than back in Canada and it is always exciting to catch up on news from this vibrant hub of guides coming and going, Nepalese friends and even folks from home visiting here. A shout out for Leo and Maurine from the Kootenays who surprised me with a visit today.
Okay, enough chatter...time to go talk to my pillow and get some rest, more tomorrow."
Tim
PUMORI 09' SHERPA STAFF FAMILY
| | | | | | | |
| --- | --- | --- | --- | --- | --- | --- |
| | | | | | | |
| Ang Nima | Ang Karsung | Lhakpa Gelgan | Desh Kumar | Mingmar | Tashi | Paulden |
| | | | | | | |
| Ngima | Kaji | Hang 10 Buddy | Jangbu | Nim Phuti | Sonam | Sonam Lama |
MOUNT PUMORI EVEREST TRAINING TEAM
Tim Rippel- Nelson, B.C. Canada- Expedition leader/Guide

Wake Williams- Rossland, B.C. Canada- PFE-2nd go at Pumori

Cliff Powys- Australia- PFE- 2nd go at Pumori

Lars Haugen- Norway

Fergus White- Ireland

Michael Noonan- Ireland

Darren Bates- Kelowna, B.C. Canada

Jim Higgins-USA- previous PFE Ama Dablam climber

Khalid Al Siyabi- Oman
SHERPA STAFF
Ang Karsung Sherpa- Base Camp Manager

Lhakpa Gelgan- Cook

Desh Kumar- Cook

Paulden Sherpa- Climbing Sherpa Guide

Tashi Sherpa- Climbing Sherpa Guide

Jangbu Sherpa- Climbing Sherpa Guide

Kaji Sherpa- Climbing Sherpa Guide

Ang Nima Sherpa- Trek leader

Ngima- assitant trekking guide (Ang Nima's son)

Mingmar Sherpa-Climbing Sherpa Guide- IP

TBA-IP assitant
SUPPORT TREK TEAM- Everest BC and Pumori BC
Tricia Kumro- USA

Rob McMahon- Canada

David Cox- Canada

Dean Alonso- Canada

Bart Johnson- Canada

David Macedo- Canada
ISLAND PEAK CLIMBING TEAM
Bob Bowman - Canada

Don Odegard - Canada

Barry Schmedding -Canada

Mike Buttle-Canada