ACONCAGUA EXPEDITION BLOG 2009'
Polish Glacier variation
Next Expedition Jan.30, 2010- Now booking!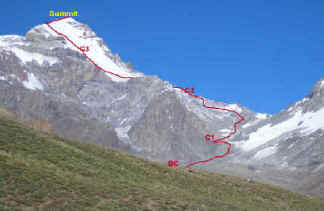 BLOG SPOT
Feb. 20, 2009- Juliana pulls a string wrangling up some mules to pick up the teams gear a day early. Everyone is howling with the coyotes tonight. The team will be back in Mendoza on the 22nd.
BACK at BASE CAMP- Summit list
Feb. 19, 2009- 1320 hrs- PST - Just moments ago I got word that they have arrived at base camp and everyone is doing well. Times and all the nitty gritty details will come out when the beers do. At least this is how it usually plays out after an expedition. Sounds like they worked hard and had tons of fun and were very lucky with the weather.
Here's how it played out yesterday, as quoted by Tim:
"Lucille de Beaudrap, Erik Fryman, Mark Langridge, and Ray Moore all summited with Angel Armesto. I turned Braydon Janecek around at 6750m (remember Braydon is 15 years old) pretty outstanding for a first high altitude climb, expedition style! He was so close, but he was just too tired to summit and risking making it back down safely if he continued.
When I brought Braydon down I collected Malcolm Churches and Tim Galvin (who was super tired) at a place called the cave at 6600m and brought them both down to Camp 2. While Angel brought the summit team down.
We'll go back up tommorrow to bring down what's left over at Camp 1.
We had a good summit day and today there are now 100klm winds above Camp 2. The weather reports are for more high winds over the next five days. We lucked out!
Everyone is happy and looking forward to getting out in a couple of days. Bring on the wine and rib-eye steaks!"
Over and out! Tim
I will blog more stories and photos from the team as I get them once they reach Mendoza, if I get them? This blog will offically end on February 24, 2009:
Hope you enjoyed following us on this adventure. The next one is the big "E", Everest 2009', commencing April 1, 2009. Be sure to bookmark the link: http://www.peakfreaks.com/everestnews2009.htm Unlike this blog, the updates will be daily from the mountainside, step-by- step.
Becky
What about Elaine? She is now resting at the Hotel Aconcagua. Escorted down by Dr. Jim Hansen a few days ago and who has been with her ever since cross checking her diagnosis with the Mendoza hospital team and reporting back to me. Elaine was feeling good, and her oxygen sats and pulse also checked out good at Camp 1. But she had blurred vision. The team responded to this immediately organizing a horse for her to get down and get out and Jim organized for her to go for some tests. Sure enough, it was the onset of AMS that could have been very serious due to the extreme altitude. Good work team! Juliana has been our Mendoza hostess with the mostest!!!! in helping them both out with all the details and translation. Mucho Gracias Juliana!!!
We have summits!!!!!!!! I am not sure who all is up there right now.. name TBA....!!!! Photos: View from the summit of Aconcagua 6962m. Second wave closing in not far behind. First team is already on their way down... yahoooo! Braydon's location: SPOT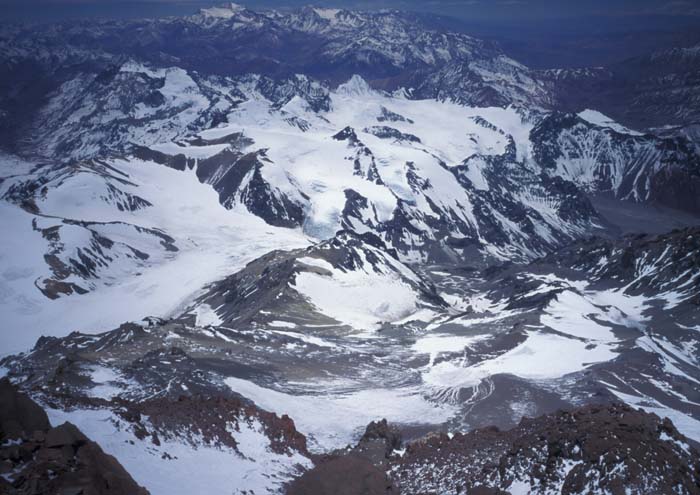 Guy Leveille and Tim Rippel on top last year!
Ok, update at 10:30... 10 steps to go!!! Braydon is closing in just a 100m behind...
Tapping fingers on the desk?????..... Spot updated last at 9:37... It is now 10:23... should be getting an update real soon if Lucille was able to get a signal.. It may well be that they have summited already. Wait and see!
10:00am (PST) Feb. 18: Less than a 100m to go!!!! 15 year old Braydon Janecek from Washington State, is closing in behind Lucille's SPOT.... I don't know who is with who at this time. But we know where these two are!!! Here is Braydon's location: SPOT
Feb. 18, 2009: SUMMIT PUSH IS ON!!!!! - at 0844 hrs (PST), the climbers are about 150m from the summit... go team go! Watch them on SPOT Terrain mode for the best perspective: SPOT TRACKER - Lucille
Feb. 17, 2009: Tidbits... Dr. Jim checks in to confirm the teams plan is to climb the "False Polish Glacier" and not the "Polish Glacier" as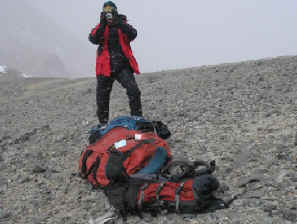 indicated on the itinerary. Like most of the glacier's around the world right now, the true Polish Glacier route has detiorated too much and does not allow for safe passage. Instead they are planning to stay at Camp 2 and go for the summit from there. However Spot tells us they are quite high (5900m) telling me they may have found a nice place out of the wind, or better yet the wind has settled for them allowing a higher camp on this route. That's possible. So there you have it, a couple of clues for us to try and guess where they might be tonight. Zzzzzz....
Check Spot first thing in the morning and you may catch them going for the summit. It updates every 10 minutes.
Photo: Guy Levielle taking a picture of Tim taking a picture of him last year at their high camp. That's quite the load for two guys. How did they do that?
Photo: Tim looking cold pre-summit push on Aconcagua, brrr...
Guy Leveille is not with us anymore. His new home is in a crevase high up on Mount Cho Oyu in Tibet. Guy was climbing Cho Oyu last year with an Australian outfitter when he deleloped AMS. On his descent, just short of reaching Camp 3, he slipped on some ice and fell to his death. We have a memorial page set-up for Guy, he was close to Tim and Jim Hansen who is also on this trip this year. Tim now travels with a set of prayer flags that represents Guy to him. Tim has been taking him with him whereve he goes. Tomorrow his spirit will hopefully be on its way to the top of Aconcagua again. He was on Kilimanjaro just 3 weeks ago and will be on Everest this spring, and, and, and........
Feb. 16, 2009: No news! Lucille's tracker currently shows 5900m which would be Camp 3. However, this doesn't mean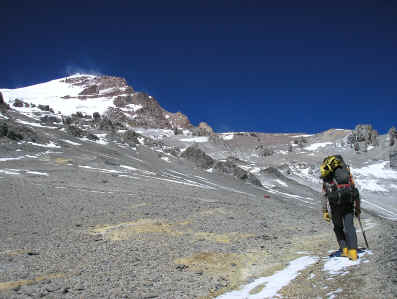 she is there and ready for a summit tomorrow. What it probably means is that we haven't received a confirmation of her new location after her acclimatization climb today to Camp 3. The plan is to go for acclimatization to Camp 3 today and retreat to Camp 2 to sleep. Back up again tomorrow - Feb. 17 to Camp 3 after a hard 4 hours and rest, prepare for an early morning ascent to the summit. If they are ahead of schedule they would leave on the 18th from Camp 3 at 0500hrs. Tim had said it looked good for weather and they can have two waves of summit bids as there is time for it.
Summit day will be the most demanding day of the expedition. They will experience high winds from their Camp 3 location upward and extreme cold temperatures. After their summit they will catch the last rays of the sun just in time to tuck into their Camp 3 tents for a well deserved rest.
Wait and see!
Becky
PHOTO: Tim Rippel heading up on Aconcagua last February, 2008.
Feb. 15, 2009: Tim checks in!
"Elaine's climb is over. She had been having trouble acclimatizing. She spent extra time at base camp before going to Camp 1. When she went to Camp 1 she was experiencing blurred vision (not a good thing), she didn't have a headache and her oxygen saturation level was 86 and her pulse was at 92 ,which is good. The blurred vision is an indicator that she is not adjusting and it won't get better from here on out. I requested a horse for her to enjoy the way out. She will be making her way home after she reaches Mendoza. She will be missed, once a team always a team.
The weather has been really good and good weather is still in the forecast so we are looking at a summit date of February 18 or 19".
Over and out! Tim
Feb. 15, 2009: Spot tracker, a good friend! I like this little piece of technology. When they are too busy to call in or saving their power, or
can't get a signal which is often the case in the mountains, the Spot Tracker keeps on eye on them for all of us at home. Thanks Ted for hooking Lucille up with this! It's a great little snooper.
No word from the team but it looks like they are moving along on schedule. From the movement on the Spot Tracker it appears they are moving up to Camp 2 today for acclimatization and probably carrying a load, but they will have to retreat to Camp 1 to sleep. Remember the "go high, sleep low" rule never changes. Inexperienced climbers my find themselves getting into a situation now at these altitudes if they break those rules. They go high and feel great. So why not stay instead of going down again? The problem with this thinking is that they feel good at the moment and probably into the evening too. Unfortunatley AMS will often kick in at night. Especially when your heart rate starts to slow down and your body is lying vertical. Less oxyen is now being carried and the symptoms of AMS will be magnified and could be dangerous.
Photo: The penitentes they passed on the trail up Aconcagua. I wanted to post this picture to give us a comparison in a year or two, wondering if they will still be there? Mountain Guides who visit these areas time and time again are seeing significant melt downs in the mountains. This picture was taken last year at the exact same time the team is there this year. It will be interesting to see Tim's photos when he returns to see the changes.
Peak Freaks has been selected to be featured "COVER PAGE" on a major airlines May issue in-flight magazine. We decided to use this opportunity to share information with the world on what we see happening in the mountains. Keep an eye out for more on this and the alarming facts.
Feb. 13, 2009: No news is good news! - I haven't received any news from anyone today so we can assume they are all doing well and should be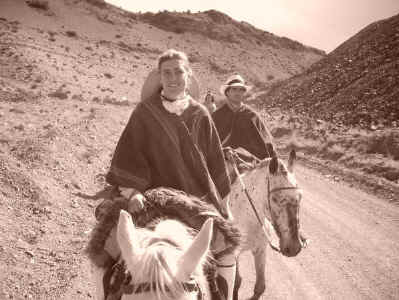 camping at Camp 1 tonight. It is possible that the team may have split into two groups. One taking one more day for acclimatization, hiking up to Camp 1 and returning to Plaza de Argentina, while the other went to C1 and stayed. Wait and see! From here on out my communication will be through Juliana Messa. Juliana is Angel's long time partner, both living in Mendoza and both guides. Juliana does guided horse back tours and other adventures in the area.
What do Juliana and I have in common? This trip could have been a bit bumpy without her. Juliana played a major role in the pre-trip logistics. She is responsible for recruting the mules, booking the ground transportation and making hotel reservations. We shared numerous emails and chasing our partners around trying to get answers to questions on gear and much more. Both Tim and Angel are actively guiding and rarely at home, never mind being near a computer or telephone.
Guide joke:
What do you call a mountain guide without a girlfriend? Answer: "homeless" :)
A big shout out to Juliana- THANK YOU!!!
Feb. 11, 2009: More news from Feb. 11: I just received a delayed message directly from Tim at Plaza Argentina (base camp). It had come in on a different computer last night.
Hola from base camp! "Our hike up the Vacus vally was overcast and a little a rain. By 0300hrs the weather broke and our hike up to Plaza de Argentina went well with warm weather and sunny skies. Everyone is doing fine. Elaine is feeling the effects of altitude so today she just stayed at base camp with Mark while the rest of us went half way to Camp 1 to acclimatize. Braydon came part way then turned around. He is doing really well. Readers at home: (Braydon is an aspiring climber at the age of 15). Angel is having alot of fun keeping everyone in stiches of laughter and cooking up a storm. We work well in the kitchen together. Tomorrow we're off to do a carry to Camp 1 then back to base camp.
We may rest one more day before moving up on the mountain to make sure everyone is adjusted. Time to sign off, over and out from Plaza de Aregentina". Tim
Feb. 12, 2009: Camp 2 (5000m) today! - The team is moving up to Camp 2 as seen on the Spot
Tracker. They will drop their loads, have lunch and relax whilst getting adjusted to the new altitude before heading back down to base camp. It is important at these new elevations to follow the golden rule "go high-sleep low". Tomorrow the team will go up again to Camp 2, but this time they will be able stay the night as their bodies should have adjusted by now. Not everyone acclimatizes at the same time so this is where careful monitoring of everyone's ability to do so comes in to play. It will be normal for everyone to start experiencing mild headaches by now but they should start to go away if they are acclimatizing.
The #1 question kids ask at our presentations that adults don't. Where to you go to the toilet?
Many are starting to know that Peak Freaks are leaders in the Himalayas for changing the way the Himalayas are currently being impacted by mountaineers. Last year we introduced our "Green Theme" in hope that other teams will follow. A major airline just picked up on our efforts and will be featuring us in their In-Filight magazine in May, during the Everest climbing season. We are happy to report that there are very strick rules in waste managment, pollution and the impact on the environment in the Park of Aconcagua. Here are some of the rules the climber must abide by:
You will have to pay a U$S 100 fine if you:
* Do not use the shower areas provided by the park.
* Throw garbage along the park, leave or do not use the numbered plastic bags provided by the park.
* Pollute rivers, streams or waterfalls.
* Enter either with bicycles or pets.
* Damage wildlife, plants and natural, cultural or archeological features which are protected by the park regulations.

You will have to pay a U$S 200 fine if you:
* Throw garbage, forget or loose the numbered bags in the high camps or during your expedition.
* Gather or burn wood in the park.
* Carve insriptions in the stones.
Introducing better human waste management "on" the mountains is something Peak Freaks insists on. Currently in Nepal on the mountain, the climbers go wherever they want on the routes of the climbs. Over the years we have been going to Nepal, we have made a considerable amount of noise. As a result they have now erected toilets at the poplular base camps. But there are still no rules on the routes. This is a real problem, the routes are small concentrated areas usually on ledges. Waste doesn't break down at these altitudes. Tim refers to it as sleeping and eating on top of a toilet, and fears it is only a matter of time climbers will become ill from unknowingly melting polluted snow for their drinking and cooking water. We moved off of one of the more popular mountains- Mount Ama Dablam, to a rarely climbed mountain - Mount Pumori - in hope to start fresh, to teach and do it right should other teams start to follow. What is astounding is the fact that it is easily managed in other countries and you can charge for it!
On Aconcagua each climber is given poop bags. They pack it up, fill it up and bring it down. They are accounted for when they deposit them in front of the Park Ranger at base camp. Ya!.... Those with empty bags or no bags- be prepared to pull out your wallet.
PHOTO: Helicopter removing toilet barrel from base camp.
Feb. 11, 2009: Who said mountain climbing was hard work? No news is good news! I didn' twake up to news from anyone this
morning so I expect everyone is doing fine and they are all enjoying time together relaxing and allowing their bodies to adjust to ward of AMS - (Acute Mountain Sickness).
Angel and Tim who both work continually at altitude, won't feel the effects like the others will as they maintain their previous adjustment. Angel had just come down from the top of Aconcagua 5 days ago and Tim came down from the top of Kilimanjaro just two weeks ago so they are both feeling energetic and will likely start moving some gear up higher today to prepare for the next step - Camp 1.
Photo: What does everyone do today? -Work hard :)
Feb. 10, 2009: In base camp- Plaza Argentina Smoked salmon from Canada anyone? Peak Freaks is getting well known
for hiking in a good supply of salmon to the mountains. Sushi in Nepal and ??? I don't know what Angel has up his sleeve but he had put in a special request that Tim bring a good supply with him.
Everyone arrived in fine form yesterday. If you were watching the SPOT TRACKER yesterday you would have seen the good speed at which they were approaching base camp. All is good, everyone is feeling great! Today is a rest day as they are starting to feel the thin air. Laying low today is good rule of thumb to let their haemoglobin do its thing before pushing any higher. They will take in an acclimatization hike, some reading and writing in journals and visit around camp today. Tim packed his tunes so there should be nice ambience or ACDC in the dinning tent :)
This is the end of the traditional climbing season for Aconcagua. As a result there are a lot of helicopters flying around right now, taking out toilet barrels and gear from expeditions that are finished for the season from Plaza Argentina.
Over and out!
Photo: Angel Armesto giving us his best shot on Aconcagua this year.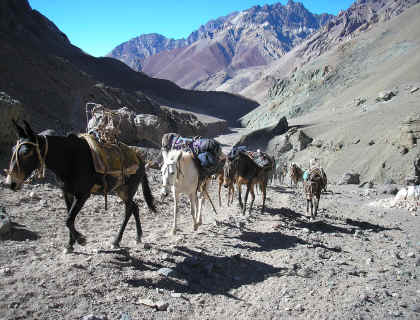 PHOTO: Mule train yesterday taking their gear up to Plaza Argentina.
Feb. 9, 2009: Follow the team! Check this out.... Lucille, with the help of her husband Ted (at home in Edmonton, Alberta), is providing us detailed information on the location of the team via SPOT... a very cool GPS tracking system. Click here to follow: SPOT TRACKER. You can watch them step by step.
Feb. 8, 2009: Hola... The mules are loaded and headed up the trail to Pampa de Lenas at (2950m). After lunch we will be transported the
Aconcagua Park entrance at Punta de Vacas. There is no real village here it is mainly an army base for checking long distance trucks that travel over the pass between Chile and Argentina. It is south and east from Penitentis so we will back track back towards Mendoza to where the trail heads off up the valley.
Last night upon arrival we walked around Penitentis to digest our dinner. Penitentis is a ski village. Inaugurated in 1979, Penitentes winter resort occupies at present more than 300 hectares of skiable surface. They have 28 runs of different lengths and drops for beginner, advanced and expert skiers. Several of them have been approved by the FASA (Argentine Federation of Ski and Andinism) and the FIS (International Ski Federation) and they are the stage for various competitions. There is 22 kilometers of runs and a skiable vertical drop of 714 meters.
Today is an easy trek with little altitude gain. We will trek about to to 5 hours up to Pampa de Lenas and present our permis to the park rangers. We will meet our equipment here, assemble our tents, have some refreshments and enjoy a hot dinner.
Photo: Aylen Hotel in Penitentis- White with green roof: (our home last night).
Feb. 7, 2009: Hola... Up up and away! Everyone has arrived and they now have permits in hand. At about 1pm this afternoon they will jump on the private
bus we have organized for the 2 hour drive to Los Penitentis. Upon arrival they will check in the Aylen Hotel. Last chance for a rib-eye. Other activities will include a walk around the ski area and an opportunity to get acquainted with the mules. Angel and Tim will be busy packing and weighing the bags for the mules to insure even loads.
Penitentis is named after the snow formations that the team will come across on the mountain slopes. Penitenties are found at high altitudes. They take the form of tall thin blades of hardened snow or ice closely spaced with the blades oriented towards the general direction of the sun. Penitentes can be as tall as a person.
The 2 -hour drive will follow a spectacular scenic winding road. They will see wild canyons and whitewater rafters on the ascent up to the high Andean pass. It is 112 miles from Mendoza to Penitentis.
Photo: Aconcagua team dinner- Mendoza.
Feb. 6, 2009: Hola from Argentina! Yesterday was a get acquainted day for team members while Tim and Angel ran around the city gathering up food supplies and packaging it for the journey up the mountain. The day was finished off with a night out and bonding while enjoying one of the succulent marvels of Argentina, the rib-eye steak!
This morning Tim calls from the government office where they are obtaining permits, for most of the team members that is. Malcolm Churches arrives tonight, so they will process his in the morning before heading out. Everyone is happy and healthy and on track.
Feb. 5, 2009: Everyone starting to arrive in Mendoza and checking into the lovely Hotel Aconcagua, a very nicely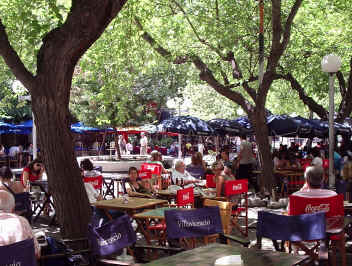 appointed hotel that is in close proximity to all of Mendoza's best. Tim met up with Jim Hansen and Tim Galvin who arrived this evening. While waiting for team mate arrivals, Tim did some pre-shopping for the expedition. The rest of the shopping will take place tomorrow shared between him and Angel and any members that would like participate. We have included some of our choice organic boil in the bags from Canada that we like to use on Everest and some smoked salmon, also a Peak Freak favourite. Yum! Photo (1) : Siesta time in Mendoza, nothing to do but eat and drink the afternoon away this afternoon. Photo (2): Shopping for expedition food.
Feb.4, 2009: Tim Rippel departs to Mendoza, the charming wine capital of Argentina and the infamous $5.00 rib-eye steaks. Not a bad start to an expedition.
Tim Rippel- Canada - Guide

Angel Armesto - Argentina -Guide

Dr. Jim Hansen - Canada

Tim Galvin- Ireland

Malcolm Churches - Canada

Erik Fryman - USA

Braydon Janecek- USA

Ray Moore - Canada

Lucille de Beaudrap - Canada

Mark Langridge- Australia

Elaine Langridge- Australia
We had a considerable interest this year in our Aconcagua Expedition. We would have had more but the one thing that Peak Freaks is popular for is our small scale expeditions. We believe this makes for a more comfortable and safe experience. We are already taking bookings for next year so don't miss out, book earlier!!!
THE ROUTE and THE ITINERARY are outlined on our program page at Aconcagua Expeditions