I can't express the sadness, I have no words and am in complete shock. Tim doesn't know yet as he is with our team headed up to Mt. Pumori at the moment. He will be devastated. Guy and Tim have become close friends the past couple of years. Climbing together on Ama Dablam, the Rockies, summiting together on Aconcagua last winter and had more plans pinned on the globe. Guy joined with an Australian outfitter FTA for Cho Oyu this year. Guy has many friends with Peak Freaks as you will see by reading some of their comments below.
. Our hearts go out to his family, the Winnipeg Police and to the Australian FTA team.
Below are the words Guy Higgot spoke at his service on the mountain, as the Sherpas lowered his body into a crevassee.
"I cannot think of a more beautiful spot for you to start your next journey than from high atop the the Turquoise goddess. From one of the highest points on earth you will be able to look down upon your spectacular surroundings and us going about our daily lives. I am comforted in knowing you are in a place you love and will be watching over your friends and family and the people you have come to know during your short stay with us. Whenever I shall look to the heavens, I know you will be there sharing a spot with the gods and goddesses of the mountains that you admire so much. As the the Sherpas say "it is better to live life in the mountains after death as you live far longer". Enjoy your new life in the Mountains you love,
I am envious of your final resting place." Guy Higgot
---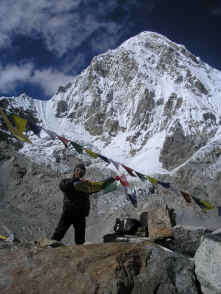 On October 25th 2008 Nepal Time - Tim Rippel performed a personal puja with just him and the mountains for his good friend in the early morning hours. He burned juniper and cast a string of prayer flags to the wind. Tim coordinated the prayer to happen at the same time as Guy's memorial service in Winnipeg October 24th 2008 in an attempt to send some of his energy home to family and friends during that time.
Though Tim will miss him dearly he is happy to know that Guy will now be out there looking out for him as he did Guy during his learning time.
Tim cut another strand of prayer flags that is now a permanent item in his pack. This will represent Guy's spirit who he will be taking with him from now on whereever he goes.
Photo: Piece of Guy's memorial flag now traveling the globe with Tim.
---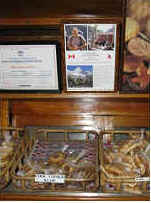 Photos: (1st photo) Lama Geshi (Pangboche Monastery) blessing the photos of Guy and words that Kevin Adams from UK prepared in Guy's memory to distribute in the Khumbu Valley. They were placed at some of the memorable places that the Peak Freaks team shared time with Guy in 2006 during the Ama Dablam expedition. (2nd photo) Kevin lighting tea candles (3rd photo) Guy's plaque places in the Everest Bakery (4th photo) Kevin and Tim meeting up in the Khumbu Valley.
The trip had a very personal edge to it for me, travelling the route we had taken to Ama Dablam. I felt as if all my friends were with me, and I had many happy memories of all the places we had rested and got to know each other.
On the 24th of October, the day of Guy's memorial service, I went to the Swayambhunath temple. At 2 o'clock (Nepal time) the master of the temple blessed the pictures of Guy that I had with me and some prayer flags and incense. This was a very moving experience, and the point at which I said goodbye to Guy.
I also lit 100 yak butter candles, and the incense. The incense was taken by one of the monks, he walked around the Stupa turning the prayer wheels, and stopping at each icon to pray.
I had four pictures with me, all similar save for one picture on them which had a picture of Guy and friends in a specific location. As I made my way up the valley I sought out these places and with the permission of the owner hung a picture there.
Each time I hung up a picture of Guy, I took a moment of time to reflect; about life, friendship, and the things that are important. Each time I said goodbye to Guy it got a little easier, and my memories rather than being tinged with sadness, returned to being happy ones. In this part of the world, Guy will always be alive to me, because the memories are so strong.
I was very pleased to meet Tim along the way; it made it all the more real.
Kevin Adams
---
Dear Tim and Becky

This was very upsetting news of Guy death. My husband Ronald Chambers 675 Wpg Police Officer Died of Cancer September 1st 1999 with Guy by his side. Guy was his loyal partner and our dearest friend. Guy was very strong about helping out with the planning of Ron's death as it took a special place in his heart it was the hardest thing he had to do. I know I could not have done all the things with out him. I think thats when he new that was what he wanted to do with his life. A very caring man with a heart larger than the Mountains he climbed.

You had to be a good friend to be able to climb with a man like guy.

My thoughts are with his Family & Fellow climbers as I know what a great loss he is .

Thankyou for taking the time to read this.

Ms Donna Chambers

Ps I had a picture of Guy & Ron on my wall for 12 years now it will remain their always.

Dear friends at Peak Freaks,

On behalf of the Winnipeg Police Service Forensic Identification Unit, I would like to thank you, and all of Guy's fellow climbers, for everything that has been done for Guy. It is clear that his untimely death has affected every one of his team-mates past and present, as it has we who had the good fortune to know and work with him. We will miss him beyond what my feeble words can express.

The following is part of a tribute page we have started on the Winnipeg Police Service internal PoliceNet.

All of your comments about Guy have been included for all WPS members to read. …

"On October 4, 2008 members of the Identification Unit learned the heartbreaking news that Cst. Guy Leveille #1647 died accidentally in the Himalaya Mountains of Nepal and Tibet .

Guy was on an expedition to summit Cho Oyu, 20 km west of Mount Everest . In Tibetan Cho Oyu means "Turquoise Goddess." It is the sixth highest peak in the world.

Guy's passion for mountaineering started about 5 years ago when he visited Everest base camp. He quickly became a competent climber and has challenged himself on some of the most difficult peaks in the world; Ama Dablam, Aconcagua, Rainier, Athabasca and others in the Canadian Rockies.

His passion for climbing was tempered by a resolve to help the less fortunate and he climbed for the Children's Wish Fund.

Guy was a dedicated police officer. He joined the Winni

peg Police Service on January 23rd, 1989, and served in Patrol, Youth and Traffic Divisions, and most recently, in the Identification Unit. He was an expert in his field. His service has been exemplary and in the Identification Unit he raised the bar for excellence

.

He was respected not just for his professional abilities but for his strength of character, sense of humour, humility, and selfless attitude. It made him a person you enjoyed being around and one who you wanted to have in your life. We were proud of Guy's accomplishments. He has touched the lives of many. His friends in the Identification Unit are heartbroken that he will not be returning. We wish in vain to hear his laughter, his tales of Kathmandu, of Tibet , and of the mountain.

A huge void remains in the lives of his family and friends. Guy will be sadly missed, but fondly remembered. He was kind, warm-hearted and sincere. A man we are proud to call friend. There was no gentler, stronger, or manlier man than Guy Leveille.

At the request of his family, Guy rests in the embrace of Cho Oyu - "Turquoise Goddess" in the shade of mighty Everest.

The mountain is his tomb; and the Himalayas are his monument."
---
Becky
I heard about Guy's fate last evening and spoke with his mother shortly thereafter (his brother Allan had sent an e-mail asking me to call). What a terrible situation! I had been naively assuming that the three of us would have more opportunties to duplicate that time in Canmore, with Tim expanding our experiences and giving us "hell" for our inadequate snow anchors! Guy was polite and considerate beyond belief with a heart bigger than any mountain he climbed.
I can only imagine what Tim's response would have been upon hearing the news, followed by an avalanche of inner questions (and perhaps anger?) about how it could have happened. And I really feel for him. Guy had the utmost respect for Tim, as a person and as a professional.
Dr. Jim Hansen - Calgary
---
Dear Friends,
Our hearts go out to the family and friends of Guy Leveille who has so tragically died on Mt Cho oyu. Our friend was also climbing with the FTA group and we have been following developments as closely as possible from here in London UK. Reading the reports what Guy has done for others, raising funds and risking his own life for the sake of others made him a truly remarkable man. Could you please send me a link to his fund raising for this trip as we would like to make a contribution and help him in some way to reach his goal. We cannot express our sadness enough at this event and wish you all strength and condolencies at this terrible loss.
Our deepest sympathy,
Ian and Kasia Cummings (London, UK)
Very very sad news.... I remember him well, good mate, the one you can trust the other end of your lifeline...
;( Aldas Baltutis - Russia
---
Dear Tim and at Peak Freaks
Fiona and I were distressed to hear about the death of our friend Guy Leveille.
We met Guy in 2005 on a mountaineering skills course in the Rockies. We hit it off straight away. Guy was just starting out, and was full of enthusiasm and fun. We stayed in touch thereafter and, after a number of plans that never quite came together, we were hoping to meet up this coming summer in the Alps.
In the las couple of years we have received Guy's news and photographs of his ascents with admiration. His last message was just before he left for the Cho Oyu trip and was full of eager anticipation. I have no doubt he died doing what he loved; it is so terribly sad he should lose his life in this way. He was, by the by, a gentleman.
We will be thinking of him. Our condolences go to all his friends and family.
He spoke very highly of his friends at Peak Freaks.
With very best wishes
Stuart Alland and Fiono Murphy- Edinburgh, Scotland
(or to Guy: "Rubber Chicken Mountain Rescue')
---
Tim and Becky
It was such a shock to hear. Guy was such a great person - so much fun. I can't believe this has happened....

It's just so sad.

Clare Newman from the UK.
---
Tim and Becky
It was such a shock to hear. Guy was such a great person - so much fun. I can't believe this has happened....

It's just so sad.

Clare Newman from the UK.
---
Becky,
I'm in shock. He was one of the nicest blokes you could ever hope to meet. There were a few of us that got really close on that Ama Dablam trip. I can't believe he's gone. He sent me a lovely email just before going to Cho Oyo. It's just tragic, tragic.
Kevin Adams from the UK
---
Becky, I'm shocked to hear this news. Guy was such a genuinely nice guy. Please pass on my sympathy to Guy's friends and family (if you are in contact with them) and to Tim. I would appreciate hearing more about what happened if you receive any further news
Matt Boylan from Singapore
---
I had read on the FTA web site. I am stunned. We certainly had some
plans in the works and along with Guy H was one guy I will always keep
in touch with from Ama. I am shocked and stunned. Deeply saddened by
the news.

Keep in touch, I am at a loss for words to write right now.

Mark Johncox from Vancouver, B.C.
---
I am totally shocked and just can't believe this has happened. I was in touch with Guy a few day. Is before he left and was looking forward to hearing from him when he was back in Canada. I had been watching the FTA blog closely over the week and became concerned when there wasn't a post for a few days. I did not have a chance to check it over the weekend and now I jusst feel totally devastated.
Laura Rochacewich- Canada