November 11, 2007
AMA DABLAM IS NO LONGER SAFE! Global warming is to not be taken lightly when playing in the mountains. Taking risks that we feel we have little control over is not what Peak Freaks is about. We are moving our Everest training climb to another Himalayan peak. For immediate information on the move you can email us or check back here in the next few days. We like the change, you will like it, our Sherpas and their families like it and your family will too. As mountain safety professionals with a 100% flawless safety record, we intend to keep it that way. Read Tim's full assessment here:
Oct 25, 2007- In Kathmandu
As suspected the team is ripping it up having a good time in Kathmandu. Our guide in training, Paresh Shrestha has just opened the first climbing gym in
Kathmandu so the team spent the their first day playing there. That evening they went to Dendi Sherpa's new restaurant he just opened. Dendi is our climbing sardar of several years and just recently married and has new baby of 6 months old he wanted to show off to the team. The team is busy doing shopping and trying to organize early flights out but most airlines are full so it is a waiting game at this point.
Some of the members have headed down to the Chitwan Jungle to do an elephant safari and if time permits they are talking about doing a rafting trip on the Trisuli River which will be great fun. Many people come to Nepal to see and climb or hike the mountains. But Nepal offers so much more that usually gets bypassed. As for Tim, it is all work for a few days dealing with post expedition details.
I have included a photo of four of the five that summited Island Peak and a photo of the Ama Dablam team members at breakfast in BC. Thanks Nic for the shots!
Nic is the one taking the picture of the Island Peak team. Remember, the honeymoon couple? That's them!, Karena from Calgary to the right, then Sona Sherpa, Walter Hopf from Edmonton and then Jangbu Sherpa. Good work team!
Tim will have a final assessment of the climb available here upon his return from Kathmandu. Until then, over and out. I won't be reporting anything more as the team
is making their way home over the next few days.
As for Peak Freak's we will keep on playing. Our next climbing expedition is to the top of Kilimanjaro for New Years, Aconcagua in February and skiing and teaching Avalanche Courses all of December and January and come March, it's back to Everest.
Namaste and Tashi Delek
Becky
Oct 22, 2007- In Namche Bazaar
The team has left base camp and are now making their way back to Kathmandu. We will cover a bit of the parties in progress ""when available" and if suitable for the internet. :-) They were in Namche yesterday having "too much fun" and will fly to Kathmandu on Oct. 24.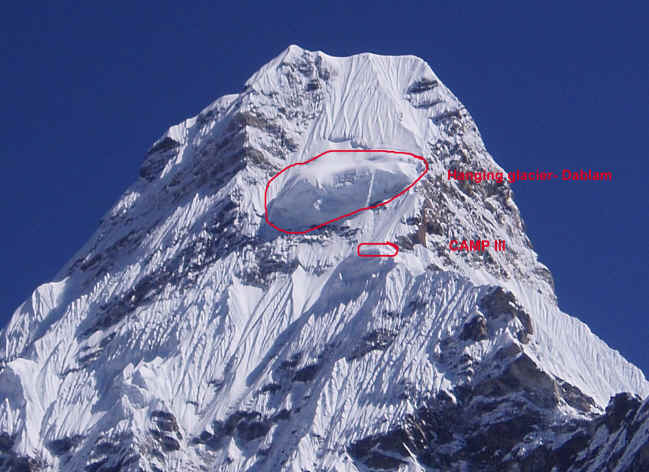 Photo taken last year- Oct. 2006 just before the chunk fell off the Dablam landing on Camp III killing 6 climbers. Photo of Tim fixing rope under the dablam to help but it into perspective.
Oct 19, 2007 - 2130PDT - Global warming and the mountains? Things are changing and changing fast.
Rick, Michael, Grant and Akira have just woken up from their sleep at Camp II and are heading down to ABC right now. They didn't get any rest at Camp III the night before so have decided to rest at CII. There is no danger of ice fall or avalanches between CII and base camp and CII is perfectly safe. There is nothing above them where they are. Hugo booked it all the way to base camp and is joined there with Tim, Steve and Hans. The sherpas are bringing the gear down and the yak team has been ordered and flight arrangements are being made out of Lukla.
Many teams are packing up and heading out while some are still indecisive. There is talk of a team with a couple of very strong climbers discussing the possibilities of attempting to summit from Camp II eliminating a night at Camp III all together.
The effects of global warming in the world of mountaineering is changing fast. Roads in mountainous regions around the world are being blocked from avalanches and mudslides, The Swiss Alps' icy soil that glues its rock faces together is thawing, causing instability and this is a concern for the future of Ama Dablam. It is quite obvious that the hanging glacier "dablam" will be coming down. But when? Already, Switzerland's Matterhorn had to be closed to some climbing at times because of recent summer rockfall. The Eiger at 3,970 metres above sea level is one of the most renowned mountains in Switzerland, with its north face offering a major challenge to climbers. Just recently it lost a large part of its feature when a huge rock fell off.
Climbs scheduled this year on Mount Cook were all cancelled to the top of New Zealand's highest peak because global warming has made it too dangerous. The Linda Glacier, the most popular route to the 3745 metre high summit, which would normally be 10 metres thick, was now wafer-thin and climbers had to use a track with ice cliffs prone to avalanches on either side. .
Now we are concerned about the future of Ama Dablam's popular route. What happens when the ice is gone, the glue? Then there will likely be rock fall to deal with for sometime.
Tim ended his conversation with me this evening by saying his favourite line. "Oh well, the mountain isn't going anywhere" then he stopped himself and chuckled with the new realization saying- "BUT IT IS' , "IT IS MELTING". hmmm?
Stay tuned!
Becky
Oct 18, 2007- SLEEPLESS IN CAMP III.
Everyone is safe but.......
Educated risk and decision making is why we believe we have a flawless safety record. Last night could have changed things. But we do have choices, educated choices, and after reading you will understand why the expedition is officially called off.
Camp III is very small with no place to go if things start coming down from above. As it turns out, the first summit team had "zero" sleep last night. Avalanche after avalanche of ice chunks pounding down too close for comfort and no place to go. Hugo our most experienced climber of 20 years, a solo on Denali, Cho Oyu and pneumonia on Everest and who just recently lost his climbing partner on Kanchenjunga tells Tim over the radio "this could be it ". If you recall we talked earlier about the bad vibes one of our Sherpa's mother had because of the problem area on the mountain, the dablam, the chunk that broke off last season landing on Camp III killing 6 climbers. This area is still too unstable for comfort. We believe it has everything to do with global warming causing the ice to release from the rock. We had hoped it had settled since last year but apparently not. A Russian team went up yesterday and on their way down discovered their rope had been ripped off by the movement. They are the lucky ones! They got their summit and made it down safely.
There are huge expeditions on Ama Dablam again this year. Some teams are 40+ members and there are a lot of heads in hands this morning contemplating what to do. Tim looks around as he is talking to me and says " there are several climbers packing up and heading down right now and our team will be in that number". It will be interesting to see what develops over the next few days and we will be covering it for a while.
Some of our members have no hesitation in packing up and getting out of there. Then there are some that ponder the what if, maybe I can? But the energy is not favorable right now among the Sherpas or the experienced. After some time to think everyone agreed to call it a climb. After all this is a training climb and these climbers have just learned lesson #1- decision making. In our opinion- the most valuable tool in mountain climbing.
But hey! fun is what climbing is about and they certainly did have a lot of that. A friend of mine had a good way of putting it "if it were all about summiting the sport would been called mountain summiting and not mountain climbing. :)
Right now Dendi Sherpa, Jangbu Sherpa, Hugo, Grant, Michael, Akira and Rick have packed up and are coming down from Camp III to spend the night at Camp II. Tim, Paresh, Steve and Hans will vacate Camp II moving down to ABC to make room, and together tomorrow they will all hike back to base camp.
A chang party will be in order at Peak Freaks base camp tomorrow evening. Chang- (sherpa rice wine), to me it is like sake and served warm too!
Be happy your guys are all safe, I certainly am.
Stay tuned!
Becky
Oct 18, 2007- GOING UP!
No time for sitting around was the impression I got last night- (Tim's morning). It was about 10:00am Nepal time when Tim called in. He didn't take the time to stop and talk. Instead he walked the talk. He just kept on boot'in it up with the sat phone in hand talking to me. Amazingly enough he didn't sound winded at all. That is how proper acclimatization is suppose to work. I could hear the ground beneath his feet. Hiking with him was Steve, Hans and Paresh (our Nepalese guide in training). They were moving fast to ABC where they would then change over into their climbing gear and then they would be heading straight to Camp I for the night. Camp I at that time would be vacant now because Hugo, Grant, Michael, Akira and Rick were on their way to Camp III. And early tomorrow morning Nepal time they will be making their summit bid.
Tim says the weather is amazing. Beautiful blue sky. He was giggling at how lucky they have been with the weather. He said he could see Ang Pasang and Kami Sherpa just above the rock on the face half way up the face punching in the trail to summit as he was speaking to me. He couldn't see our first wave members from where he was but he knows they were on their way up to Camp III at that time.
Because we are in the heat of climb I will be posting again this evening after I hear from Tim and the team.
It looks like the team may be in Kathmandu for Halloween so I wanted to share the photo below with you. We introduced Halloween to Nepal for the first time back in 1998 after the successful summit of all members on Ama Dablam. Try explaining what they were doing to the locals. Fortunately the Nepalese people are very playful and they joined in with our celebration and parade down the streets of Thamel. Many asking "what are you doing"? When we tried to explain it, which was difficult I must say, and we know we didn't succeed in that part, but they decided to join in our fun anyway. Boys just wanna have fun and they certainly earned it.
Trekker update! All Everest Base Camp trekkers have safely arrived back in Kathmandu and were out for a night of local culture, dinner and dance last night or should I say now?
Oct 17, 2007 - Namaste from Ama Dablam BC and Karena!
The news today that first came via Jangbu Sherpa then an email from Karena who is now in Namche Bazaar. There have been successful summits on Island Peak! Walter, Karena and Nic have all summited and are now enjoying life in Namche Bazaar, the rich air some treats from the bakery. I have included Karena's email below.
Hi Becky,
just a quick note that Walter, Nic and I are back in Namche. We all made it to the top of Island Peak. It has been a great trip and we are sorry that it is almost over. Of course we'll be spoiled in future having the whole kitchen with us at ABC Island Peak.. Karena
Congratulations out to the team for their hard work and success. Karena and her new husband Nic from Calgary are on their honeymoon. What a great way to celebrate by topping out on Island Peak together. On our 1996 expedition "the first Canadian expedition on Ama Dablam" Tim and Carrie Thurston from Nelson B.C. married at Pangboche after the climb. Lama Geshi married them "sherpa style" it was great fun. When Tim returned to Kathmandu last year he was invited to a wedding of a Nepalese couple that were married on an elephant. This is quite significant in Asia as the elephant symbolizes, wisdom, good luck and strength. Hmmm, now here is a new concept for a Peak Freak adventure- Extreme Weddings!
Oh, sorry, back to some very important news! SUMMIT PUSH IS ON ! ! ! Hugo, Michael, Rick, Akira and Grant are on the move. The team is ahead of schedule. The five climbers left in the morning Nepal time up to Camp I ( now sleeping), tomorrow Camp III and then a summit bid on Oct. 19. Tim, Steve and Hans will follow in the next day or two. I am not sure what their schedule is yet but I will let everyone know when they leave and more information on the progress of the others as I get word. So hold on, exciting times ahead for everyone. Tim says the team is strong, high energy and doing well with all aspects of the climb.
Stay tuned!
Becky
Oct. 16, 2007- Namaste from Base Camp!
Tim reports in: Actually he reported in yesterday too but all I got was "we are all fine, we are in base camp and tomorrow we are resting at BC" then " caaaaaaaaaaaaaaa". Yip, we were cut off, my fault, slit my wrists. I didn't get the SMS card topped up with time for the sat phone minutes. Sorry! :(
So, back to today's report. It is getting EXCITING !!! that was definitely Tim's tone this morning-his evening. They all came down yesterday to rest at BC. Meanwhile the high camp organization is in the making. Dendi Sherpa and Gumbu Sherpa are up at Camp II and pushing up to Camp III tomorrow with tents and equipment and our good friends who we worked with in 1991 on Everest North, Ang Pasang Sherpa and Kami Sherpa are working just below the dablam (hanging glacier) right now fixing the route that leads to the summit. Once this is fixed it is up up and away.
Today the climbers enjoyed a relaxed day at base camp playing bocce ball, reading books, updating their diaries, doing laundry while snacking all day long to build up their energy for the big day.
The summit push days are now set for Oct. 20 and Oct. 21 and they all appear to be ready for it. The mountain was described as being in excellent condition. Tim says there is hardly any snow on the route until today that is. They had an entertaining storm with thunder and lightening and the electrical output has obviously jazzed them so the first wave is heading up tomorrow to prepare and be in position for the Oct. 20 summit push. The storm put 4 inches of snow on the mountain followed by beautiful sunshine which melted it all off later in the day.
I don't have the names of the first summit push team as it won't be decided till morning when everyone wakes up and has had the chance to do an assessment on how well their rest went. I do now that Hugo Searle will be in that number. Hugo is our most experienced participants this year. He has been climbing for 20 years. His high altitude experience includes Cho Oyu, a solo on Denali and an attempt on Everest via the north ridge last year but was turned back due to developing pneumonia. Tim tells me that all team members are inspired his experience and stories.
That is it for now as I want to get this report out to all of you who have probably been checking quite often in the past 24 hours for some news. Enjoy! Becky
PHOTOS: Left: Team enjoying the view. Right: A photo from our 98' expedition of Canadian climber Frank Lutick taking a breather who at the age of 50 held the record for the oldest Canadian to summit Ama Dablam. On the same expedition we also held the record for the youngest Canadian - Dan Rollert 19 years old from Quesnel B.C. and Bonnie Hooge from Prince George, B.C. was the 3rd Canadian woman to summit. The entire team 8 out of 8 summited. This year if Hans Korn from the Kootenays summits there will be a new record to beat of 69.
Oct. 14, 2007- Update from the trekkers!
All healthy happy and lov'in it in Namche Bazaar, perhaps a little skinnier though!. Altitude has a way at eating away at fat and this is one reason we suggest to our altitude climbers to bulk up as much as they can a couple of weeks before they arrive. Fat is fuel for staying warm..
Thanks again to Paul Pargeter for organizing the photo dispatch. The trek team was successful in reaching Everest Base Camp on Oct. 11, they climbed Kala Pattar on Oct. 12 and Oct. 13am where the photo is taken from they were just leaving Dingboche to Namche Bazaar where the photo dispatch was sent from. . Paul reports that the weather was great, great photos and everyone is healthy. It is now our morning Oct. 14 and therefore the team should now be sound asleep enjoying the rich air either in Pangboche or are still in Namche Bazaar. We had built an extra day for inclement weather and/or acclimatization if needed but it appears they didn't need it as they are ahead of schedule. Not sure who made it how far. We provide options for trekkers to go their own pace. Should they become tired or need more time to rest, they can. Everyone's goals are not the same and we acknowledge that and keep our itineraries flexible for that reason. Sounds like everyone is fine form though.
Parting from the trek team at Dingboche was the Island Peak team who joined everyone up to Everest Base Camp and Kala Pattar. They are now well acclimatized for their ascent of Island Peak. There summit day is set for Oct. 15 and their arrival back in Kathmandu will be Oct. 19. Well after their new friends have already departed Kathmandu for home. The photo below was likely their parting photo.
We won't have a dispatch from Ama Dablam today. The climbers are hard at work on the mountain and time of writing resting Camp 1 after working on Camp II today. No news is good news! Other than I know they are very tired right now....
Stay tuned and I hope you enjoy looking at these familiar faces...
Becky
Everest Base Camp Trek Team and Island Peak climbers say goodbye at Dinboche.
Oct 13, 2007- Update from ABC
What about Rick? I forgot to update Rick's location yesterday. He also went to ABC and is doing very well with all aspects of the climb. He had caught a bit of cold from his international travels but the team pulled together at Namche Bazaar and helped medicate him and made sure he had plenty of rest. By the time he got to base camp he was is in primo condition and ready to climb.
The team who was at ABC last night all went to CAMP I today and are currently resting in ABC. Tomorrow they will climb up to CAMP II and then retreat to ABC and then BC the next day for a much deserved rest. Hugo, Michael and Grant having already been up to CAMP II will retreat to BC tomorrow. Everything is moving along well this season. The weather has been cooperating so far. However, it will be only one of the determining factors of the teams success, the other two being stamina and health.
The progression will be for everyone to be acclimatized comfortably at CAMP II which will take another rotation to base camp for a rest. Once CAMP III is in place and everyone is acclimatized the summit bids will begin. CAMP III is yet to be established.
We are anticipating summit bids will take place sometime between Oct. 19 and Oct. 23. We have added extra days for inclement weather should things change giving everyone their best shot possible.
Have a great weekend! I will post some photos of the route up to Camp II tomorrow. The fun part of the climb.
Oct 12, 2007 – No news is good news!
Due to a lengthily power outage here at home I was unable to receive a call from Tim yesterday. However we connected last night and all is good. Life at base camp yesterday was restful and educational with a second rotation of oxygen use demonstrations for our aspiring Everest climbers and technical skill reviews.
There is much movement on the mountain today. Camps are starting to be assembled at Camp II and sights are on establishing Camp III in the next few days. Grant and Michael from Vancouver and Hugo from the US moved up to ABC and spent the night. Today (Nepal time) the trio went up to Camp I and returned to ABC. They were later joined by: Steve from the US, Akira from Japan and Hans from the Kootenays and eventually Tim joined the entire team after completing chores at BC. This is their first on mountain acclimatization sleep.
The conditions on the mountain look pretty good. The snow line is lower this season than it has been in the past years but the higher you go the less snow there is. There has been snow at BC and at ABC which is uncommon but it has melted now and there is no snow on the route up to Camp II, which is odd but good.
Ama Dablam: What is in the name: "Ama" means mother, grandmother or even world. "Dablam" means charm box, and is a special pendant worn by elder Sherpa women that holds precious items. The mountain has a hanging glacier that resembles a dablam and the extending ridges are outstretched like a maternal embrace."
Last year on November 13th well after our expedition had departed a piece of the dablam known as serac in western terms broke off and landed on Camp III killing six climbers. This created a bad omen among the Sherpa people. So much so that a mother of our youngest climbing Sherpa forbids him to climb this year, understandably so. No one has been up since to assess the changes it has made to the route. Tim had commented to me earlier that he feels the desired route should be safer now that the serac fell off.
The on mountain conditions look favorable so far. Tim reports more snow than normal at lower elevations but the higher up there is less than normal. There was snow at ABC and BC off and on, but it melted and no new snow higher up during these dumps. The route to Camp II our climbing sherpas report no snow, this is good news! And higher up no new snow reported recently either. The majority of the weather is still settled in the lower elevations which is caused by the pulling out of the monsoon. The cold winter air moving in from the Himalayas is pushing the heavy wet monsoon weather down the valleys. They can see down the valley from ABC to Lukla and it has been completely socked in for several days now. Climbing above the clouds! This is when you know you are high.
Everything is moving along as it should. Big hellos out to everyone at home from the climbers. They are starting to miss all of you very much as life in this remote and hostile environment does take its toll on them. We try to help making it feel not so hostile and remote. We provide music at base camp, heat, led quiet lights, solar patio lights outside around camp and then the service from our Sherpa staff makes it all feel like a holiday and not all work. Your morning starts with a quiet voice, half singing "Namaste" outside your tent as you awake to a hot cup of tea being delivered to you. Not so bad!
I will be posting some photos later this weekend and we should be getting a note delivered to BC shortly from the trekkers and Island Peak soon from one of our Sherpas who is connecting with them. Stay tuned!
Good night from everyone at ABC and Paresh and Jim at BC.
---
Oct. 10, 2007 Sleepy in base camp!
Today the team went up to advanced base camp at (5424m) and are now back at base camp tired but all are doing well. Our sherpa staff carried on up to Camp I (5975m) and established camp here today. Tomorrow they will carry some rope up so we can start working on the route to Camp II (6326m). Camp II is where the real climbing begins.
Tomorrow we have a rest day to allow time for everyone's bodies adjust to the new altitude they experienced today at ABC. For tomorrow we will do demonstrations on the PAC- personal air chamber used mainly on Everest to stabilize a climber should they encounter difficulties with acute mountain sickness. The treatment for AMS is to descend but this is not always possible when mountain climbing and especially at high altitude climb. The climber may be suffering from fatigue, injured or inclement weather doesn't allow for movement. The altitude chamber has the ability to simulate a descent of up to 900m. Refer here for information on the PAC or Gammow Bag. There will be oxygen use demonstrations and more technical training over the course of the day tomorrow.
Good night from everyone at BC!
---
Oct. 9, 2007- QUIET AT BASE CAMP!
Tim checks in: Though large teams are pulling in each day Peak Freak's base camp is quiet today. Our Everest Base Camp trek team and the Island Peak have departed to continue on up the trail to achieve their objectives. I am told it was a sad parting as the group has become all good friends during the past few days. Tonight the trek teams will sleep at Dugla 4995m after taking in some breathtaking views along the way of the North face of Ama Dablam and the Lhotse-Nuptse ridge before making a sharp left turn on up the Khumbu Valley. They will cross the drainage coming out of the Khumbu Glacier today before arriving at Lhakpa's house. Dugla is not a full time village. It has one house and is used mainly for a rest stop for trekkers needing more time to acclimatize before heading up to Lobuche. Most overnight in Dingboche, but because our teams spent time at Ama Dablam base camp they have established enough altitude for acclimatization and can push a little higher.
I used to like the old house in Dugla. There were tiny little rooms with sod placed in the little squares as the bedroom floor. The bed was a rock platform piled high with Tibetan carpets. I found the sod floor to very cozy and warm and so were to the carpets made from yak wool carried over the pass by the Tibetan nomads. Today it has a wooden floor the rooms are much larger and beds are board with a thin mattress. It is not nearly as warm but looks appealing for the western traveler. We are not too practical are we? I also remember the only water was unfiltered water that came from the river rushing buy. This water came right out of the Khumbu icefall and was filled with crunchy silt bits. The drinking water was boiled here but you had to allow enough time for the debris to settle. I remember one time almost breaking my teeth on a potato that had harbored a chunk of the glacier inside it through the cooking process. Ouch… And not to forget the outhouse toilet, it was the best! It was constructed with stone and had a wooden door but no roof. It was a great idea for odor control and the view was pretty darn good too.
At Ama Dablam BC: Hugo returns from his trip up to ABC in fine form. The Everest Training camp was underway today performing skill reviews and learning some new ones. Our sherpas and some team members under the guidance of Timalaya (new nickname for Tim) will head out tomorrow morning to ABC and the sherpas will head up to start establishing Camp 1. There are no fixed ropes in place or camps above Camp 1 at the time of this dispatch.
Good night to everyone back home!

THE OLD KOOT from the KOOTS.... Meet Hanspeter Korn a lifetime Kootenay resident and adventure extraordinaire. Hans lists of adventures are long. Hans is the elder of this seasons Ama Dablam climbing team at the age of 69. Some say it is ithe water (could be?), but we believe it is the healthy lifestyle we are fortunate to enjoy here in the Kootenays. A couple years ago we attracted another Koot from the Koot's Norman Thyer who successfully climbed Island Peak at the age of 73. Then there is my friend Maxine Werner, what is it now Max, 65? I know your are reading this, busted! Maxine has traveled solo around the Himalayas and is now planning something outrageous in Ladakh. She is going to look for Cynthia Hunt, another Kootenay resident doing amazing things in remote areas of the Himalayas. You must check out the DVD "Magic Mountain" if you get a chance, a Pat Morrow production (Pat also a Kootenay resident). The film won the Best Canadian Mountain Film and the Peoples Choice award at the Banff Mountain Film Fest. If Maxine survives the winter in Ladakh she has hinted that she may end up meeting Tim and the team on Everest by spring. Good luck out to Hans. Pull up your socks you young 'ins on the team.
There are other old farts this year too! Check them out here
Oct 8, 2007- HAPPY THANKSGIVING to all of our Canadian families at home!
Everyone woke up feeling terrific. They marveled at their restful sleep in the tents and headaches were now behind them for the time being. A very healthy bunch this season. Some of the trekkers walked up to ABC to get a different perspective of the Himalayas and the disappearing Khumbu valley now far behind them. Training sessions took place at BC for the Island Peak climbers and the packing of mountain food duties were performed throughout the day.
Today was the big base camp Puja where Lama Da came and performed the ritual of blessing the climbers and their climbing equipment. Lama Da builds a little temple of sort made out of Tsampa (roasted barely flour) and tea. This is a staple for the Tibetan and Sherpa people. They mix the Tsampa with tea in a bowl. Make a ball and it is then ready to eat. Portable food. They also feed it to the yak's where there is no food available. But today Lama Da makes a temple of it and decorates it with food from the expedition supplies. Smarties are a favorite for decorating. Then the juniper is lit and the chanting begins. The climbing equipment is all piled in a heap as the smoke swirls around everyone and the climbing equipment to bless everything and everyone for a safe expedition. It is quite the spiritual sensation created by the smoke and you can't help but get into it. Everyone reflects on the environment around them, the mountains, the climb, the folks back home and more importantly themselves. Mystical moments!
This evening Ang Karsung prepared Thanksgiving dinner. They had roasted chicken brought up from down the valley, potatoes, rice with veggies and sushi. Yep... sushi... it is one of our Peak Freak favorites, followed by Papaya for dessert. At the time of Tim's call everyone was in their tents hunkered down for the night.
Tomorrow the climbers and sherpa training sessions will begin except for experienced high altitude climber Hugo Searle who recently lost his climbing partner on Kachenjunga will be heading up to ABC tomorrow to touch the sky.
Good night, over and out from Ama Dablam base camp.
Tim and team
---
Oct 7, 2007- We have arrived at base camp!
After a our spiritual lifting Puja ceremony this morning with Lama Geshi every one has arrived at base camp! Reunited with the Everest Base Camp team and the Island Peak team. All climbers and trekkers are excited about their new digs. There was much laughter coming from the base camp tent this evening and some darn good food was being served by our master chef, Ang Karsung Sherpa. Everyone seems to be doing fine so far with the altitude. However, changes in one's body are usually not noticeable till night when you are trying to get some sleep.
Symptoms of adjusting include a headache that can be relieved by sleeping with your head elevated and insomnia for others. One of the odd reactions at altitude is a symptom called Cheyene Stokes. This can be quite alarming to your tent mate. As you relax and begin to drop off into a state of sleep, the lack of oxygen your body is receiving sends a signal to your brain to gasp for more air. This can keep the climber awake and sleepless which in time can wear one down. Or, some sleep through it fine but scare the heck out of their tent mate. For a moment it sounds as though your partner has quit breathing altogether and then suddenly he or she will gasp for air. Either way if these effects take place and in particular if you are sharing a tent, someone is going to get very tired. In time, as your body starts to adjust these symptoms will go away.
So this evening there will likely be some headaches and sleepy climbers come morning. Some will feel no effects at all, the lucky ones. There is no particular physical make up of one's body that would indicate who will have difficulties and who won't. It has everything to do with your hemoglobin, the changes that take place in the climber's blood and how they are able to adjust to it. For more reading on AMS (Acute Mountain Sickness) refer here.
We have quite the roster of staff who all play an important role in our success. The staff in Kathmandu managing every logistical detail coordinating arrivals of members, meeting them and getting them and their gear to the hotel and back and forth and months of emails and paperwork to make sure everything runs smoothly with the Nepalese ministry of tourism and more. To the yak herders and porters who transport our base camp equipment, climbing equipment and our participants personal gear. Base camp crew, cooks and helpers. Runners who go down the valley to freshen up our veggie and egg supply. Then there is all the behind the scene people, our mandatory Liaison officer who makes sure everyone is legal with permits etc. And of course the ones who are most note able, the climbing sherpas. Here is our roster for this climb.
Expedition Sardar- Ang Nima Sherpa

Climbing Sardar- Dendi Sherpa

Base Camp manager and cook- Ang Karsung

Base Camp assistant cook- Desh Kumar

Base Camp helper- Lhakpa Gelgan

Climbing - Ngima Sherpa

Climbing - Jangbu Sherpa

Climbing - Gumbu Sherpa

Climbing - Paresh Shrestha- in training.

Climbing - Sona Sherpa

Head yak herder- Num Phutti Sherpa
Also there are a dozen porters and yak herders whose names I have not been provided who all contribute to the expedition along with all the teahouse owners and helpers. Our ratio of staff and participants as you can see is significant. We at Peak Freaks believe in giving back to this wonderful country we play in by employing as many helpers as we possibly can fit into the budget while keeping our prices affordable. For us, it is all about doing what we love and being with the wonderful people of the Himalayas.
Base camp is stacking up with expedition arrivals from around the world today. A massive climbers village is developing fast over the next few days. Expedition leaders are teaming together to discuss fixing of the route and sharing rope and climbing Sherpas to get the job done.
The weather is still doing its normal sunny morning and cloudy afternoon pattern and should settle out in the next week. During this time Tim's climbing clinic will be underway for both our Sherpas and our climbers to insure everyone is climbing in sync. For more information on the clinics and techniques you can refer here: Mountain Skills Training.
We will drop you some photos tomorrow.
Becky
---
Oct 6, 2007- Namaste! (Nepalese greeting. Meaning: I greet the spirit within you). The Tibetan version is Tashi Delek. Now that the teams are above the Solu Khumbu, they will be meeting locals on the trail with a "Tashi Delek" a gentle nod and hands clasped.

Namaste from Tengboche

! The Everest Base Camp team and Island Peak have arrived in Tengboche, the bridge crossing was pretty straight forward as it has been temporarily repaired. We are looking forward to our chant with the monks early tomorrow at the monastery before reuniting with the climbing team at base camp. Everyone is doing really well. – Ang Nima Sherpa

Tim calls in from Pangboche: "Nima Dorjee and Lhakpani pass on a warm Namaste to all our climbers who stayed with them last year. We are now reduced to just the Ama Dablam climbers this evening but will meet up again with the EBC and IP trekkers tomorrow at base camp after our Puja with Lama Geshi. Our base camp was set-up today by our team of sherpas and the weather appears to be getting better each day.

Talk about meeting up with old friends in the mountains. Tonight I sat and sipped on a glass of chang (rice saki) sherpa style, with Simon Yates. Simon and I have
rendezvoused in the Khumbu and Kathmandu on various occasions". Who is Simon Yates?
Simon Yates was immortalized in the film and book 'Touching the Void', the now legendary story of Joe Simpson, a mountain climber who shattered his leg on the descent of one of the world's toughest peaks. Alone with Joe as they struggled to defeat the impossible and make their way down this man ultimately had to make a decision few of us could imagine-cutting his climbing partner Joe loose from the rope and leaving him for dead. As fate had it that choice ended up saving both men's lives and fuelled an incredible story of survival. Joe managed to climb out of the crevasse arriving nearby calling out just moments before Simon and the others pulled out of base camp. This is one of the best mountaineering films we have seen. It is real! There is no Hollywood in this story. The book is absolutely a must read!
Team above Namche Bazaar

Thank you Paul for the resend of the photo. Check out the grins at 3900m.
Oct. 5, 2008 at 2000hrs: Earlier this evening Paul went down to the Internet café in Namche to do the resend. He ran into someone that pulled out a business card and wrote a note on the back and asked that it be passed on to Tim. When Paul returned, he passed it on as instructed. To Tim's surprise it was from Peter Habeler. Who is Peter Habeler some of our readers might ask?
His one time partner, Reinhold Messner, used to say of Peter Habeler: -"He's like a sky rocket, really impressive once the fuse is lit!".

Born in the Austrian Tyrol in 1942, he took up climbing at the age of six, and the time he was 21 had become a certified mountain guide and skiing instructor.

In the mid-1960s, Habeler began a climbing partnership with Reinhold Messner. The two gained their first high altitude experience in 1969 with an ascent of the east face of Yerupaja, and first ascent on Yerupaja Chico in South America. In 1974 they climbed the Eiger north face in what was then a record time of ten hours. In 1975 their Hidden Peak climb turned the tide of high altitude climbing. The lightweight "fair means" ascent became the stylistic ideal. The first oxygenless ascent of Everest in 1978 was the last climb of partnership.
Tim met Peter on Ama Dablam in 1996, while climbing on the first ever Canadian Mt. Ama Dablam expedition. Tim had also met Reinhold Messener in the early 90's to get some insight on the effects of an oxygenless ascent on Everest he was preparing for in 1994.
In the spring of 2000, Peter returned to Mount Everest a second time, where he and Tim met again, Peter never made it to the summit due to fluid in his lungs and Tim had also turned back due to the freezing up of video equipment he was carrying for a client and unfavorable weather.
Habeler has climbed five 8,000 meter mountains: Mount Everest, Hidden Peak, Cho Oyo, Kanchenjunga and Nanga Parbat.

Today he runs his own alpine and ski school in Mayrhofen, Zillertal, Austria, founded already in 1973.
The Himalayas is truly a place of great reunions. Tim says today over the sat phone, "meeting up with old friends in the mountains is much more than half the fun of coming here time after time".
---
Oct 5, 2007- Hello Khumbu Chronicle followers
Tim reports in 0800PST. The group is all settled in at Tsedam Sherpa's house in Namche after a glorious day in Sherpa land. ( Many of our climbing sherpas live in Kunde and Khumjung). Kunde -3859m Khunjung- 3908m. This altitude gain today will assist everyone in their acclimatization for tomorrow to Tengboche at 3900m where the trekkers will sleep. The cilmbers will carry on to the village of Pangboche also at 3908m. The trekkers will visit the monastery there and chant with the monks in the early morning hours while the climbers will visit Lama Geshi's house in Pangboche for their private puja blessing.
Today we visited Ang Nima's home. (Peak Freak's Trekking Sardar. Ang Nima has been with us since 1991 where we climbed together on Everest's north side in Tibet). The group was all in fine form hiking up the 300m hillside to his home which looks directly out to the magnificent view of Mt. Ama Dablam boldly in front of us. To the left you can see Lhotse, Everest and Nuptse. After lunch with Ang Nima and his family we visited the Sir Edmund Hillary School, The Everest Bakery for a cup of tea and a donut before descending down the Namche for our last night out on the village. A little pee pool, some tunes and beverages are in order.
We would like to introduce Dr. Kambi Sherpa. Kami walked 6 hours a day back and forth to go the Sir Edmont Hillary school in Khumjung. Sir Edmund Hillary built the Kunde Hospital in 1965-66 with the assistance of the Lion's Club of Auckland, New Zealand, and Sir Edmund's friends who were working in Nepal as part of the Himalayan Trest. The New Zealand Government contributed financially to this project and up until just a few years ago it was manned by volunteer doctors from Canada and New Zealand who each did 2 year stints here. Now Dr. Kami Temba Sherpa born in 1959, the youngest son with three older sisters. Kami's father died before he was born. His high grades drew recognition from his teachers, and he was awarded a Himalayan Trust Scholarship to complete high school in Salleri, in the Solu Valley. (Solu being below Lukla), (Khumbu being above Lukla).
He returned to his village of Thami and worked as a teacher and part-time health worker. Kami took a job at the Kunde Hospital and worked there for the next 19 years taking on added responsibilities and expanding his medical administrative roles. The volunteer doctors at Kunde Hospital taught him a great deal over the years, but he knew he could never learn it all on the job.
In 1997 he was admitted to the Fiji School of Medicine where he did a year of general study before beginning his medical degree which he completed in 2000, graduating with an MB BS.
Peak Freaks Aid Projects Link - Thanks to Shanna Baker and Kris Rice from the Everest Base Camp team this season for carrying clothes to Nepal for the Hopeful Home project. Read how a box of tooth brushes and paste made such a difference.
Paul Parageter kindly sent a couple of photos of the group trekking today but unfortunately it was condensed too much to really make anyone out, but you can try! Good luck on that one...
Good night to all
Tim
---
Oct 4, 2007- Anyone know these people?
NAMASTE FROM NAMCHE BAZAAR!- Great day today, everyone did really well making it up to Namche Bazaar at 3440 metres..
A surprise arrival of Karena Theime and Nic Ranicar that were behind due to international flight interruptions. They decided to take a chance and go all the way to Namche in one day. Whew.. They are under close observation by Tim and instructed to lay low making sure they adjust to the altitude before going any higher. Everyone is feeling great. Today they caught their first glimpse of Everest from a little spot through the trees on the way up Namche hill. At the time of Tim's call, the skies have closed again and it was raining. This is normal post-monsoon conditions. Clear skies in the morning and raining in the afternoon. In the days to come the rain should stop all together. Should that is!
Namche Bazaar if about 9km and 6 hours of trekking from Monjo. Namche is the administrative center of the Khumbu region. We buy all our fresh fruit, meats and vegetables from here. This is the last chance for a hot shower before base camp. Tonight they will take in a game of Tim's infamous pee pool game at the local hall and mingle with with our Sherpa friends from the village. Tomorrow is acclimatization day with a visit to the sister villages of Kunde and Khumjung, home to many of our climbing sherpas.
---
Oct 3, 2007
CLOCK WORK- Our office in Kathmandu reported that all teams made it out of Kathmandu on schedule and our Lukla staff has reported they were all packed up and headed up the trail early yesterday morning Nepal time.
Tim calls in this morning (PST) to say the weather was very good allowing some excellent views of the Himalayas enroute to Lukla. Our good friend Nim Phutti was faithfully waiting with her team of Zomo's to load the gear on them. Zomo's are a crossbreed between a cow and a yak. They are specialized in the Khumbu by the Sherpa villagers living at altitudes between 7,000-11,000ft. The males are born sterile and the females are very fertile. They produce large quantities of rich milk for butter production. The Zomo's do better at lower elevations than the Yak who is accustomed to elevations above 11,000ft. The Zomo's are also preferred over the Yak's for carrying loads between Lukla and Namche due to the tight busy trail. This section of the trail is steep up to Namche with many porters carrying trekker bags this time of year and food stores for the teahouses. Passing a yak team on this section would be very hazardous as they are an extremely large animal and with duffel bags or expedition barrels strapped on them, a traffic jam is inevitable. Once they reach Namche Bazaar at 11,000ft they will be met by Ang Nima and his Yak's to carry the expedition up to Ama Dablam base camp.
Ray Bachman on the Ama Dablam team- Everest climber in training and retired commercial airline pilot was amazed at the flight operation in this mountainous region. The airstrip was built in the 1960's under instructions of Sir Edmund Hillary. Landing here there is no room for error. It is 1150ft long and rises over 100ft from the bottom to the top. Yes that is quite the angle Ray would say.
The airstrip was built by hand by several hundred Sherpas and was a dirt airstrip up until just a couple years ago when asphalt replaced the dirt. The sudden stop "reverse thrust" is very necessary; there is a sheer rock face reaching several hundred metres upwards at the end! The taking off is just as hazardous; it is then a downhill slope. The planes become airborne only metres from the end, with a 600 metre drop to the valley below. Exhilarating stuff!
Crossing over several suspensions bridges they have arrived at Chombi Sherpa's home in Monjo. The air is rich here and the sound of the Dudh Kosi river that they will sleep beside tonight, is just the ticket to get everyone adjusted to the time changes, and feeling terrific for the days that lie ahead. Tim say's it is so nice to be out of Kathmandu. From recycled international flight air to barking dogs, honking horns, pollution and the heat it all has taken its toll on the now weary team. Very hot this year in Kathmandu, 30C, whew!. At the time of Tim's call everyone was in bed, sleeping hard with the sound of the river rushing by their windows oxygenating them with wonderful clean mountain air. Zzzzzz...
They have no idea what they will wake up to tomorrow morning. The magnificent Thamserku of 6623m (21,729) will be boldly standing before them at sunrise.
| | | |
| --- | --- | --- |
| | | |
| Gear truck, locked and loaded, hmm? | Bridge over the Dudh Kosi to Monjo | Lukla airstrip |
| | | |
| --- | --- | --- |
| | | |
| Welcome to Chombi's house | Zomo | Yak |
OCT 2, 2007
ALL TUCKED IN- Tim reports from the rooftop of the hotel while looking on at a star lit sky. He reports that everyone is in their rooms rustling around organizing last minute packing detail for the 0500 airport pick-up time. They were happy to hear twin otters coming and going overhead today from various Himalayan mountain airports. Tim doesn't anticipate any weather related delays tomorrow. Everything looks good! Over and out, but not before passing on a message from Paul and Walter, Island Peak climbing members from Edmonton, Alberta.
Paul Neyka: Today I toured the city of Kathmandu, bought lots of gifts from street vendors. Don't know how I'm getting it all home. It's very hot.....30C. We want to get on the trail. So far so good. hi everyone back home!
Walter Hopf: 29 hours in the air. It's been a very enlightening experience. Have all our gear ready to go. Flying out to Lukla to start our climb in the morning. Hi to all my family and friends and grade 3 class in Salt Lake City.
| | | | |
| --- | --- | --- | --- |
| | | | |
| Team Hotel in Kathmandu | Tim and Liz Hawley out on a date | Streets of Kathmandu | Tons of shopping |
OCT 1, 2007 - Let the adventure begin!
FULL HOUSE IN KATHMANDU- The weather has been unstable in Kathmandu these past few weeks. Fortunately we had a premonition about this and moved our expedition back by one week for this season. Thankfully, because every bed in Kathmandu is now full with climbers and trekkers waiting to get out to the mountains. Clear visibility is mandatory before landing or even considering dispatching aircrafts to Lukla.
Tim reports in from our Kathmandu base camp this morning! When Tim arrived a few days ago, the skies were not looking so good but he is happy to report that the lingering monsoon rains are now pulling back and all looks like a go for Oct. 3, the scheduled date for our chartered aircrafts to head out to Lukla. Our teams will all travel together. Not so fortunate for the independent trekkers that will have to wait their turn for seats to clear because of the back log.
One of Tim's sherpa buddies just came down from the Khumbu and reports there is a pretty good accumulation of snow on the Himalayas this year but it seems it to be settling pretty good.
We have two Island Peak climbers Karena and Nic who are delayed to a aircraft mechanical out of Canada. They have managed to find some seats but the pickings were slim so they will be catching up to their team in Namche Bazaar in a couple of days. Thankfully only two miss adventures. Could have been worse with reports of bad weather all over the planet right now.
Everyone else is experiencing sensory overload from the sights, smells and sounds of Kathmandu and bonding really well. Tim is excited about the make up of the teams this year. He says they are all already having "way" too much fun and hitting it off really well. Who said climbing mountains was hard work anyway?
Michael Albert writes: I love Kathmandu, this place is amazing!
Shanna Baker writes: We just finished dinner at the Third Eye (popular Tandoori restaurant) Kris are looking forward to some sleep.
So on that note, rest assured everyone else has arrived safely and enjoying life in Kathmandu.
Stay tuned!
Oh ya... the temporary bridge is now completed. Sorry, no side trips this year.
---
Sep: 11, 2007
Bridge Blow Out on the Everest trail- News from our Sherpas today that the bridge crossing the Dudh Kosi River at Phugitenga (between Kyangjuma and Tengboche) was swept away today. The National Park authorities are trying to build a temporary bridge ASAP but it may take some time. In the meantime our teams will take an alternative route via Phortse.
This is not the first time for Peak Freaks. During our 17 years of trekking and climbing in the Everest region it can be a common occurrence during the monsoon. We have even re-built our own from time to time. Just another part of the adventure in this remote environment that we all come to experience. Peak Freak's three teams arrive Oct. 1 in Kathmandu and begin trekking in the valley on Oct. 3. Let the adventure begin
---