DAILY REPORTS FROM THE MOUNTAIN SIDE
THE KHUMBU CHRONICLES
---
Nov. 7, 2010: Kathmandu: Helicopter crash in the Khumbu, Everest region.. Tim was sitting in our office in Kathmandu today when a call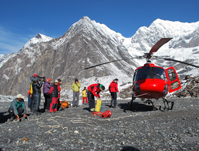 came in: Two people are missing after a helicopter crashed on a rescue mission in the Everest region of Nepal early this morning. The helicopter was one of the 3 new high tech AS 350 B3 high altitude machines that were brought to Nepal last spring and owned by Fish Tail helicopters.
It was on it's way to rescue two climbers from Mount Ama Dablam. Tim said he was told that one climber was successfully lifted and taken out. The helicopter and rescue worker were on their way back to pick up the second climber from in behind Ama Dablam when the wind hit the helicopter slamming it against the mountain.
The new helicopters were used for the first time on Everest south last year recovering bodies from days gone by, performing rescues and used for a quick trip out to Kathmandu for post Everest climbers.
The young pilot had gone through extensive training for this type of operation and is well known by some of our staff in Kathmandu. So sad, our prayers go out to both workers families.
SAD NEWS!... Lama Geshe has had a stroke. He is in Kathmandu hospital and seems to be improving. His son Jigme who is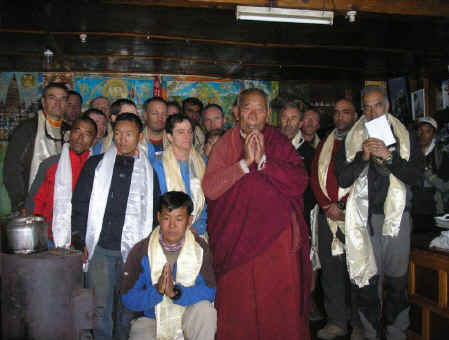 staying in the US with his host family has taken an emergency leave this semester at Nazerth College and is en-route to Kathmandu to care for his father.
Donations are being asked for and collected directly my Jigme Sherpa who serve as Director of the fund. 100% of donations will be utilized to benefit Lama Geshe and his family.
Those who know us know how dear Lama Geshi is to us. Tim is also currently on his way on his way to Nepal.
UPDATE OCTOBER 2, 2010- Lama Geshe
Hello Everyone,

My father is doing pretty well. I met the doctors yesterday and they told me that he had suffered Chronic Subdural Haematoma. Before admitting to the hospital he was motionless and could not talk.The doctors said that it was due to excessive amount of blood in the brain which pushed and squizzed the right side of the brain. My entire family believed he would not survive but now things are in control.

The doctors operated on him to take out the blood and clean the brain. After the operation, he was in ICU for 4 days. During the four days in ICU, rash developed on this bottom which was pretty bad but is getting better day by day. After the surgery, my sister said he could not even recognize her but now he can recognize most of the people who come to see him. He has been eating well. He can move his left side of the body well. His right side of the body at the moment is functionless but the doctors said that he will recover from that as well.

The doctors still believe that there is blood in his brain and mentioned that they would take those blood out in small amount in multiple periods because they fear that taking out blood at once could damage his brain and also might cause death because of his age.


Love,

--
Jigme Dorji Sherpa
Class of 2011
VP of Executive Operations (UA)

October. 6, 2008 EVEREST 2008 SKY DIVE TEAM MEMBER CRASHES- photos
October 5, 2008 -..Good friend Guy Leveille dies on Mt. Cho Oyu- more here..... photo etc.
MT. PUMORI 2008 SOUTH RIDGE EXPEDITIONS NEWS- Oct to Nov 2008-
MT. EVEREST SOUTH RIDGE NEWS - March to June 2008 - Photo Gallery
MT. AMA DABLAM EXPEDITION NEWS - SEPTEMBER 2007 - Photo Gallery
MT. AMA DABLAM EXPEDITION NEWS - SEPTEMBER 2006 - Photo Gallery
November- 2006 A large piece of the "dablam", Ama Dablam's hanging glacier breaks off killing 6 climbers at Camp 3. The members were 3 European climbers from a team not known at this time and 3 of their sherpas. Sad day!
October 23, 2006- GOOD CALL...
As feared the unfavorable weather signs came to past. At Lukla on Oct.22, only half the team made it out on the flight to Lukla while the second half waited and heard their plane coming in but it couldn't get low enough to beam them out. The clouds were setting in bringing with it a wicked storm. The storm that had been predicted. It rained hard all night on the climbers who remained at Lukla. Fortunate for them, the next morning a window came and they got out to Kathmandu. At the time of Tim's report they were all celebrating the Diwali festival, festival of lights, from the roof-top of Tom and Jerry's ( pub favorite). I could hear the fireworks that were apparently coming from all ends of the city. The laughter in the back ground indicates to me just how much fun the climber's were having. Believe me, they are having fun.
Everyone is extremely happy to be in Kathmandu after hearing stories of one of our past expeditions when we were stuck there for 5 days. I will tell you a little bit about it. It was at the end of the Everest climbing season and there were well over 300 climbers emerging on the small village of Lukla at which food stores were depleted because it was the end of the tourist season. Moral among some of the expeditions was low and they wanted nothing more than to go home at this stage of the expedition. Tim and I managed to keep the team spirits alive. We found an old 8- track cassette player, a battery and some old tapes. We even found a bar to host our function at and amazingly enough a strobe light. We located the house stash of Everest whisky, made a deal and a good time was had by all. Morning came quickly.
For the five days we were there, each morning we rose, packed our bags and pulled them out to the runway to hear our planes pass over head and return to Kathmandu for the day. Humor was found when we started referring to this daily ritual as ground hound day. A film on how everyday was the same staring Bill Murray. Peak Freak's had ordered up a private helicopter to get us out whenever the clouds decided to break because there were far too many climbers waiting to get seats. Our helicopter tried one day but with no luck. The next day just a slit opened at the right time in the fog and it landed and beamed us out as everyone from other teams watched on, ouch! The clouds were closing quickly and we could not go up so our helicopter pilot opted to fly down using the river as his guide. This of course was a much longer and risky route out to Kathmandu and because of that fuel was an issue. Walla..... everything seems to always work out in Nepal. We landed on a hill, and out of the woods came some boys carrying plastic containers with fuel. In no time we were on our way and safely back in Kathmandu just in time to quickly change our clothes and get on our international flight home with-in moments. A memorable trip!
So, when concerned about being weathered in Lukla as well as more snow being dumped on Ama Dablam. Both happened. When the team flew out this morning they saw the remains of large amounts of snow had dumped on Ama Dablam last night. The word of the day is.... GOOD CALL!
---
October 18, 2006- THE JOURNEY
One thing about life on a mountain... it's never predictable..
One of the most important lessons Tim tries to convey to Everest climbers in training is knowing how to be self-reliant when climbing; you can't always be guaranteed someone will be around to help if you get into trouble or if someone in trouble needs your help. For this reason the team arrived ahead of the crowds and took on the task putting the fixed lines in as part of the training program. There was one thing however he had not prepared them for, something quite new in the Himalayas.
The team was excited about the push to the summit when they left BC yesterday, despite the hard work required to set the route. Unfortunately, when they returned to Camp 1 they discovered their tents had been robbed of fuel and the equipment needed to climb.
The teamís progress was slowed due to knee-deep snow. As well, unfavorable weather signs may be indicating a change to come which could slow them down even more with new snow and the possibility of flights being delayed out of Lukla because of it. The team would need "at the least" two more days to fix the rest of the rope to the summit combined with the time it would take to replace stolen items, that would not leave them enough time to make their flights home. After an evening gathering and debate at C1 where all members were present, a decision to call it a climb was made so that everyone could make it back to their responsibilities waiting at home, on schedule, as the mountains aren't going anywhere. Peak Freaks has already secured security camp staff for next season. Unfortunate, but times are changing.
Many people believe that climbing mountains is all about getting to the top. If that were the case, the sport would be called mountain summiting instead of climbing. This team has much to be proud of: they tested themselves and their equipment under strenuous conditions, gained valuable knowledge, demonstrated ideal team qualities, made good friends, and enjoyed the unpredictable yet always rewarding journey, that is mountain climbing! Oh yes, and they had a lot of fun too!
Good work team Ė see you on Everest!
Congratulations out to Canadians - June Ray, Peak Freak Guide and Laura Rochacewich from Ontario who reached the summit of Island Peak- 6189m. Girl power, ya!
---
October 16, 2006- Sad news from Mt. Pumori, 2 sherpa climbers died in an avalanche; situated next to Mt. Ama Dablam in the Khumbu valley.
Two Sherpa climbers died in an avalanche on Mount Pumori on Saturday while there might be few more
casualties on the peak, officials at the Ministry of Culture, Tourism and Civil Aviation said today.
Ang Jabu Sherpa, 33 of Okhaldhunga and Phurba Thundu Sherpa, 21 of Dolakha, both members of the Latonia International Pumori Expedition 2006, were killed in an avalanche while climbing the 7161m high peak.
A few more casualties are likely as detailed information as not yet been received. The liaison officers of this expedition and other members of the expedition are trying to be contacted at the time of writing.
The 10-member Italian expedition was the only one on Mt. Pumori at the time of the incident.
Mt. Pumori is not as tame as she looks. Her sloping shoulders hold considerable amounts of snow that are easily triggered by climbers cutting into the load.
A sad day... our hearts go out to the families of everyone involved.
PHOTO: Peak Freak's Mt. Pumori Expedition 2004.
---
October 16, 2006-
9:00am Nepal time: I am corrected. C3 is "not" in place, the deep snow they have encountered has brought about more work and time than expected. There is still work to do. Ngima and Dendi Sherpa are on their way up to C3 to push through more snow. It is starting to be a bit worrisome as the higher the they go, the deeper the snow is getting. Tim assess the snow as being stable but deep and breaking trail to the summit will be slow going.
As a send off, the teams had a game of Bocci golf. Kevin Adams from UK took the game and designed a 12 hole course and called it Boccie golf. Dan Smith, living in Singapore from the UK, took first place, runner up was Ngima Sherpa and Lithuanian climber Aldas Baltutis got a hole in one.
Everyone's wishes of luck, good weather and health have been sent up the mountain with them.
Stay tuned!
Becky
---
October 15, 2006-
9:00pm Nepal time: Tim calls in to announce SUMMIT FEVER is in the air! The route to C3 is now in place. Tomorrow - October 16 Nepal time: Both teams will be pulling out of BC to position themselves for the summit bid. The weather has been amazing and all looks good for the push.
THE PLAN:
Oct.16: Team #1- BC to C2 Team #2 BC to C1
Oct.17: Team #1- C2 to C3 Team #2 C1 to C2
Oct.18: Team #1- Summit to C1 Team #2 C2 to C3
Oct.19: Team #1- Resting in BC Team#2 Summit to C1
Oct.20: Team #1- packing up Team#2 Resting in BC
Yak's arrive and time to go home!
---
October 14, 2006- Chinese military shoot Tibetan's crossing over the pass seeking refuge in Nepal! No news from base camp but big news coming out of Tibet.
I feel I must share this,
My heart is bleeding. News is slowly coming in from climbers returning from Tibet. Slowly because climbers on Cho Oyu have been trying to leave the country before they talk. The Chinese military was caught in action and on film by climbers on Cho Oyo of an assault on 70+ Tibetans crossing over the Nangpa La pass to seek refuge in Nepal. The Chinese poised and shot at the group who were forced to run up a 19,000 foot slope in knee deep snow. First the Chinese said "it was self defense" but now the footage is surfacing that tells another story. The group was led by a nun who was shot to death and a child and left on the slope. About 40 of them escaped and are now in Kathmandu, 16 children were captured and about 17 are missing.
This will bring about interesting debate on the future of climbing and tourism in Tibet. To follow this situation, see photos and learn more check here. http://www.savetibet.org
The Dalai Lama has always said that people should continue to travel to Tibet otherwise we would know even less of China's disrespect of human rights and how else will news from Tibet reach the outside world if not through refugees and tourists. Climbers say the Tibetan women and children were chased on to the glacier and hunted down like rats.
ISLAND PEAK group- Is in Kathmandu and have been celebrating their return in Thamel. Some are on their way home tomorrow.
AMA DABLAM teams- No news since the sat interference we encountered yesterday. Possible storm? wait and see.
---
October 13, 2006- Note from Simon. Simon left early to be with his wife for the arrival of their new baby.
Dear Tim / Becky,
Wow! What a fantastic time I had with Peak Freaks. The expedition went without a hitch, both incoming and outgoing. The quality of the 'hotels' and the food was excellent- considering we were in Nepal- as was the quality of the technical expertise in Tim, Mirek and Clayton.
Please send my best wishes to all those on the expedition and to the new friends that made, whom I hope to catch up with next year on my vacation in Canada chasing Tim down the ski slopes.
Good climbing and good luck to everyone!
Regards,
Simon
Below are some photos Simon has provided. #1- Everyone enjoying lunch on the trek in to base camp #2- Feeding time at base camp. #3- BC homes and company. Click to enlarge.
I had only a quick word with Tim this morning before we lost connection. Possibly weather related in the region. I also heard from other sources in Nepal that the weather was bad in Lukla this morning and this being why we haven't heard from the Island Peak team yet. They may be staying over in Lukla till it clears. No worries though for the Ama Dablam team as the higher elevation weather is holding. The push through to C3 is a bit slow and difficult as there is considerable snow on the route but the Peak Freaks team is managing to push through it and working hard. The summit window is now officially Oct. 17 and likely a second move on Oct.18.
Stay tuned for tomorrow's report.
Becky
---
OCTOBER 12, 2006- Photo: #1- Busy team at BC, recognize anyone? #2- Dan, Simon, Mat.
Tim Rippel reports in from base camp. Everyone is fine form. Today Mirek, Aldas and Tim were finishing
off securing the fixed lines between C1 and C2 and started the rope about halfway between C2 and C3. Tomorrow a joint effort by Dendi Sherpa and sherpas from another team will complete the rope fixing to Camp 3 while tents and provisions are being hauled up to stock C2 and C3. Once C3 is prepared and the climbers have a well deserved rest and the summit bids will begin. Currently the push is slated for Oct.17 or 18.
June Ray reports in: June and Laura age 25 a teacher from Ontario now living in Korea summited Island
Peak together on Oct.9, 2006. While other members were affected by symptoms of high altitude trekking, everyone is now together and resting in Lukla celebrating the richer air and their last night in Khumbu before flying back to Kathmandu tomorrow morning.
Simon reports in: Some hot gossip on Ama Dablam. Oprah insider spills the beans!
Kevin nearly lost his camera down the toilet hole after it fell off his belt and bounced twice before coming to a rest perched on the rim of the toilet plank hotel!- close call and he also said he was fully prepared to delve in and find it!!!
Vanessa- slipped up in the toilet cubicle!- yuk!
Matt- hung out his clothes to dry and forgot about them until morning when they were frozen solid on the washing line!
Clayton- put 4 spoons full of coffee in his cup thinking it was hot chocolate- and he still DRANK IT!
Clayton- still looking for someone in Kathmandu. You know who you are.
Mike- followed Mark down from ABC to look after him and then got lost for 4 hours and he was the only one with a GPS.
Dan- was the only team member to not have 'sacred rice' put in his packet from Lama Geshi- he took this as a bad omen and went back around for a second go with the Lama laughing his off!
Bald Dan- did not shave and was mistaken after 2 weeks as one of the ZZ top members, or was his head on upside down?
Clare- so ladylike, she walked 400m to dump her nightly pee bottle- very English!
Mark- vomited in his tent- nice one!
Jim - BC- had a 3 man trango tent to himself and said he needed more room- try the Hilton Jim.
Tim- had some John Denver music- enough said!
Vanessa reports in:
The Hopeful Home is an orphanage that houses 30 children. This is the home of Santi age five and her older brother age 9 who has never gone to school. They were placed here when their mother murdered their father. Santi's body is covered in sores. The sad part for Vanessa was to learn that since the mother was arrested no one cared for the children and they lived in a very remote village, on the street. When the manager of the Hopeful Home read the story in the paper he wondered who would care for the children. He went looking for them and found them alone on the street and brought them to the orphanage.
Vanessa has been working hard with the two children, making greeting cards to help them help themselves and has decided to sponsor Santi. Her brother Uttam still needs a sponsor and it is hopeful that this news gets out and we can find one for him. The cost for one child for one year in school, food, supplies and medicine is only $650US.
Here is what Vanessa has been up to:
Hey all,
just spent the the last few days at Hopeful Home again. I've attached a pic of some of them in their uniforms taken just before school today.
My day goes like this, I leave my hotel by 7:15 to walk across town to Hopeful Home. There are 2 volunteers from Australia and we help the kids with any leftover homework, then we walk them to school. They feed us Dhal Baat for breakfast and dinner. That's what I got sick on in the mtns, but I'm managing to eat it okay. I try to duck out before dinner is served so as not to offend.
Usually the middle part of the day, until the kids come home, is free time. Yesterday I took the mother to buy groceries and the materials (paint, paper, brushes) to make the cards. Things take a lot longer here. That was most of the day in fact.
Yesterday I met the one-eyed house cat name Minu. It's kinda rough looking, with only one eye, but it was loving all the attention that I could give. I was happy to oblige.
Today I stopped on my way there, to buy Santi an outfit as she only had the one. The attached pics are of her in her new peach dress. She was so pleased, and she had to make sure she added her turquoise shawl that she's been wearing. It was perfect. I decided yesterday to become her sponsor, so when she is well enough and all the sores have healed, she will go to school with the rest of her new brothers and sisters. The news spread fast in the home and everyone is calling me Santi's other Ama (mother). The Ama of the home and all the children just adore her and give her so much love. Even as Ama was cleaning her head sores yesterday, she sat there quietly, and winced but did not cry or try to get away. She's a tough little thing.

The other pics are of the Ama and Santi and Santi's brother Uttam. He is able to enjoy school for the first time ever.

Yesterday the children gave me a Nepali name, Parbati. I guess it's easier to remember than Vanessa, who knew? It is a goddess' name, she is the wife of Shiva. Well I guess that seems appropriate really. Did I mention how smart they are?

Tonight we are painting the girls' fingernails. I brought a bunch of nailpolish, so it's Girl Power night. Tomorrow we are making the cards that I mentioned. They are excited about what they will paint for me. It's a holiday here tomorrow, so I'll be with them for the whole day.

I'm expecting a call from Guy on the 14th via Sat phone so I'm really excited to hear from him at long last! It will be 2 weeks since we've spoken. He's still doing so well and I'm always proud of him! Hopefully by then he will have summited and is on his way down. Fingers crossed everyone.

Take care all,
Vanessa - or Parbati if you prefer.
Click on photo to enlarge:
---
October 11, 2006 -Photo: #1- Tents set-up at Camp 2..
8:30pm Nepal time: Namaste (Nepalese greeting!- translated means- I greet the spirit within you) from the Ama Dablam team. It is quiet at base camp as members are now resting at C1 and ABC. Quiet at the Peak Freak base camp that is. Tim Rippel
reports that other expeditions from other parts of the world are now starting to fill up the area and that from C1 looking down the view is has a nice warming effect from the glow of tents.
As promised yesterday I learned more about the position of Carol who has officially moved up to Camp 1 today and Guy Leveille who is now getting used to the new altitude. He had been suffering from headaches but it seems his body is now accepting it and he is moving up. Jeff and Mark are still working on acclimatization. We must remember that Mark lives in the Grand Cayman's and his body does not like what he is doing to it. He will likely need more time than some of the others..
While everyone is getting higher Vanessa Higgot, climber Guy's wife reports in from Kathmandu on her ultimate high, which is visiting a orphanage and falling in love with a little Nepalese girl named Santi. Tomorrow Vanessa will share with us what she has been up to.
I also heard from the Island Peak group and they have officially completed the high altitude part of their journey. They experienced epic headaches and Khumbu coughs but everyone is resting now in Namche and there has been summit success, June Ray our Peak Freak leader has for sure touched the summit of Island Peak and we are needing clarification on the others.
Stay tuned! Becky
---
October 10, 2006- Photo: # 1- Route from ABC to CAMP 1. #2- Route from Camp 1 to Camp 2. #3 The Grey Tower at Camp 2. Click on image to enlarge.
9:00PM Nepal time: Everyone seems to be adjusting to the early nights now. A climber's ability to sleep soundly deteriorates at high altitude. Many climbers experience insomnia caused by irregular breathing. This breathing pattern as known as the Cheyne- Stokes. I remember well the feeling. You just start to doze off and your breathing slows. Because of the thin air your body starts to receive less oxygen and your brain tells you to gasp for more. This is annoying and keeps the climber awake and restless. This coupled with the slow ascent and "lying low time" it is difficult for athletes that are used to burning considerable energy before retiring as they would at home. Now that they are well acclimatized and starting to burn more energy going up and down the mountain at a good pace, the climbers are starting to sleep well. Tim tells me he had to set his alarm to wake-up to call me for our morning dispatch. This is a good thing.
Today Camp 2 is completely established with rope and the first team up will now descend to base camp for a much needed rest. Dendi Sherpa went up and assembled the tents at C2 and tomorrow Tim and Aldas Baltutis are moving up to fix the rope between Camp 2 to Camp 3. Aldas is a very strong and skilled climber from Russia who is training to climb Everest in 2007 with friend Dereck. Tim and Aldas have enjoyed conversations of common peaks climbed in Russia, Communism Peak being one of them. Interesting enough Tim trained in Russia for an Everest climb back in 1989 and now Aldas is training in Tim's playground for his Everest climb.
Kevin Adams, Dan Smith, Mat Boylan, George Ardavanis, Clare Newman, and Mirek are now in ABC. Tim and Aldas in Camp 1 joined by Guy Higgot, Clayton Sheen, Dereck Davey and Mike Grainger who will go down to BC tomorrow. I am not sure where Jeff and Carol Knudsen, Guy Leveille and Mark Johncox are. Since everyone is up on the mountain I am thinking they may also be at ABC. I will clarify tomorrow and report back. ... Becky
---
October 9, 2006- Photo: Mt. Ama Dablam climbing route map.
BUSTED!... Last season after Peak Freaks Ama Dablam team were all packed up and had gone home. News
sources were reporting back that the later wave of expeditions were outraged and disappointed that food and some equipment kept going missing from their tents on the mountain. Equipment and food to sustain them while climbing. Not cool. This year our members caught the culprit red handed. Some sort of a pack rat looking varmit scooting around trying to steal. This critter does seem to respect the lock, so climber beware and do lock your tent, even up here, can you imagine?
Other news is the Maoist rebels are in the Khumbu valley. Never before have they been here doing the fee collection. Vanessa Higgot, climber Guy Higgot's wife on her way out from her trek spotted them in Monjo, just above Namche, and also Simon on his way out. They were both pre-occupied, had no eye contact and managed to walk right by without a confrontation.
Today Clayton Sheen, Mike Grainger, Guy Higgot and training climber Dereck are moving up to Camp 2. Way to go Dereck! He is doing amazingly well. The next wave is on their way to Camp 1 and Mireck Hladik is on his way to ABC with the remaining team. As of today everyone will be on the mountain. Camp 3 is to go in and then they are in position for the summit bids begin. There is still some serious grunt work to do.
The weather has been kind to them. It rained in base camp last night but the morning skies were clear again. Tim says the temperatures at base camp are much warmer than he has ever experienced. There is some fresh snow on the mountain from last nights storm but it is nothing to be concerned about. All looks good.
I attached the route map to this dispatch to show everyone the plan now that they are on the map. As you can see, until now, there were not yet in view.
Enjoy, Becky
---
October 8, 2006- Photo: Ang Karsung cooking up something special.
Happy Thanksgiving everyone! A perfect time of year to climb for this years team. The Canadian climbers
, in particular, reflect back home today imagining everyone sitting down to the warmth of a home created by the turkey roasting in the oven and family members and friends who gather around to give thanks. The teams won't have a turkey at camp but I did see pumpkin on the food list.. hmmm? I wonder what kitchen trick Ang Karsung Sherpa our expedition cook for 16 years has up his sleeve? He is good. He is REAL good!
A special thanks goes out to the team from Nancy at the Children's Wish Foundation, Maddy and families near and far. It is a "Thanks for Giving" message and we will share it with everyone following the expedition.
"It is Thanksgiving weekend here and while we prepare our feasts our thoughts include every one out there, we know it takes a team to reach a goal and that every one of you are dedicated to helping Guy reach ours.
While I am going to be off to Inwood for Thanksgiving with our ranch and cowboy friends, it is certain that Guy and everyone will be included in our special, "thanks for giving".
On behalf of the Foundation and especially the children we represent, Thank you all for helping to make wishes come true".
For more on the Children's Wish Foundation, climber Guy Leveille's role and to donate, please click here.
October 7, 2006- Photo: Fixing the rope between Camp 1 and Camp 2.
8:30pm Nepal time: Namaste from BC... Tim reports in. Today the entire team returned to base camp from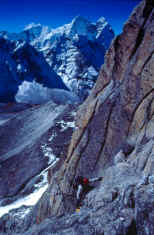 a day of from hard work on the mountain and moral is high. The route to Camp 2 is fixed to just over halfway. Tomorrow some will set out again with the goal to fix it entirely to Camp 2. After it is fixed, base camp will become very quiet as everyone will be working their way up shortly after the fixing of Camp 3 and then the summit bids will begin shortly thereafter. There is still some work to do, but they are on schedule.
Simon left today as he and his wife are expecting a baby in just a few days. He was scheduled to participate in the first part of the expedition only. All the climbers become very close on these expeditions making good byes difficult. By the way- Jeff and Mark did go back up for those at home wondering. They recovered from their headaches and are strong and climbing again.
The real climbing begins now and for most, the acclimatization process should be under check by this point in time. The next rest place for altitude adjustment will be at Camp 2. A beautiful place. Tim and a Canadian team worked out some rocks making a ledge with room for tents and a view and no crowds back in 1996. This still works well for them. It is a place where climbers start to feel a real sense of accomplishment. It all starts to come into perspective on how far they have come and how incredibly high they are. The sunsets, the night lights of the tents far below at base camp and mind boggling, is the fact that there is still a summit higher and surrounding mountains higher. Mt. Everest is just over 2000m higher! Mt. Ama Dablam is however more technical than Everest and therefore is an excellent training ground.
October 6, 2006 -
9:00am Nepal time: Vanessa Higgot, climber Guy Higgot's wife reports in from Namche. Vanessa trekked with the team to the village of Pangboche before departing on her own schedule to do the Gokyo Loop. She has returned now and is just below the mountain looking on and sending tons of positive energy to the team.
The climbers were hard at work today moving up and fixing rope. Because of the extra equipment needed to fix the route they opted to leave the sat phone at base camp for now. At altitude one can just about double the weight of anything at home to get an idea of how heavy weights feel at this elevation. Then put a pillow over your face and try to breathe at the same time. Tim will be back in about 36 hours to retrieve it and will report back at that time. In the meantime all messages from home are being sent out and will be there for when the teams rendezvous again. They love the wishes from home.
Island Peak... Rest assured family and friends from this team. They don't have a sat phone with them but there is sat phone available in the valley if needed. Obviously not needed. No news is good news so they must be doing well. If on schedule they would have just completed summiting Kala Pattar and now resting in Gorak Shep preparing for Everest Base Camp tomorrow.
Photo: Ang Nima Sherpa looking on with an Island Peak trekker from last season from the top of Kala Pattar. You can see the tip of Ama Dablam sticking out of the clouds.
October 5, 2006-Photo: Carol Knudsen from Calgary, Alberta (LEFT) after a PF Island Peak climb.
8:30am Nepal time: Good morning from base camp! Good snoozes at a lower elevation with richer air was just what some climbers needed. Headaches are gone and everyone is feeling much better. Tim will be
scooting up to Camp 1 today along with other members that are feeling strong. So far out front are the two Guys, Carol and Clayton. They will be putting in rope from Camp 2 today. Carol Knudsen has been on several climbs with Tim over the years and at 53 she is in remarkable shape and holds incredible determination and stamina for climbing big mountains. She has summited Island Peak, Baker, Robson, and climbed various ice and rock routes in Canada. We will likely see Carol on Everest one day soon.
Climbers Dereck and Carol have both received best wishes from family and friend back home and they thank everyone very much for the encouragement. It means a lot to them right now.
Base Camp will start getting busy over the next couple of days with the arrival of more expeditions. Thankfully we are ahead of the crowds that will take over base camp soon. This was not by accident. Each year we try to get a jump on it and it has worked well for us.
October 4, 2006- Photo: Peak Freak's entertainment tent.
9:00pm Nepal time- Let the headaches begin. Taking the steps for proper acclimatization is essential in
big mountain climbing. Today some members started to feel the effects. Move up, move down, go high, sleep low is all part of the process in attaining acclimatization for the new altitudes. Members who are feeling well have opted to stay one more night at ABC to attain maximum acclimatization at this level. They are minus two members, Jeff Knudsen and Mark Johncox who decided to go back to BC today to enable their bodies catch up and mend the headaches caused by the new altitude. The only treatment is to go down. Dropping down for as little as 300m and trying again the next day usually works. There is no point staying high loosing your appetite and getting ran down which can lead to AMS. Everyone's chemistry is different in how their red blood cells will carry oxygen. Jeff went down earlier in the day and Mark left later in the day under the escort of Mike Grainger. Tim was up at Camp 2 today setting up the mountain with camps and is now back at BC reunited with the training team. At ABC are: Carol Knudsen, Guy Higgot, Guy Leveille and guide Clayton Sheen. If they are all feeling well enough by tomorrow they may move up to Camp 2. Over the course of the next week we will have climbers at all camps pending their individual needs. Some will be summiting while others will be waiting at Camp 3, Camp 2, ABC and some at BC. Guides will be strategically spaced on the mountain. We have 6 mountain guides on Ama Dablam this season plus 3 mountain guides with the Island Peak group who are now resting in Loboche (4930m). Tomorrow morning the Island Peak team led by guide June Ray from Canada , will go for their first summit Kala Pattar at 5545m, the shoulder of Mt. Pumori. Kala Pattar offers the most photographed views of Everest, the Khumbu glacier and Everest Base Camp. This is an excellent acclimatization step for members in preparation for their Island Peak summit bid.
The Ama Dablam summit week is slated for Oct. 10 to Oct. 18. Before this, all the camps and rope need to be in place and everyone must be acclimatized to at least 6340m which is Camp 2. So far everything is working as planned.
October 3, 2006-
9:00pm Nepal time. The 1st summit team are all currently nestled in their tents at ABC. The training team worked hard all day practicing rope work, crevase rescue, movement on rock and more. Tomorrow they move up ABC. Tim will be pushing past ABC to Camp 1 after the training team is settled in at ABC in the company of Dendi Sherpa and Ngmia Sherpa to carry and assemble Camp 1 tents. Team one will retreat to BC for a rest. Everything is going like clock work and the mountain is in excellent shape. A bit of snow about knee deep above Camp 2 but the rock section is in good shape for now.
Tim asked me to mention how impressed he and the training members are with Clare Newman from Britain, the only women on the team. She is new to climbing and doing amazingly well. The team is looking forward to sharing the summit with her on summit day and cheering her on. I am doing some research right now to see if she summits, could Clare Newman possible be the first British women to summit Mt Ama Dablam? hmmm? Peak Freaks has made some records before putting the youngest Canadian, oldest Canadian and third female on the summit of Ama Dablam all in one expedition. I know that there have been amazing mountain feats by British women in the past but rarely were records kept like they are today. One to note was Alison Hargraves at which Tim met and shared months with on Everest before her successful solo summit. Right after she went to K2 to be the first British women to summit and died on the mountain.
Everyone is sending well wishes home tonight from ABC.
A thank you goes out to Madelaine and her family for their wishes from Guy Leveille. He is thrilled she is enjoying following the climb.
9:00am Nepal time. Ah... base camp, how sweet it is. "good morning sir", "good morning sir" the clank of the tea pot and cups being filled with piping hot Sherpa tea served in bed to the climbers.
Now that we are all awake, Guy Leveille wants to tell everyone back home, Maddy and the Children's Wish Foundation supporters that he is feeling very strong and the weather is amazing and because of this the entire team is moving onward and upward taking advantage this window of opportunity. This puts the team one day ahead of schedule which is always a good thing in mountain climbing. Clay, Aldas, Carol, Jeff, Guy Higgot, Guy Leveille and Mark are pushing onward and upward this morning. They will acclimatize to the new elevation at ABC (advanced base camp) of 5245m. They will be building camp and staying for the night, then come back down to BC allowing their bodies adjust before going higher. Dereck escorted his family back to Pangboche this morning and will return to BC tomorrow. The Everest training team is in training today and will head up tomorrow when the 1st team returns. Base Camp is very quiet this morning as the Island Peak trekkers said their good byes and set out on their itinerary. Okay, enough parties, it is time to climb! Talk to you tomorrow... Tim
October 2, 2006- Photo: Base Camp Puja in progress.
Everyone is here! the trekkers, the climbers and the Island Peak group. Our little village has been
erected, complete with two dinning tents a cook tent a store tent, shower tents and the large entertainment base camp tent complete with heat, lights, music, comfortable seating and even flowers on the table. Today was our expedition on mountain Puja. This is the time where climbers make an offering of food and our climbing equipment boots, rope and hard wear are all placed in a pile to be blessed. Part of the process is the mystical burning of juniper as Lama Da chants, tosses some rice and chants some more. The process takes about 2 hours. At days end we have completed all of our celebrations with finished off with the infamous Peak Freak Sushi party. Ang Karsung and his helpers were busy all day preparing this fine dinning event. Good laughs and story telling went on late into the evening and eventually everyone trickled off into their cozy tents for the night and so will I. Until tomorrow, good night... Tim.
October 1, 2006- Photo: Dendi Sherpa dishing out some pie.
9:00pm Nepal time: The Khumbu Chronicles reports an unusual way of doing laundry today in the valley today. Climber Simon, and

other members report scooping clothing from the river after a yak accidentally tore open his duffel bag while crossing the bridge en-route to base camp. All is good! all was re-covered and is now drying at base camp.
Yes, the team is at base camp. Before heading out the climbers had a whopping big breakfast prepared by Ang Dorjee and his wife Lhakpani. Long time friends. This year their son Sonam, who used to help in the kitchen at home during the climbing season is now in training on the mountain with Peak Freaks as a climbing guide. After breakfast the team took a short walk up to Lama Gheshi's house for a very important and privileged blessing from the highest Lama in the valley. The climbers are blessed individually by the Lama to wish success and a safe return.
The team arrived at base camp quite excited about the new base camp home that has been prepared for their arrival. We are told by the experienced worldwide climbers that this is the best base camp they have ever seen. All the luxuries that we pay close attention to are well received. The food is amazing. Our chef Ang Karsung rules! Banana Pie anyone?
Tomorrow the Island Peak trekkers will be arriving at base camp and re-join with their new found friends for a 2 nights stay before heading out to Everest Base Camp, Kala Pattar and their climb on Island Peak. Stay tuned!
September 30, 2006- Photo: Monks gathering for morning chant in Tengboche.
9:00pm- Nepal time. Tim reports in from Pangboche (3908m). Home of the Yeti skull, Lama Geshi some awesome sherpa climbers and now the Peak Freak's Ama Dablam team. Today they left the Island Peak

climbers in Tengboche (3860m) also spelled Tyangboche to participate in the morning chant with the monks at the Tengboche monastery. In the 17th century AD, the Lama Sange Dorjee, from Tibetís Rongbuk Monastery, according to legend, founded the monastery. It was destroyed by an earthquake in 1933, rebuilt, and again badly damaged by fire in 1989. Construction of the present monastery was completed in 1992 and today to accommodate the increasing number of visitors to the area, a badly needed water project is underway and the construction of more private space away from tourists for the monks. In the early morning before our trekkers head out toward Pangboche they will be invited in to the monastery to chant with the monks. At the same time the climber's will be making their visit to Lama Geshi's house in Pangboche for a personal expedition blessing called a Puja. This is a magical and spiritual moment for the climbers. Another expedition puja will take place at base camp once everyone arrives and it will involve the blessing of all their equipment also. Our sherpa climbers will not climb the mountain without a puja for spiritual reasons.
The climbers from all teams are still doing amazingly well with their acclimatization process. Everyone is healthy and moving forward as planned. The weather is also with working with them. There have been some afternoon rain storms, tail end of the monsoon season which should completely pull out in the next week. Ama Dablam appears to have little snow on her which is good keeping avalanche hazards at a minimum. Just a light dusting from the last storm.
There are two teams 2 days ahead of Peak Freak's. A team from the Netherlands and a team from Spain and that is it. Most expeditions start to arrive about 2 weeks from now at which time our expedition will be making their summit and hopefully summited by the time they arrive. This strategy has worked well for us in the past. Getting ahead of the crowds and being able to make a true ascent and not just following other expedition ropes up and down.
Once the Ama Dablam team arrives at base camp we will hear from the climbers themselves and report on how things are going for them. Till then, stay tuned!
TIDBIT: Where is the Yeti skull hidden? In Pangboche is the famous gompa where the skull of supposed Yeti (the Abominable Snowman) is preserved under the supervision of the head Lama. To many visitors to the region, the skull seems more like the outer skin of Himalayan Brown Bear, and this is borne by the report of a scientific exploratory expedition conducted by Sir Edmund Hillary, a copy of which is kept in the gompa. Interesting enough, it was originally said to have been in the Tengboche monastery when it burnt to the ground but somehow it survived and is now tucked away in a locked box in the monastery. For a small donation to the monastery one can have a look for yourself.
September 29, 2006
9:00pm- Nepal time. Today the teams split up visiting the twin villages of Kunde and Khumjung at 3900m, home to many of our climbing sherpas and home of the Hillary School, Kunde Hospital, Everest Bakery (highest bakery in the world) before ending up at Ang Nima's house for lunch and returning Namche Bazaar for the night. Check out the school bell photo below for the Khumjung School funded by Sir Edmund Hillary. The Kunde Hospital (also funded by the Hillary Foundation), for many years was ran by volunteer doctors from Canada and New Zealand shared 2 years on and off. Today they have two Sherpa doctors who now run the hospital full time. The team enjoyed magnificent views of Ama Dablam throughout their acclimatization hike today. The purpose of this hike to go high allowing the climbers bodies get used to a higher altitude by enabling their hemoglobin to change before they reach a higher altitude tomorrow. If this process is not followed carefully AMS- Acute Mountain Sickness is likely and death can occur. To learn more: AMS Everyone is feeling terrific. Mat from Singapore had caught a bug traveling to Nepal but now has it under control.
Sing-a-long time in Namche Bazaar. What a talented team. Team members went rambled downtown this evening for a game of P-Pool at the local bar. Tim's favorite game at which he is well-known for organizing each season when passing through. Everyone can play and especially fond are our yak herders and porter helpers. A unique bonding time for all members, sherpa staff, locals and others. The canned music was playing until someone found a guitar. I am told the atmosphere quickly changed as Simon found someone playing guitar on the street and invited him in. The guitar quickly made it rounds from Simon, to Mirek then Clayton. Then Mirek pulls out the harmonica, feet were stomp 'in and the walls were rock 'in. A good time was had by all! Tomorrow the Ama Dablam team moves up to Pangboche and the Island Peak team moves to Tengboche for their next acclimatization stay. Stay tuned!
Namche Bazaar Oxygen bottle school bell Shopping in Namche Yak at work
September 28, 2006 - Photo: Namche Bazaar
9:00pm- Nepal time. Tim reports from Namche Bazaar (3446m) Trekking time from Monjo 4 hours. The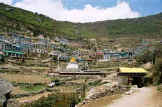 team arrived at 12:00pm. Everyone is feeling fit including two young trekkers, Ben (11yrs.) and Jon (9yrs.)and his wife Ann who are escorting Dad and husband, Dereck Davey a climber from Australia to Ama Dablam BC to see him off on his climb. The walk today was a little tougher than yesterday and included the steep ascent to Namche Bazaar. The boys were amazingly fit. From Monjo, it was a short walk to the entrance of the National park before crossing the Dudh Koshi, to Jorsale (2805m). The trek continued upstream on generally flat terrain, crossing back to the right bank, the confluence of the Bhote Koshi and Dudh Koshi; it is here that we started the steep ascent to Namche Bazaar. After crossing the suspension bridge high above the river we slowly ascended up towards Namche.
The trail was pretty quiet today. Normally one would stand in line waiting for yak trains, trekkers and porters to make their sprint across. No body wants to be on it for long. One scuttle's quickly across making sure they are off before the yaks commence. It is definitely designed for single lane traffic only. Shortly after the crossing we were able to stop and take many amazing photos. One of those fantastic photographic opportunities is when the first glimpse from around the back side of a rhododendron forest peaks out the top of Everest, Lhotse, Nuptse, Ama Dablam and Taweche (6242m) now coming into view for the first time. After arriving in Namche everyone enjoyed lunch and hit the bargain shops for some of those precious Tibetan artifacts, a cup of cappuccino and apple pie and the last opportunity to send an email home to loved ones. After the chores were done including buying our fresh fruit and vegetables for the expedition, we all relaxed and marveled at the beautiful scenery. The team is bonding very well and some who have been with us on previous expeditions are quite impressed with the new upscale accommodations that have been popping up all over the valley today.
Climbers: George, Kevin, Dereck and Aldas are tuning into the environment with a keen eye. The four members are on a mission along with climber Simon, Mat and Dan who are contemplating an Everest summit dream sometime in the future. This is their training climb for Everest. We feel participation in our Everest training climb is an extremely important step for aspiring Everest climbers. An opportunity to meet the people you will be climbing with, bond with the sherpa folk and understand their customs. Learn the weather patterns, land technical skills to be self-reliant in the mountains while testing yourselves at altitude along with your equipment and Peak Freak's equipment. There will be no surprises for our Everest climbers when the big day comes. Visualization "IS" a powerful tool. Over the course of the training climb these climbers will be looking on at Everest the entire time. When summit day comes around for these climbers their bodies will be weak. It will be their minds that need to be strong to get them to the top and more importantly back down again, safely.
DAVE ARRIVES!- Tim reports Dave Sek's misadventures are over. He is now in Namche Bazaar! He opted to hike the full distance from Lukla to Namche in one day and is feeling very fit and strong.
TIDBIT: What is a Koshi? The Koshi is one of three major rivers that flow through the kingdom of Nepal. It lies within the Koshi Zone (south) ,named after the river. It lies to the south of Kanchenjunga and has seven major tributaries: sunkoshi, tamakoshi, Duhakoshi, Indravati, Likhu, Arun and Tamore. It has an average waterflow of 1564 cubic meters per second.
September 27, 2006 - Photo:
9:30pm-Nepal time. Tim reports in from Monjo (2835m) .A feast of Sherpa stew made my Chombi, house owner and good friend from the quaint village half way between Lukla and Namche Bazaar. After a leisurely walk through the traditional Nepalese farmland passing many mani stones and tight trails shaded by the large rhododendron forests the team arrives. Today's walk was short, only 3.5 hours to Monjo situated beside the river. Everyone is starting to unwind after their world travels and fast pace of Kathmandu. Tonight they will be sleeping to the sound of the Dudh Kosi river rushing past their rooms. Clean mountain air, good food, the expedition gets off to a good start. The trail is nice and quiet. We prefer to taking a jump on the busy trek season and start working the mountain well before the large crowds arrive. Our formula has worked well for us in the past and our team members certainly appreciate it.
YEAH! Dave arrives in Kathmandu! The misadventures of Dave's international travels are now over. He only has one more plane to rely on and that is the flight to Lukla tomorrow morning. Luck is once again on Peak Freak's side. Bad weather has plagued the region for the past few weeks but we were blessed with clear skies today and forecasted for the same tomorrow, but closing in again the next day. Dave will be catching up to the team in Namche Bazaar.
September 26, 2006
10pm- Nepal time. Tim reports from Kathmandu: Everyone has arrived safe and sound except for Dave from the Island Peak team. He will catch up with the team in Namche Bazaar. The clouds have parted and we can see the stars. Everything is on schedule and it looks like we will be on our two chartered airplanes with Yeti Airlines en-route to Lukla first thing tomorrow morning.
TIDBIT: Yeti Airlines; a Canadian connection. These airplanes were made in Canada. They were used by Ken Borick Air out of Smither's B.C.
8am- Nepal time. Good morning from Nirvana Hotel in Kathmandu! All have arrived except for 4 of the Island Peak climbers who will be arriving on Thai Airways at 12:30pm. The teams are currently enjoying our city tour of Durbar market and the Monkey Temple. The weather is no cooperating at the moment in Kathmandu. It has been raining quite heavily the past few days. This is the tail end of the monsoon. We are hopeful the clouds will part by the 27th or 28th at the latest. Stay tuned!
---
September 25, 2006
Sleeping soundly in Bangkok are 3 members of the Island Peak expedition, behind schedule by one day due to an airline mechanical out of Vancouver yesterday. That would be Cary and Wendy Swanson, Wayne Hind and Mitch Spaller. To the rescue again, a few phone calls etc. They will now be arriving tomorrow at 12:30pm Nepal time in Kathmandu. Still waiting to hear from Dave from New York. Beer is waiting!
Helicopter Crash in Nepal. Just a reminder of an added obstacle some climbers endure while climbing in
the Himalayas. Today experienced expedition operators refrain from using helicopters for passage and instead use it for cargo only. As more and more expeditions try to find a quick trip up the valley it may not be worth the short cut. Today you will see remnants of crashes strewn throughout the Khumbu Valley. A reminder of how risky this can be is permanently resting at Everest Base Camp since 2005. Adjacent photo is the Russian helicopter. Luckily everyone survived.
September 24, 2006
Climbers and trekkers are arriving one by one today and yesterday. So far we have Dan Smith, Mat Boylan and Simon Alford from Australia, Singapore and the UK, Jim Hansen and Clayton Sheen from Canada. Last night there were 12 for dinner at cafe New Orleans so this would conclude that Guy Higgot and Vanessa have arrived. What's the chances that 2 climbers named Guy join the same team? both Canadians and are both police officers. At the time of updating other climbers and trekkers are arriving. Quite a few arrive on the 25th. We will update and confirm their arrivals on this site for families and friends to follow at home. The political heat in Thailand that was widely broadcasted late last week has subsided and no complications were caused to our team members arrivals. All flights went like clock work. Unfortunately I can't say the same for one Island Peak climber. Dave Sek, from New York is currently sitting out bad weather in Rochester due to hurricane spin off in that region. Have no fear Dave, Peak Freak's to the rescue! We have implemented our back up strategies to catch him up to the team. Have Yak will travel...
September 21, 2006
Team members are currently on their way to Kathmandu from all parts of the world. Everyone should be there by September 25, 2006. Fish Heads: to the person that stole Guy Leveille's over-boots from his vehicle while preparing to depart Canada. Other news is that Bangkok flights are all on schedule with no interruptions during the political unrest that just took place in Thailand. All is good and there are no concerns for travelers at this time. The weather in Kathmandu is on the drier side of normal with afternoon thunderstorms. This is the tail end of the monsoon season. Hopefully in the next few days things will start to dry up in time for climbing season to begin. Wishing safe travels to all the climbers making their way to the capital city. Cheers, Becky Rippel
---
AMA DABLAM 2006 TEAM- Expedition Leader- Tim Rippel
Guy Higgot- Age 38, Canadian
Mike Grainger- Age 52, Canadian
Carol Knudsen- Age 53, Canadian
Jeff Knudsen- Age 46, Canadian .
Mark Johncox- Age 32, Canadian
Guy Leveille- Age 42, Canadian - CLIMBING FOR CHILDREN'S WISH FOUNDATION. Full story & Donate!
(GUIDE) Clayton Sheen
EVEREST TRAINING TEAM- Ama Dablam 2006
Kevin Adams- Age 41, British
Dereck Davey- Age 44, Australian/South African
Aldas Baltutis- Age 37, Lethuanian
Dan Smith- Age 33, British
Mat Boylan- Age 33, Australian
(DOCTOR) Jim Hansen- Age 57, Canadian.
George Ardavanis- Age 50, Greek
Clare Newman- 34, British.
Simon Alford- Age 41, British
(GUIDE/INSTRUCTOR) Mirek Hladik
OTHER STAFF-
Dandi Sherpa- Climbing Guide/Sardar
Ang Karsung Sherpa- Cook
Lhakpa Gelgan- Assistant Cook
Ngima Sherpa- Climbing Guide
Sonam Sherpa- Climbing Guide in training
Nim Phutti Sherpa- dzopkios and yak herder
ISLAND PEAK TEAM- 2006
Dave Sek- American
Mitch Spaller - Canadian
Cary Swanson - Canadian
Wendy Swanson- Canadian
Wayne Hind- Canadian
Laura Rochawewich- Korea- Canadian
(Guide) June Ray- Canadian
OTHER STAFF-
Ang Nima Sherpa- Sardar
Sherpa cook TBA
Climbing Sherpa TBA
2 Assistants TBA
A word from Tim Rippel: The autumn climbing season is now underway. We have enjoyed many successful expeditions on Ama Dablam over the past 16 years and this year will be no exception. We have assembled two solid climbing teams. One will be attempting the summit in the normal format while the other team, the "Everest Training Team" will be simulating climbing Everest, learning the ropes, testing equipment, themselves and much more in preparation for the big E. To learn more, check out: Everest Training Climb . Joining me on the instructional front is the very talented rock and ice pro Mirek Hladik originally from the Czech Republic now living in Canada. I am very much looking forward to this seasons climb and the new friends and memories that come with each expedition.
I invite you to log on and follow the climb to the summit and back. Together Becky & I will be reporting daily by satellite from the mountainside.
Please take a moment to check out the special Children's Wish mission, climber Guy Leveille a police officer from Winnipeg will be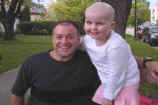 focusing on throughout the climb. Photo right: Guy and Maddy saying good bye and good luck.
Cheers, Tim.
Climbing at the same time is our Island Peak Expedition, lead by June Ray and Ang Nima Sherpa. Members will caravan to Ama Dablam Base Camp with the Ama Dablam climbers before continuing on to Kala Pattar and Everest Base Camp and then their own objective Island Peak. A very cool itinerary!
A big thank you to RedFox from Russia for sponsoring the Kara Su jackets for the Everest Training Team. The team is looking forward to giving them a test drive in the variable and extreme weather in the Himalayas. To learn more about RedFox product, please follow the link provided: http://www.redfox.ru/
---
ABOUT MT. MT. AMA DABLAM
&1u/t9@-a"Qqot meanc m+ther, 'raNdmopher mr avEj uorld" &qeop;DaBlAm" means charm box and is ` special pend!nt vor. by elde` Sherpa w/mej 4hat `o,dc precik5s `te-q. Th% moun4ail has a `alging flaaa%p that resam`les a $`blam an$ 4he t5o e84d.ding ridge3 ara -utstreT`hed l`ka a eateRn`l emBrace. @dbaaeltp(lto hs of Tid sorkana b%dow the Dablam*<.&mlp>
p>.&fbsp:<p6 0p2&nbs`;<.p: