MT. PUMORI 2008 NEWS BLOG available now. Oct. 2 to Nov. 24, 2008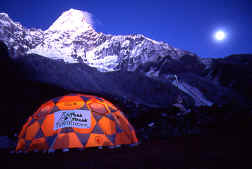 MT. PUMORI 2008 NEWS BLOG available now. Oct. 2 to Nov. 24, 2008

MT. PUMORI 04' DISPATCHES -

TEAM MEMBERS:

Tim Rippel- Expedition leader, Clayton Sheen, Dan Rollert, Laurie Wood, Dr. Pete Raymond, Eric Woodward, Paul Garvin, Jack Lamberson, John Pratt.

November 6, 2004 – The Peak Freak Expedition team reached 6300 metres on Pumori, a Himalayan peak of just over 7000 metres in stature. Winter in the Himalayas has come early this year, causing unusual cold and high winds. Staying longer would have meant risking frostbite; the wind was incredibly draining on the body, making the difficult task of hauling loads and fixing rope even more challenging than usual. Our decision to turn-back was made easier when we received word that one of our team member's father was ill, and getting worse. Ang Karsung's father, Sonam, was in Kunde. On our way out, we went to Kunde to see if we could be of assistance. We did manage to organize things so that Sonam could fly out of the Valley with us to Kathmandu , where he is now receiving medical treatment.

While some of our team suffered from the altitude, all seemed to find the trip personally rewarding. Pumori and Ama Dablam are both excellent training grounds for climbers who have aspirations to climb Everest. Climbers can gain both technical and altitude experience.

October 31

Tim Rippel along with team member Clayton Sheen from Chetwyn B.C. managed to put in C2 and are ready to push on for a summit bid once the rest of the team makes their way up to C2.

October 27
Our team headed to Advanced Base Camp today; some were carrying loads,
and others were just acclimatizing. We were able to establish Camp 1 at
6100 metres, and we began to fix ropes on the route to Camp 2. Were
hoping to have Camp 2 established by October 31st. The days are slowly
getting colder and shorter, and our summit window now looks to be
between November 2 and 6th.

We've just heard that the yaks arrive on November 8th, so our plans are
to depart base camp on November 9th, hopefully after a successful summit
bid.


October 26 -

Today, most of the team was resting at base camp, although Dendi Sherpa
and Clayton Sheen did some hard work pushing the route to Camp 1. Dan
Rollert arrived in base camp after a successful trek with his family and will now join in with the climbing team.
They were just in time for a snow squall, which dumped about a half inch
of snow in a very short period of time. It forced our climbers off the
route, and everyone was back in base camp by 4pm. This is the first bad
weather we've had.


October 25- We finished setting up Advanced Base Camp today, and began
fixing lines towards Camp 1.

October 24
We had our puja (a blessing ceremony) this morning. We now have prayer
flags over our tent village. After the puja, we went through some rope
work, and had a great lunch. We set out for Advanced Base Camp (ABC)
early in the afternoon, and it is now partially established at the snow
line on the NW side of the south ridge, and sits at an elevation ofABC
is 5700m.

October 23
We hiked to base camp today. The route took us between the lakes below
Pumori, and had stunning vistas. Base camp is located at an elevation
of 5309 metres. Base camp also has great views, including our route,
and Mount Everest.

October 22
We left Pheriche for the long trek up to Lobuche. This morning we ate
lunch at Duglha. Above Duglha, we traversed through a pass that is full
of stone memorials to those who have died in these mountains. Some
cairns have names, and some don't. Some are tributes to well-known
climbers, including many who lost their lives on Mount Everest. The
pass overlooks the remnants of the Khumbu glacier.

As can be expected, the quality of accomodation has an inverse
relationship to the altitude. We've been going uphill, and the
accomodation has been going downhill. We are definitely looking forward
to staying in tents starting tomorrow.

October 21
Today was an acclimatization day, so we slept in until 8am. We went for
a hike behind the lodge, to an elevation of 5200 metres. We stayed at
that altitude for a couple of hours, and had a lunch of yak cheese,
bread and boiled egss. We even had cookies as a treat. We were all
fairly tired by the time we arrived back at the lodge.

October 20
This morning before we left for Pheriche, we hiked to the local temple
to receive a blessing from Lama Geshe. He bless Ang Nima first, then
each of us separately. He gave us each a blessed scarf, and a postcard,
and then tied a piece of yarn around our neck to keep us safe on the
mountain.

The Lama explained that the prayers were meant to keep us safe through
out our lives, not just on this expedition. Ang Nima was very moved by
the blessing, as were we all.

After the ceremony, we moved on to Pheriche. It was a great day, and a
very moderate elevation gain (only 300 metres). En route, we had our
first glimpse of Pumori.

October 19
We left Namche Bazaar at 8am, for Thangbuche and then on to Pangbuche.
We gained 500 metres, most of which came between Namche and Thanbuche.
The monastery at Thangbuche was impressive, as was the hike throught the
rhododendron forest. We were lucky to have clear weather, and some
great views of the mountains on this stretch of the trek.


PUMORI TEAM UPDATE FOR THE WEEK OF OCT.14, 2004

Oct 18: Today the team hiked to the twin Sherpa villages of Kunde and Khumjung above Namche. They report incredible views of Everest and Ama Dablam while having lunch at Ang Nima's home. It looks like the storm has passed and they are enjoying beautiful blue skies today. Tomorrow they will push on up to Tengboche and then Pangboche where Lama Geshi will perform a private expedition blessing in his home. At time of this writing we are still waiting for news from the Ama Dablam team. See below for their most recent dispatch.

OCT.17 Jack reports from Namche Bazaar today that the Pumori team has arrived healthy and ready to climb. They will acclimatize by staying one more night to help with this process. They expect news anytime now from Tim and the Ama Dablam team. They are planning to meet up with them in Pangboche on Oct.20. Stay tuned!

OCT.16 Team has made it to Lukla on schedule. They met up with Ang Nima Sherpa and his animals to begin the 8 day journey to base camp.

OCT.15 Team reports good times at Tom and Gerry's in Thamel while getting acquainted with each other the food and the culture.

OCT.14- Pumori Team 2004 arrived in Kathmandu. Only one bag missing but Thai Airways was quick to put it on the very next flight.

OCT.18 Jack and team did their acclimatization hike today climbing up to the Sherpa
MT. PUMORI 04' DISPATCHES -
TEAM MEMBERS:
Tim Rippel- Expedition leader, Clayton Sheen, Dan Rollert, Laurie Wood, Dr. Pete Raymond, Eric Woodward, Paul Garvin, Jack Lamberson, John Pratt.
November 6, 2004 – The Peak Freak Expedition team reached 6300 metres on Pumori, a Himalayan peak of just over 7000 metres in stature. Winter in the Himalayas has come early this year, causing unusual cold and high winds. Staying longer would have meant risking frostbite; the wind was incredibly draining on the body, making the difficult task of hauling loads and fixing rope even more challenging than usual. Our decision to turn-back was made easier when we received word that one of our team member's father was ill, and getting worse. Ang Karsung's father, Sonam, was in Kunde. On our way out, we went to Kunde to see if we could be of assistance. We did manage to organize things so that Sonam could fly out of the Valley with us to Kathmandu , where he is now receiving medical treatment.
While some of our team suffered from the altitude, all seemed to find the trip personally rewarding. Pumori and Ama Dablam are both excellent training grounds for climbers who have aspirations to climb Everest. Climbers can gain both technical and altitude experience.
October 31
Tim Rippel along with team member Clayton Sheen from Chetwyn B.C. managed to put in C2 and are ready to push on for a summit bid once the rest of the team makes their way up to C2.
October 27
Our team headed to Advanced Base Camp today; some were carrying loads,
and others were just acclimatizing. We were able to establish Camp 1 at
6100 metres, and we began to fix ropes on the route to Camp 2. Were
hoping to have Camp 2 established by October 31st. The days are slowly
getting colder and shorter, and our summit window now looks to be
between November 2 and 6th.

We've just heard that the yaks arrive on November 8th, so our plans are
to depart base camp on November 9th, hopefully after a successful summit
bid.


October 26 -
Today, most of the team was resting at base camp, although Dendi Sherpa
and Clayton Sheen did some hard work pushing the route to Camp 1. Dan
Rollert arrived in base camp after a successful trek with his family and will now join in with the climbing team.
They were just in time for a snow squall, which dumped about a half inch
of snow in a very short period of time. It forced our climbers off the
route, and everyone was back in base camp by 4pm. This is the first bad
weather we've had.

October 25- We finished setting up Advanced Base Camp today, and began
fixing lines towards Camp 1.

October 24
We had our puja (a blessing ceremony) this morning. We now have prayer
flags over our tent village. After the puja, we went through some rope
work, and had a great lunch. We set out for Advanced Base Camp (ABC)
early in the afternoon, and it is now partially established at the snow
line on the NW side of the south ridge, and sits at an elevation ofABC
is 5700m.

October 23
We hiked to base camp today. The route took us between the lakes below
Pumori, and had stunning vistas. Base camp is located at an elevation
of 5309 metres. Base camp also has great views, including our route,
and Mount Everest.

October 22
We left Pheriche for the long trek up to Lobuche. This morning we ate
lunch at Duglha. Above Duglha, we traversed through a pass that is full
of stone memorials to those who have died in these mountains. Some
cairns have names, and some don't. Some are tributes to well-known
climbers, including many who lost their lives on Mount Everest. The
pass overlooks the remnants of the Khumbu glacier.

As can be expected, the quality of accomodation has an inverse
relationship to the altitude. We've been going uphill, and the
accomodation has been going downhill. We are definitely looking forward
to staying in tents starting tomorrow.

October 21
Today was an acclimatization day, so we slept in until 8am. We went for
a hike behind the lodge, to an elevation of 5200 metres. We stayed at
that altitude for a couple of hours, and had a lunch of yak cheese,
bread and boiled egss. We even had cookies as a treat. We were all
fairly tired by the time we arrived back at the lodge.

October 20
This morning before we left for Pheriche, we hiked to the local temple
to receive a blessing from Lama Geshe. He bless Ang Nima first, then
each of us separately. He gave us each a blessed scarf, and a postcard,
and then tied a piece of yarn around our neck to keep us safe on the
mountain.

The Lama explained that the prayers were meant to keep us safe through
out our lives, not just on this expedition. Ang Nima was very moved by
the blessing, as were we all.

After the ceremony, we moved on to Pheriche. It was a great day, and a
very moderate elevation gain (only 300 metres). En route, we had our
first glimpse of Pumori.

October 19
We left Namche Bazaar at 8am, for Thangbuche and then on to Pangbuche.
We gained 500 metres, most of which came between Namche and Thanbuche.
The monastery at Thangbuche was impressive, as was the hike throught the
rhododendron forest. We were lucky to have clear weather, and some
great views of the mountains on this stretch of the trek.

PUMORI TEAM UPDATE FOR THE WEEK OF OCT.14, 2004
Oct 18: Today the team hiked to the twin Sherpa villages of Kunde and Khumjung above Namche. They report incredible views of Everest and Ama Dablam while having lunch at Ang Nima's home. It looks like the storm has passed and they are enjoying beautiful blue skies today. Tomorrow they will push on up to Tengboche and then Pangboche where Lama Geshi will perform a private expedition blessing in his home. At time of this writing we are still waiting for news from the Ama Dablam team. See below for their most recent dispatch.
OCT.17 Jack reports from Namche Bazaar today that the Pumori team has arrived healthy and ready to climb. They will acclimatize by staying one more night to help with this process. They expect news anytime now from Tim and the Ama Dablam team. They are planning to meet up with them in Pangboche on Oct.20. Stay tuned!
OCT.16 Team has made it to Lukla on schedule. They met up with Ang Nima Sherpa and his animals to begin the 8 day journey to base camp.
OCT.15 Team reports good times at Tom and Gerry's in Thamel while getting acquainted with each other the food and the culture.
OCT.14- Pumori Team 2004 arrived in Kathmandu. Only one bag missing but Thai Airways was quick to put it on the very next flight.
OCT.18 Jack and team did their acclimatization hike today climbing up to the Sherpa