Follow us on our 7th expedition to Mount Pumori
ROUTE: South Ridge to 7145m
Follow the Everest Training Team on Mount Pumori this autumn. Led by Tim Rippel and his Sherpa team. We have formed an outstanding group of beginner to intermediate and advanced climbers this season. The expedition will begin in the capital city of Kathmandu on October 4, 2010 and will be back in Kathmandu on November 6, 2010.
SPRING 2011- Peak Freaks Celebrates 20 Years in the Himalayas!
Nov. 7, 2010: Kathmandu: Helicopter crash in the Khumbu, Everest region.. Tim was sitting in our office in Kathmandu today when a call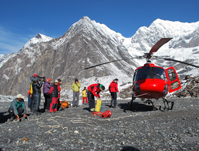 came in: Two people are missing after a helicopter crashed on a rescue mission in the Everest region of Nepal early this morning. The helicopter was one of the 3 new high tech AS 350 B3 high altitude machines that were brought to Nepal last spring and owned by Fish Tail helicopters.
It was on it's way to rescue two climbers from Mount Ama Dablam. Tim said he was told that one climber was successfully lifted and taken out. The helicopter and rescue worker were on their way back to pick up the second climber from in behind Ama Dablam when the wind hit the helicopter slamming it against the mountain.
The new helicopters were used for the first time on Everest south last year recovering bodies from days gone by, performing rescues and used for a quick trip out to Kathmandu for post Everest climbers.
The young pilot had gone through extensive training for this type of operation and is well known by some of our staff in Kathmandu. So sad, our prayers go out to both workers families.
Namche Bazaar: They made it.... Beers, pool and an after party at a Sherpa's house... sounded like good ending. Well not exactly the ending yet, there are still many more adventures ahead of them.
I will be introducing one of Namche Bazaar's most honorable families in the weeks to come. Tsedam Sherpa and his wife Ang Phurba and daughter Kami and what they have been doing to care for the Khumbu's homeless children.
Photo: Party in Namche, Tsedam taking in the children's laundry and the children lined up for a photo shoot for Tim. Ahhh.... they are adorable.
| | | | |
| --- | --- | --- | --- |
| | | | |
November 02, 2010: No news - just some great photos showing good times on the teams walkabout... Happy boys- doing what climbers do- work hard, hurt, laugh, wake up and do it all over again......More photos on Facebook.
October 29, 2010: - new world record- Just when we think we've seen and heard it all with regards to psychotic behavior thought to be a serious side effect of AMS - Petter Hiden
(Sweden) and Nabil Lodey (UK) raise the bar setting a new world record- '"THE WORLDS HIGHEST SWIM".
Hi Becky,
I'm currently in Namche and exhausted - the disappointment of the summit push required some other form of endurance event - and Tim's estimate of 10-12 hrs from Base Camp to Namche was just the challenge. Pierre and I made it in 9 hrs and I am pretty exhausted sat here sending you an email - it will be a good sleep tonight.!!
It's been an amazing expedition. We were disappointed that the conditions high up did not allow for a safe summit. The Ecuadorian climbers are two very lucky men having pushed through the difficult section and summitted just before dark. Everyone in basecamp waited for news on their progress down the mountain with baited breath - I think their summit took over 20 hrs in total. For us, we looked forward to heading up to Tower 2 (the highest point that could be safely reached). When we headed up the mountain, ABC looked unrecognizable, the camp was littered with huge ice boulders only meters from our tents and the landscape looked more lunar than anything else with ice and rock being jettisoned through the couloirs that we had to climb through to reach Camp 1. There is no protection through that route so it didn't take a genius to soon comprehend that Pumori did not want us on her slopes. With these missiles on her SE route, and the huge avalanche on the standard route - we got the hint! The risk factor was just two high so we packed up and made our way back to base Camp. The Sherpas managed to clear all the tents and ropes from the mountain in just one day which was an incredible feat. They really are the supermen of the Himalayas and it's always a pleasure to be in their company.
So the expedition wasn't over just because we couldn't get up high.. Tim organized an amazing rock climbing day where all the lessons were put to the test as Adam, Romano, Petter and myself practiced lead climbing on on the cliffs above base camp. It was one of he highlights of the trip and acted like a mountaineering graduation !
And then there was the world record high altitude swim - the lake next to base camp has to be the highest in the world with the summit of Everest as a back drop. It would be a shame not to have a swim at some point during the expedition. The appropriate time arose two days ago, and having waited for the ice to melt by lunchtime, Petter and I took up the challenge. It was cold !! Very cold!! However, medical support was on hand and we soon warmed up in the dining tent in sleeping bags with plenty of hot drinks. Unfortunately, Petter is not in the photos but we have a video to be posted on the website in due course.
So now, the team has parted ways, a few of us are heading back down the valley for flights home and Tim is taking another group for a new trek in the Gokyo region. It should be a great trek with some amazing views of the major peaks in the region.
We all leave exhilarated by the climbing and scenery, enriched by the experience and the new friendships, and teased by one of the most beautiful but technical mountains in the region. With the new skills leant and the experience gained, I wonder how many of us are already thinking about the next mountain.... There are a few who now have Everest in their sights. Could a dream turn into reality? Why not?
Thanks Tim and the amazing Peak Freaks Sherpas for a great expedition !!
Nabs
Nabs also so kindly uploaded photos that you can see on Tim's Facebook.
I also think there was a possible a speed descent competition to Namche. It may be hard to beat Samuel's descent in one day from Pumori base camp to Monjo- whew!!!
October 27, 2010: Sad news and a new direction....
Everyone is down off the mountain from our team. Our Ecuadorian friends left yesterday and a team of Korean climbers have arrived. The Korean's are climbing a variation on Pumori up from the behind Kala Pattar.
The Himalayas has lost another dynamo climber. 19 times Everest summitteer Chhewang Nima Sherpa age 43, while on Baruntse- a 7129m peak that is considered one of the easiest climbs in this region. He was swept away by an avalanche while fixing rope to the summit for the crowds that embarking on the area right now. The search for his body was officially called off today. Baruntse is situated in the eastern region and gets significant snow fall compared to the Khumbu. Chhewang Nima's 19 x Everest is second to world record holder Apa Sherpa of 20 Everest summits. Juniper is burning and tea candles have been lit, so sad... We are thinking of his family during this difficult time and send our prayers.
What's next: Tomorrow we are doing more work on rock then we are off for some exploration. We are heading out on a walkabout. There are a couple of unclimbed 7000m peaks that I have been wanting to check out for sometime now. The team is all having a really good time together with new friends so we are going for a side-trip adventure. I will still be checking in so stay tuned. ...Tim
October 26, 2010: Just a quickie today..... reporting that Warren, Adam, Tino, Roger and Jim are all at ABC tonight. There was more icefall today on the route to Camp 1 so Tim is not too sure about exposing anyone to the potential danger above. The rest of the members are at base camp. All is good...
Becky
October 25, 2010: It's been a tough autumn season in the Himalayas this year. There were only a small number of people who were lucky to get on top of something this season including yet another disputed summit, for whatever reason this never ceases to amaze us. Yesterday two Ecuadorians were two of those lucky climbers who got on top of Pumori but not without consequence- one member is said to be dealing with frost-bite. They described their experience to Tim as being horrendous taking them much longer than they had anticipated to navigate the summit ridge due to rock fall, the same report our Sherpas gave upon their return. This section can't be seen till you get into it as it's on the other side from the view from camp.
Collectively our team has made the decision to happily continue with the training session of the climb enjoying what they came for but remain below the summit ridge. This is a boot camp that offers living on the edge of risk and dangerous terrain all while learning how to identify it and get around it insuring everyone gets home to their loved ones well equipped with preparedness in all aspects of mountaineering. In comparison, a straight forward high altitude snow slog walk to the top of something with a fixed rope without looming potential hazards doesn't offer these tools to learn by. Tim is still happy with this area and has designated it as good Himalayan boot camp terrain. It offers ice, glacier travel, rock and beauty, technically much more than what one would encounter on Everest in previous years. They have before them many practicing objectives and experiences to engage in. Keeping in mind Everest is very much a mental challenge, we feel you need these important experiences to set the right tone when that time comes. Another bonus to note is that it's quiet! We are typically the only ones here which is rare today in sometimes impossible popular and bustling Himalayan climbing routes. This is a bonus to us in our low impact green theme strategies with a focus on safety due to the lack of crowds. One can get a true sense of expedition life as it used to be while on this program. We try to keep it as raw as we can without sacrificing comfort and 100% safety. This approach may not be for everyone but for us it's the only way.
This climb is not only good for aspiring climbers at any level but in particular it's a good warm up pre-Everest experience. There will be no surprises when that time comes, without exception everyone should be a self-reliant climber should things go wrong up there. If you're not, we believe you shouldn't be there and we congratulate all our participants in doing their due diligence to themselves, their sponsors, their loved ones and their climbing partners in investing in being as best prepared as they can. We have taken beginner climbers on this program who 4 months later went on and summited Everest. We have also taken climbers who never aspired to climb Everest, joined, and were completely surprised by their abilities and comfort level and went on and summited Everest. It's not an 8000m peak but you still have to demonstrate the ability to acclimatize in just getting here. Some do and some don't, so it's a pretty good investment to test yourself before heading off to a 8000m or Everest without knowing this about yourself. We feel that if your body shows the ability to adjust and endure here, it will adjust on Everest, there is a lot of time while on Everest to sit it out and let your body catch up and with today's technology including better masks and oxygen supplements- success rates are increasing ten fold.
Tim and I already discussed the "what if we can't get on top" scenario before he left this season. Though everyone or most seem happy with the outcome, summit or not, we can appreciate how nice it would be for the team to celebrate on top, putting the icing on the cake of everyone's experience. We decided that next year we will work it here as before, working as high as it is passable and safe and if it's not, we will include an alpine style ascent summit bid on nearby Island Peak (6145m) at the end of the climb and/or Lobuche East (6119m ) peak often used as an acclimatization alternative to Camp 2 on Everest during the Everest season. More to come on this later.
Global warming is creating complete havoc here and in all mountains of the world. We must be adaptable if we continue climb.
What's next? A couple of the accomplished climbers have opted to move down to lower elevations enjoying more time in the Sherpa villages before the team all gather in Kathmandu for a party Tim has organized. The majority of the team continues to climb. They're going up in two waves to the second tower that gets them up really high for that exceptional view in the eyes of Everest and the opportunity to continue practicing skills.
I wanted to share this creative video by Canadian climber Jerry Auld (a reversing story of the motivation to reach a summit). Also please know that we will continue to blog till everyone is safely back in Kathmandu. The adventure never ends just because the summit bid does nor should it. Many would vouch for that :)
October 24, 2010: Correction: Island Peak summit list- Team #1- was not Ray Moore but rather our Serbian participant Ilija Studen. Good job Ilija! No doubt Ray would have summited being an accomplished climber including a successful summit with us on Aconcagua but he caught a stomach bug the night before the push. He's still very happy with his Peak Freak Himalayan experience and had some nice words to say about our program and connections we have built here over the years. He just got measured up for his down suit whilst in Kathmandu for his intended ascent on Cho Oyu.
October 24, 2010: 21:00hrs (Nepal Time)
Ecuador has two summits!!... BUT.... they are still on their way down in the dark at the time of Tim's check in. Considering they left at 03:00hrs this is an extremely long day for this style of climbing. All their other members have turned back due to difficult conditions. I don't have the full story yet but our Sherpas are back down discussing the situation with Tim. They are not happy with the stability- rock fall in particular. As you can see in the photos below Pumori has endured considerable melt this monsoon and even in light of the frequent snow falls this autumn, Everest's daughter- Pumori- continues to melt too quickly. We have been climbing here since 1998 and I must say I never seen a photo with so much rock exposed as this one. Also, the photo with the route to Camp 1 looks quite crumbly compared to previous years.
Tim is waiting to speak to the two summiteers to get their feedback and will make a decision on our teams next move after that. I have a pretty good idea knowing Tim and his 'safety first' ethics. Stay tuned!
FACEBOOK for photos and enlargements.
October 23, 2010: 21:00hrs (Nepal Time) - Nabs checks in from Gorak Sherpa with an update and photos. Big thanks Nabs!!!
| | | |
| --- | --- | --- |
| Avalanche seen from BC | Training Session | Climbing to Camp 1 |
| | | |
Hi Becky,
Hope all is well. I am checking in from Gorak Shep on our first rest day at base camp. We have finished the instructional element of the expeditions- Tim guided the team through all the elements of high altitude climbing on rock, snow and ice with his usual panache, patience and humour. The team are all confident and looking forward looking forward to using all the skills leant over the last few weeks. The conditions have been challenging with regular snow falls but the morale and sense of humour at base camp has never faltered. A few of the team have suffered from illness and injuries and I have been amazed at the tenacity of those who are operating at reduced level of strength. Roger and Warren in particular are tough cookies!! I also heard that Romano is returning to base camp after having his injured finger looked at at a medical clinic down the valley- once he returns he officially becomes the toughest Aussie on the tream, taking the title from Roger. Right now we are resting and getting ready for the summit push- with the dates of 30/31 October designated as the summit dates. The two teams were announced this morning and i am delighted to lead team 2. Hopefully we can get a full complement on the summit this year. Right now we're eagerly watching the progress of the Ecuadorian team who will hopefully summit in the next few days. I attached a few pictures of the team at Advanced Base |Camp and on our way towards Camp 1. I will send another email in a couple of days before we head up the mountain.
Everyone says hi to family and friends back home.
Nabs x
SUMMIT MEETING: Tim is asking me to watch the weather closely starting October 28th, we know what that means.
ECUADOR SUMMIT PUSH IS ON: They are now on the move. Tonight sleeping at Camp 2 and leaving at about 03:00hrs Nepal Time to the summit. Every is watching closely in great anticipation to learn of the conditions on the summit ridge. We have encountered unsafe conditions the past couple of years but Tim says he has a good feeling this season.
Member check up: At the time of Tim's check-in Romano had arrived back at base camp. He must have been booking it up the Khumbu trail. The team is stoked to have him back. Silvie made the decision to call it quits due to her uncontrollable cough. Adam!!!... sorry I missed inserting his name on the last roll call. He is doing awesome, strong and adds a great deal to the team and especially stories from his extensive world travels.
Marty Schmidt sends a SMS to Tim to confirm his turn around at 7500m on the Lhotse wall due high winds. Winter has set in and now we will be watching and wondering about the alleged winter ascent expedition.
PHOTOS: More photos from Nabs including larger versions of the above on FACEBOOK.
October 22, 2010:
Catch up time! If you referred to Facebook yesterday you would have learned that we had a technical issue here at the office yesterday and I wasn't able to blog. What can you do? Fix it !!
Here's the scoop... The team did an awesome job up on the mountain the past two days and are now resting at Pumori Base Camp. They made it up to Camp 1 and slept two nights at ABC. Silvie is having trouble with her cough. She went up Kala Pattar yesterday to gain some altitude but it kicked her pretty good. Warren is also suffering from a bad cough but did get up to ABC.
Romano checks in from Namche to say he's coming back up- the team is very pleased to learn of this. Everyone else that was expected to swing through base camp did and everyone is accounted for. The Russian duo with Namgay Sherpa are off and climbing Island Peak while Mingmar Sherpa "my number one" joined with Irina, Eric and Jo Anne also made it to BC today. We also got word that the first wave Island Peak group flew out to Kathmandu today, a day ahead of schedule and are now happy city dwellers.
AVALANCE: There was a big one today ripping down off the Standard Route. It was so big that the team managed to get quite a few shots of it in action. The team apparently complimented Tim saying that they now fully understand why he refuses to climb the standard route that has given Pumori a bad reputation.
THE CLIMB: The Ecuadorian's are now on their push and have asked for some help from us to the put the route and ropes to Camp 2. Tim has sent Paulden and Tashi up our two very strong skilled Sherpa climbers. I was surprised to learn the Ecuadorian team was so large. Tim thinks they started out as 10 and are now down to maybe six who remain healthy and strong. They are all doing great.
Tomorrow, day of rest... stay tuned.
October 20, 2010: 21:00hrs (Nepal Time)
ABC-(5700m) "The team is all tucked in their tents at ABC and doing well. Romano is in Pheriche, we await news from him. Roger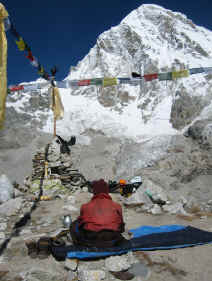 and Silvie-Marie stayed at BC today to care for their cough. We received word that Martin, Ayo and Ray and Ang Nima summited Island Peak on October 18th- big congratulations out to the team. They should be sending photos tomorrow.
Tomorrow we will move up to Camp 1 and stock camp. The Ecuadorian's didn't manage to punch through to Camp 2 today and are back at Camp 1.
Over and out from ABC..... Tim"
Photo: Lama Mingma performing the Puja at BC.
October 19, 2010: 21:00hrs (Nepal Time)
One man down: "Everything was going to plan today. Everyone except Silvie who chose to lay low with her cough went to ABC today. We
hung out, took pictures and had lunch. On the way down teammate Romano Mihailovic from Australia was walking down a nice gentle grade with gravel on it. He slipped hyperextending his little finger so much so that it broke the skin resulting in breaking his finger. Team medics Dr. Tino and Paramedic Damion are concerned about fragments lodged within and have recommended he retreat to the Pheriche clinic to get their opinion and may need to go to Kathmandu for an x-ray. We will keep you posted on his situation.
Word has it that there were a bunch of Island Peak summits today. We don't have names yet but we'll keep everyone posted on those stats just as soon as they are available.
Our second wave Island Peak members Natalia and Sergey from Russia arrived at camp today. Tomorrow morning myself and their Sherpa guide Ang Namgay will spend time with them doing a technical skill review. They are having a great time and report having bumped into our Gokyo trek member with Mingmar Sherpa who are also having a ton of fun by the sounds of it.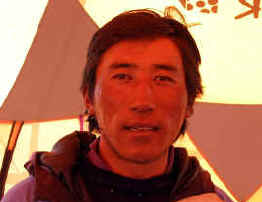 THE CLIMB: Today our Sherpas took rope to Camp 1 and returned to BC. Tomorrow after lunch our team will head up to ABC again and spend a couple of nights there. We will get up to Camp 1 for acclimatization and do a carry.
The Ecuadorian's are on the move too. They are currently at Camp 1. They are on their summit push so they won't be down again till finished. We are all wishing them great success and extreme safety.
EVEREST: Ang Namgay reports a team from possibly Denmark ??? are in the valley preparing for a winter ascent on Everest. More on this later when we get the details. Over and out- Tim"
PHOTOS:
Skill review area above base camp

Ang Namgay Sherpa, 6 x Everest summits
October 18, 2010: 21:00hrs (Nepal Time)
"Tomorrow we are off and climbing!.... Today the weather was a bit unsettled as predicted and by this evening there are signs that the high
pressure is moving in. It's cooling off and the skies are clearing. Tomorrow should be crisp and clear so we are moving up to ABC. We will carry a load, hang out, let our bodies adjust to the altitude gain, have lunch and then come down in the early afternoon. So in other words, we are officially climbing now starting tomorrow. Team is happy....
Marty Schmidt is at Everest base camp and looking at moving up through the Western Cwm tomorrow to Camp 2. He also reports that American Eric Larsen just summited Everest with his 5 Sherpas, the first autumn Everest summit in four years- big congratulations go out to them. They are packing up so this will leave Marty as the only one up there. He refers to it as the Valley of Silence. I can only imagine what that must be like...totally awesome!
I'm not in touch with the IP team right now but I would think they are probably going to summit tomorrow. Stay tuned!
Over and out...Tim"
PHOTO: Our route
October 17, 2010: 21:00hrs (Nepal Time)
YOU REALLY HAVE TO TRY THIS!!!!! Click this link then "be sure" to click EARTH and take a ride around Mount Pumori with our team..... oh so cool..... SPOT LINK Zoom in and have a play...
Base Camp white-out!..Tim calls in to say it's a winter wonderland up there today. There's about 15cm on the ground and it's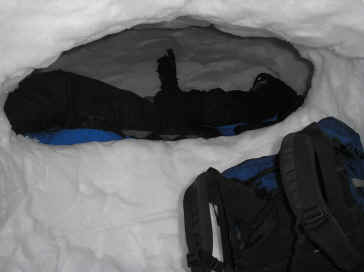 sticking. They got out today on the rocks to do some more skill reviews and emergency shelter building but he wasn't happy with the slippery conditions so they did some dry land training instead. This would include knot tying, scenario reviews, Gamow bag demonstration and not to forget Tim's intense photo display of frostbite and dead bodies to scare the heck out of these guys on "what not to do" when climbing on Everest and the consequences. Their not pretty and I had the task of printing them for his binder this season.
With the new snow comes the opportunity to get into another part of our training program which is Avalanche Prediction, formation and forecasting, route finding and snow science relative to mountaineering in the Himalayas. Pretty important stuff considering a release above you no matter how good of a climber you are can be the end of your story.
Weather: It looks like the snow storm will start to settle out toward the end of tomorrow and behind it will be winds but nothing that would affect our teams at these elevations. The Island Peak team should be able to get up on top but they will have to work for it with some trail breaking needed.
ROUTE: The Ecuadorian team also laid low for another day and now their push to C2 will also take some work and our team should be able to help them with that in the days to come.
PHOTO: Emergency Shelter building
October 16, 2010: 21:45hrs (Nepal Time)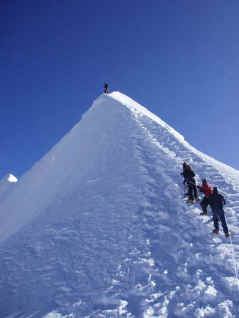 Snow time! Ok, I was right about the snow, Tim said it snowed all day today but it melts throughout the day at camp and will pile up tonight as the temperatures drop. The team got out today to work on skill development and everyone is a bit sluggish from the colds circulating, but in time they should be able to kick it.
ROUTE: Our Sherpas made a carry of tents and ropes to ABC today and the Ecuadorians took the day off and didn't push to Camp 2. Tomorrow our team will work some more on rock and then if it looks good we will go up to ABC.
WEATHER: From what I'm seeing in the forecasts they may not go up tomorrow either. It looks like it may be snowing for about 2 more days.
ISLAND PEAK TEAM: They left camp today. Instead of going to Gorak Shep yesterday to spend the night they instead stayed in the comforts of our camp and left from here this morning. They should all be tucked in in their IP base camp tonight. We are hoping that their timing will work for a bid on the summit considering the current weather. We always add a bad weather day in our IP itinerary so hopefully this work for them. Here is their schedule:
| | |
| --- | --- |
| Day 13 Oct.16/10 | Trek to Chukung- IP Base Camp |
| Day 14 Oct. 17/10 | Pareshya Gyab 4,970m or high camp [5,600m] |
| Day 15 Oct. 18/10 | Climb Island peak [6145m] and back to Pareshya Gyab |
| Day 16 Oct 19/ 10 | Flexible day for weather, health etc. |
If strong they can miss the high camp either up or down or both giving them a bigger window.
Birthday parties!!!.. Yesterday the team celebrated Damion's birthday and Ang Karsung made him a chocolate cake. Tomorrow is Roger's birthday so more cake. With the snow it's a good time to fatten up.
Marty Schmidt made a trip to our base camp yesterday for a visit. Tim said the team had a great time listening to them re-hashing stories of days gone by.
ROLL CALL: It's time to tally up who is where for our followers.
PUMORI BASE CAMP

Damion

Roger

Warren

Romano

Pierre-Henri

Jim

Petter

Silvie

Samuel

Tino

Nabs

ISLAND PEAK BASE CAMP

Ilija
Kuntal
Martin
Ayo
Lori
Ray
Laurel
Trekker Al Bligh's itinerary now separates from the team as he and makes his way back to Lukla with his guide.
PHOTOS: (1) Looking up summit of Island Peak (2) Looking down from the summit of Island Peak- *Don Odegard photos.
October 15, 2010: 21:00hrs (Nepal Time)
No news is good news!.. Well I waited and waited and have a good idea why I didn't get a report from Tim. It's likely one of two
reasons or both. When I spoke to Tim yesterday he was starting to feel a cold coming on that's been circulating throughout the team since day one. Airplanes!!!!... breeding bug capsules... damn! He tried and did manage to stay virus free till he reached base camp. Guess that's a better place to nurse a cold than in the valley. Staying healthy in this environment is truly a challenge for everyone.
I'm left to assume he went to bed early with his ginger tea and hoped to stay awake to make his check in call but probably feel asleep. Or, scenario number two- "weather"- I have been watching our weather reports and see significant precipitation in the area. The freezing level is at their current elevation which could mean they are getting dumped on with snow this evening and this could also hinder satellite reception.
Eyes on Lhotse: We are keeping an eye out this season on Tim's longtime guiding buddy Marty Schmidt from New Zealand. He is on his way up to climb Lhotse (8526m), solo. There is a team on Everest this autumn so the icefall will get fixed. Tim took with him this season a rather large telescope and will be monitoring his progress. Pretty exciting distraction to say the least. We wish him great success. Go Marty!
PHOTOS:
Two "mountain machines" as dubbed by the people that know them: Marty and Tim

Ang Nima and Tim, Ang Nima is leading the Island Peak team this year. Ang Nima is so popular with our trek groups these days that he rarely gets out to climb. He is pretty excited to be back on the crampons. Ang Nima has been family for now 20 years. Love him!!!!
October 14, 2010: 21:00hrs (Nepal Time)
"PUJA.... we started at 07:30hrs this morning and it lasted a couple of hours. After breakfast I took the Island Peak team out for their technical training session and they are stoked about their ascent in the next few days. Tomorrow they will climb to the top of Kala Pattar (5545m) to not only gain some altitude but to also snap those infamous photos of the Khumbu glacier and the route up Everest. The weather is beautiful so they should get some good shots. After that they will retreat to Gorak Shep for the night then move back down the direction we came from, then up the Imja glacier direction to their Island Peak camp. They are all doing fantastic!
OUR NEIGHBORS: I met with the Ecuadorian team today. They said they have been following our blog for about 8 years now so they know our pioneered route well. They are wicked climbers!!!... our Sherpas are pleased that these guys are breaking trail and we will be supplying the rope. This is a first for them in years that we have been playing here. If all goes well for them they are planning to summit on or around October 21st. We will keep you posted.
THE ROUTE: The Ecuadorian's say they are climbing in shin deep snow right now which is good. They will head up to Camp 2 day after tomorrow. From what I see, the route looks like more ice than previous years leading up the summit ridge. As before we will see what they pop out onto on the ridge in the days to come. Will it be snow or will it be ice or will it be a setup just right for safe passage? In the meantime we will get on with what we are here for. Our boot camp will get underway day after tomorrow.
GREEN BASE CAMP: Our solar lights are illuminating the area nicely. We brought a newer version this year from home that are now independently solar powered. This means we don't have to plug them into our larger solar source as they have their own- way to go good on our Canadian Tire Store! These guys do an awesome job in introducing small affordable solar solutions.
Something else we are testing this year is reusable pocket warmers. To recharge you pop them into boiling water briefly till they
return to a liquid form which is contained in a small plastic pouch. When you need to use it, crack it and the solution solidifies and gets darn hot. I want to see how long they last up here and how user friendly they are. There is no doubt they will be hot enough.
Tonight's dinner for all the mom's and wives at home who will no doubt be wondering was; tomato vegetable soup, sushi, roasted chicken, roasted potatoes, mix vegetable and chocolate pudding. Happy climbers :) - over and out... Tim"
PHOTO: Team at BC after before our Puja. Thanks to Warren again. He also attempted to send one of the ceremony but we didn't get it. Instead I got a duplicate of the same photo. Larger version will be posted on Facebook:
October 13, 2010: 21:45hrs (Nepal Time)
Pumori BC (5209m) "Yes it's true, we are here. It was a great day with everyone getting acquainted with their new home. Ang Karsung was tossing out some exceptional dinning this evening and everyone was busy sorting out their expedition bags and placing all their cozy comforts in their personal tents.
Tomorrow Lama Mingma will conduct our personal Puja for our teams and equipment and will also be giving a special shout out to Melissa Jenkins and all other breast cancer survivors and those still under going treatment around the world.
Richard, Ayo, Martin, Al and Laurel should be in Lobuje tonight, I haven't heard anything so they must be doing good and hopefully be here tomorrow to participate in the Puja.
Over and out from Pumori Base Camp, more details tomorrow.... Tim"
Patrick Crawford made contact from Kathmandu today. He informs me that his sat levels are 99%, he had x-rays on his lungs and reports to be in really good condition and can't believe what happened to him when he is feeling so good now. This is exactly what is suppose to happen, recovery is almost immediate when proper steps are taken to ward off disaster and possible death. Good work team! Patrick's departure will be a difficult one for him considering he is feeling so good now. We are certain he will be back here one day real soon, and who knows, he may do perfectly fine the next time. You just never know what will trigger AMS, each time can be a totally different experience.
Happy to see SPOT is kind of working. A new feature this year is when Tim sends an OK message it posts directly to his Facebook which is kind of cool but I still would like to see the tracking working as it did before enabling us to see where they came from to keep it all in perspective of their achievements thus far. We should also be able to see their actual ascent up the mountain- zoomed in and with elevations. I will keep on this till rectified to our satisfaction. Ho hum :) Nice new spot this year but with obvious glitches.
PHOTO: Showing via SPOT their location at base camp between the lakes. Click on the photo that I have linked and play with the satellite button and use the zoom. It's quite fun....enjoy :)
October 13, 2010: 10:45hrs (Nepal Time)
Spot messenger sends a signal. The team has just now arrived at Pumori Base Camp (5209m). Exciting night tonight here at home. The Chilean miners being lifted up and celebrations of arriving at base camp. Ok, off to bed I go.... over and out, Becky
October 12, 2010: 8:30hrs (Nepal Time)
Lobuje (4930m) "One more sleep and we will be at base camp. I'm so looking forward to the comforts of our camp,
my home away from home. Ang Karsung AKA "Carlton", as dubbed by last years Everest climbers along with Lhakpa Gelgan and Desh Kumar did a fine job last night cooking for us here in Lobuje.
Martin and Ayo from our Island Peak Peak team are still in Dingboche, they are going to lay low one more day for acclimatization. They were successful in their acclimatization hike above the village today and with them is Laurel and Al who arrived late due to their international flight delay. They will need to stay over here one more night. This location is a critical stage in attaining proper acclimatization. One should not go higher past this point if your body hasn't caught up. Everyone is different, it's a hemoglobin make up and it has nothing to do with fitness.
The doctors from the Pheriche HRA clinic have noted that there seems to be more than normal incidents of AMS this season. There could be a couple of factors, one being people moving too swiftly and not taking the warnings seriously. Perhaps the run on accommodation plays a roll too- people unable to find rooms, so they push on.
THE ROUTE:
Ang Karsung informs us that there is an Ecuadorian team on our preferred route, they are climbing Alpine style, no ropes, so it will be interesting to see how much progress they have made when we arrive tomorrow, we are looking forward to meeting them. Our boys, Paulden, Jangbu and Tashi have been up to our ABC already staking it out while we have been trekking.
WEATHER:
It's snowing lightly here in Lobuje this evening and Becky tells us that the freezing level has been moving up and down between 4900m and 5200m so that matches up with what we are getting locally.
Next report coming from base camp tomorrow, can't wait. Over and out, Tim"
Photo: Our route, the south ridge, up the left hand side of Pumori. Photo taken by Khalid Alsiyabi on our way to Everest last spring.
October 11, 2010: 21:00hrs (Nepal Time)
Dingboche (4421m) "Good evening everyone back home and a happy Thanksgiving to all our Canadian families and
followers. In the past we would normally be at our Pumori base camp enjoying roasted chicken on this day but because the weather patterns have been changing in this region, and the world for that matter, we moved our expedition start dates back a few days to better work with the lingering monsoon and back logs of trekkers and climbers to this region as result.
Speaking of which; there is bad weather in the Khumbu right now. We are informed that the flights have been cancelled in and out of Kathmandu to Lukla for three days now. Three of our Gokyo loops trek members who are with Mingmar are still in Kathmandu and it's hopeful they will get out tomorrow as the weather is suppose to improve.
Last night part of my running back and forth between Pheriche and Dingboche and again this morning was dealing with the unfortunate departure of young Patrick Crawford from Kamloops B.C. Patrick's oxygen saturation levels were dropping significantly and by the time we reached Dingboche they had dropped enough to cause concern. I took him to the HRA (Himalayan Rescue Association) post in Pheriche. Three doctors rotated shifts throughout the night monitoring his condition. By morning it was determined that his climb will sadly end here due to the Pulmonary Edema version of acute mountain sickness. Typically a helicopter would be called in to take him out to Kathmandu but the weather would not allow for this. Instead we organized a horse, supplied with oxygen and a Sherpa to take him to Namche Bazaar where he is now resting. Tomorrow a helicopter will be dispatched from Kathmandu (weather permitting) to take him out to Kathmandu hospital for assessment and to prepare for his eventual departure home.
His young spirit and enthusiasm towards this climb will be missed by all.
You never know who will get hammered by AMS and sometimes there are contributing factors. He has climbed Denali before and is very fit. We did all the proper steps to acclimatize properly, going slow, staying over two nights in Namche, day hike above Namche and so on. However he was nursing a bit of a cold which can inhibit the respiratory system, and likely in this case, enough to bring full on AMS. The only treatment for this is to go down. Thanks to our team doctor Tino Solomon and the HRA doctor team for their prudence. Tim"
Today the team as planned, hiked above Dingboche to assist with tomorrows altitude gain to Lobuje. We have booked the entire lodge in Lobuje and at this point hygiene becomes a concern. To deal with it we have Ang Karsung and the boys bringing down our camp kit from BC and cook in the kitchen of the lodge in an attempt to ward off getting sick at this stage of the journey. After Lobuje it's base camp, an exciting time for these expeditions. Good food, off the main trail, sleeping in tents, ambience at it's best.
Warning! The Khumbu valley is busy. Once again we remind those who attempt to come here during the peak seasons independently. There are no rooms!!.. Groups have reserved the lodges in advance. Independent trekkers are being turned away with no place to sleep. Table tops and floors are reserved for porters and house staff during extreme situations. Trekkers should consider this and please do not put them out in the cold :) Sorry! but because of the popularity of this particular trek route, traveling outside a group is getting more and more difficult. If you decide you absolutely want to go it independently we highly recommend bringing a tent. You will be expected to pitch a tent in yard of the property owner and eat from their kitchens. No free loading allowed, flat land is limited and yaks have priority on their grazing areas and we must remember this is a park which comes with rules to maintain it's pristine beauty.
Photos: Provided by Warren Bruce:
Team at the Namche blessing with Lama Phu. My they all look so nice!

A few of the Island Peak members.

Larger versions on Facebook Still waiting for SPOT to respond to our situation, sorry! TBA
October 10, 2010: 21:00hrs (Nepal Time)
Dingboche (4421m) "Busy day getting everyone accounted for and tucked into their beds. The fog rolled in this afternoon causing
a bit of confusion. Dingboche and Pheriche are situated at a junction and there are various trails leading several different directions from here. One way is up toward the Khumbu glacier and the other is towards Imja glacier. It's not uncommon to go astray here and especially when hampered by fog.
I had to do a section of the trail a couple of times this evening gathering everyone up and right at this moment I'm still out here reporting to Becky with my headlamp on as I do the last little pitch back up the hill to Dinboche. Perhaps some yak style bells tuned specifically for Peak Freak'ers may be something to consider for the future. All in all it was fun day and there will some good stories to share in the morning.
Tomorrow is our acclimatization hike day at this new elevation. We will push the team up higher and come back down to sleep in Dingboche. I was observing the mountains today after hearing stories of a lot of snow on the Tibetan side turning back many climbers this season. From my experience here, mountains like Ama Dablam and Everest south don't appear to have that much snow on them. The rain level did go up a bit during the past weeks before we arrived but from our reports not that high. I am inclined to think that most of the snow was dumped on the other side of the Himalayas. We can't see Pumori yet from where we are but once we are our way to Lobuje day after tomorrow we will have a full view of what we will be up against. Ok, I've arrived, over and out, it's pillow time.... Tim"
Photo: Bridge crossing on the Dudh Kosi river. The river that comes out of Everest. At the junction near Dingboche and Pheriche.
* Dudh (Nepalese for milk) Kosi (river running south)
P.S. Here's a little blip from Warren Bruce: "The Pumori crew is now at the Highland Sherpa tea house waiting for the Island Peak group to catch up. I was up early this morning and had the tea house to myself for a few minutes. The early morning light coming through the curtains was bouncing off Ama Dablam, there was a faint smell of wood smoke from the central heating system and Buddhist chants were playing on the radio. Om Mani Padme Hun."
One also came from Nabs saying that he and Warren were sending me a bunch of photos. Unfortunately I didn't get anything. Maybe they will find there way here eventually. It's possible that the solar storage can't keep up with the heavy lodge traffic this time of year.
October 9, 2010: 21:00hrs (Nepal Time)
Namaste from Pangboche (3901m), "Tonight with me is everyone on the Pumori team except for Richard Mollet from the UK, he
is staying in Deboche with the Island Peak team. We had a good day today, we had a blessing from Lama Phu before leaving Namche Bazaar, since we won't have that privilege this year from Lama Geshe, somehow I know his thoughts and prayers are still with us. I feel his presence up here on the hill and I know he wants nothing more than to be here in body too, I have confidence that he soon will be. We still have our Puju at base camp in the days to come so all our equipment will be blessed so we are covered.
Tomorrow the Island Peak team will join us in Dingboche, they are with Ang Nima and Ang Karsung's son Sonam is also with them. It's very rewarding to have our long time family of Sherpas growing old with us and to know that their son's and daughters are working with us too now. Together we get to share stories of the joy of grandchildren. I was hoping to bring my favorite side kick Ethan, now 10 years old over this October. Many of our followers now how much he means to me, but it's not going to work out this time around. We will try again next year. That day could be the highlight of my life having all the grands together over here. Next year, 2011 is our 20th anniversary operating in the Himalayas so that might be a good time to celebrate with all the families together at the same time. We look forward to that day. Over and out... Tim"
Warren Bruce from Vancouver has been compiling comments on his IPAD from some of the members to post here, probably tomorrow
from Dingboche we will get it out for family and friends following.
SPOT.... We are just about up and running as it should. We are still working on a glitch. It appears SPOT has an issue. We have managed to at least offer you a location transmission via SPOT to Goggle Map but the tracking isn't working which would allow everyone to follow their trail up the trail in progression.
Give it a try:

PHOTOS:
View from up on Pangboche hill. Mount Ama Dablam in the background. This is one of our stock photos so imagine it with a lot more snow now.

Sherpa children being entertained by some drawings of themselves.
October 8, 2010: 21:00hrs (Nepal Time)
Just a quickie, everyone is doing well. Nice day up to Khunde and Khumjung, many photos were taken of the views and everyone is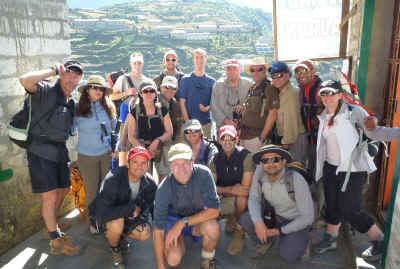 back down in the lodge in Namche Bazaar. Nice weather, good food, good people and good times. Laurel and Al are here now.
Tomorrow we trek to the village of Tengboche (3866 meters), the cultural and religious center of the Khumbu. At the monastery we attend Buddhist ceremonies and rituals performed by local monks. Vistas from Tengboche are spectacular. The jagged peaks of Thamserku and Kangtega stand to our south, as Everest, Lhotse, Nuptse and Ama Dablam are visible to the north. The Monastery at Tengboche is one of the most well known in the world as the Rinpoche is revered throughout the Buddhist community and has authored a number of books and essays. In the past our groups have had an audience with the Rinpoche and received his blessing. This is often a moving and intense experience. Views from this locale (one of the finest on earth), include Kwangde 6186 meters, Tawachee 6467 meters, Nuptse 7878 meters, Lhotse 8500 meters, Everest 8852 meters, Ama Dablam 6857 meters, Kantega 6778 meters, Thamserku 6607 meters. After visiting Tengboche we move to spend the night in Pangboche.
SPOT seems to be having a glitch that were are currently working on. In the meantime here is our itinerary to Pumori base camp.
Oct. 8- trek to Pangboche (3901)

Oct. 9- trek to Dingboche (4412m)

Oct. 10- overnight in Dingboche, acclimatization hike to (4780m)

Oct. 11- trek to Lobuje (4931m)

Oct. 12- arrival Pumori Base Camp (5209m)
FACEBOOK PHOTO UPLOAD TODAY
October 7, 2010: 21:00hrs (Nepal Time)
Namaste from Namche Bazaar! We are all here in good kicking in our home here for the next two days. We had some good laughs last night in Monjo hearing the tales of why Jim was missing. We'll let him tell his story. Everyone is doing really good, moving along nicely and all feeling terrific.
Note from Jim:
Becky "I'm lost in Monjo".... Becky.. "I'm found in Monjo" everything worked out. I got a lodge in Monjo that was 20 meters away from where Tim booked us. I made pretty good time arriving here as the main group didn't arrive until a couple hours later. They were in a coffee shop in Lukla, that's why I couldn't find the group, so I was hurrying up trying to catch up to them. Had a good workout!
The team will laying low tonight. Going slow is very important when ascending these higher altitudes until your body has had the chance to adjust, you are at risk of AMS- acute mountain sickness if you move too quickly. Yak speed is critical, nice a slow....
Tomorrow everyone will go high and sleep low. Going up to the twin Sherpa villages of Khunde and Khumjung will offer them an altitude gain that will prepare for the next day to Tengboche and Debouche. While up there tomorrow they will visit the Hillary School, the Khunde Hospital and have lunch at Ang Nima's house with his family. The views from his home are the by far the best. You can see Everest, Ama Dablam, Lhotse and Nuptse from here. It sounds like they will be beautifully brightened this season with all the new snow. Wish I was there.
The team will also have a special blessing done for them in the absence of Lama Geshe in Namche Bazaar.
Tomorrow Al Bligh and Laurel Ambrose who were set back from their delayed international flight should be in Namche Bazaar tomorrow with the team.
Tim demonstrating the headache you will get if you trek too quickly.
| | | |
| --- | --- | --- |
| | | |
| Kathmandu airport bound for Lukla | Arriving in Lukla... hold on! | Loading the Zomu's |
| | | |
| Jim retracing his tracks on the map | Warren keeping track of the beer, Jim lost no problem- beer lost- big problem. | Tino and Damion, our two medical professionals keeping an eye on everyone. |
I don't know what's up with SPOT. I forgot to ask Tim. It hasn't started transmitting yet. Tim has a photo album on his Facebook that will have the full version of the photos. Do check there in the next little while for updates and larger versions.
Many thanks to Warren Bruce from Vancouver, B.C. for keeping the of visuals coming... Very much appreciated!
Becky
Some folks may have missed the news that Lama Geshe just recently had a stroke. He is now 79 years old but lives a good
healthy mountain life and for that reason we are certain he will recover.
Lama Geshe has blessed hundreds of climbers for safe passage to the top and back on the peaks in the Khumbu. It's going to be a bit unnerving to not have him there for the first time in our 20 years here. Tim and I, the Sherpa people of the valley and their families feel much the same in that to climb without his blessing would not be a good thing. We take our climbers to his home in Pangboche each season for a personal blessing. Our members are given the sanji (red cord) he ties a special knot in it for them and puts it around their necks offering protection and blessing. Tim is given a special hand sewn pouch from Lama Geshe that holds a stash of the sacred juniper bush. I believe he does this one for Tim because he has such a large responsibility in his hands and a little extra blessing may be needed. Tim faithfully wears it around his neck till at least week after he has returned home. Then they are stored in a basket in our home. He also brings home all the Khata silk scarves that you see around their necks, also blessed by the Lama. We have these strewn throughout our trees in the forest where we live.
His son Jigme who is staying in the US with his host family has taken an emergency leave this semester at Nazerth College and is now in Kathmandu to care for his father.
Donations are being asked for and collected directly by Jigme Sherpa who serves as Director of the fund. 100% of donations will be utilized to benefit Lama Geshe and his family.
Those who know us know how dear Lama Geshi is to us. We pray for him and his family now as he has for all the climbers in the past.
I am posting on a separate page is progress as we are being informed and you will also find a link to send a donation if you wish.
I was happy to read that not only does Lama Geshe want to return home the mountains now, but also because he wants to eat food that's grown in the Khumbu- We relate! Check out our "Green Theme" page. We are trying to work towards the 100 mile diet for our expeditions. We're getting close but it's still really hard to catch salmon up there.
PHOTO: Pumori 2009 team
DONATIONS and UPDATE on Lama Geshe
October 6, 2010: 21:00hrs (Nepal Time)
Tim checks in: Clock work!... everyone is safe and sound in Monjo enjoying one of their best sleeps so far. After flying for
multiple days for some, 12+ hour time zone changes and the chaos of the city, this is the night they start to get into the slow swing of life in the Himalayas. When leaving Lukla (9380 ft / 2860m) they meander up the gentle winding trail along side the Dudh Koshi river to the village of Monjo, just 40 feet lower in elevation than Lukla. The walk typically takes about 3 hours, nice and slow. Chombi's lodge is built on ledge next to the river. It is tight in the valley from Lukla to Namche Bazaar. The mountains and river making the gorge where the trail is formed. The fresh air tonight and sound of the river will have everyone rested up and ready to hike up the steepest part of this journey up the Namche hill tomorrow.
We should get some team photos when they get to Namche Bazaar. In the meantime I will share this one.
PHOTO: Zomu's .. compare their stature with the photo above of the Yak's.
P.S. To all our past participants Ang Nima and Ang Karsung yell out a big Namaste over the satphone to everyone.
October 5, 2010: 21:00hrs (Nepal Time)
Tim checks in: Everyone is tucked in bed except for Kuntal (from Mombi) who had some last minute shopping to do tonight. Tim was just saying good night to him when we touched base.
We are unfortunately minus two members, Al Bligh and Laurel Ambrose both from Canada were to arrive on Cathay Pacific's - Dragon Air today but they experienced a mechanical in Dhaka and were sent back to Hong Kong to overnight. A little glitch in their itinerary but we have put our back-up plan into action. They will be scooped from the Kathmandu airport tomorrow evening, we will let them rest up at the hotel for the night and then fly them separately to Lukla the next day to catch up to the team. Kaji Sherpa in Lukla will have their porter organized and by the time they reach Namche Bazaar (Day 2), there they will meet their team for the first time. Laurel tells me there are 118 people with them also booked on treks and climbs affected by this so let the adventure begin, for them it already has :)
Tim reports everyone enjoying the city tour this morning visiting Durbar Market and the Monkey temple with Sangeta our tour guide for many years. By now everyone is feeling at home in the city and getting to know their way around with the help of Nabs.
All the team bags managed to get out this morning from Kathmandu to Lukla and the porters and zomu's- aka zho's or dzo- spent a hard day on the trail working their way up the valley. Once the bags arrive in Namche they will be loaded up onto our yaks. We don't use yaks lower in the valley as the trail gets extremely congested as well these big creatures double in size with duffel bags hanging from their sides. Also they don't do well at lower altitudes yet thrive at 4000m plus so we use the zho's who are the F1 cross breed of a yak and cow who can tolerate the lower altitudes and not as bulky.
That's all for now, stay tuned! Becky
October 5, 2010: 10:00hrs (Nepal Time)
Looking good team!......"Good morning Becky. At the request of Tim I'm sending you the team photo taken this morning. With a little cropping you should be able to get the photographer's finger out of the frame. I think there are two people missing from the photo as they're still getting used to the time zone change. In other words "they slept in and missed out".
Half of the team has gone on the city tour and the rest of us are doing last minute shopping or resting up at the Nirvana Garden. The weather here in Kathmandu has been great -sunny and warm. I could do without the car horns, dust and crazy traffic though. Looking forward to tomorrow morning's flight to Lukla and the fresh air. I think I'll prefer the thin and clean air of the mountains to the thick and dirty of the city."
Warren
A few of our followers may be surprised to see some of your buds in this photo. We welcome back Nabil Lodey who was with us on Everest in 2008. Nabs will be providing mentorship to the Everest training team on what to do and not to do, check knots and offer his infectious sense of humor through out the climb.
Also onboard is Ray Moore who some will know from our Aconcagua expedition 2 years ago. We will be posting more photos once on the trail of the entire gang together so stay tuned.
October 4, 2010: 21:00hrs (Nepal Time)
Namaste from Kathmandu... Today is the first official day of our Pumori 2010' Everest Training Climb. Though a few members have been here early taking advantage of the pre-climb tours in the region and gear shopping, I am happy to say that everyone from the Pumori 2010 team list and the Island Peak team #1 list are all here with me this evening in Kathmandu. We all gathered for dinner at the Third Eye enjoying an evening getting to know each other.
Things are running along smoothly. I have the climbing permits in hand and everyone's bags are organized. Tomorrow at 06:30hrs Ang Karsung will start getting them all tossed onto planes heading up to Lukla to our Sherpas who are waiting up there. They will receive them and start loading them on the yaks who will take them to base camp.
It's busy here in the capital city. This is the onset of high season in the Himalayas. Skies are typically clearer and it's a bit cooler never mind the outstanding back drop of the mountains that have been nicely frosted as a result of the wet monsoon throughout Asia. The monsoon quit right on schedule, the end of September, opening up the airways for flights in and out of the popular trekking and climbing routes.
How does it look up there?...... Well, we have been watching the weather all summer long and it hasn't been the best climbing season for some of the Himalayan giants that are typically climbed mid to late summer. There have been numerous avalanches and just way too much precipitation and foul weather.
Our timing and schedule seem once again to be working with us. There is a significant amount of snow pilling up up there again. Hopefully the mountains and glaciers will have a chance to heal, that is hopeful but possible. If the temperatures cooperate and keep cool, it will be a good thing. A positive note on the conditions is that the monsoon has stopped so this new abundance of snow will have a chance to settle out and bond to the mountain by the time we start to climb. Here is our itinerary PUMORI 2010' Everest Training Climb for your to see where we are and when. I will also be carrying our SPOT tracker once again. I will get it up and tracking once we arrive in Lukla.
What's next? Some of the members will be off on a morning city tour with Sangeta who has been leading these outstanding educational tours through Durbar Market, the Monkey Temple and more. I will be doing various chores and just getting to know our team. It's time to hit the pillow, it's been a long day....... over and out...Tim

Once again we are opening up a link between young Nepalese scholars and our expedition participants. An opportunity for family members and friends
following at home to make a pledge and nominate one of your climber or trekker friends or family, please refer to the Learn For Life Nepal website: LEARN FOR LIFE NEPAL Tax receipts on amounts as little as $20.00 will be issued. For more information contact Becky Rippel or Vanessa Higgott
THANK YOU SPONSORS!! EVEREST BASE CAMP TREK 2010 WAS A HUGE SUCCESS!!! ALMOST $27,000 RAISED BY TREKKERS AND CLIMBERS click here to read about it...
A little something to get everyone pumped... enjoy!
With a special foreword by Conrad Anker, the mountaineer who discovered George Mallory's body in 1999, the books featured in the EVEREST SERIES were on-site historical reference texts during the filming of The Wildest Dream: Conquest of Everest - in theaters 2010. The books also include Conrad's trip journal from the now historic Altitude Everest Expedition. The 2-book set features Mount Everest-The Reconnaissance (1921) and The Assault on Everest (1922). These historical texts give a reader a sense of context and insight into man's relationship with the world's tallest mountain -- and the land and people that surround it.
This season we will also be entertaining a team of base camp trekkers who will follow with us to our Pumori Base Camp before setting out to stand on top of Kala Pattar, the shoulder of Pumori a 5550 m (18192–18209 ft), a non-technical trekking peak before pushing on to touch the mouth of the Khumbu glacier at Everest Base Camp.
Also joining us this seaon at Pumori base camp for a technical briefing/training is our Island Peak team. Some will be in the early stages of training for Everest and beyond. All in all, once again it's going to be an exciting time for everyone in the Himalayas this autumn.
MEET THE TEAMS
PUMORI- EVEREST TRAINING MEMBERS:

Tim Rippel- Canadian- (Expedition leader)

Damion Gonzalves- Canadian- (Paramedic)

Roger Wright- Australian

Warren Bruce- Canadian

Romano Mihailovic- Australian

Patrick Crawford- Canadian

Pierre-Henri Wouts- France

Adam Martin- UK

Jim Jimenez- Canadian

Petter Hiden-Sweden

Silvie-Marie Fortin - Canadian

Richard Mollett - UK

Samuel Sealy- Australian

Dr. Tino Solomon- UK- (Expedition doctor)

Nabil Lodey- UK

Pumori BC & EBC trekkers- Gokyo Loop variation

Irina Burcescu - Canada

Eric Andrus - Canada

Jo Anne Coccia - Canada

ISLAND PEAK MEMBERS- Team #1

Ilija Studen- Serbia
Kuntal Josier- India
Martin and Randye Friedrichs- USA
Ayo Fapohunda- USA
Volkhard Mehlo- USA
Lori Dynan- USA
Ray Moore- Canadian
Laurel Ambrose- Canadian
Al Bligh- Canada- Pumori BC trekker- same route till EBC.

ISLAND PEAK MEMBERS- Team #2

Natalia Golovkina- Russia
Sergey Migal- Russia

*Plus- several customized and luxury trek trekkers who will be joining us in the valley this autumn.

Sherpa Staff

Ang Karsung Sherpa- Base Camp manager
Lhakpa Gelgan Sherpa- Cook
Desh Kumar Sherpa- Cook
TBA- Assistant cook
Ang Nima Sherpa- Trek Sardar
Ngima Sherpa- IP Climbing Sherpa
TBA- IP Climbing Sherpa
Paulden Sherpa- Climbing Sherpa
Jangbu Sherpa- Climbing Sherpa
Tashi Sherpa- Climbing Sherpa
Mingmar Sherpa- Trek leader
Assistant- TBA
Assistant-TBA